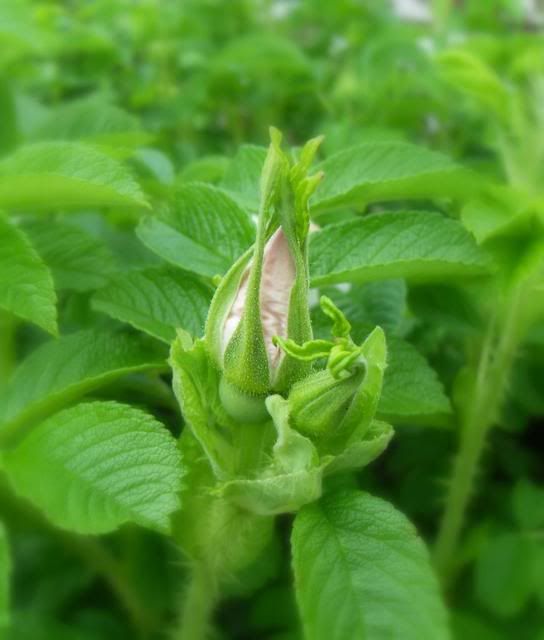 A heart full of thankfulness,
A thimbleful of care;
A soul of simple hopefulness,
An early morning prayer.
A smile to greet the morning with;
A kind word as the key
To open the door and greet the day,
Whate'er it brings to thee.
A patient trust in Providence,
To sweeten all the way,
All these, combined with thoughtfulness,
Will make a happy day.
~Author Unknown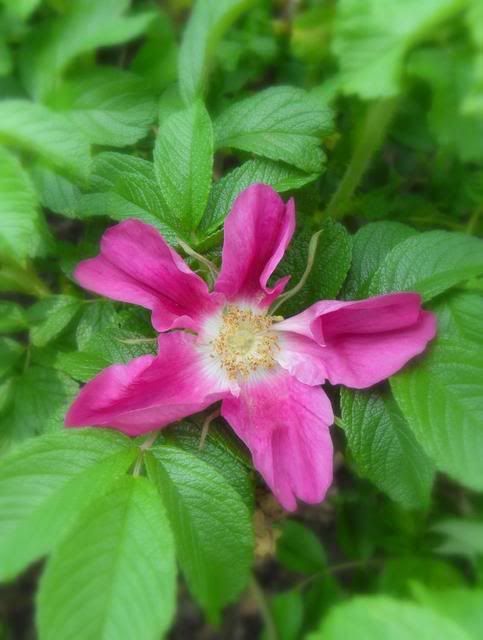 I was sitting here watching some television yesterday and I happened upon a show where everyone seemed miserable and unhappy about one thing or another. It seemed that there was nothing good in their lives, or not that they could see in any case.
I am one of those lucky people that has always been able to find the good in everything. My glass is not only more than half full, my glass over-flows with blessings both small and large. I think that once you reach 50 you begin to realize that every day is a blessing. Just being able to wake up in the morning is a blessing. Good health is a blessing. Being loved is a blessing. Loving others is a blessing. It's not the big grand gestures that have the most meaning, but the small and simple things.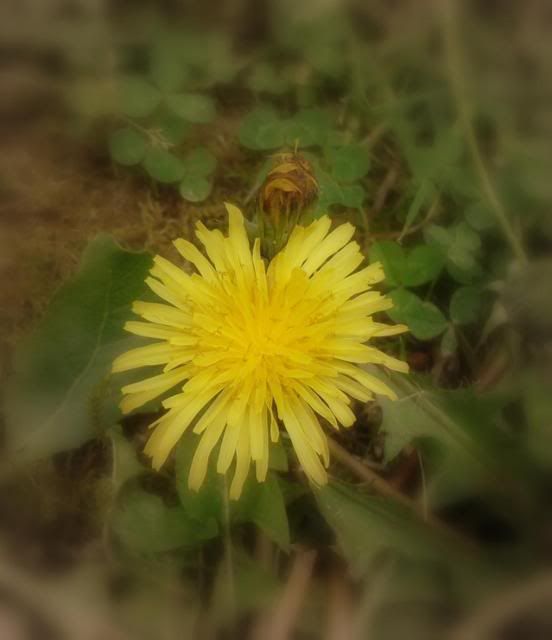 Things like dandelion wishes, and falling stars . . . showing your grandchildren how to make a blade of grass sing . . . watching a baby rabbit nibble on the weeds in the garden . . . the nuzzle of a warm wet nose as man's best friend begs for a stroke . . . the warmth in a friend's voice as they greet you . . . a hand that creeps over the sofa only to wrap itself around yours . . .shoulders to cry on, laugh on, and sigh on . . . the sight of a bumble bee flitting from flower to flower in an awkwardly beautiful dance . . . sticky little hands that beg to be picked up and a sticky cheek to cuddle . . . the sound of birds nesting in the eaves . . . the smell of a loaf of bread, fresh from the oven . . . the sound of a brook as it trickles over stones and meanders on it's way . . . the look of surprise and gratitude on the face of a stranger after you've done them a small and unexpected kindness . . .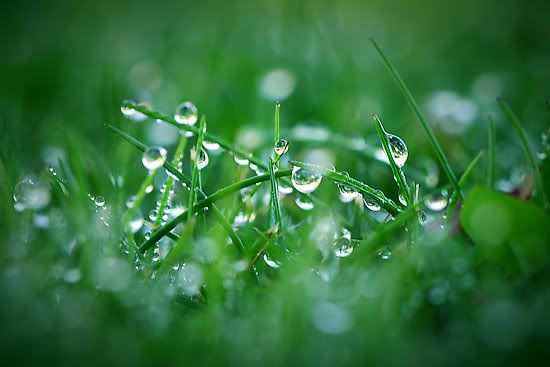 Yes, my mother was right . . . the best things
do
come in small packages, and my life is full of them.
In the greeting card business it's never too early to be thinking ahead. I did a delightful little painting yesterday and I think it will make a wonderful Christmas Card. It's called "Think Snow," and will be posted in it's entirety over
HERE
after I finish this post today.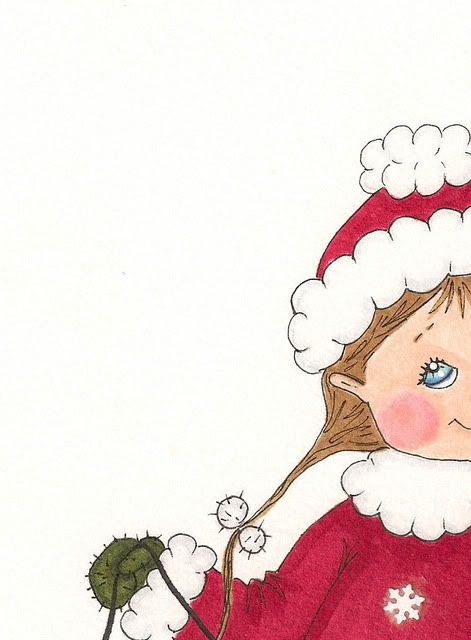 I had some bananas that were just on the verge of needing to be thrown out yesterday and found a new banana bread recipe to try. I love banana bread and I do have a favourite recipe that I use most of the time, but I am always willing to give a new one a try and this one was exceptionally good. Adapted from "The Ultimate Recipe Book," by Angela Nilsen, this one is a real winner.
*Banana Nut Bread*
Makes one 8 by 5 inch loaf
Printable Recipe
There is no greater gift to come from something that looks totally rotten than a banana loaf. In fact the blacker the banana, the better the loaf. This bread is light and flavourful and smells heavenly when it is baking.
4 ounces pecan nuts, toasted
(Keep 8 to 9 halves whole, but chop the rest)
3 medium bananas, extremely ripened, the blacker the better
the finely grated zest of 1 lemon
1 tsp vanilla
8 ounces all purpose flour
1 tsp baking powder
1/2 tsp baking soda
pinch of salt
4 ounces of softened butter
5 ounces of light muscovado sugar
2 large eggs, beaten
4 TBS dairy sour cream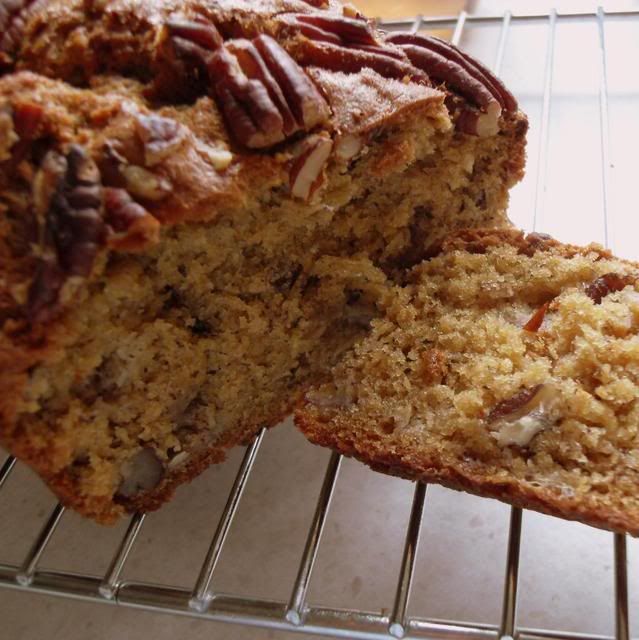 Pre-heat the oven to 180*C/375*F. Grease an 8 by 5 inch loaf tin and line it with parchment paper. Grease again and set aside.
Peel the bananas and mash them with a fork. Try to get them as smooth as you can, but a few lumps won't hurt. You should have no more than 8 ounces of mashed banana. Stir in the vanilla and the lemon zest. Set aside.
Cream the butter together with the sugar until light and fluffy. Whisk in the beaten eggs in thirds, making sure each addition is completely mixed in. Stir in the mashed banana and the sour cream.
Sift together the flour, baking powder, baking soda and salt. Fold it gently into the creamed mixture, 1/2 at a time, taking care not to over mix. Stir in 3/4 of the chopped nuts.
Spoon the batter into the prepared pan, smoothing over the top. Scatter the reserved pecan halves over top along with the remaining chopped nuts. Bake in the pre-heated oven for approximately 1 hour, checking after about 45 minutes. It should be well risen, nicely golden and a skewer inserted in the centre should come out clean. Allow to rest in the pan for 5 minutes to cool slightly before removing to a wire rack to finish cooling completely, peeling off the paper first.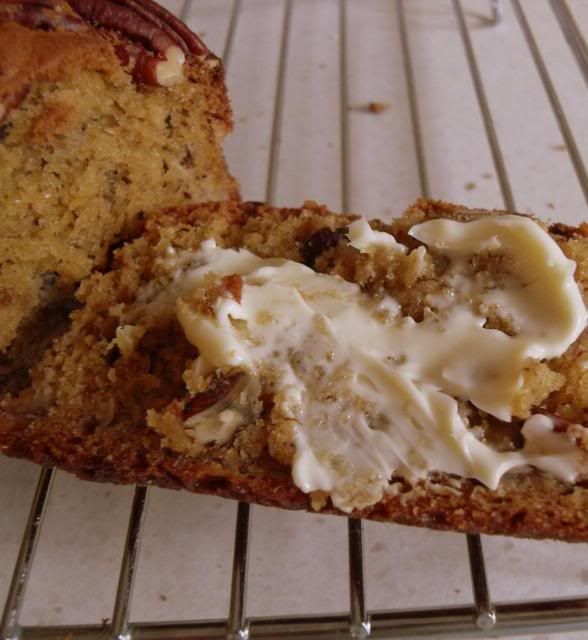 This tastes wonderful on it's own, but spread it with a bit of softened butter, and you have nirvana . . .