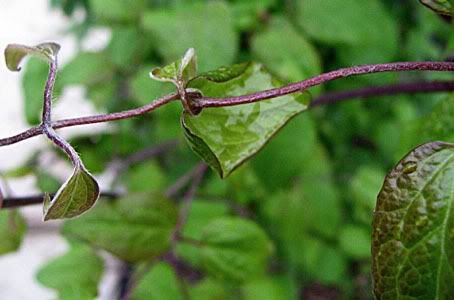 "The world's favorite season is the spring.
All things seem possible in May."
- Edwin Way Teale
What a beautiful morning it is here at Oak Cottage this morning. The birds are singing and I can see just the faintest hint of a blue sky off in the distance above the orchards to the back of us. The Clematis is blooming along the roof line of the shed. We have another bunch of it that grows in a tree at the far back of our garden and that is decorating our lives as well. We decided to replace the mallow that died with a bed of roses and so Todd has been really busy this past week with putting in new roses and mulching and fertilizing the garden. We had an old Wisteria along the back wall that he tried to cut down several years ago as all we got on it was leaves, but it has come back yet again, and I am glad, for I truly love it . . . whether it flowers or not.
I love this beautiful video I found on Mormon Messages of President Dieter F. Uchtdorf. I watch it every morning, and it inspires me. (If you want to listen to it, and I highly recommend that you do, pause the music on my play list at the bottom of this page now.) He says that the desire to create is one of the deepest yearnings of the human soul . . .
I am a very creative woman, as are many of you. Sometimes I get a bit down about my work. Especially if it isn't selling, or if nobody seems all that interested in it. I start to think that . . . perhaps nobody will ever want it. But then when I have those thoughts I have to ask myself . . . why do I create? Do I create because I want people to buy it? Or do I create because I have a need to? The answer is very clear to me. I create because I have a very strong need to. To not be able to create would be like cutting off my right arm or sucking the very life out of me. It is as much a part of me, this desire . . . this need . . . as is my will to live. And maybe the things that sprout from my fingertips will only ever bring joy to me and to my family, but that's ok, because in the process of being creative I am feeding my soul, and I am fulfilling a part of the measure of my own creation by my Heavenly Father. Something that is
so
strong an urge in me and that brings me as much
joy
and
pleasure
as my painting does, surely
must
come from above . . .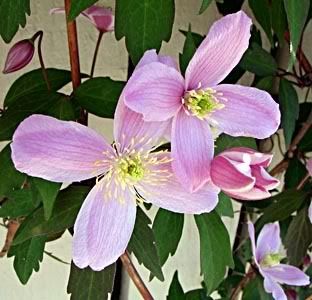 And then . . . when I think about the simple act of being able to create, I realize that I am constantly creating . . . whether it be a new recipe that I am trying out and adapting, or a poem for a friend, a story for my grandsons, pictures I try to capture with my camera's eye, or sewing, painting, writing letters and e-mails, preparing a lesson for Seminary or Young Women's, whatever . . . they're all acts of love aren't they? And isn't that what creation truly is? An Act of Love? A moving outside of yourself and a giving back to the people around you, the universe, the Great Creator Himself . . .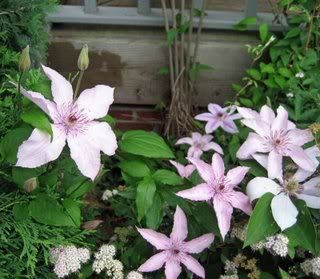 It's making your mark, and leaving the essence of your being behind, the essence of your love . . . love for family, love for friends, love for the greater community, love for life, love for your Father above . . . it's feeding your soul in a wonderfully magical way, and you don't even have to be really good at whatever it is you are doing for it to bring you joy . . . and it doesn't matter if one person loves it, or hundreds of people love it, or even if nobody loves it but you . . .
it only matters that you create . . .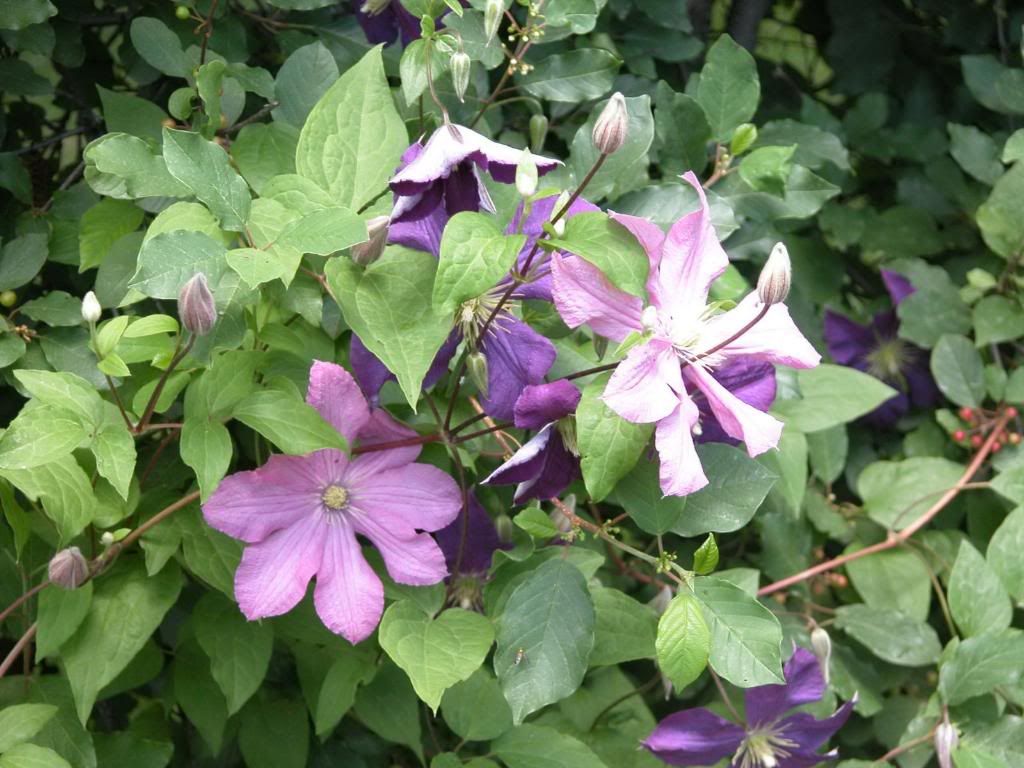 And so I will continue to create and amuse myself with my little drawings and verses and stories, and I will continue to share them with each of you from time to time. I know that it will bring me joy and perhaps it will bring joy to one or two of you as well. I know it will bring joy to my Heavenly Father, and that is the most important thing of all. ☺
I just love risotto. There is a great comfort to be found in the simple act of making a risotto . . . the sweating of the vegetables, the rice . . . the patient act of adding the broth a little bit at a time, the stirring . . . the cheese . . . Sometimes though, you just don't have the time to stand there and wait and stir. You want all the pleasures of eating a tasty risotto, but you don't really want the trouble of having to stand by the stove to create one . . . there are a bazillion other things you must do instead. That's when a recipe such as this oven baked risotto comes in very handy. all the eating pleasure and comfort of a risotto, without any of the faff! There is a time for all the comfort of creating a delicious dish and then there is a time to let it go and let the oven create that delicious dish instead . . .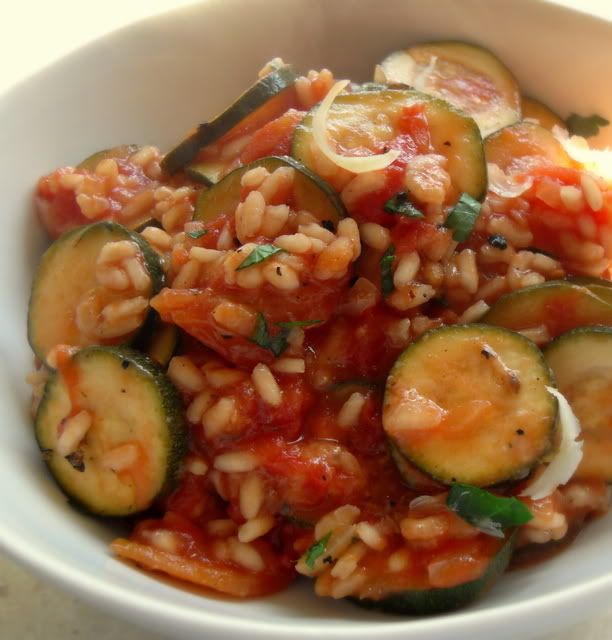 *Baked Risotto with Tomatoes, Courgettes and Parmesan
*
Serves 4
Printable Recipe
I love baked risottos. There is none of the fuss that is involved when you make a stove top risotto and the end result is every bit as delicious. Just less work.
2 TBS extra virgin olive oil
1 medium onion, peeled and finely chopped
1 tsp sea salt
1 cup arborio rice
1 1.2 cups chicken or vegetable stock
1 (14 oz) tin of chopped plum tomatoes, undrained
3 medium courgettes, washed, trimmed and finely sliced
2 1/2 ounces freshly grated Parmesan cheese
freshly ground black pepper to taste
2 TBS finely chopped fresh flat leaf parsley
To Garnish:
Fresh shavings of Parmesan cheese (Optional)
Preheat the oven to 200*C/400*F. Heat the olive oil in a large skillet. Add the onion and sea salt. Cook, stirring until softened, about 5 minutes. Add the rice. Cook and stir for another few minutes. Add the stock and the chopped tomatoes and bring to a simmer. Stir in the courgettes and Parmesan. Season to taste with freshly ground black pepper. Pour into a large oven proof casserole dish with a lid. Cover tightly and bake in the heated oven for 30 minutes, or until the rice is cooked.
Remove from the oven and spoon into a heated serving dish. Sprinkle with the chopped parsley and shaved Parmesan cheese. Serve hot.