I was sitting here thinking yesterday, and getting all sentimental about the local shops and community of my childhood. Perhaps it was just me looking back through rose coloured glasses . . . but I think that they had a lot more personality way back then, an almost familial feel that was quite tangible. They felt like a part of the family, the community, unlike the shops and towns of today which seem very plastic, like white bread . . . and not so terribly unique.
For instance . . . one of the big retail shops over here called Comet, is closing their doors for good shortly, putting umpteen thousand people out of work and just before Christmas too, which is sad . . . but nobody will really miss it. We lost our local Butcher though . . . about six months ago now, and he is quite,
quite
missed! I think it is because his business had a face . . . and Comet just does not. Sadly a lot of our small shops are now closing, and our pubs . . . because they just cannot compete with the likes of the larger conglomerates with their three for two sales, and shoddy Chinese merchandise.
When I was a girl the big local shop was the Stedmans store on Commercial Street. It was a 5 and dime and very popular with folks, both local and from the surrounding areas. That is where my friends and I used to go and oggle all of the latest in fashions , jewelry, and make-up and to listen to all of the latest pop songs. It wasn't remarkably large in size . . . but what it may have lacked in size, it more than made up for in presence.
It had a smell . . . and I'm not sure that it is even a smell that I could describe to you . . . it just smelled like . . . well, Stedmans! A mixture of wood and cloth, furniture polish, paper, candy, Evening in Paris Perfume, and Lady Patricia's Hair Conditioner, with a splash of Gee Your Hair Smells Terrific thrown in for good measure . . .
The floors were very old and made from wood . . . most probably oak, with a burnished sheen, a beautiful patina worn from the thousands and thousands of feet which had walked on it through the years. And it creaked as you trod upon it . . . such a comforting sound it was . . . the sound of Stedmans, and if you were wearing heels of any kind, there was another sound as well . . . the hollow sound of heel hitting floor, that you just don't hear that often any more . . .
All of the aisles were lined up the length of the shop, with the cashier being in the middle of the centre aisle, not very ingenuous I suppose . . . but it worked well, or seemed to. They didn't need a whole lot of cashiers in those days . . . only one, and there may have only been one other person in the store as well. People were just more honest . . . or was it more trusting?? Or maybe a combination of both. ☺
I can remember the seemingly old woman that worked in it. She was probably younger than I am now, but she seemed really old. She was an old spinster, very short and tiny, with black hair, pulled back in a bun and held in place with a hair net. She wore little round glasses. Yes . . . it's true . . . I am not making this up. That is actually what she looked like, and she used to wear a two piece suit to work, composed of a straight skirt and jacket. I can remember being a little bit afraid of her . . . she kind of had the look of the wicked witch in the Wizard of Oz about her . . .although she was very small in stature, she had a commanding presence.
She attended the local Baptist church which I also went to. I wish I could remember her name, but sadly, I can't. I do remember seeing her in later years walking down the street, her hair all white . . . still in the same bun, long after Stedmans had closed it's doors for good. She led a simple life, did nothing too amazing . . . and probably never traveled very far from outside of the limits of that small town . . . but here I am, all these years later, remembering her with fondness, and I am sure I am not the only one who does. You just never know who you will influence with your presence.
We had a few other shops in our town as well. There was a shoe shop where everyone got their new shoes for school in late August. It was called Mailman's and the couple that owned it lived over the shop. They were quite well respected in the community. Then there was the music store, which was called Ditmar's. That is where I used to buy the reeds for my clarinet, and sheet music and cork grease. There was also a jewelry shop and a pharmacy. I cannot remember the name of the Jewelry shop, but I do remember drooling over all of the jewels displayed in it's front window. I bought a pair of earrings there one year . . . little gold Christmas bells . . . with green enamel holly leaves and red garnet jewels on them. The Pharmacy was owned by Mr Fairn, who just lived down the street from us in a very big house, which seemed like a mansion to me. It was white with green trim and set far back from the road behind some trees. In the summer you could barely see it, but in the autumn and winter when the leaves had fallen, it was quite visible.
There was a restaurant, called the Shaker Restaurant, so called because of the rows of salt and pepper shakers lined along the front counter wall . . . a collection of the owner. The counter was lined with stools, trimmed with chrome . . . and there were booths. This was the place to hang out in after school hours with your friends . . . giggling over small bottles of coca cola, sharing plates of chips (french fries) and flirting with the local boys. There was another restaurant in town called Eisners, which was a lot more salubrious. It was the kind of restaurant your parents would have gone to on date night, or where they would have taken you for a family meal on Sunday after church . . . also owned by a family, who lived in a very large Victorian house next to the restaurant. At Christmas they used to do the whole outline of their house in lights and play loud Christmas Music for all to hear. Everyone would come from miles around to see it.
There were lots of other shops, far too many to name, but each with their own personality and charm. There was a bowling alley (another popular hangout), a cinema (everyone went to the movies on Saturdays) . . . a pizza place (which is still there. My cousin owns it now, but he started off working there as a boy.) and of course a grocery store and a few other odds and sodds. Everyone knew everyone else and who lived in what house and what people did for a living. There were the streets with the richer homes on it . . . the homes which had the local lawyers, and real estate agents and mayor, teachers, etc in them . . . and then there were the more modest homes, which people like my family lived in . . . and then, truth be told, across the railroad tracks were the homes where the people without a lot of money lived and where the native North Americans and the Black people lived. That's just the way it was . . . I am glad that has changed now.
I am quite grateful that I got to live in that small town . . . a town which had it's characters and indeed had
character!
We were only there for a few short years, but it etched an indelible mark on my own character that is still there. I have lived there as an adult as well . . . and three of my five children graduated from that same high school that I attended all those years ago. Most, if not all of the old shops are gone now, replaced with modern shops and names like Home Hardware and Pharmasave . . . and Tim Hortons. The old Shaker restaurant is a Chinese Restaurant. The old cinema where I shed many a tear over unrequited love is now a bar/restaurant . . . and Eisners is no more. Change happens . . . time moves on. They call it progress, but I wonder . . . is it really progress??? Or is something vital and precious being lost . . .
Something to think about.
Great news, my cards seem to be doing very well in the Gallery, so I am going to have to do up another assortment to take in. Of the ten I took last week, only 3 remain! Exciting news for me!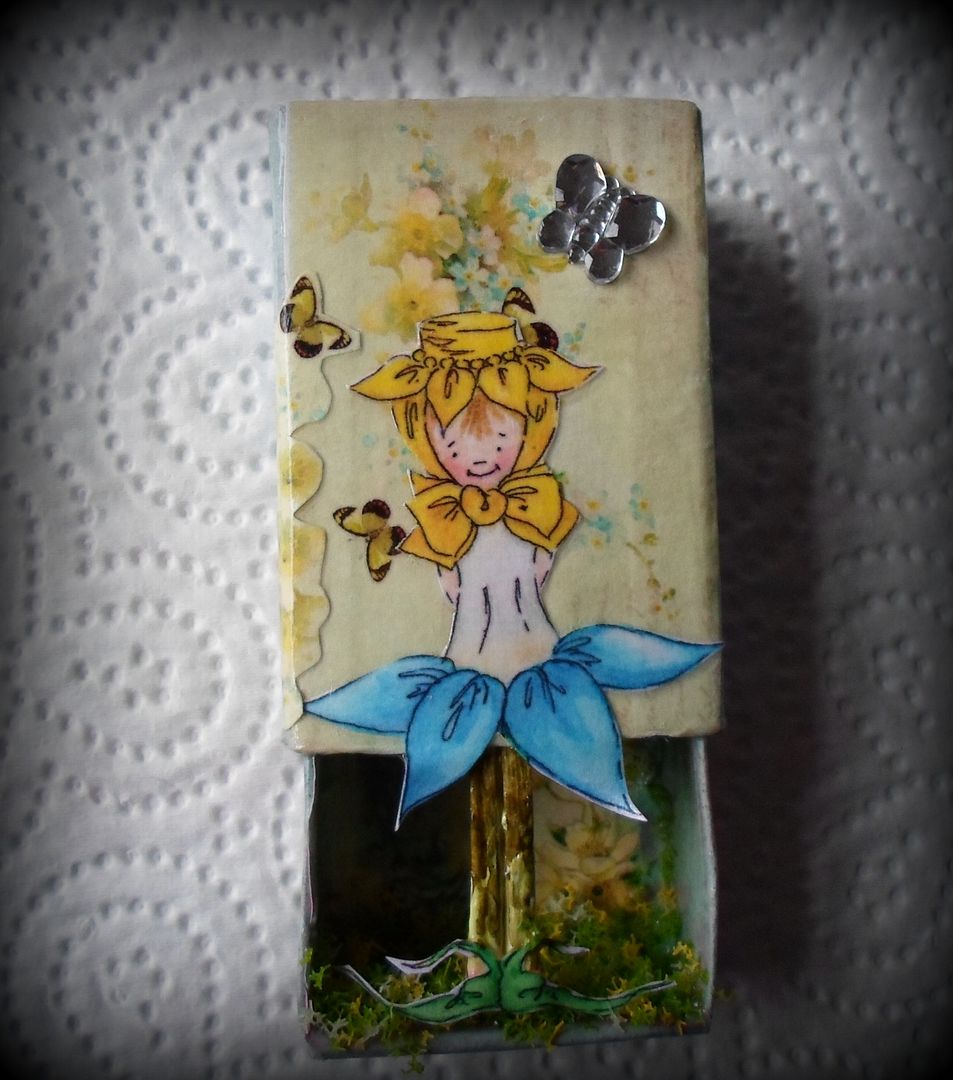 I had to make up a Little Girl with a Little Curl Matchbox doll at the weekend which I had sold and I made another one as well based on the Forget-M-Not talk by President Uchtdorf last year. I think she turned out quite sweet.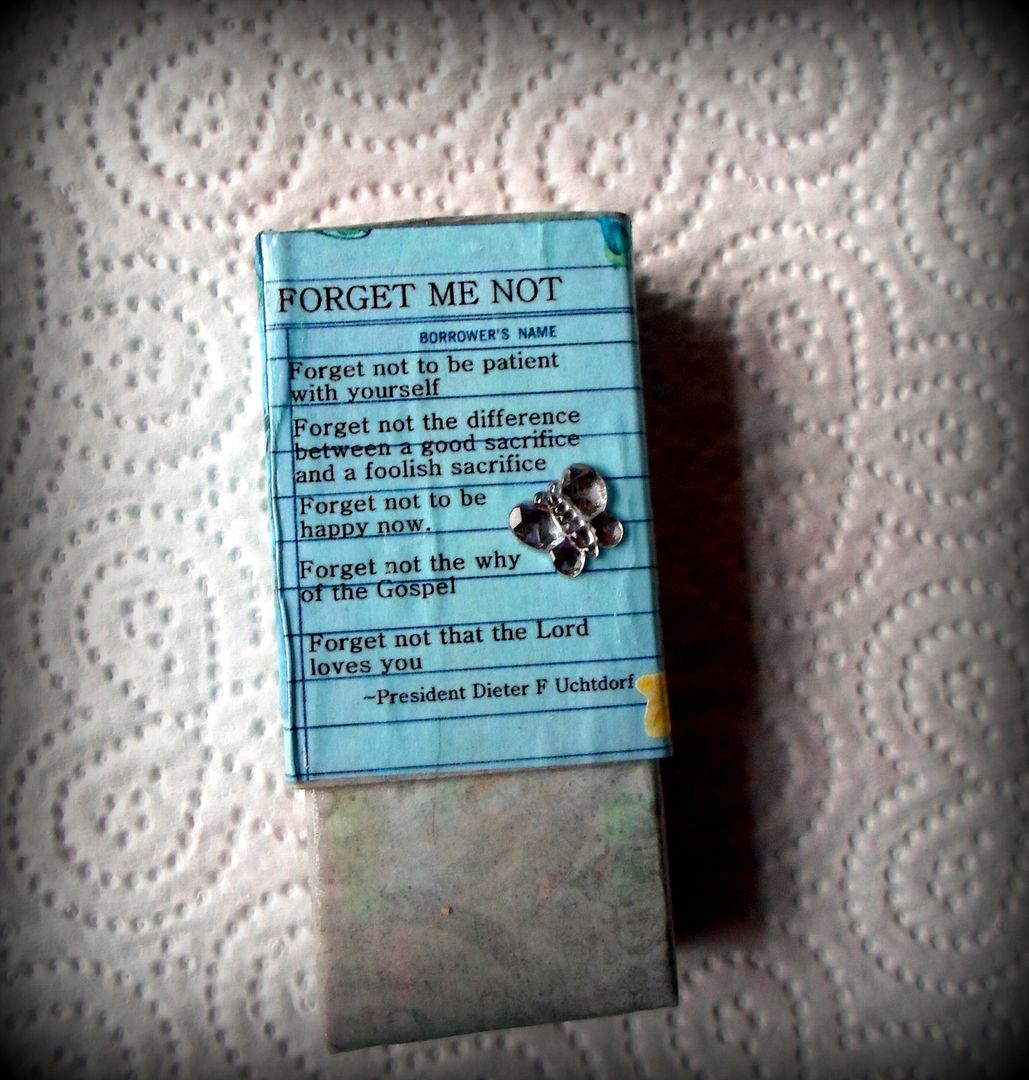 I really enjoy making these dolls, although they do take a lot of time to make. They're quite enjoyable and I have plans to make one of each of my characters as time permits. And if nobody buys them, that's ok too . . . because I love them myself and could quite happily keep each of them!
Must dash, it's gone past 8 and I haven't even had my shower yet!
A pleasant thought to carry you through the day. Happy day all!
"Some of the days in November carry with them the whole memory of Summer as a fire opal carries the colour of moonrise." ~Gladys Taber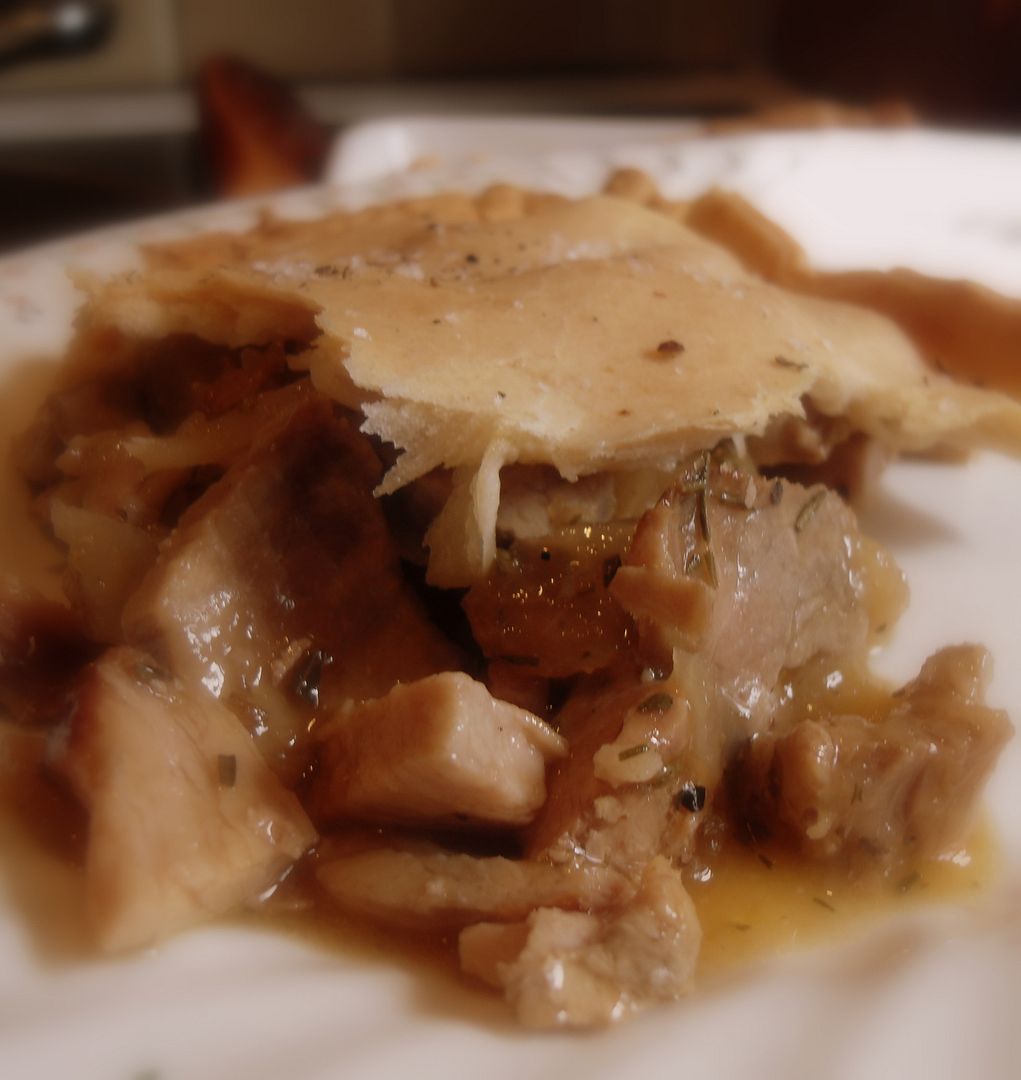 Cooking in The English Kitchen today . . . a tasty
Pork and Apple Pie!
Oh and . . . pssst . . . here's a look at something else I got up to just recently:
The Christmas Chief.