I have to say that the last twelve months have been stellar months for me. I truly have been living an amazing life, to say the least, and I am very grateful for that. If you are a long time reader of mine, you will remember that last year at this time I was very concerned that I might have cancer . . . it was a very scary time for me, but also a time in which I was blessed in a multitude of ways.
First, I learned a very valuable lesson, and that was to find, grab hold of . . . and appreciate the joy which each day brings. It is too easy to take for granted all of the good things in our lives. It takes the threat of losing it all to bring that into focus . . . and make us take stock. This past year has been one in which I have noticed every blessing, large or small . . . and my cup has truly runneth over.
It began with a simple letter. In October of each year we are blessed as Latter Day Saints to be able to gather together to hear special words from our prophets. They come via Satellite over the airwaves and we are always uplifted and nourished by all they have to say. There is a special broadcast as well . . . just for the women in our church. In the October 2011 Broadcast to the Women of our church one of my favourite people, President Dieter F Uchtdorf gave a very special talk . . . entitled "Forget Me Knot." (Please, turn off the music and listen to this short clip below, and then continue to read. It's only short.)
When I listened to those words by President Uchtdorf, I was touched in an amazing way. I was that little girl who always thought I was insignificant . . . and it was as if his words were just for me.
I was so touched that I felt inspired to do a piece of artwork based on his talk.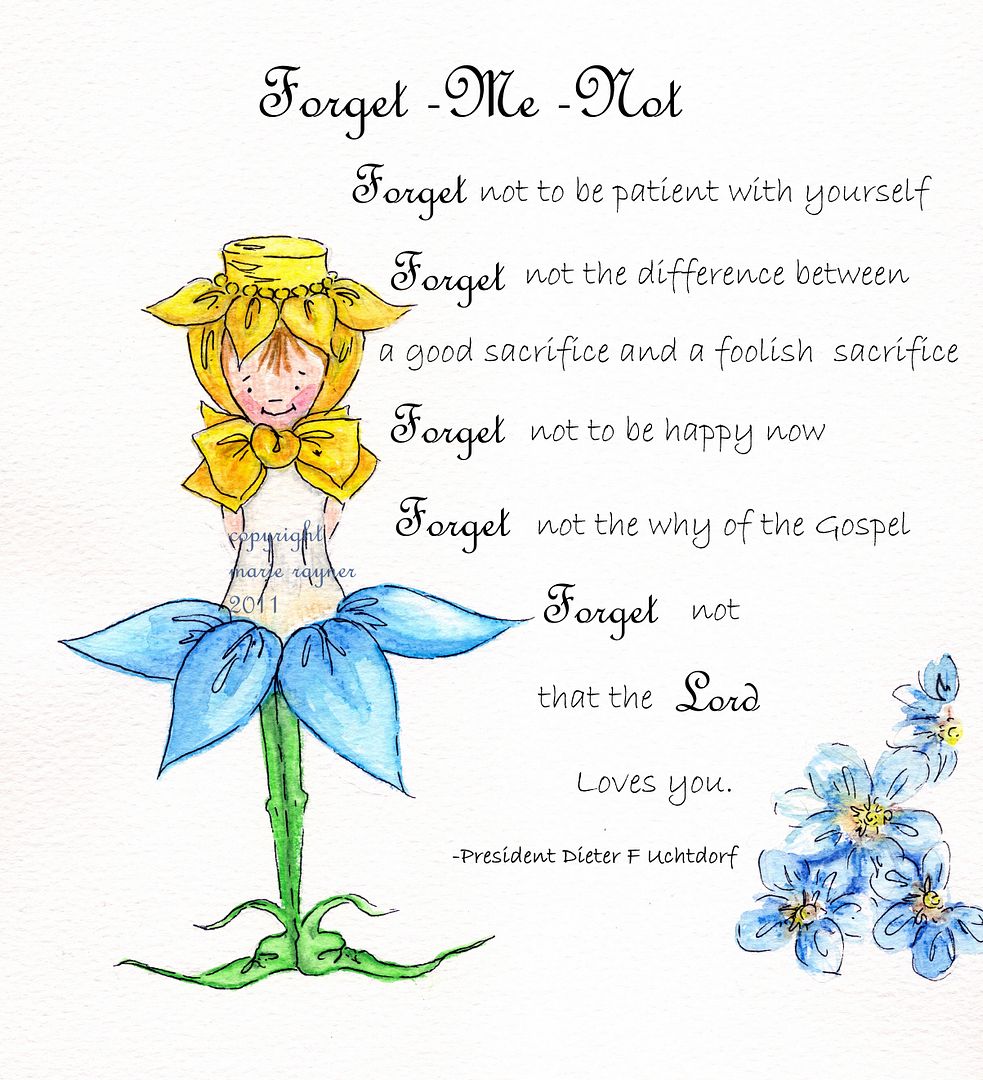 Entitled "Forget Me Not," it encompassed all of the points which he had made in that talk. Todd loved it so much he said to me . . . "You should send a copy of it to President Uchtdorf." I felt impressed to do so as well, and so we went into town the very next day and bought a special frame for it, wrapped it up and sent it off to Salt Lake City with a letter of thanks for his inspiration and service to all of the members of the church.
I didn't really think any more of it. I wasn't even sure that he would actually see it. He is a very important and a busy man . . . with lots on his plate. Besides I was very involved in what was going on in my life with the worry about me having cancer and all. It's terrible when you are going through something like that. You are trying to be so optimistic, but that niggling fear is always there at the back of your mind . . . tearing away at your hope and confidence. You just can't help it.
At that time I was also reading a book by Gerald Lund, entitled . . . "Divine Signatures." It was a very inspiring book which spoke of the way our Heavenly Father manifests Himself in our lives in . . . sometimes small, always amazing . . . unforgettable ways. Ways that sometimes people might think of co-incidence . . . but if you have a heart that is open to the amazing . . . you just know it's Him letting you know He is there. And then I had a Divine Signature of my own. It happened on a Friday morning.
The post came through our letter box and there were two letters, both to me. One was from the hospital . . . and I knew it was the letter which I had been looking for and dreading all at the same time. The other one simply had the return address of the Office of the First Presidency of the Church of Jesus Christ of Latter Day Saints. Of course you know which one I opened first . . .
Amazingly it was a personal letter from President Uchtdorf thanking me for my gift . . . I was so touched that he would take the time to write me . . . and he had signed it as well . . . but it was the last sentence in it which really touched me.
God has blessed you, and He is mindful of the desires of your heart. With kindest regards, Dieter F Uchtdorf
Here was my Divine Signature . . . here was Heavenly Father letting me know that all was in His very capable hands no matter the outcome. All of my fear was swept away. I lay in bed that night with this letter in my hands, reading those words again and again, with tears running down my cheeks, and I wondered at this message that had come to me from an Apostle of the Lord. I turned to Todd and I said . . . all will be ok. An Apostle of the Lord has told me so. My tears of fear had been turned into tears of hope.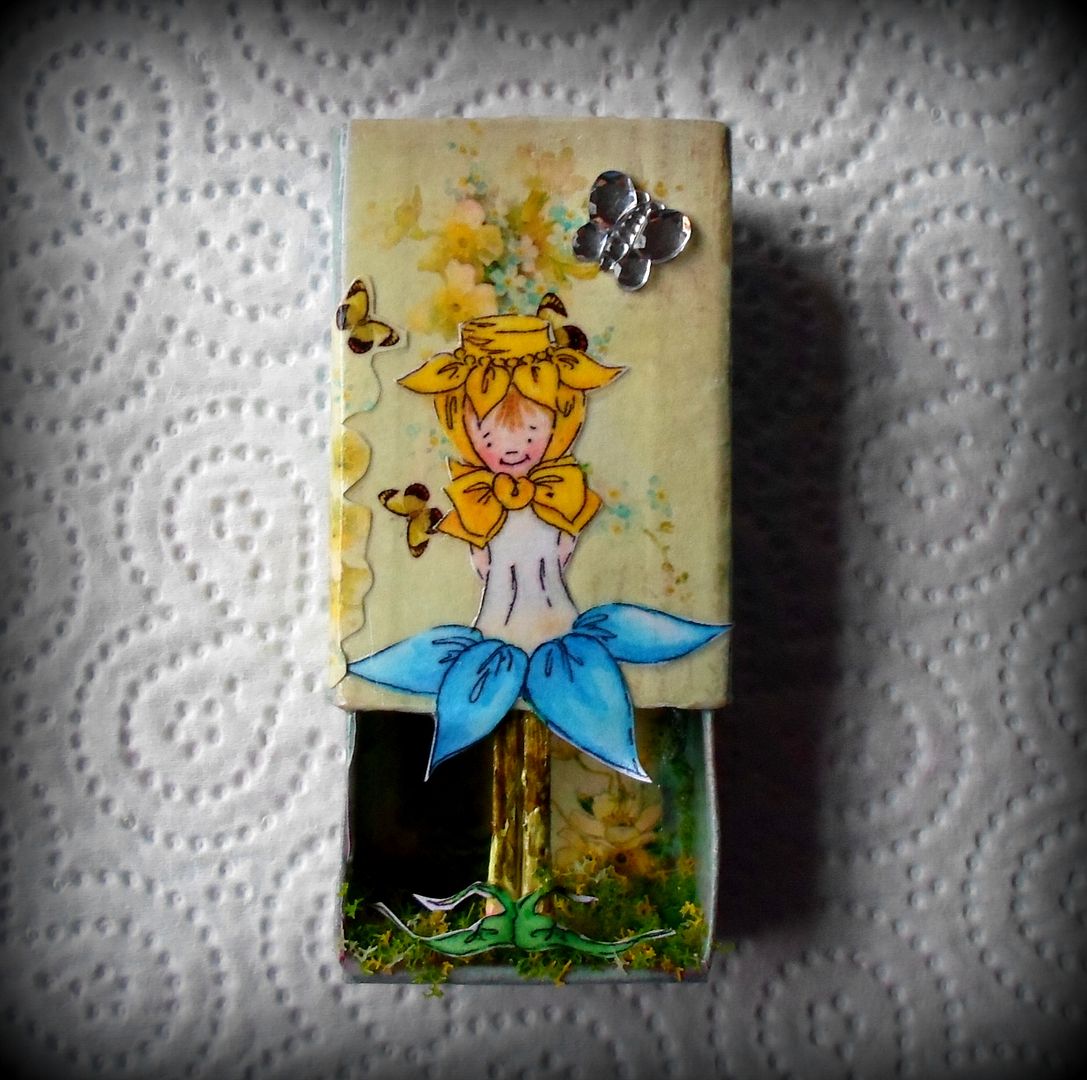 And it was ok. I did not have cancer. Those shadows and mysteries on my scans turned out to be wind?? I call it a miracle. I call it a blessing. I call it amazing . . . and an answer to prayer, and you were all a part of it, because I know that as hard as I was praying myself . . . you were all praying that little bit harder for me.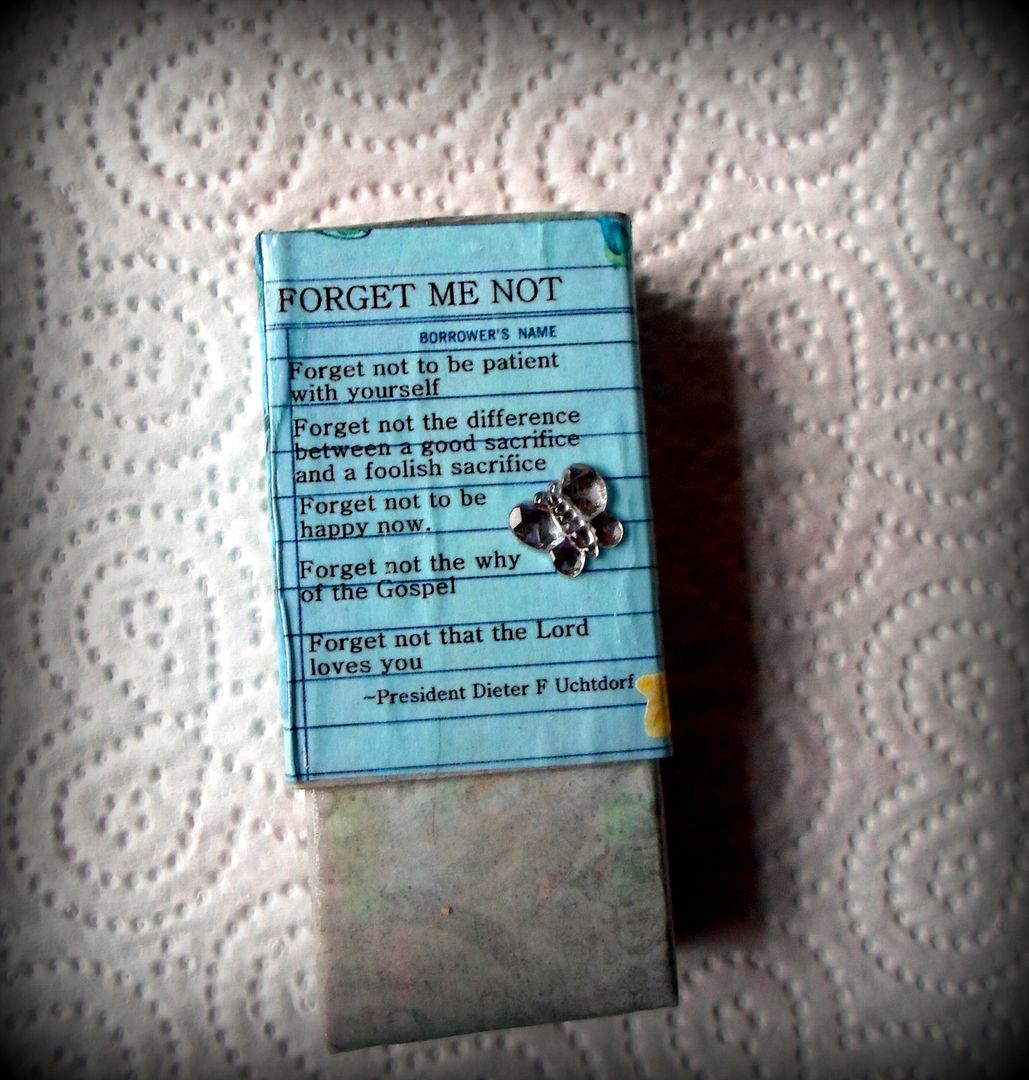 And then I had another amazing thing happen in my life. As you all know, my eldest daughter Eileen got married in July. I had not been going to go to the wedding. There was so much negativity attached to it by certain people, and I had been afraid that my being there would just cause too much stress on my daughter on her special day. I didn't want to spoil it for her, Then one day my telephone rang and it was my ex husband. We talked for over an hour and at the end of that conversation I felt like a great healing had begun in my family . . . and I had changed my mind and decided to go to the Wedding. I still had my misgivings about the whole thing . . . but I was going to go anyways, and Todd was going to go with me.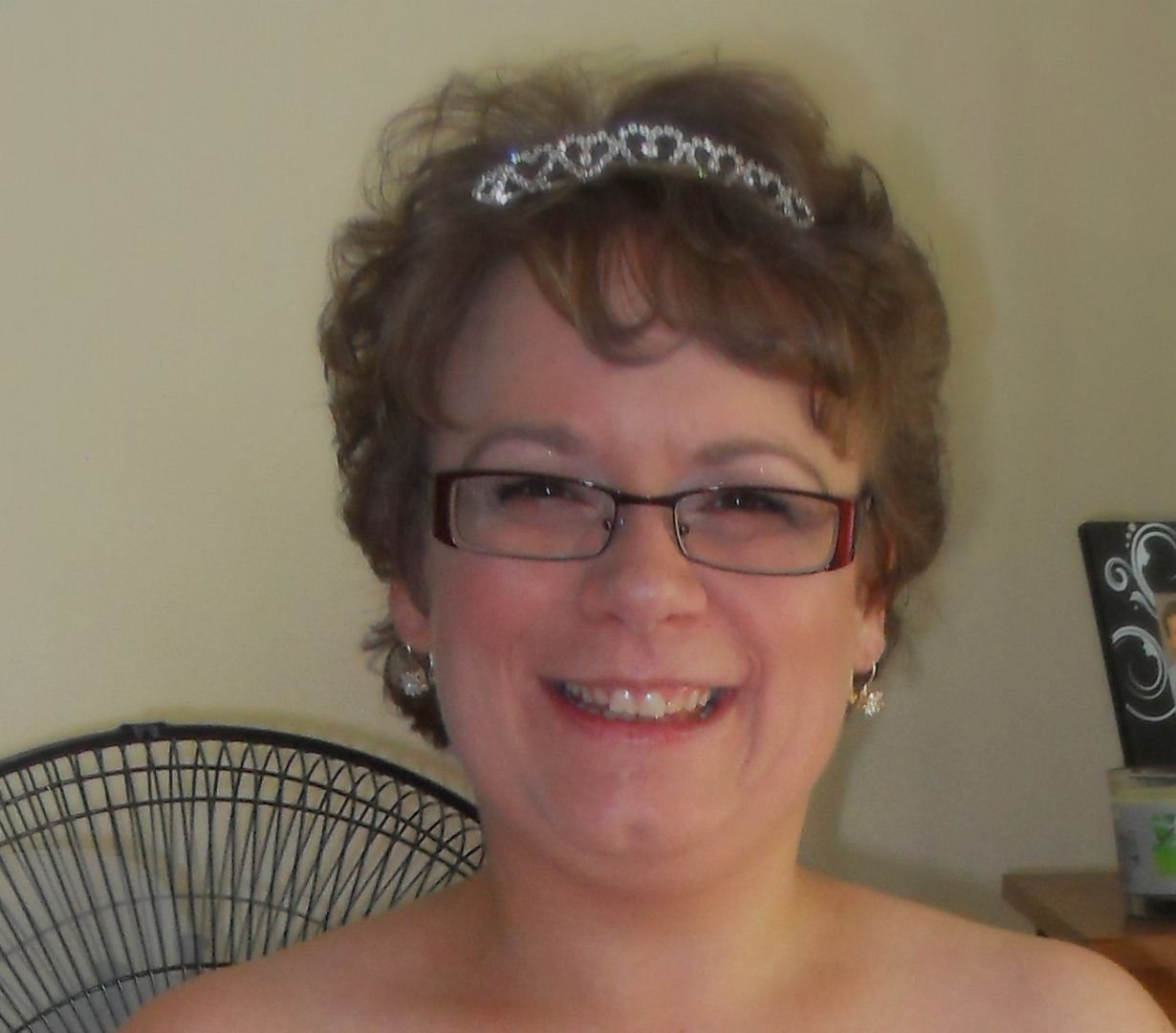 And it was a wonderful time. I got to spend some really quality time with my daughter and to help her get ready on her big day. And great healing was made in my family. Two children which I had thought were lost to me came back to me and while things are still fairly tenuous and tender in that area there is hope.
I got to see the granddaughter I had never seen before, and it was beautiful . . . and I got to spend some quality time with both my brother and my mother. That was amazing thing number two in my year.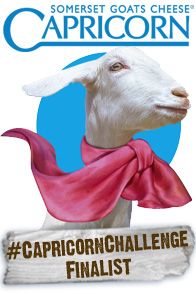 And then in August . . . amazing thing number four happened. (I forgot to tell you about amazing thing three, which was winning a dishwasher in June! Squeee!! That was amazing for Todd too, because he was the chief dishwasher!) I had been sent a hamper from Capricorn Goats Cheese and asked to create a recipe and so I did and my recipe was picked as the first finalist in their contest.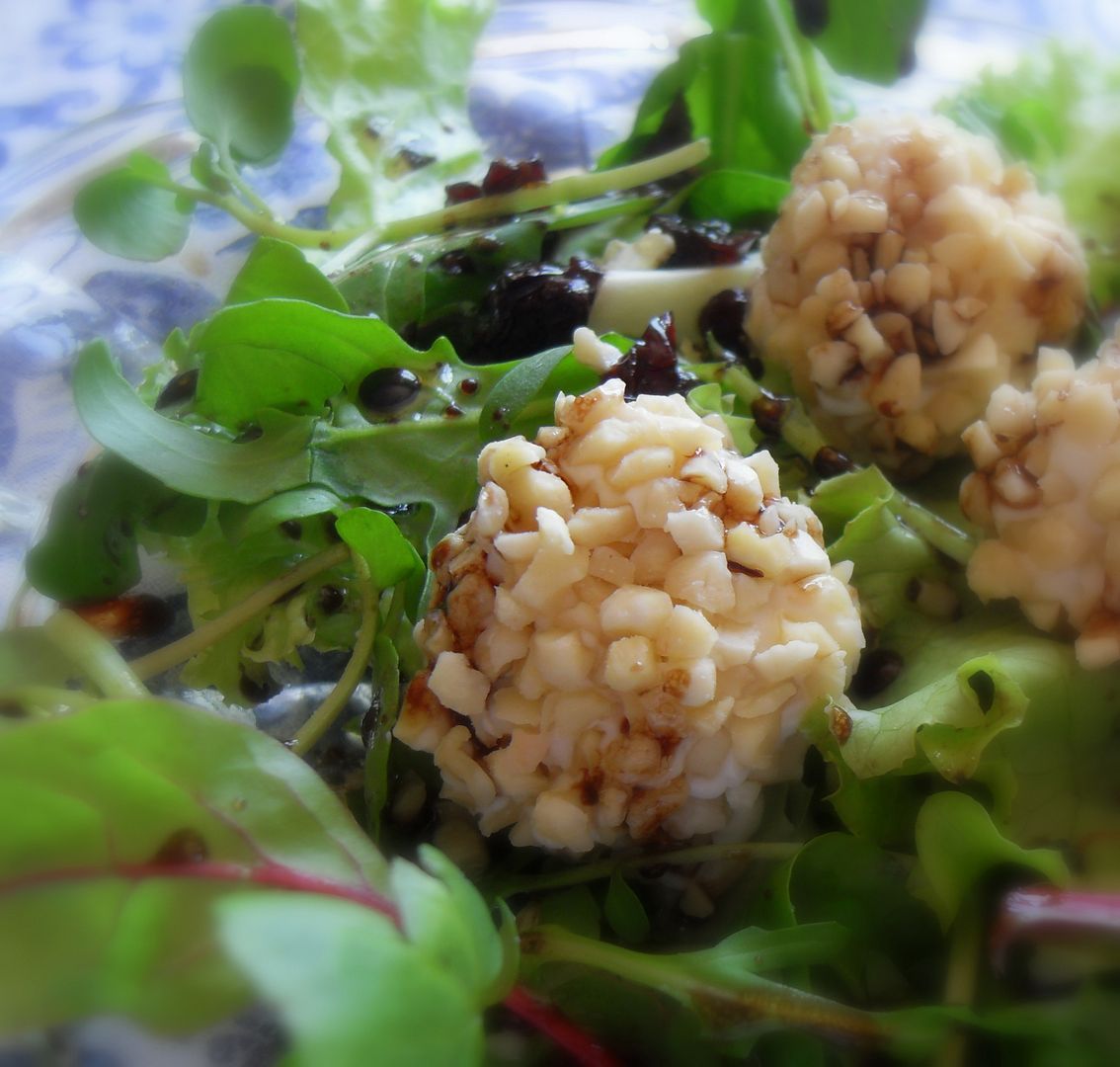 It was for a recipe I had concocted called
A Spring Salad of Mixed Greens with Goats Cheese Bakewell Truffles.
I was chuffed to say the least. We're still waiting to find out who the overall winner is . . . but I was so happy to have been picked a finalist it is like I won anyways, so it's all good no matter what the outcome!
You would think with a year like that things would be amazing enough, and I haven't even mentioned all of the tiny little blessings and joys scattered throughout my year!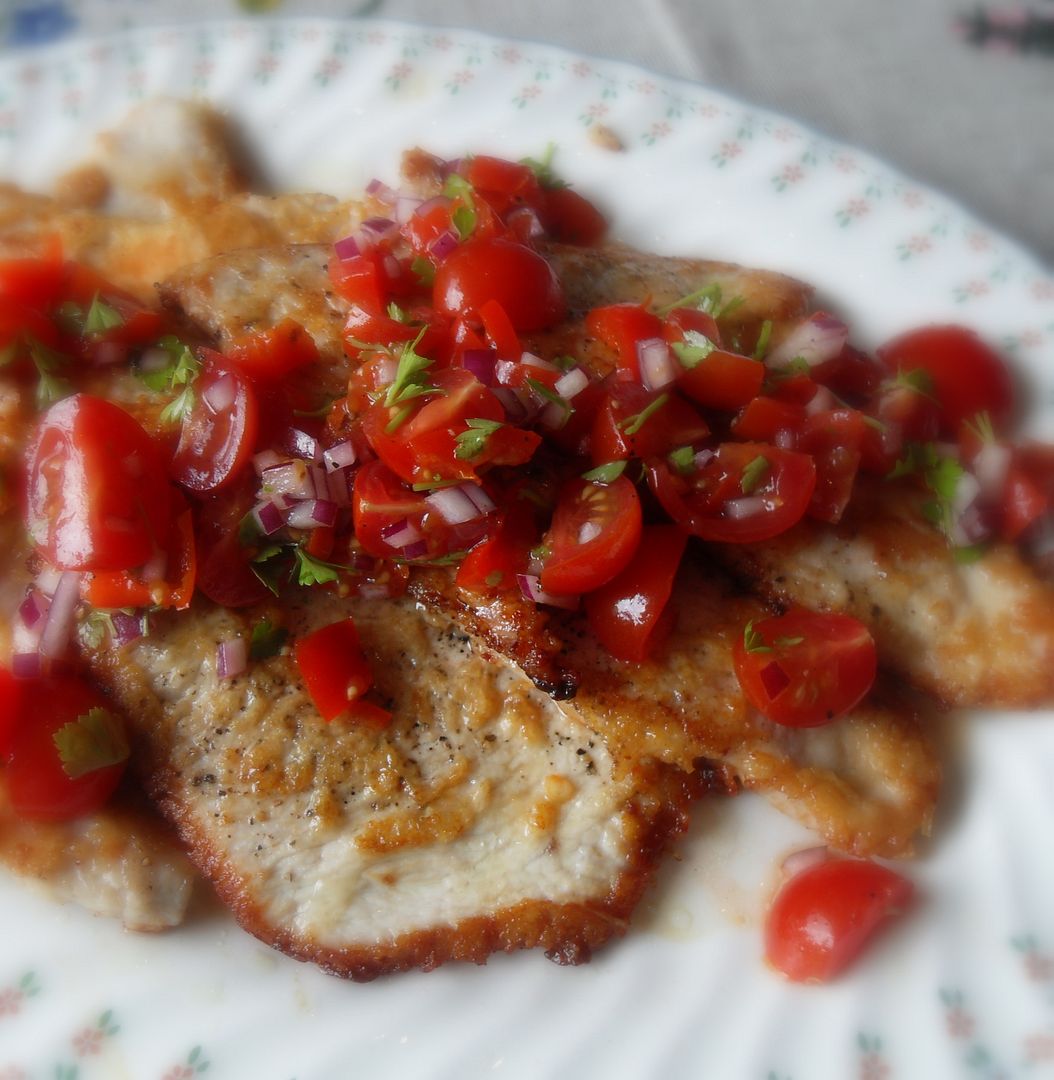 Big Blessing and Amazing Occurrence number five, was in early September when I was told that another recipe, which I had entered into another contest back in April for the British National Turkey Association had been shortlisted for an award, Best Turkey Blogger of the Year.
Parmesan Crusted Turkey Steaks with a Peppadew and Tomato Salsa.
A simple recipe really. We were invited to attend the Turkey Awards at the Savoy Hotel on the 27th of September. We weren't going to go, but then we said . . . why not, when will we ever again have the opportunity to be wined and dined at the London Savoy, and so we went . . .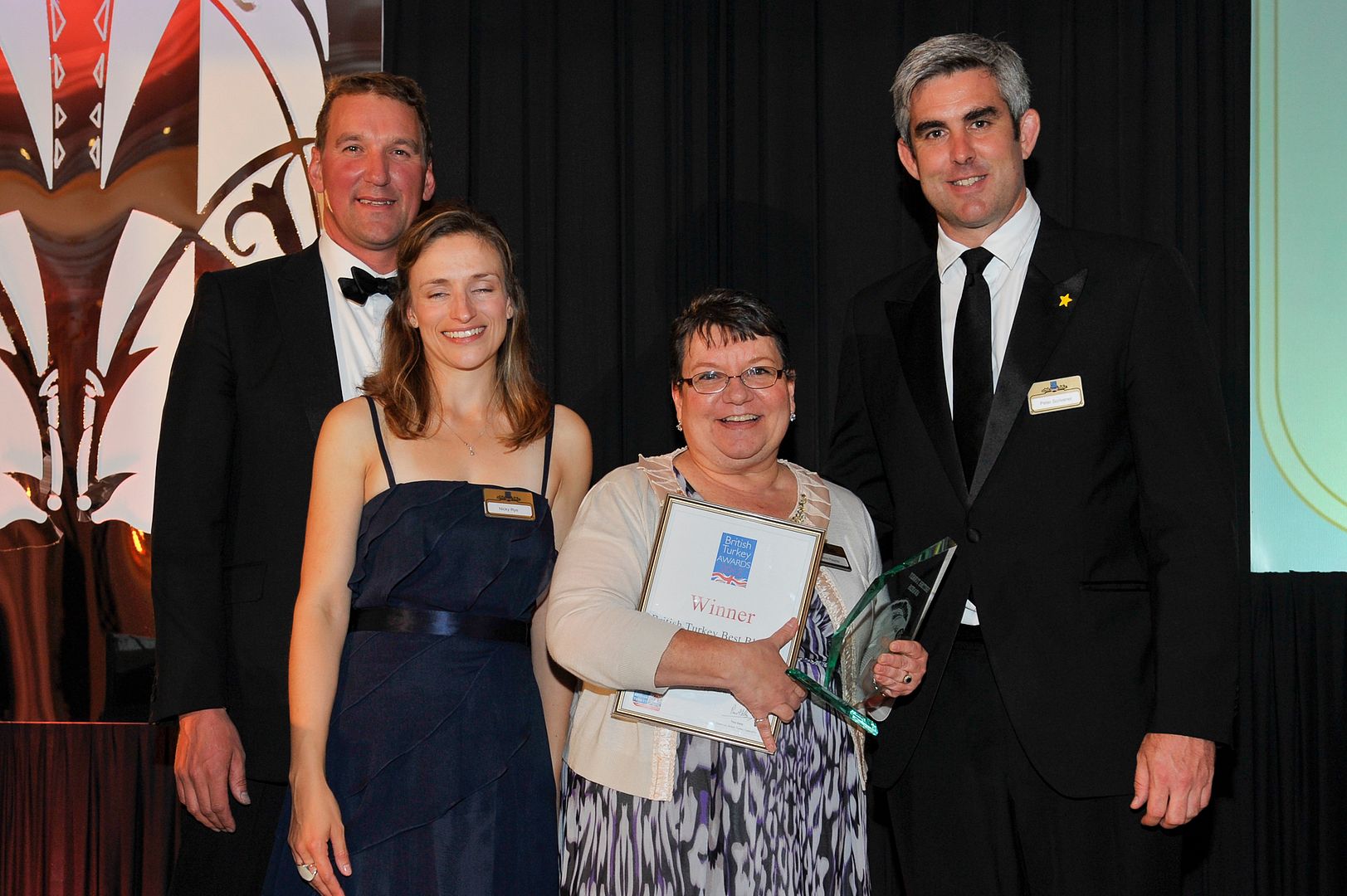 And . . . I won!! I was Britain's Turkey Blogger of the Year! It was amazing. I am still pinching myself over that one!
You would think that would be enough wouldn't you . . . I mean, it's been a really stellar year already . . . but nope . . . there is more.
In October I was told that I had been chosen by Women & Home Magazine as one of their 100 Best Food Bloggers in the UK. I kept it pretty quiet . . . but yesterday it became public and official and so . . .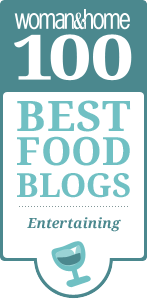 I got the badge to prove it. I am in the top 100. You can check it all out
here.
I am well pleased about that and I am in great company, along with Edd Kimber (The Boy Who Bakes), Sarah of Maison Cupcake, Cherry Menlove, and a whole host of others, 100 in all. Truly an honor.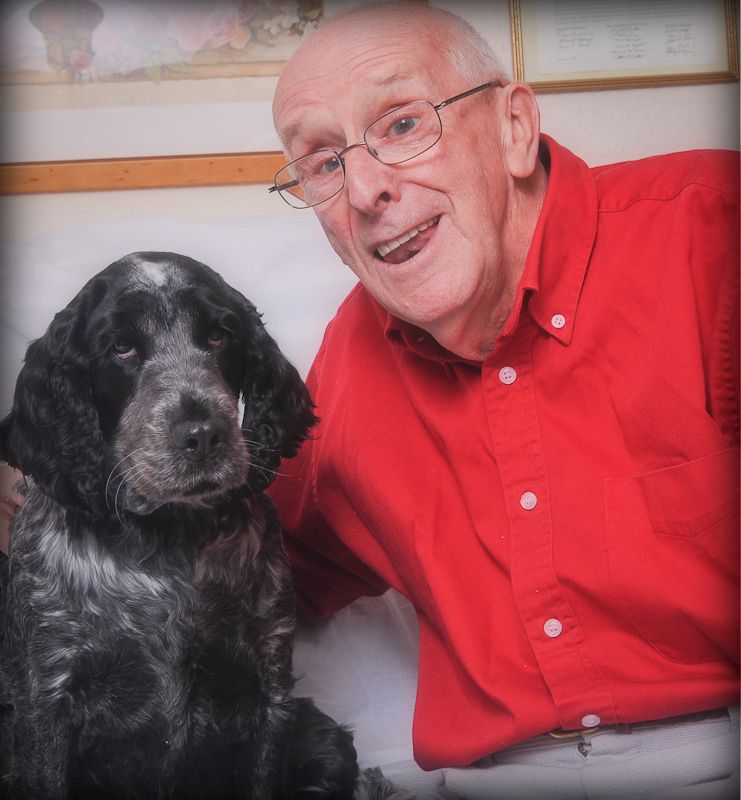 Then there is my art being taken into the Gallery in Chester and it doing so well, and the rubber stamps being made and a whole bunch of other fabulous things. And to top it all off . . . I've gotten to share it all with these two . . . and . . . with each of you.
I am afraid to pinch myself for fear I will wake up and this whole year will have been nothing more than a dream. But you know what else . . . you've all been with me through it all and I could never have done any of it without you and my Todd. Y'all are my happy. Two and a half years ago when I lost my job at the Manor . . . I thought my life was ending . . . but it was only just beginning.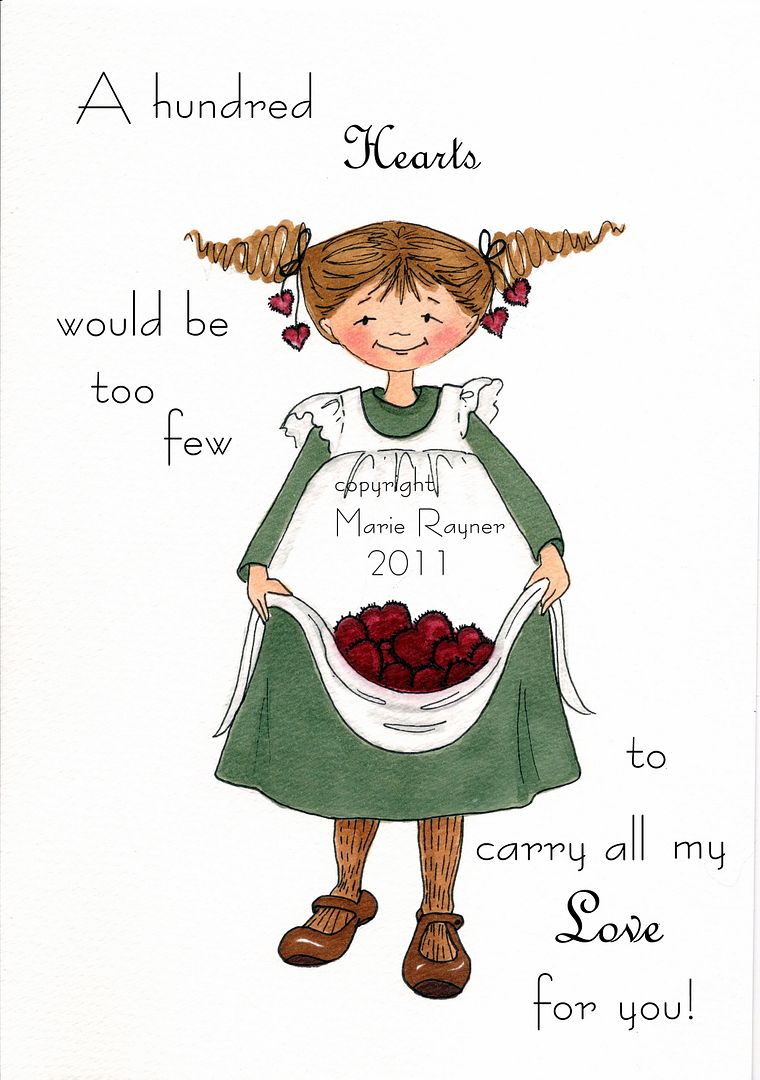 I wanted to thank you for all of the support you have given me every day since I first began blogging. For all of the love and the tears shared, and the smiles and hugs, and just being there. You all are the best and without you . . . I just wouldn't be who I am and so I thank you from the bottom of my heart, right along there with thanks to my Heavenly Father because at the end of the day, He is the conductor of my symphony and who makes the music all happen.
Have a fab day all.
"Some blessings come soon, some come late, and some don't come until heaven; but for those who embrace the gospel of Jesus Christ, they come." ~Jeffrey R Holland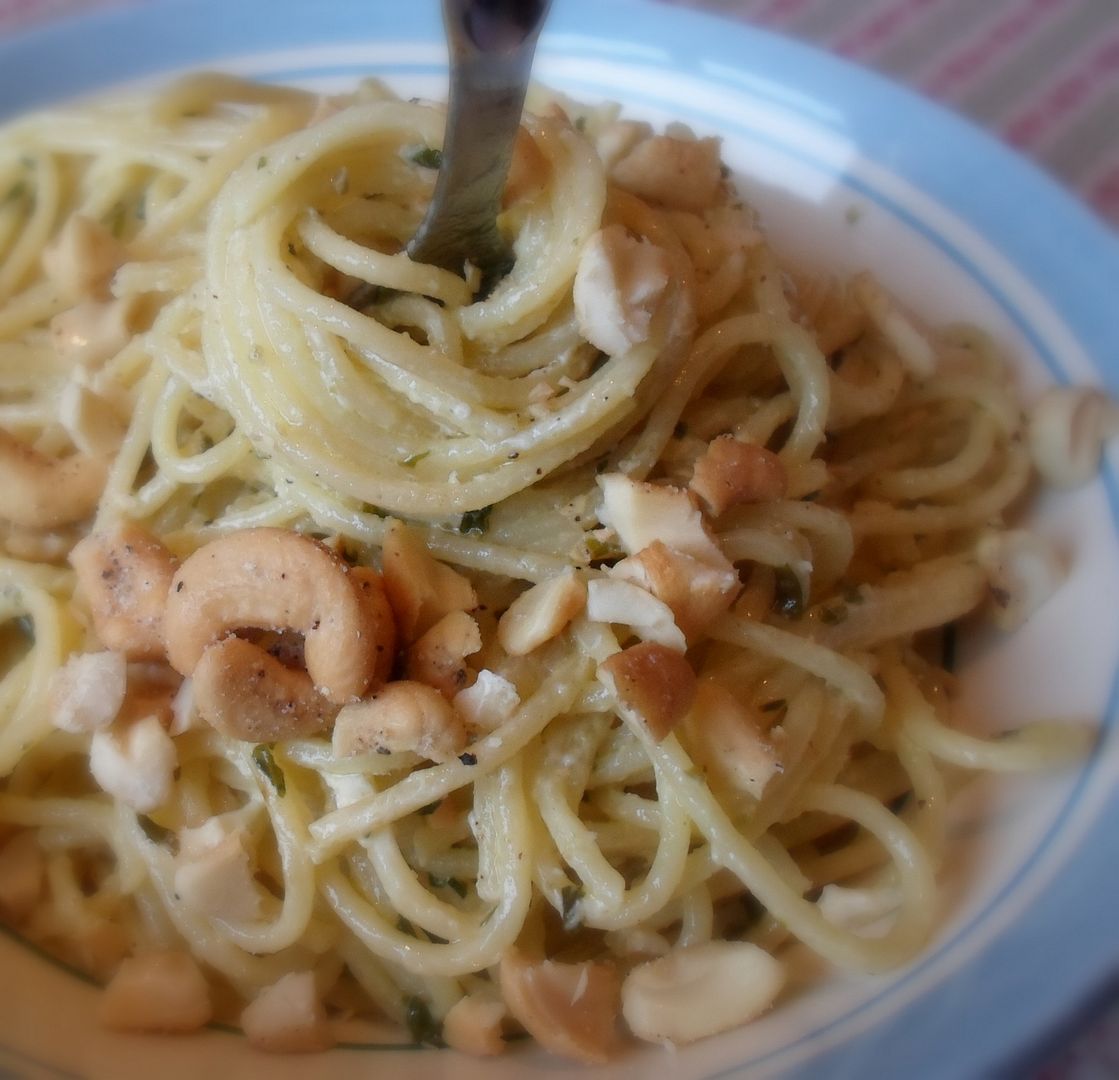 I'm cooking with Nigel again in The English Kitchen today . . .
Spaghetti with a Basil and Caper Sauce.
Off to the Dentist today to sort out that broken tooth.
Wish me luck!