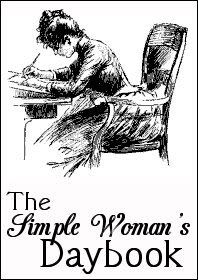 FOR TODAY, August 14th, 2012...

Outside My Window...
The sky is overcast . . . no surprise there! The sun is trying to peek out though. I think we are in for rain though. We must make the best of whatever the day gives us and be grateful for it all!
I am thinking...

"Fear is the thief of dreams."
~Unknown


I wonder sometimes if I am not a tiny bit afraid of success, and if that's what keeps me from really doing what I should be doing with my art . . . I look at it and I think, it's not that bad . . . I look around card shops and see what's on offer and I think to myself . . . wot the heck??? I think that a lot of what's on offer is garbage . . . I wish I knew how to move forward, or where to turn.
I am thankful for...
I got so very many Birthday Wishes yesterday and I am grateful for each and every one of them. I can't even begin to count how many I received on Facebook, and then the personal e-mails and cards. I am so very overwhelmed by all of it and so very grateful for all of the love and kindnesses shown to me. I thank each of you from the very bottom of my heart. You helped to make my day very special indeed. ☺

From the kitchen...
I think I am going to bake a loaf today. I found a really lovely sounding recipe for a Cranberry Ginger White Chocolate Bread that I have been itching to make! Oh, it does sound fabulous doesn't it?

I am wearing...
A blue nightie and my old croc sandles. That way I can pop out the back door if I need to. It rained last night and I don't want to get my feet wet.

I am creating...

I picked up a Kraft paper journal book at Paperchase yesterday morning. I want to do a real Art Journal. I know it will take a long time and I need to really research it a bit more before I begin. But I think it is something I would really enjoy.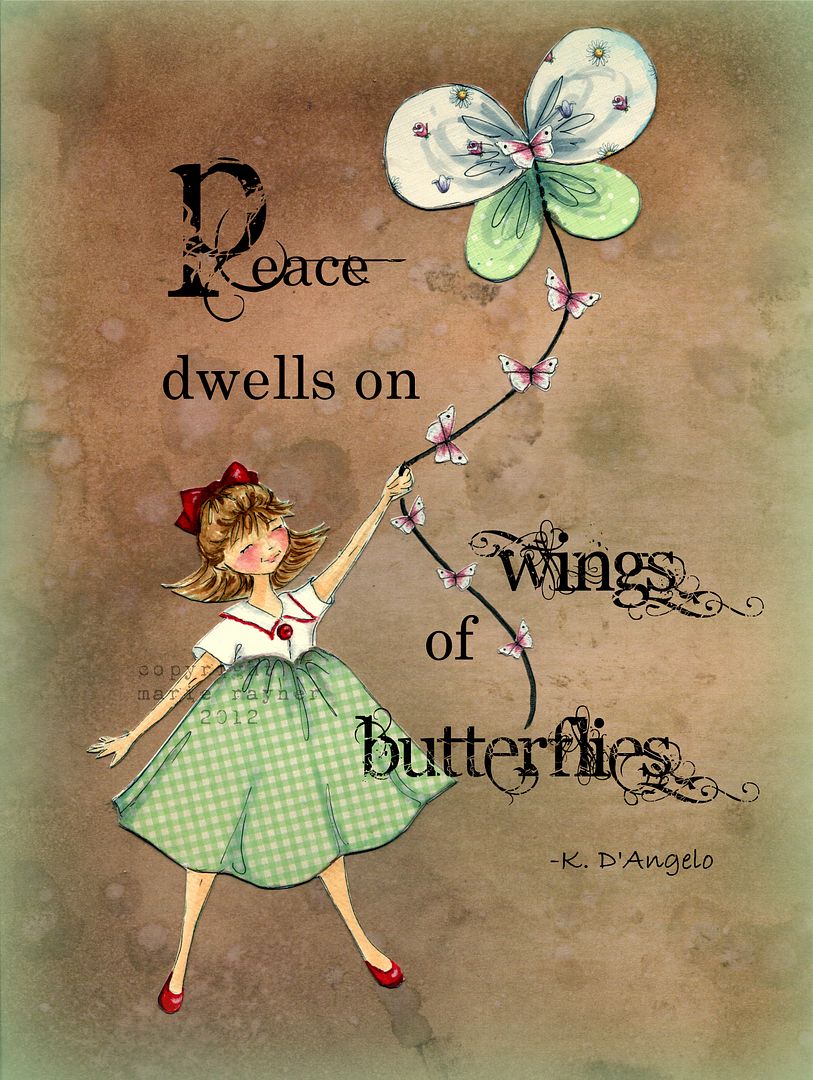 I did this yesterday afternoon. I had done her first on some watercolour paper, but I didn't like the way the background turned out and so I cut her completely out of the page, along with her butterfly kite and pasted her onto some scrapbook papers. Then I did the words. I never know what to think of what I have done when I am finished. It is very difficult for me to look at these things with a constructive eye. I am very critical of my own work.



I am going...


I don't really have any concrete plans this week. We have Missionary Correlation on Thursday evening, then there is a Baptism on Saturday afternoon, but other than that not a heck of a lot planned. I am grateful for slow weeks from time to time. Helps me to catch my breath.

I am reading...
Call the Midwife, by Jennifer Worth
I really enjoyed the series by the BBC and thought I would like to read the book. Books are always a lot more detailed than films or television shows. I am really enjoying this book. It's fabulous and I am glad that I picked it up to read. It details the life of a young midwife in London's East End in the 1950's and is a real peek into the way of life which existed there during that time period . . . the hardship, the poverty, the sadness, the joy, etc. I highly recommend.
Still reading this.
The Last Concubine, by Lesley Downer
The Last Concubine tells the story of Sachi, who grows up as the adopted daughter of an innkeeper in a rural Japanese village, knowing nothing about her true origins. Her world changes forever when an imperial princess, on her way to marry the shogun, passes through the village and takes Sachi into her entourage. In the secluded, formal, traditional world of the women's palace in Edo, Sachi eventually becomes the last concubine of the last shogun — but that's just a prelude to the turbulent events she's about to be caught up in as Japan erupts into civil war and the world Sachi has grown up in, a world that seemed immutable for hundreds, even thousands of years, changes almost overnight.
Lesley Downer has created a wonderful character through whose eyes we are able to view the upheavals in Japanese society in the 1860s: because of her complicated background, Sachi is able to move and interact with people at a variety of different social levels. She's uncomfortable, as any Japanese woman of that era would be, with stepping outside rigidly prescribed social roles, yet recognizes that because of the unique situation she finds herself in, she often has to do so. She also falls in love, in a society which doesn't talk about or celebrate the concept of romantic love (or even have a word for it!) in the way we do in the West, and she has to struggle to fit her emotions in with her concepts of duty and social order. She also gets to see the beginning of the rapid Westernization and industrialization of Japan following the civil war — a fascinating story in and of itself.
I have only just started this book. As you know I am very intrigued by Oriental culture. I am enjoying this very much thus far.
All are on my Kindle.
It's so much easier to manage in bed than a book, and a lot easier on my wrists.


I am hoping...
I am hoping my weigh in goes well this week. I had some cheesecake yesterday . . . I have not been eating anything like that lately, and I indulged in a few bits of chocolate as well. Although having said that I did not have fish and chips like we had planned to have when we went in to Chester. Instead we went into Debenhams and paid a fortune for an awful lunch in there. I was really disgusted. I had an egg and cress sandwich with salad on the side and Todd had a cottage pie. It was expensive and there was no filling in the sandwich. I think they showed the filling briefly to the bread, as there was a tiny whisper of it's presence, but that was all. And there was a rotten tomato in my salad. Blah . . . you would expect more at Debenhams. I was trying for something healthy, but ended up wishing we had just gone for the Fish and Chips. At least we would have enjoyed them . . . and they would have been cheaper too!
I am hearing...
Nothing new really. The keys are tapping. The birds are singing.
I can hear a magpie in the back garden. Awful birds really . . . but I suppose they, too, have a purpose.



Around the house...
I am really wanting to re-decorate our bedroom using birdhouses of some sort. We bought twin beds at the weekend, with white fencepost headboards. (We are waiting to have them delivered after the bath is finished.) We plan on putting them together in the room and I was thinking that some white birdhouses of some sort would look really nice on the wall above each bed, or even perched on the corner posts. I just think they would be cute.
I have a thing for birdhouses . . . I love them. I will have to keep my eyes open.
Todd does not share my vision . . . he cannot see what I am seeing in my mind's eye.
One of my favourite things . . .
Animals dressed up like people . . . in storybooks, in art, in dolls . . .
That is probably why, as a child, I adored the Beatrix Potter stories and The Little Grey Rabbit, and Watershed Down and all of those animal stories. I guess in my heart I just feel like animals are people too . . .
I love the art of my friend Kim Wlassak . . .
She's a mixed media artist and I am lucky enough to own two of her creations, one of which is the one you see here today. I just think she is so very talented. You can see more of her work
here.
Something new about me ...


I
love treehouses. I fell in love with them when I saw the Disney film, Swiss Family Robinson, waaaaaay back when and I have wanted one ever since. If I ever won the lottery, I would build myself a treehouse studio in my back garden . . . it would be magical. I could escape up into my tree house whenever I was feeling creative and being in it would inspire me . . . perhaps I am a dreamer . . . well, I know I am a dreamer, but then again . . . you've got to have a dream in order for a dream to come true!
One of my guilty pleasures ...
Diet Coke. I am addicted. Most people have a hot drink in the mornings . . . ever since I can remember I've had a diet coke. I know they are bad for me.
Pet Peeves...


People who decide to go out into their back gardens on hot summer nights and start partying just when we are going to bed. There is usually drink involved and they get louder as the hour gets later. I think it is very inconsiderate and I would love to yell at them to quiet down . . . but then they'd probably break my windows or something worse, so I grit my teeth and huff and puff . . . We have some neighbors that do that often in the summertime. I wish I had enough courage to make a lot of noise early in the morning . . . so that they know what it's like to have their sleep disturbed.

Here is picture thought I am sharing...
Twenty years from now you will be more disappointed by the things you didn't do than by the ones you did do. So throw off the bowlines. Sail away from the safe harbor. Catch the trade winds in your sails. Explore. Dream. Discover.
~Author Unknown

In all reality I will probably no longer be here in 20 years time . . . but I like to think that when I do leave this plain of existance . . . that I've made the very most of whatever time I have had here. Live your earth life to the fullest. It's the only one you will ever have.
As a closing thought I would like to leave you with this:
"Superfluous wealth can buy superfluities only. Money is not required to buy one necessity of the soul."
~Henry David Thoreau

And there you have it . . . my day book for this week. Don't forget to hop on over to the Simple Woman

to check out the other day book entries! (Or better yet, do a simple day book entry yourself! It's not that hard and I am betting you would enjoy it!
)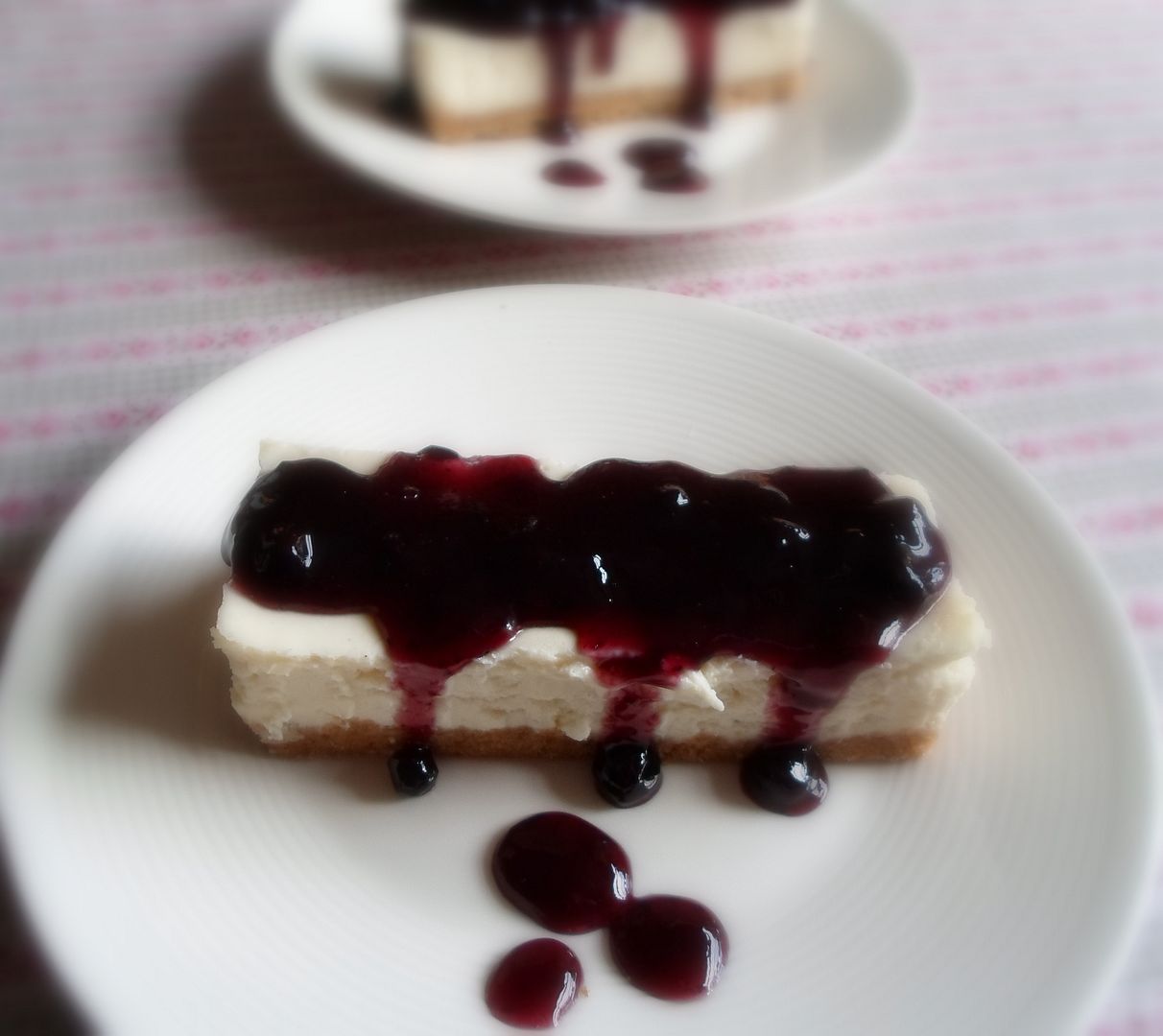 Cooking in The English Kitchen today . . .
Vanilla Cheesecake with a Simple Topping
. (my birthday cake.)
PS - Please do continue to keep Tony and Mike in your prayers. They and their families really need and appreciate them very much.