Twas the night before school started,
When all through the town,
The parents were cheering.
It was a riotous sound!
By eight, kids were washed
And tucked into bed . . .
When memories of homework . . .
filled them with dread!New pencils, new folders,
new notebooks, too!
New teachers, new friends . . .
their anxiety grew!
The parents just giggled
when they learned of this fright
And shouted upstairs . . .
GO TO BED-IT'S A SCHOOL NIGHT!
~author unknown
Next week all of the children over here will be going back to school. I was thinking about that as I lay in bed last night waiting to go to sleep . . . remembering all the feelings that I had way back when . . . As a child who absolutely adored school it was a very exciting time for me!
New scribblers, binders and foolscap would have been purchased. Is there anything on earth that smells a lovely as a brand new scribbler?? How exciting . . . all of those clean pages just waiting to be written upon . . . like a mystery waiting to be solved. What would the new school year hold?? Sometimes you know which teacher you would be getting, but then . . . when you got into the older grades, it was a complete mystery. There would be thoughts about which teacher you hoped you would get for different subjects . . . and then a bit of fear and dread just in case you got one that you didn't want . . .
There were some teachers that everyone loved . . . and others that nobody wanted. It was all in the luck of the draw! I don't think there were really
any
teachers that I totally dreaded . . . and oftimes their reputations were just very undeserved. They weren't half as bad as you'd been told they were. Whew!! Relief!!
New clothes had been purchased, and on a good year . . . new shoes. I can remember very carefully picking out my outfit to wear on the first day of school. That was such an important decision to make. First impressions were lasting ones and if you messed up on the very first day . . . well . . . your whole year could be ruined! Maybe even your life!!!
There was something really special about new shoes . . . the smell of new leather, that pinch of shoes which hadn't been properly stretched . . . they sometimes squeaked abit, and they were so shiny and unscuffed . . . but you know that within a few days they would be properly stretched out and feeling quite comfy, and even be a bit scuffed. It was only on this first day that they would be new . . .
And if there were new gym shoes, well . . . that was a bonus!
My pencil case would be all filled with new pencils and crayons . . . the pencils all freshly sharpened, that smell of graphite so strong. Rulers, erasers . . . pencil sharpeners . . . all would have been purchased and just laying in wait for whatever magic was about to happen with them. All full of promise . . .
I remember one year saving my money all summer to buy myself a pencil box. It was so pretty . . . made of bamboo . . . with a lid that worked like magic and slide up when you pushed on it . . . seemingly to disappear. The lid was composed of bamboo strips, which folded up on themselves, and was painted with flowers and leaves. I was so proud of it.
That first day would be a happy mix of joy at being back and seeing all of your friends that you hadn't seen all summer, meeting new friends who had just moved in to the area, nervousness at what the day and new year might hold . . . it was exciting to me, always.
I loved getting the new textbooks and that first night was always spent covering them up with booksleeves made from the brown paper Grocery sacks that my mother would have saved all summer for just that purpose.
Some children had coloured book covers . . . but I never minded that mine were made of plain brown paper. There was a special sense of comfort that came from the sameness of that process which was repeated in our home every year . . . and the plain brown covers testified to me of the love I had for my home and my family . . . and family tradition that was as solid and immovable as the North Star . . .
There is a special excitement present at this time of year that isn't there at any other time. The air is crisp with the scent of autumn, which we all know looms just around the corner . . . there is that feeling of nature slowing down . . . getting ready for the winter sleep which lays just a few short months ahead . . . the light takes on a special hue and colour . . . pale and golden . . . getting ready for that last hurrah . . . and yet at the same time, the air is alive with something that is precious and new and yet undiscovered. The new school year.
Day one is done of the great bathroom renovation. What a lot of noise and goings on yesterday . . .
Mitzie spent most of her day looking like this . . .
Alternating with this . . .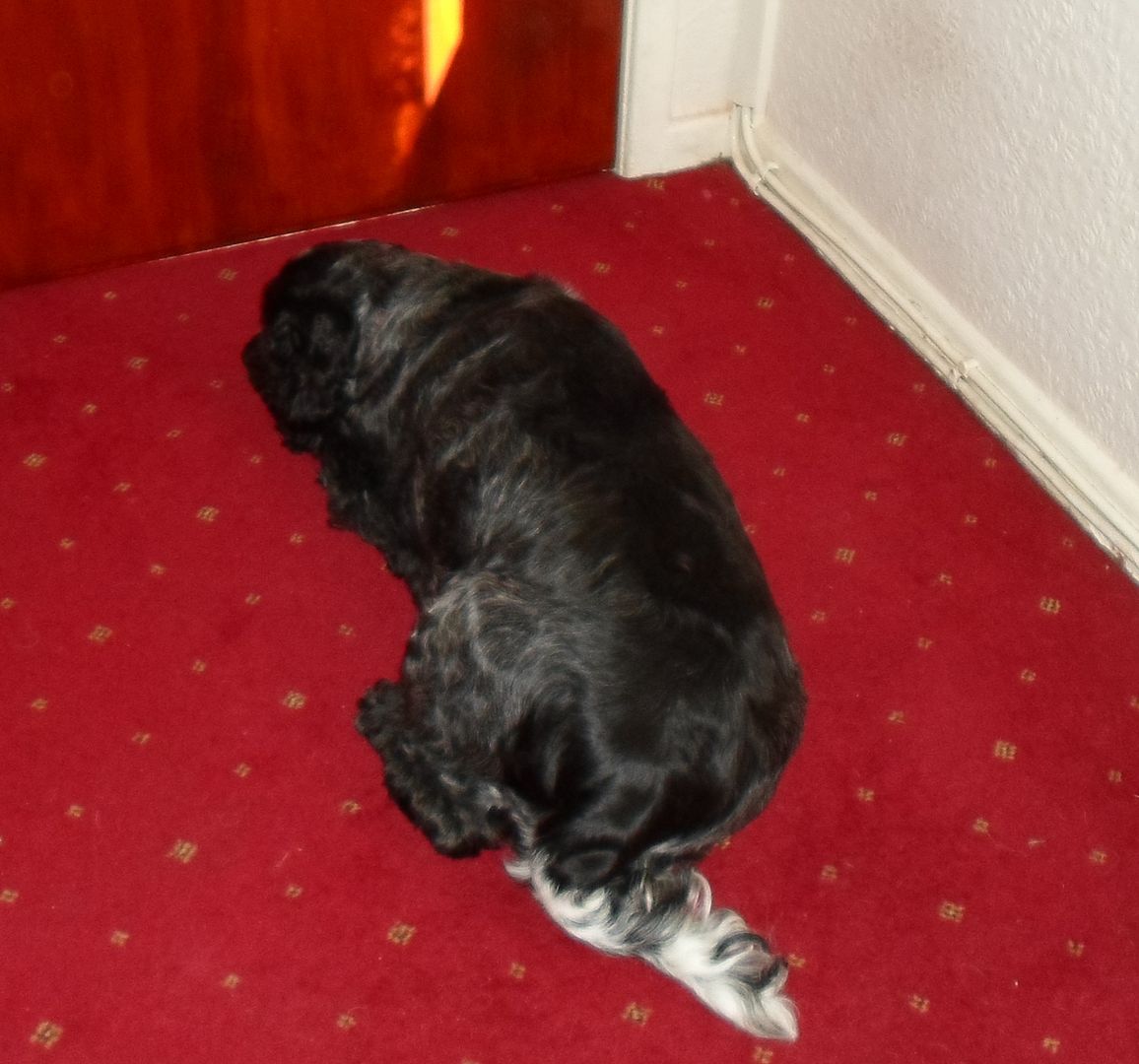 She knew that there was "someone" that she didn't know and hadn't been allowed to smell on the other side of the door . . . she also knew that there was something happening that was being kept a mystery from her, and it was driving her crazy!!! She is such a personable dog and just wants to be "in" on everything.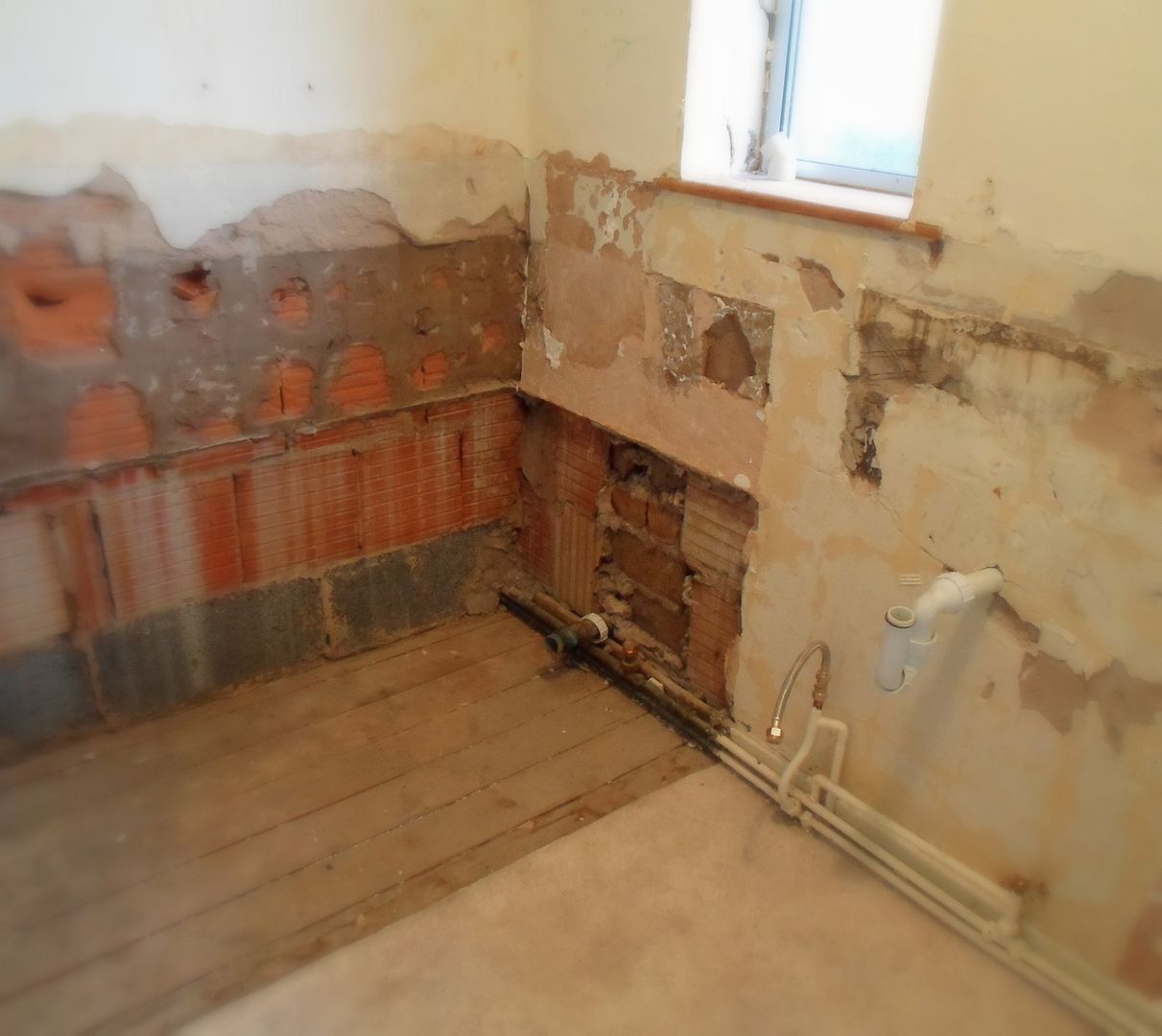 This is our bathroom after day one of the reno . . . not a lot there is there, and it's really hard to believe that this is where over the next couple of weeks some real magic is going to be happening. I plan on updating you with a new picture each day so that you can see the ongoing process!
And with that, I'll leave you for the day. (The reno guy is here and work is about to begin again.!)
"The cure for anything is salt water . . . sweat, tears, the sea . . . "
Isak Dinesen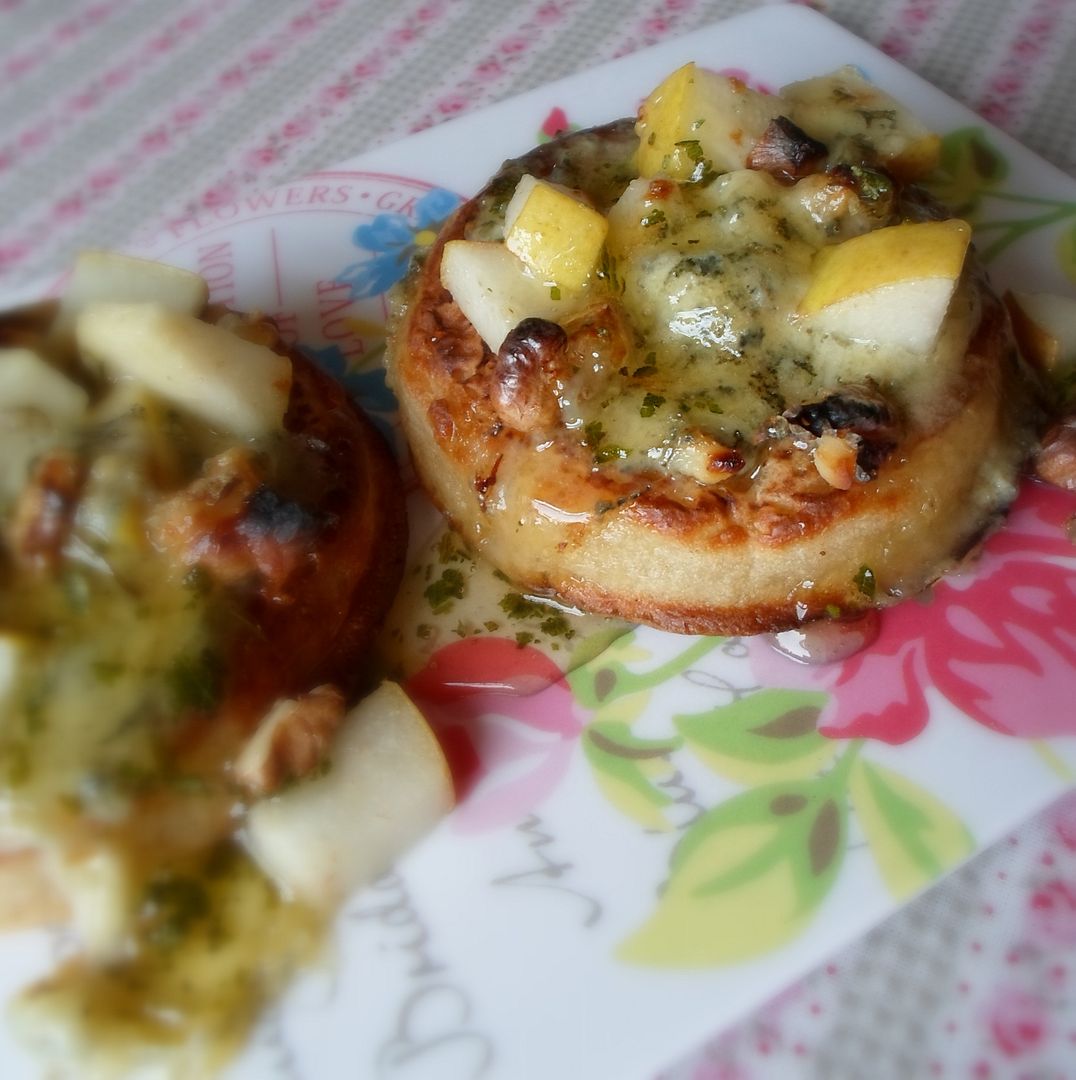 Cooking in The English Kitchen today . . .
Pear, Stilton & Walnut Crumpet Pizzas, with a sage honey drizzle