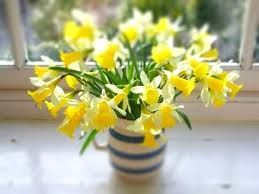 I picked up a couple of bunches of Daffodils in our local Morrison's on Monday morning. They were only £1 a bunch and I thought they would provide a beautiful sunny accent to our home. I decided to pop them into a little blue and white striped tea pot we have and set them on the coffee table. I carefully cut them to just the right size and then plunked them into the pot. At first they didn't look all that great, a little limp even, but I thought oh well . . . I tried.
A few hours later though they looked beautiful. They had lifted their little heads and were a golden delight. Just goes to show what a little pampering will do!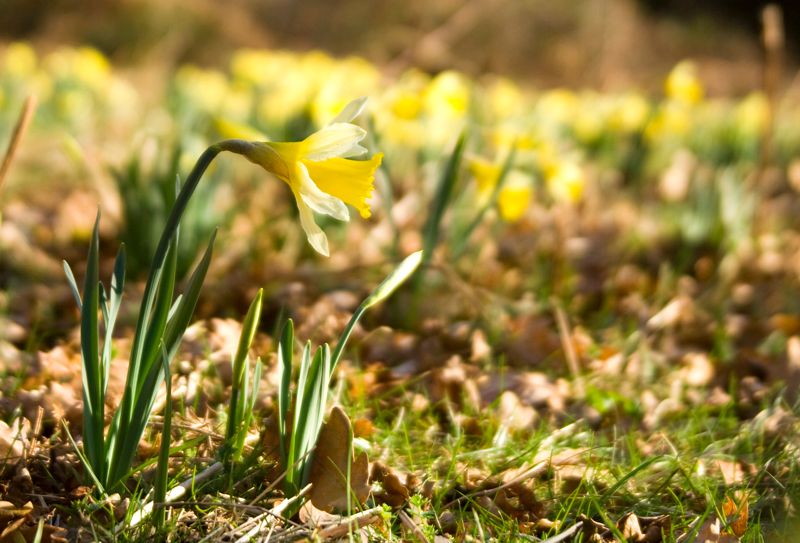 Thinking about that this morning it occurred to me that we can sometimes be a bit like those daffodils . . . feeling a bit withdrawn and dejected. We hang our heads and forget to look up at the world. The trees, the skies, towards our Heavenly Home . . . a few words of kindness, however . . . a friendly smile . . . and we blossom and grow! I think it's all so very wonderful.
"If you are kind, people will accuse you of selfish motives . . . be kind anyways. If you are successful, you will win both false friends and true enemies . . . succeed anyways. What you spend years building, someone may destroy overnight . . . build anyways. The good you do today, most people will forget . . . do good anyways. Give the world the best between you and God; it was never between you and them anyways."
~Mother Teresa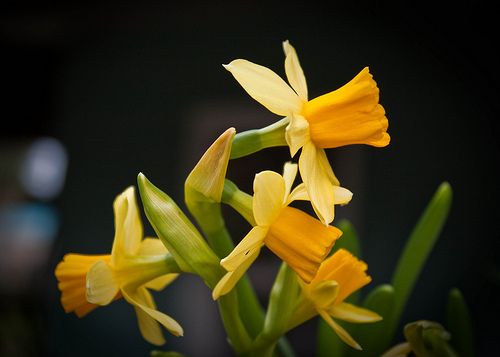 The knee injection went ok yesterday. They checked my blood pressure when I first went in and it was sky high! Not surprisingly, I guess. I was a bit stressed out about it. It didn't help that once I got booked in and given a bed I sat there and waited for a ful two hours before they did it. I hadn't thought to bring a book as I'd been given to understand that it wouldn't take very long at all. Apparently the surgeon was still in surgery and running behind. There were 12 of us sitting in beds waiting for injections. Finally another surgeon came up and ended up doing us all like a conveyor belt. It was not as bad as I had inticipated, and only hurt a bit right at the very beginning. I now have a big purple arrow on my leg that I have to try to get rid of before Sunday! Last night I was very uncomfortable though and didn't sleep well. I could not find a way to position my leg where it wasn't hurting. This morning that seems to have gone off a bit, but I am still hobbling. Am very hopeful though that over the next few days that will improve. Fingers crossed! Thanks all so much for your happy wishes and prayers!
Here's a delicious potato dish that makes a great side for all kinds of meats and fish. Todd loves this, but then again, so do I!! We are such potato fiends in this house! Both of us could quite happily feed on nothing else. You can pare the potatoes before cooking if you wish, but it's not really necessary. I don't mind the extra texture the peel gives and there's a lot of vitamins in the peels as well!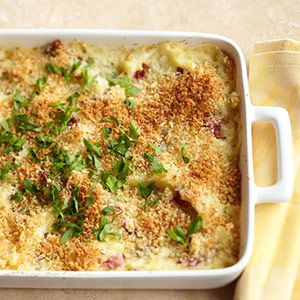 *Cheese and Potato Bake*
Serves 4 to 5
Printable Recipe
Three types of cheese and a scrummy herbed garlic butter turn this potato dish into something that is deliciously comfortingly moreish!
1 pound red potatoes
2 cloves of garlic, minced
1/4 tsp dried thyme, crushed (or 3/4 tsp of fresh, snipped)
2 TBS butter
1/2 cup buttermilk
salt and black pepper
2 ounces fontina cheese, shredded (1/2 cup)
2 ounces Parmesan Cheese, finely shredded (1/2 cup)
1/4 cup of crumbled blue cheese
1/4 cup of Japanese style bread crumbs
1/8 tsp of dried Italian seasoning, crushed
2 tsp of olive oil
snipped fresh parsley to garnish (optional)
Lightly grease a 2-quart square baking dish; set aside. Scrub the potatoes and cut them into 1 inch pieces. Cook potatoes in large saucepan of lightly salted boiling water for12 to 15 minutes or until tender; drain.
Preheat the oven to 200*C/400*F/ gas mark 6
Heat a large skillet over medium high heat. Add the butter. Once it is melted and begins to foam add the garlic and thyme. Cook for one minute. Add the potatoes and coarsely mash. Turn out the heat. Stir in the buttermilk, 1/4 tsp of salt and black pepper to taste. Fold in all of the fontina cheese, half of the Parmesan and all of the blue cheese. Spread out evenly in the prepared baking dish.
Combine the remaining Parmesan cheese in a small bowl, along with the Italian seasoning and the oil. Sprinkle evenly over top of the potato mixture. Bake for 20 minutes until bubbly and the top is golden brown. Sprinkle with the snipped parsley and serve.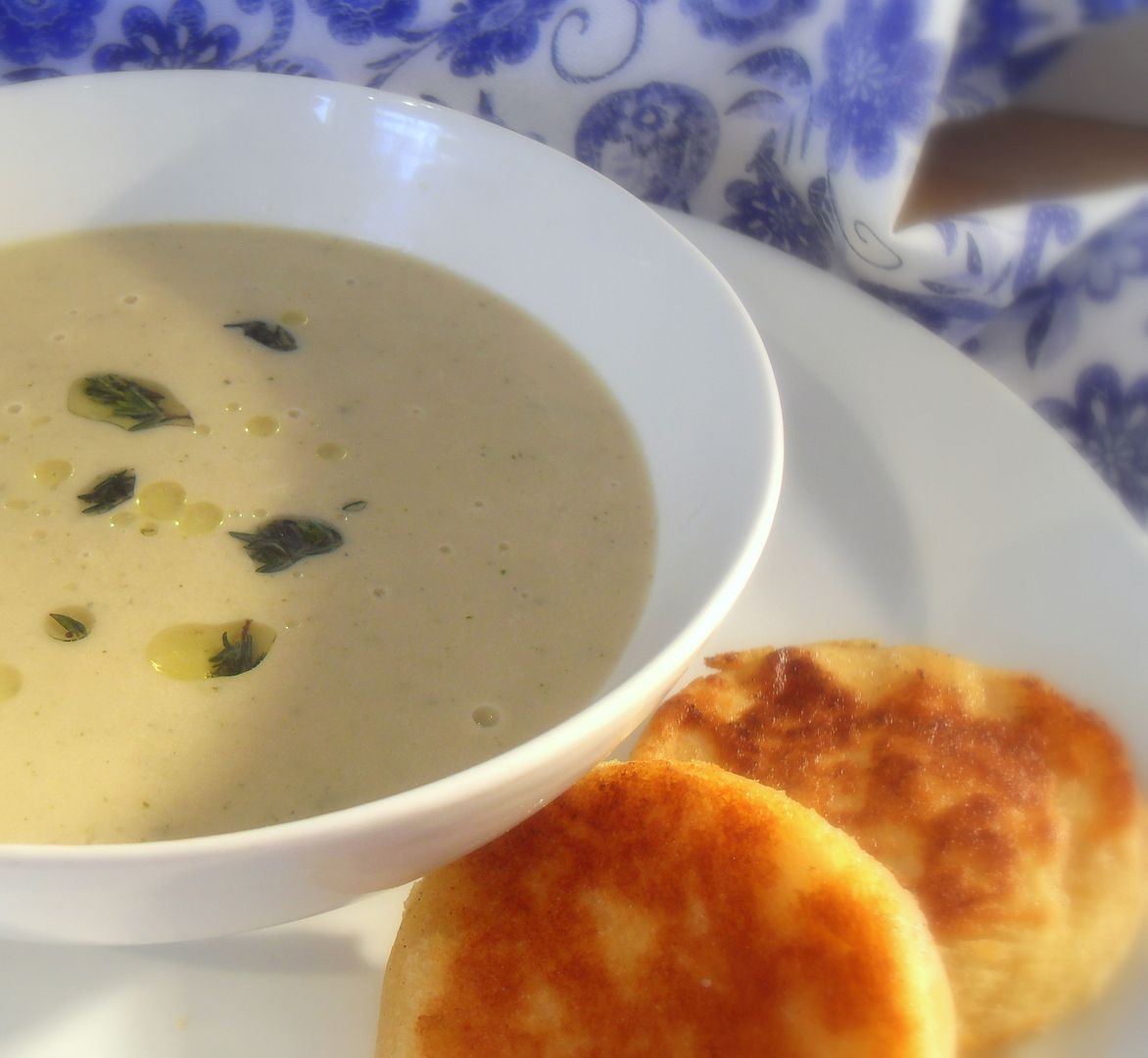 Over in
The English Kitchen
today I've been going to Cooking School with a delicious Cream of Onion Soup and Ham and Cheese Toasties!