These are a few of my favourite things . . . maybe some of them are your favourite things too.
I fell in love with Scotland. It is one of the most beautiful countries, especially the Highlands where we were staying. Quite simply stunning. Todd and I would love to go back one day and maybe do the Western Islands and Hebride Islands. Even in the rain the Highlands are one of the most gorgeous places to be. We were ahhing and ooohing around every corner!
Be it ever so humble there is no place like home. I will do a holiday post another day and share with you what all we did in Scotland, but there really is no place like home. Especially when you are not feeling well. I brought back lots of shortbread (tins!) from the North but I also brought home a stinking cold. I started getting it about halfway through our holiday and actually spent the last day in the hotel room nursing it while Todd went out and about. There really is no place you would rather be when you are unwell than home sweet home. We were both so exhausted when we got in last night and then with the cold on top of it I was so happy to tumble into my own bed and I slept like a log the whole night through until six this morning. Travel is great, but coming home is even greater!
Making new Friends! We sat across the table every meal time with a couple from near Stratford Upon Avon, called Margaret and John. They were just lovely. Margaret loves to do needlecrafts and works for an online shop called
The Wool Warehouse
, (check it out, its lovely) and John is a pop artist. We had ever so much in common, including meeting our husbands online. We have vowed to stay in touch and have added each other as friends on FB. Holidays are nice, but meeting super people that you like when you are on them is even nicer!
We did not buy much in the way of souveniers while we were away. They're all made in China anyways, but I did bring home this shortbread tin. I have tasted better shortbreads, but I fell in love with the tin. It will make a great recipe tin don't you think? I got two others also. A small square one with a thistle on it that will be great for pins and an oval one covered with bluebells that I will find some use for no doubt! I love decortive tins.
A good night's sleep in my very own bed. I don't think either one of us got a great night's sleep the whole time we were away. The bed was very hard and we are so used to sleeping in twin beds that we kept waking each other up every time we moved, lol. We have twin beds here at home, albeit they are pushed together . . . but we each have our own space and own blankets and they are very comfortable beds. Then after I started getting my cold when my nose was stuffed up and I started coughing, I was so conscious of not disturbing Todd that I hardly slept at all, getting to sleep last night in our own home sweet home bed, as hot and muggy as it was, was the best feeling ever!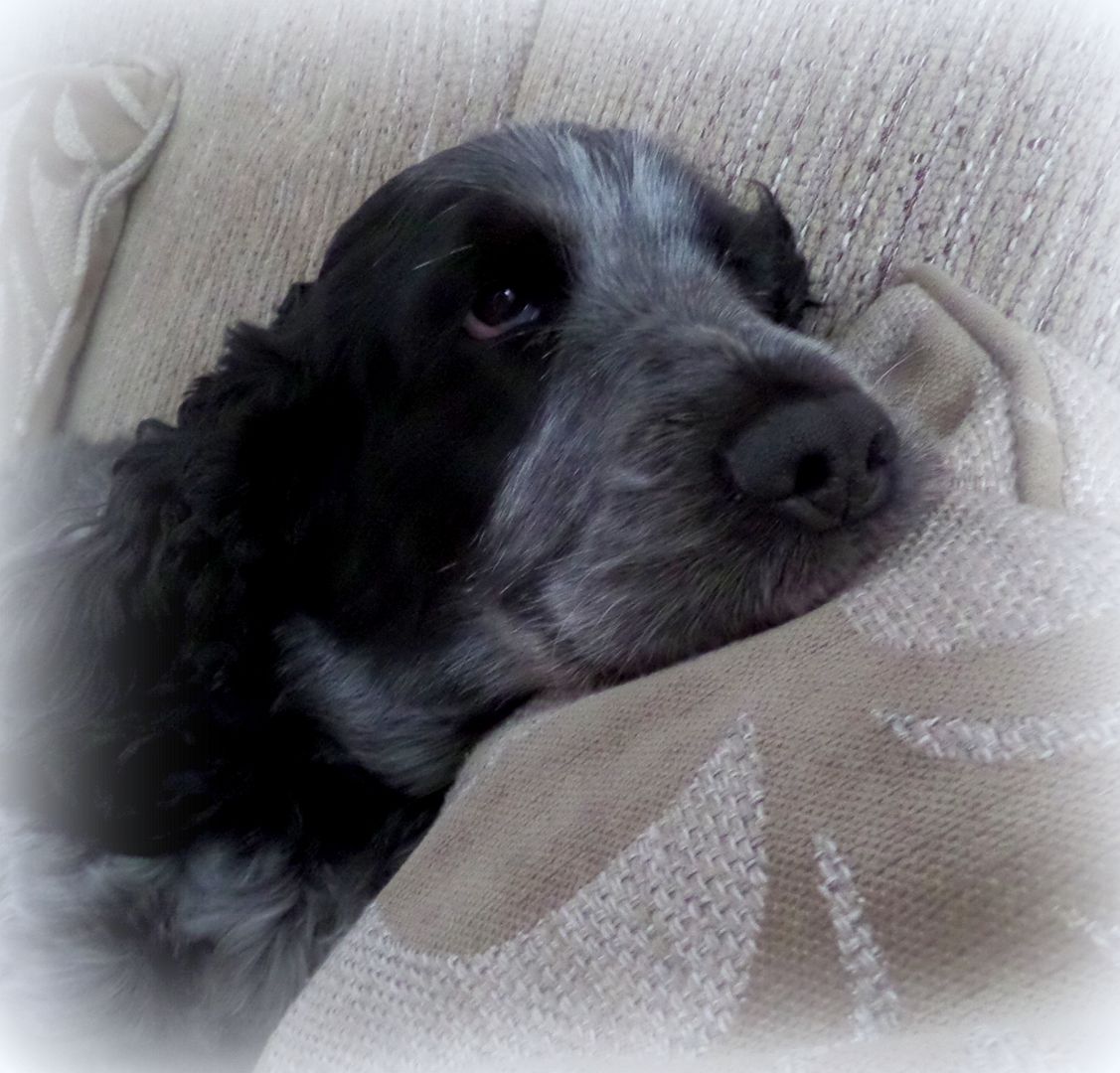 I can't wait to see Mitzie later this morning when Tina brings her home. We would have gone to pick her up, but Tina said she was happy to bring her home. I hope that is a good thing. Actually Tina has said she was a joy to take care of, which is good. The house seems awfully empty here without here. I hope she will be as excited to see us as we will be to see her. All will finally be as it should be. Mitzie is one of my favourite things/doggies.
Grandchildren. I love my grandchildren very much as you know and guess who is turning a big FOUR today! Yep. Cameron! Cameron and I have not met in person yet. *sniff* *sniff* But I hope we get to meet soon. I hope that he has a wonderful birthday. Happy Birthday Cameron! I also hope he got my birthday present in time! I sure with that I could have given it to him in person!
Well, that's not a lot of favourites this week, but I am not feeling all that well
with this cold, and so I am going to cut it short with a thought to
carry with you for today . . .
.
° * 。 • ˚ ˚ ˛ ˚ ˛ •
•。★★ 。* 。
° 。 ° ˛˚˛ * _Π_____*。*˚
˚ ˛ •˛•˚ */______/~\。˚ ˚ ˛
˚ ˛ •˛• ˚ | 田田 |門 ★
*.˛.°
The words you speak
become the house you live in.
In The English Kitchen today . . . a delicious
Lamb Tagine
you can cook in the slow cooker.
Have a great Thursday. I have laundry up the kazoo to do! Don't forget whatever you get up to!
═══════════ ღೋƸ̵̡Ӝ̵̨̄Ʒღೋ ═══════════ ⊰✿░G░O░D⊰✿⊰L░O░V░E░S⊰✿⊰░Y░O░U░⊰✿
═══════════ ღೋƸ̵̡Ӝ̵̨̄Ʒღೋ ═══════════
And I do too!