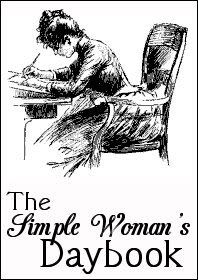 FOR TODAY, October 26th, 2010...

Outside My Window...
It is dark and quite cold. It's also been raining . . . blah . . .
I am thinking...
We always watch Country File on Sunday Evenings. It's kind of like a topical news magazine type of show, but it covers the people, places and stories making news in the British countryside. One of the topics they covered this week was Intensive Farming and the farmer dude, Adam Henderson, had gone to America to see how it was done there. I have to tell you my heart just broke into a million pieces. (And I could tell his was breaking too.) I hope and pray that Britain never embraces the idea, I really do. It's horrible and inhumane in my opinion. There is no excuse on this earth that could ever justify the practice, not ever . . . Imagine thousands and thousands of dairy cattle that never get to wander in a field, but spend their whole lives in a tiny cubicle, even giving birth in muck . . . and two of three times a day being pushed into a circular milker machine that rotates. It was just horrible to watch. Humanity has sunk to a new low. Imagine caged battery hens, but on a much larger scale. And the pigs were equally as distressing.

I am thankful for...
Mormon Messages on YouTube. A series of short little videos that also uplift and inspire. I always enjoy them and they are always topical and current to whatever is going on in the World at any given moment. I am not sure how often they post a new one, every couple of weeks or so I think. I can watch them over and over again. I hope you'll have a look/see! If you enjoy my page you will enjoy them! Don't worry they won't hurt you! They'll touch your heart!

From the kitchen...
I really need to bake something today . . . cake, muffins . . . cookies . . . just something! There is a dearth of baked goodies! I have had a sore throat again for the past 3 or 4 days, and I've been coughing again. I think that darn infection is coming back. grrr . . .

I am wearing...


A blue nightie with pink roses covering it, and some pretty pearlie buttons on the bodice (which is pintucked) and a ribbon with a pink rose decorating it on the bodice as well. It's very pretty. I like pretty things. I may not wear pretty things in my day to day life, but when I go to bed I do. Pretty nightgowns and jammies are a lot cheaper than pretty every day clothes!



I am creating...
I have all sorts on the drawing board at the moment. Nothing I can speak about just yet, but when the time is right I'll be shouting it from the rooftops! Let's just say it's very exciting.

I am going...
I have a Primary Presidency meeting scheduled for tomorrow night and so I have to get some things ready for that. I hope that I feel better by then.

I am reading...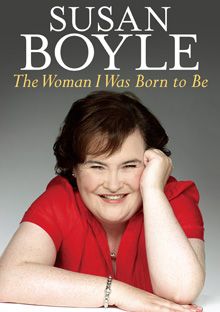 Susan Boyle, The Woman I was Born to Be





"My name is Susan Boyle. A year and a half ago, if you weren't from Blackburn, the village in West Lothian, Scotland, where I have lived all my life, you would almost certainly never have heard of me. Today you've probably heard all sorts about me, some fact, some speculation, some pure invention, so I'm writing this book to tell my story from my point of view, and I hope you'll enjoy reading it."



She inspired the world a few years ago when she was on Britain's Got Talent, now she has written her autobiography and has a new album coming out as well. My father just loves Susan Boyle and so do I! I'm really enjoying this book. It is just as charming as she is!

I am hoping...
That I am able to shake off this congestion and coughing, etc. soon!! I'm getting more than a little tired of it!
I am hearing...
One of my favourite singers is Mindy Gledhill and I am listening to her Anchor Album right now. It's beautiful. I also have Mitzie snozzling next to me here on the sofa. It's just a special time . . . you, beautiful music, and my Mitzie.

Around the house...
I need to hoover and dust, but the Ironing's done!!

One of my favorite things...
is watching old films. I am a real classic movie buff! I have always loved old films. That was something my ex mother in law and I had in common and we would always watch them together when we were visiting her. She would tape them from off the telly and save them for those times. I think one of the worst things about divorce is that you end up losing people in your life that have been your family for years and years. I miss my MIL. She was a lovely person and a friend.

A Few Plans For The Rest Of The Week...
Not a lot. It is a fairly quiet week. We had hoped to go to Blackpool this week to see the Illuminations but it's just not going to happen . . . sigh . . . I have too much on that I can't just leave.

Here is picture thought I am sharing...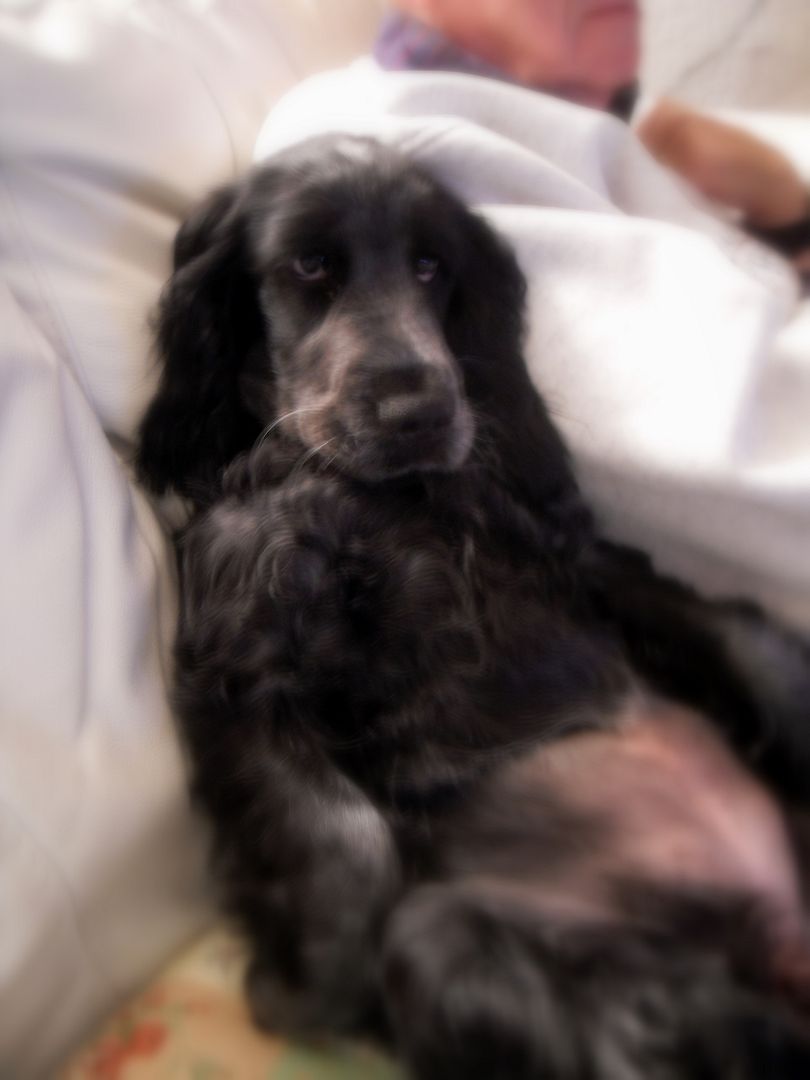 Have you ever seen anything cuter than this??? I bet not! Mitzie crawled up onto the sofa last evening and proceeded to plunk herself down in between Todd and I and watch the telly with us. She's sitting just like a person would. I just had to grab my camera and take a picture. Amazingly enough she stayed just like that for ages! Oh, I just love her to bits! This surely warmed my heart!

And just as a closing thought for today . . .



Housework is something you do, that nobody notices unless you don't do it!



Now ain't that the truth! (And the one day you decide to stay in your jim jams without makeup, that's the day people come a callin!)

And there you have it . . . my day book for this week. Don't forget to hop on over to the Simple Woman

to check out the other day book entries! (Or better yet, do a simple day book entry yourself! It's not that hard and I am betting you would enjoy it!)

One thing I have always loved is potatoes. They are my favourite vegetable and I could eat them in any way shape or form. I have two cookbooks that contain nothing but recipes for potatoes and I could eat a meal of just them. There is no way I could ever give them up . . . never. Next to chocolate, they are my biggest weakness.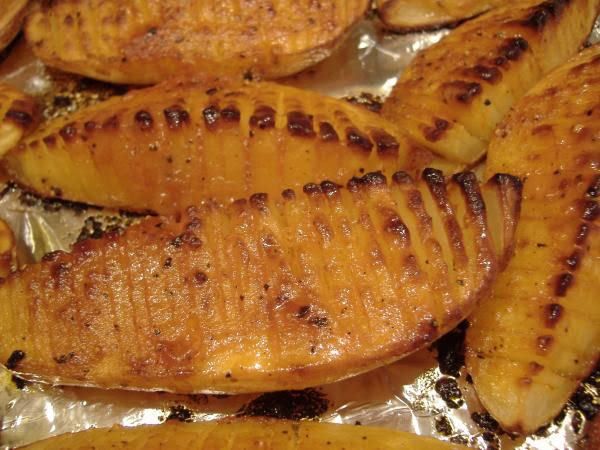 *Baked Potato Wedges*


Serves 4 to 6
Printable Recipe

These delicious potato wedges are a bit more trouble to put together than others…but TRUST me…the end result is well worth the effort . . . crispy edged potatoes…with buttery flavour that goes right down to the crispy skins . . .

4 TBS butter, melted
¼ cup tomato catsup
1 tsp prepared mustard
½ tsp paprika
¼ tsp salt
¼ tsp freshly ground black pepper
4 large potatoes, unpeeled

Pre-heat the oven to 220*C/425*F. Combine melted butter, catsup, mustard and seasonings.

Scrub potatoes and dry well. Cut each into 4 wedges. Slash each wedge crosswise at ¼ inch intervals, but don't cut all the way through the skin. Place on a foil lined baking sheet, skin side down. Brush with 1/3 of the butter mixture.

Bake 35 to 40 minutes or until the potatoes are fork tender, with crispy brown edges, basting periodically with the remaining butter mixture. Serve hot.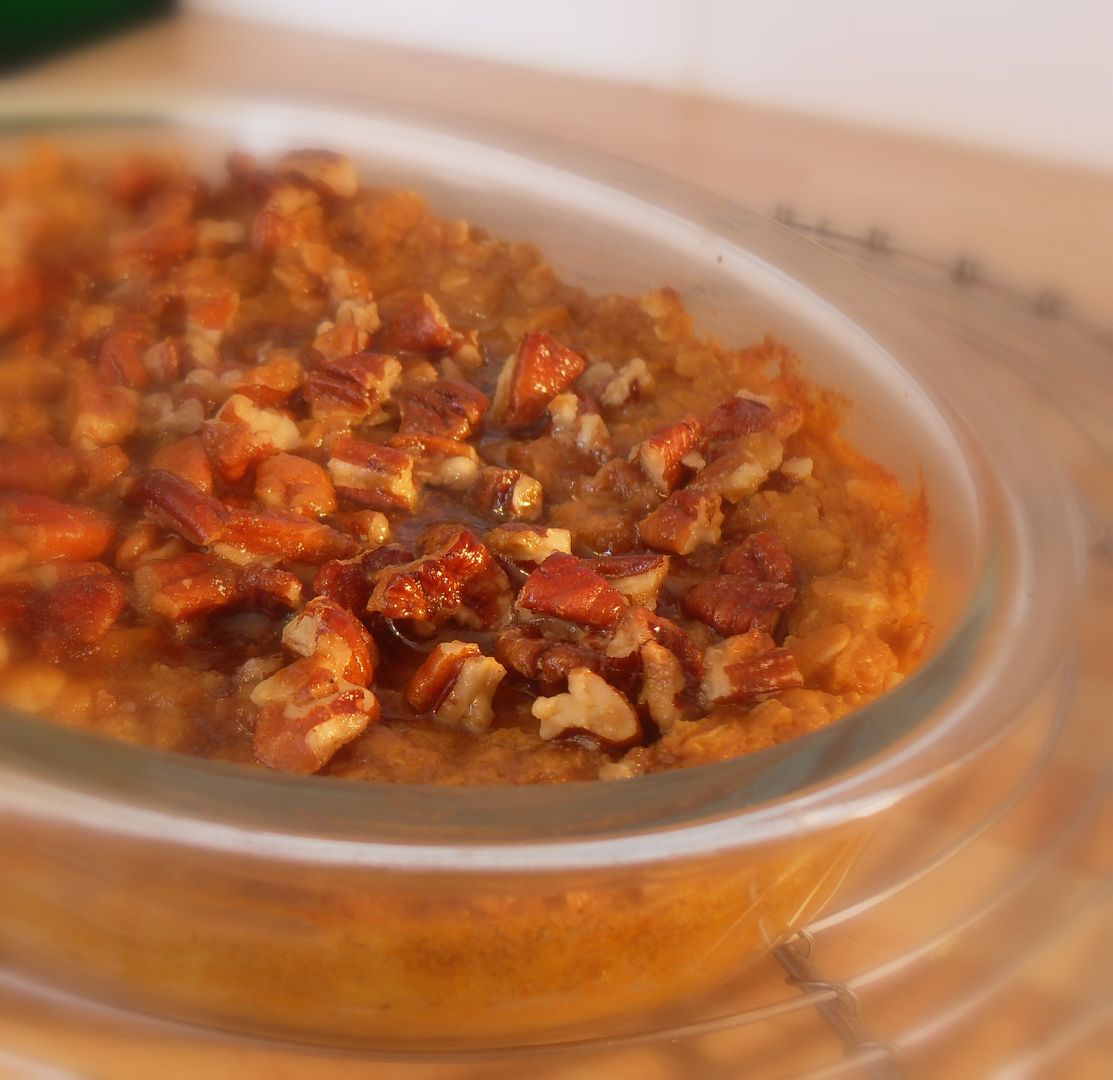 And, in The English Kitchen this morning, Pumpkin Pie Oatmeal!