Sometimes my brain wanders off on journies of its own. Where will it take me today?
thinking ˈ
θɪŋkɪŋ/ noun noun: thinking
1. the process of considering or reasoning about something. "the selectors have some thinking to do before the match" a person's ideas or opinions. "his thinking is reflected in his later autobiography"
synonyms: reasoning, idea(s), theory, thoughts, line of thought, philosophy, beliefs; More conclusions; opinion(s), view(s), point(s) of view, viewpoint(s), position, outlook, judgement, assessment, evaluation "the agency explained the thinking behind the campaign" archaic thoughts; meditations.
plural noun: thinkings "I am wrap'd in dismal thinkings"
adjective adjective: thinking
1. using thought or rational judgement; intelligent. "he seemed a thinking man"
On one of our very first trips to Germany together, Todd and I were wandering down the cobbled streets in Frieberg, hand in hand . . . and we came across a street which was totally draped in Wisteria.

It was woven into the very plasterwork of the walls . . . and hung across the street from one side to the other, all the way down the whole street . . . it's deep purple clusters all magically etherial . . . seemingly placed there just for our wonderment and pleasure.
I didn't know what Wisteria was at the time. I had never seen nor heard of it before. I only knew that the sight of this cobbled street with all of those beautiful hanging purple flowers draped across it took my breath away with it's beauty and the surprise of it all. Forever etched in my mind. I will never forget the sight.
Pansies. I love pansies. Next to Sweet Peas, they are my favourite flowers. They have such sweet little faces. No wonder that another name for them is "Hearts Ease." Just to gaze into their eyes, brings such sweet and tender feelings into my heart.
I came across some in my old bible the other day. They had been pressed between it's pages, placed there with love and tenderness many, many years ago . . . the first blooms ever given to me by a boy, now a man . . . their blossoms plucked from my mother's front garden in a moment of impulse, with a measure of joy.
I was reminded of the very moment they had been given to me . . . a moment filled with breathlessness, and the tender sweetness and innocence of first love. So too . . . they are a reminder to me that you can love someone deeply, and yet at the same time dislike them with an equal passion.
A reminder to always dwell on the good, and forget the bad if you can.
Keys . . . our lives are full of keys. They may not look like keys, but they are keys all the same. Smells and sounds and textures that unlock the doors to our memories . . . bringing back special feelings and longings since forgotten, but not really . . . they were just waiting for the right key to open the door and let them out.

Keys . . . that we use to lock up the things in our hearts that we would rather not think about, or feel, or remember.

Keys . . . that can open the doors to brighter futures and new lives . . . if we would only take a chance and turn the key in the lock . . . what are we afraid of? Change seldom comes easy, but is often worth far more than the angst and trouble that it takes to get from here to there.
Sunny summer days and picnics in the park. That sound of insects humming in the air and the smell of warm grass, chattering voices, happy laughter, butterflies flitting here and flitting there. Special looks exchanged between lovers and friends, a verse or two read out loud from an old book . . . words that have meaning only to you, and to him. Secret glances, coy looks from lowered lashes, a blush or two . . . or even three. Can we ever go there again?
Oh yes . . . oh yes . . . I just did.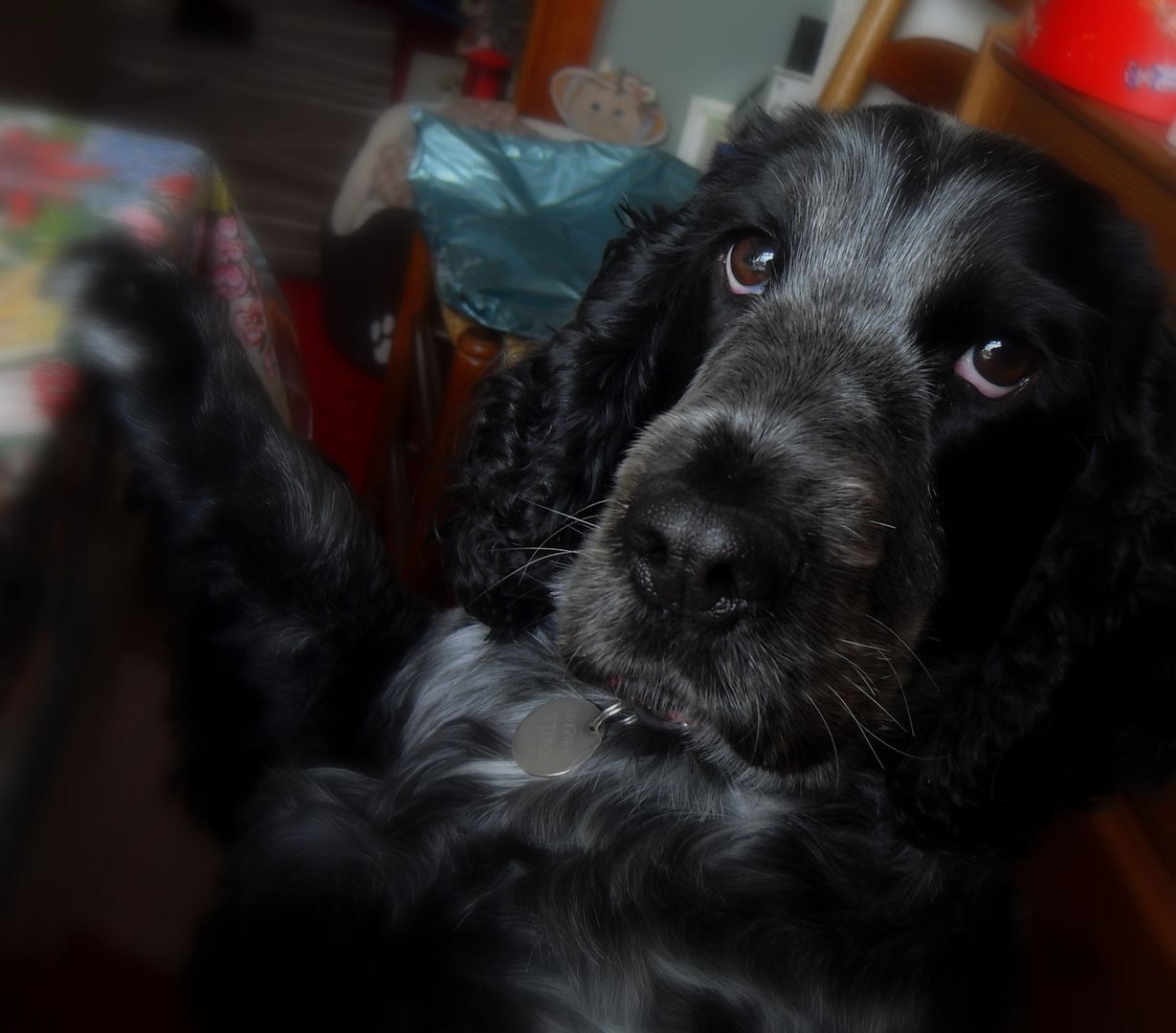 Warm snuggles and wet kisses . . . paws that smell wonderously like popcorn. I like to bury my nose in them and in her soft warm belly and just breathe her into my heart. There is a special place deep within . . . that is reserved only for her. It will always be her place . . . the letters M -I - T - Z - I - E are carved there indelibly and this spot will never belong to another. I never thought I could love with such a passion again. She proved me wrong. I am glad.
My life is oh so good . . . and filled with joys and moments and love and blessings. It is filled with chance and opportunity, and thankfully . . . a heart that is not afraid to embrace them, each and every one. I find joy in simple things. I find peace all around me. It's always been there, and always will be . . . like a well that I can draw from and drink deeply of it's sustenance whenever I wish and choose to do so.

I pray that today . . . it is the same for you.
A thought to carry with you . . .
° * 。 • ˚ ˚ ˛ ˚ ˛ •
•。★★ 。* 。
° 。 ° ˛˚˛ * _Π_____*。*˚
˚ ˛ •˛•˚ */______/~\。˚ ˚ ˛
˚ ˛ •˛• ˚ | 田田 |門 ★
*
Enter His gates with thanksgiving
and His court with praise,
Give thanks to Him
and praise His name.
I've done a tutorial on making
Meringues
in the kitchen today . . . little puffs of crisp, sweet billowing air . . .
May your Sunday be a good one. Don't forget!
═══════════ ღೋƸ̵̡Ӝ̵̨̄Ʒღೋ ═══════════
⊰✿░G░O░D⊰✿⊰L░O░V░E░S⊰✿⊰░Y░O░U░⊰✿

═══════════ ღೋƸ̵̡Ӝ̵̨̄Ʒღೋ ═══════════
And I do too!