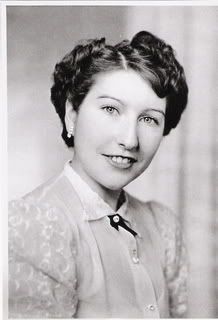 My mom will be 84 on her Birthday in July. It hardly seems possible that almost four years have passed since we celebrated her 80th Birthday with a bang up party at the Big Scoop back home, but they have. I love my mom with all my heart, and I am so grateful that she is my mum. When I look at all the mothers in the world, I have to say that mine is the best, and I know I am biased in saying that. Everyone thinks their mum is the best. That's the way its supposed to be. She has been my mum for almost 61 years now (in August) and today I'd like to tell you why I think she is the best mum ever.
Lessons my mother taught me . . .
One of my earliest memories of my mother is of me sitting in a highchair eating a bowl of cereal, while my mother scrubbed the floors around me on her hands and knees. My brother and sister would have already gone to bed. I am not sure where my father was, either out with the boys, or putting up TV antennaes, which was his job on the side. My mom was a hard worker. Her house was immaculate and she worked very hard to keep it that way. Fathers back then didn't do much in the way of housework. Mothers did it all. We always had delicious meals on the table three times a day, a clean house, clean clothes. My mother taught me that doing a job well was its own reward. She had an old wringer washing machine. She had no clothes drier until I was probably about 10 years old. I can remember her hanging the wash out all year round and her hands being frozen stiff and cracked from doing it in the Winter. I remember her standing and ironing in the evenings. She never was one for doing "coffee" with the neighborhood girls. She was too busy at home. She saved her socializing for social occasions. Taking care of us and the home was her priority.
Mom was always well turned out. She had her clothes that she wore for cleaning, but she was always properly dressed when my dad came home from work. She had class. She always had her makeup on, her hair done, and even now she takes great pains each morning to put on her face. I always thought my mother was the most beautiful mother in the world. I loved the way she smelled when she and my father would get ready to go out dancing at the weekend. Friday nights my dad would go out with his friends, but on Saturday nights, they would go out together. My mother's perfume was beautiful smelling to me . . . Ma Griffe . . . the way her crinoline rustled as she whooshed through the living room in her high heels and jewels. My mother has class. She has always had class. Even when she started working outside the home, she was always well turned out at work. Even in her "Hot Pants" and Farah Fawcett wig days.
As hard as she worked all day my mom was always ready to help us with our homework. I might not have appreciated it back then . . . the grilling of my times tables, the spelling practice, the penmanship practice . . . the grilling before tests and exams . . . as an adult I recognised the sacrifice it took on her part to do these things for us. She could have been watching television or reading or whatever, but she took the time to make sure that we did well in school, that our projects etc. were turned in on time. We did well at school and it was largely due to her coaching, hard work and interest.
(I'm the one in the saddle shoes)
I used to come within the top three students in the class each year and it was because of my mother's interest and care in making sure I did the things I needed to do in order to excell.
My mother taught me how to pray and to love God. She tucked me into bed each night and we said prayers together. Once I got older, I tucked myself in and said my own prayers, but this habit began with her sitting with me from a very early age and showing me how.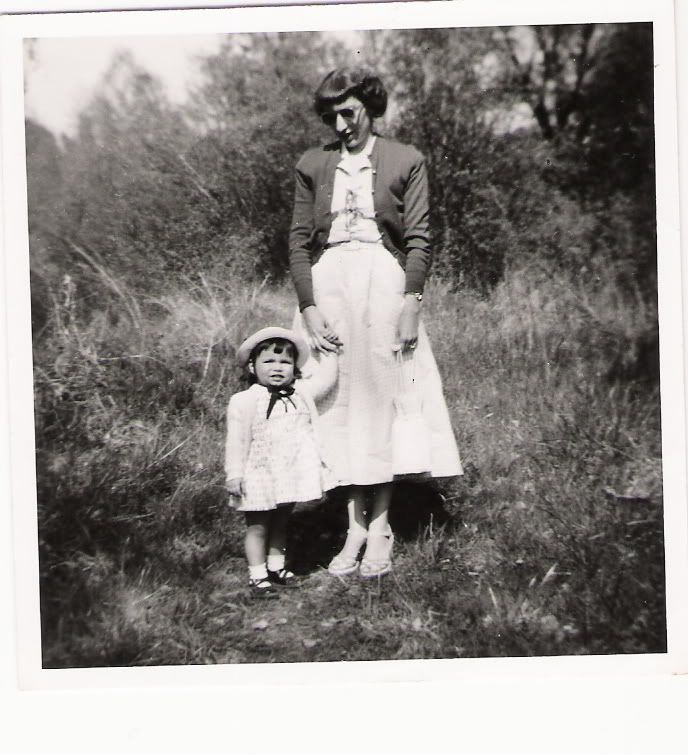 My mother has always been on my side, even if she thought I was making a mistake. My mother is loyal and faithful and taught me the value of both of those qualities. Even though there are people in her life who have really hurt her, my mother has always remained a friend to them, through thick and through thin. That did not make her a doormat, that made her a Saint in my eyes. She taught me how to forgive.
She taught me how to make great apple pies, and soups, and turkey stuffing. The best date squares, feather squares, hot milk cakes, hot dogs, weiner rolls, potato salad, coleslaw, baked beans, roast dinners . . . and her egg salad to this day is the only egg salad I can eat. Mom was a great cook. She says that she has never been a good cook, but I beg to differ. The things I make . . . no matter how hard I try . . . they never taste as good as the memory of the taste of her cooking.
And I know all of this stuff sounds superficial maybe . . . but the most important things my mother ever taught me was how to be a mother and how to love others unconditionally.
I love my mom, always have, always will. I am so glad that Heavenly Father gave me to her, and her to me. I am grateful now that we are not just mother and daughter, but also friends. We have laughed together and cried together. She has been one of the greatest blessings in my life. I am who I am largely because of her, and I like me. I really do.
Happy Mother's Day Mom!
Spiritual Enlightenment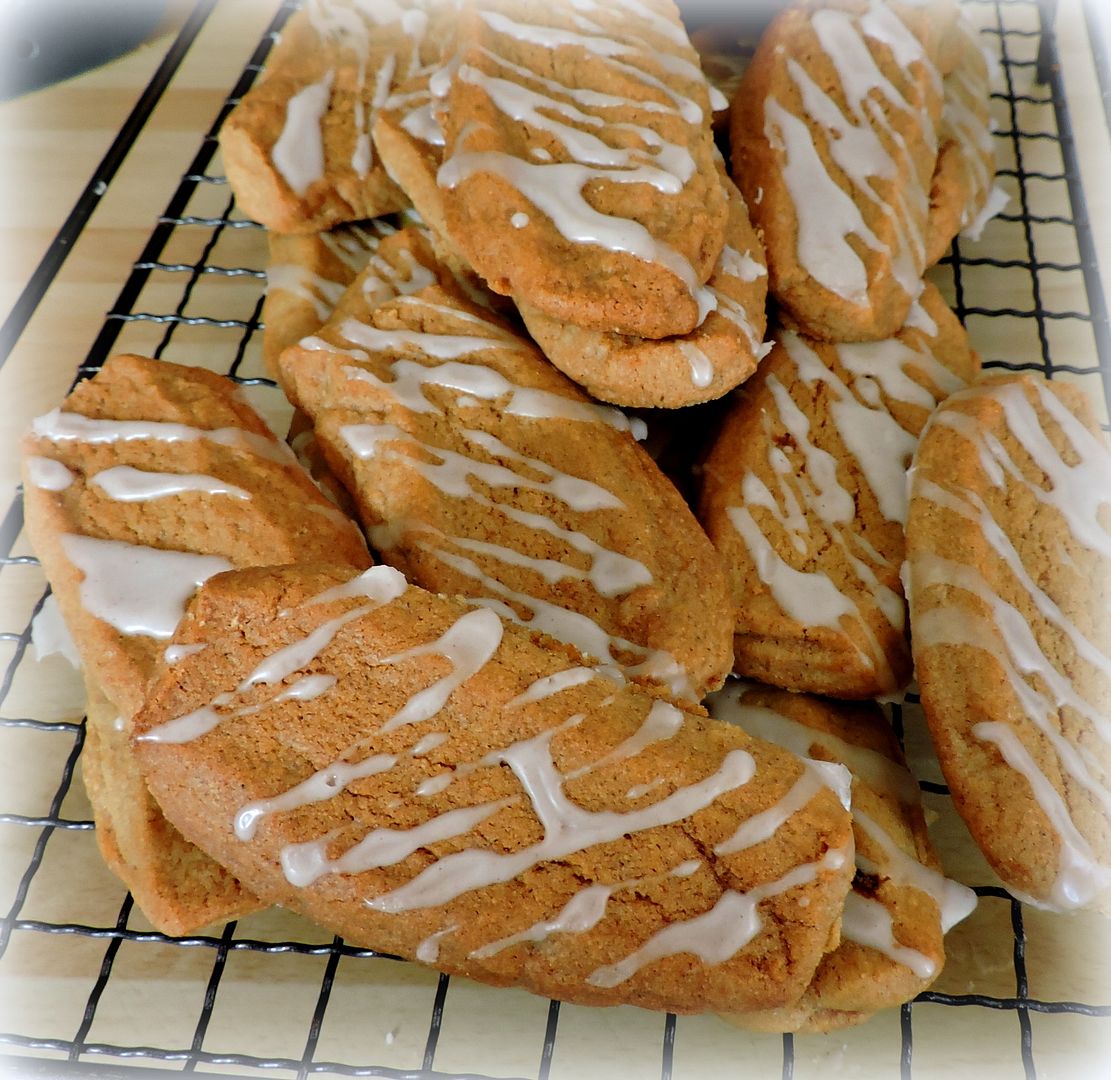 Baking in The English Kitchen today . . .
Cinnamon Slice and Bakes
!
Happy Mothers day to all you great gals out there today! Don't forget!
═══════════ ღೋƸ̵̡Ӝ̵̨̄Ʒღೋ ═══════════ ⊰✿░G░O░D⊰✿⊰L░O░V░E░S⊰✿⊰░Y░O░U░⊰✿
═══════════ ღೋƸ̵̡Ӝ̵̨̄Ʒღೋ ═══════════
And I do too!