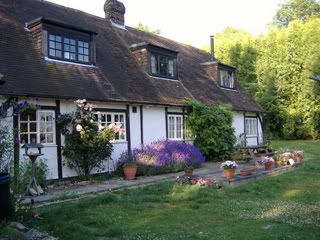 Yesterday Monique asked about the cottage we lived in when we were down South. This is it. It looks very old, but from what I was able to learn, it was really only about a hundred or so years old. It was the white stucco walls and black beams which made it look older. We had a pretty nice garden there, which was pretty much ours to do what we wanted with. We didn't do a heck of a lot with it, except for planting some pots with annuals each year. We always planted Sweet Peas beneath the kitchen/lounge window. We did put some bushes in at the far end, but we dug them up and brought them with us when we moved back up to Chester.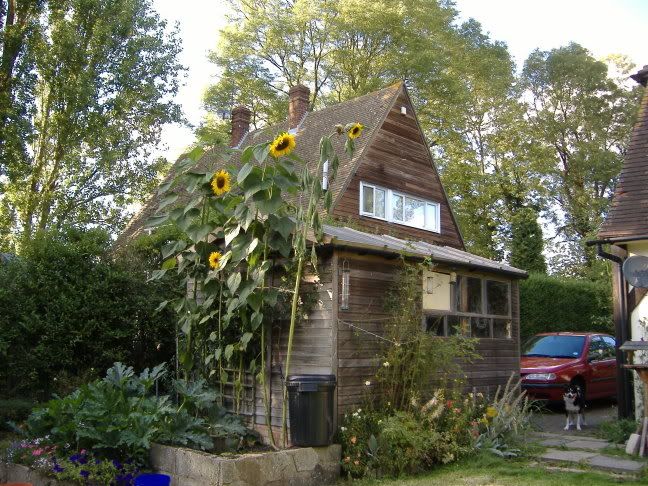 We had a little wooden shed next to the house where we stored our garden tools and such. One year we planted some sunflowers to the back of that shed and they were amazing!They were so tall! I see our Jess standing there in the right hand corner . . . I still miss her . . .
It was quite a large cottage, but in reality we only had the use of one room downstairs. We used the side door which led into a back entryway, which had a very small closet type larder on the left hand side, a narrow laundry room to the front and a rather large kitchen to the right.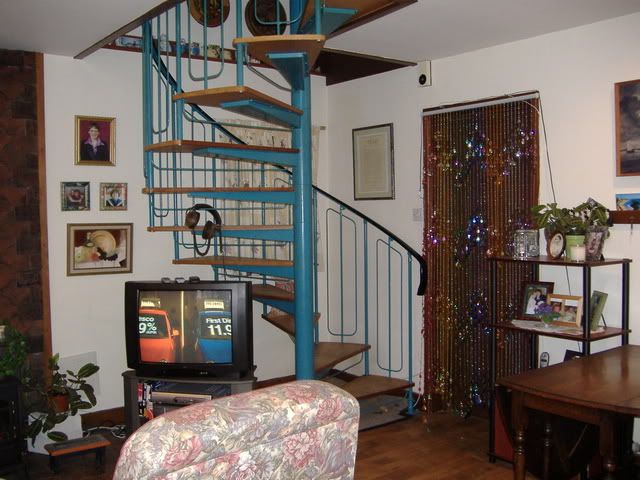 Basically we used the kitchen as a lounge as well as a cooking and eating area. Because our stairs were circular to go upstairs and very open as you can see . . . our Jess was afraid to use them. I could not see us sitting upstairs and leaving her on her own downstairs . . . so we stayed downstairs with her, except for when we went to bed.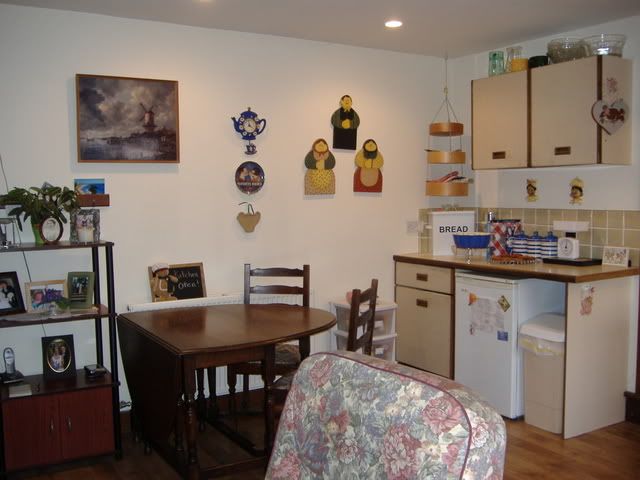 It really was a very large room. I had lots of counter space to work with . . . and on . . .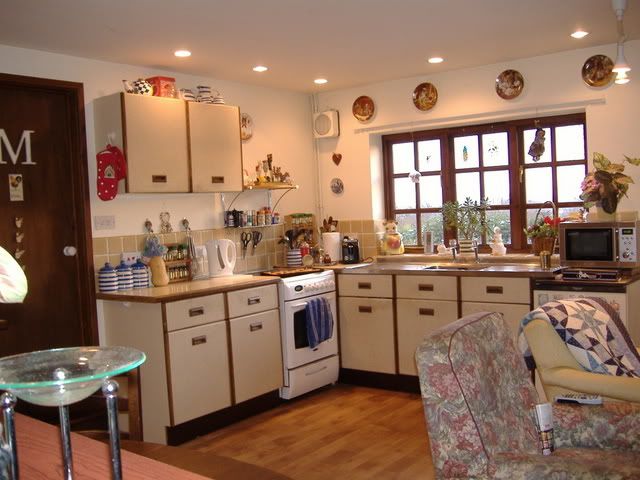 Plenty of room.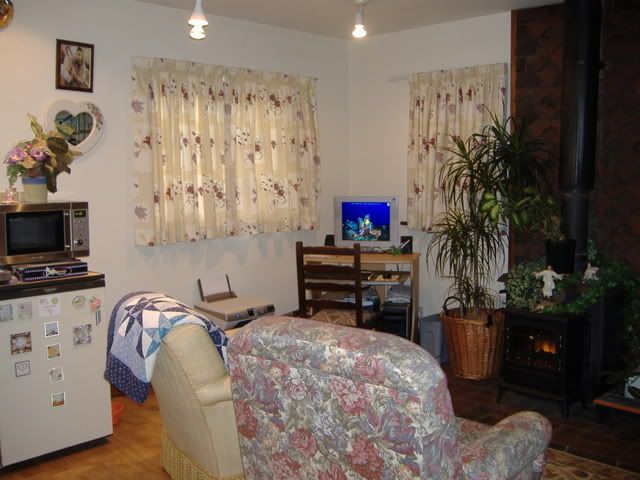 We were quite comfortable there. Eventually we did buy ourselves some furniture. Well, Todd did. A white leather two seater sofa replaced the two borrowed arm chairs. (Only a man would buy a white leather sofa don't you think?)
The kitchen was quite old and the cupboards were pretty much falling apart so eventually during the last two years we lived in the cottage, my boss did replace the cupboards with some fairly nice ones.
And I ended up with even more counter-space, which was nice.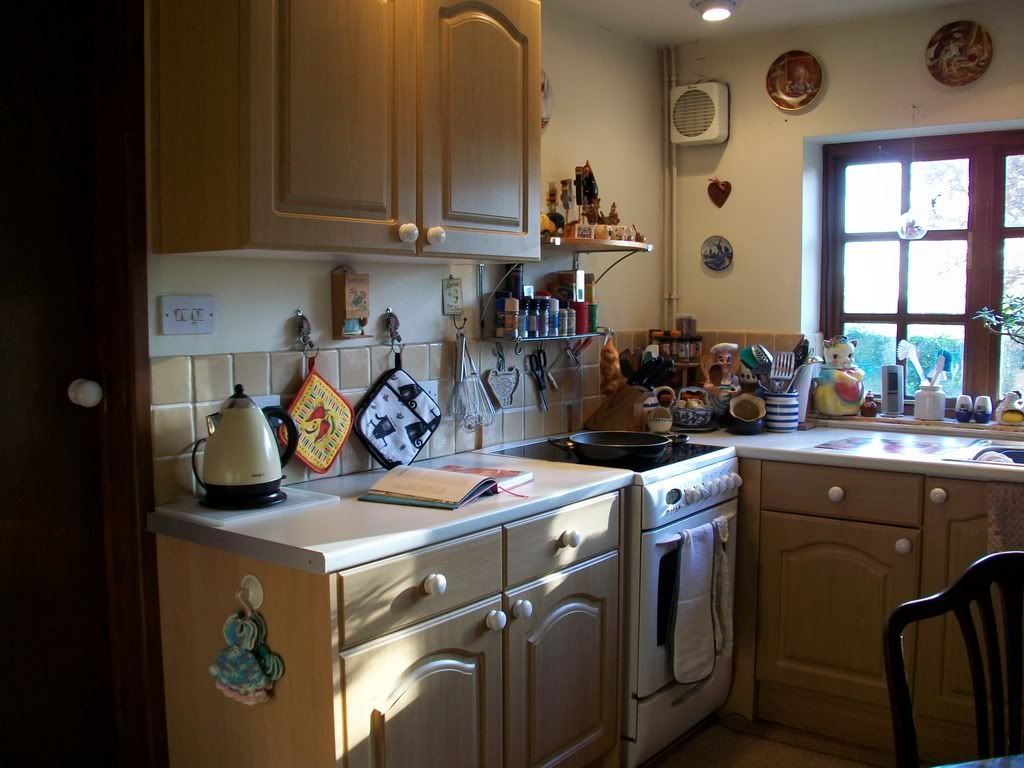 They weren't really expensive ones, but they were attractive and looked a lot nicer than the old ones and they were new to us, so we were very happy about that.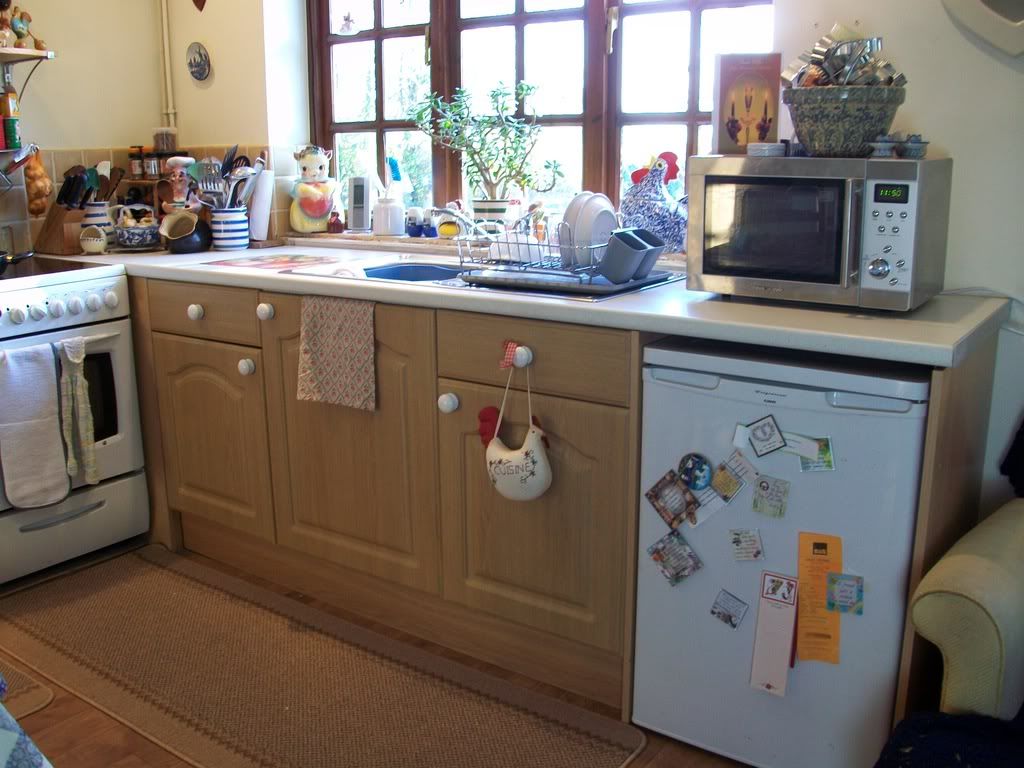 It was a bright and spacious living space, with lots of light and we really enjoyed it. To me, it never felt like we were living in a kitchen and, truth be told, I have always felt at home in a kitchen.
The rest of the downstairs of the cottage was used as a storage room for all of the stuff that my boss's didn't want anymore. That was three HUGE rooms filled to the rafters with junk . . . garbage . . . old furniture, mattresses and paper files from his office etc. I used to say to Todd that it was the most expensive tip in the UK. I used to worry sometimes that there would be a fire and the whole place would go up like a tinder box . . . there had actually been a fire in the house at one point, but I didn't like to think about that too much.
We had the whole of the upstairs and I wish I had pictures of that to show you . . . but I don't. Basically as you arrived at the top of the landing of that circular stair case you were in a lounge of sorts, with a tiny bedroom to the left and a small bathroom with a shower/sink/toilet in it.
My "Family" wall was up there. This was a wall totally dedicated to showcasing photographs of my children and grandchildren. I had a nice Families are Forever decal on it. I hated to leave that behind . . . but oh well . . .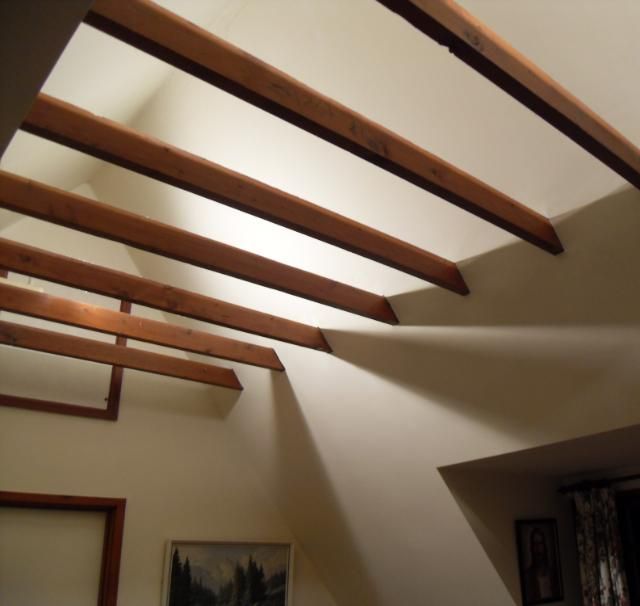 The ceilings up there were beamed and the light fixtures were very high up, almost impossible to change a light bulb easily, so it was a pretty good thing we hardly used it. The beams were a pain to keep dusted off too. Probably a lot easier than the ones in the kitchen at the big house, which were real wooden beams and rough textured, which caught at your dusting cloth and were a real nuisance to keep clean. We never had to change a light bulb once in our upstairs the whole 7 years we lived there, which shows you how much we used it!
Beyond that lounge was a middle room we called the library because it held all of our books, a big double closet and our bedroom beyond that. The back stairs were there as well. They were pretty much closed off. You had to open a trap door in the floor to gain access to them. Kind of a fire hazard really. There was also a large bathroom with a toilet, sink, bidet, tub/shower and a linen cupboard.
And that was the cottage basically.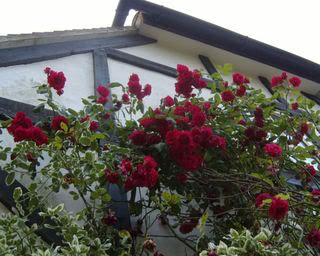 What I loved most about it were the flowers . . . every time you walked out the back door you were greeted with beautiful climbing roses that just hung over your head, as well as climbing ivy and some wandering honeysuckle . . . so very pretty. Mind you in the winter that was not the case . . . but it was a lovely greeting the rest of the year . . .
In the Spring Wisteria hung along the back of the house and later in the season we had lovely lavender to look at and to smell . . .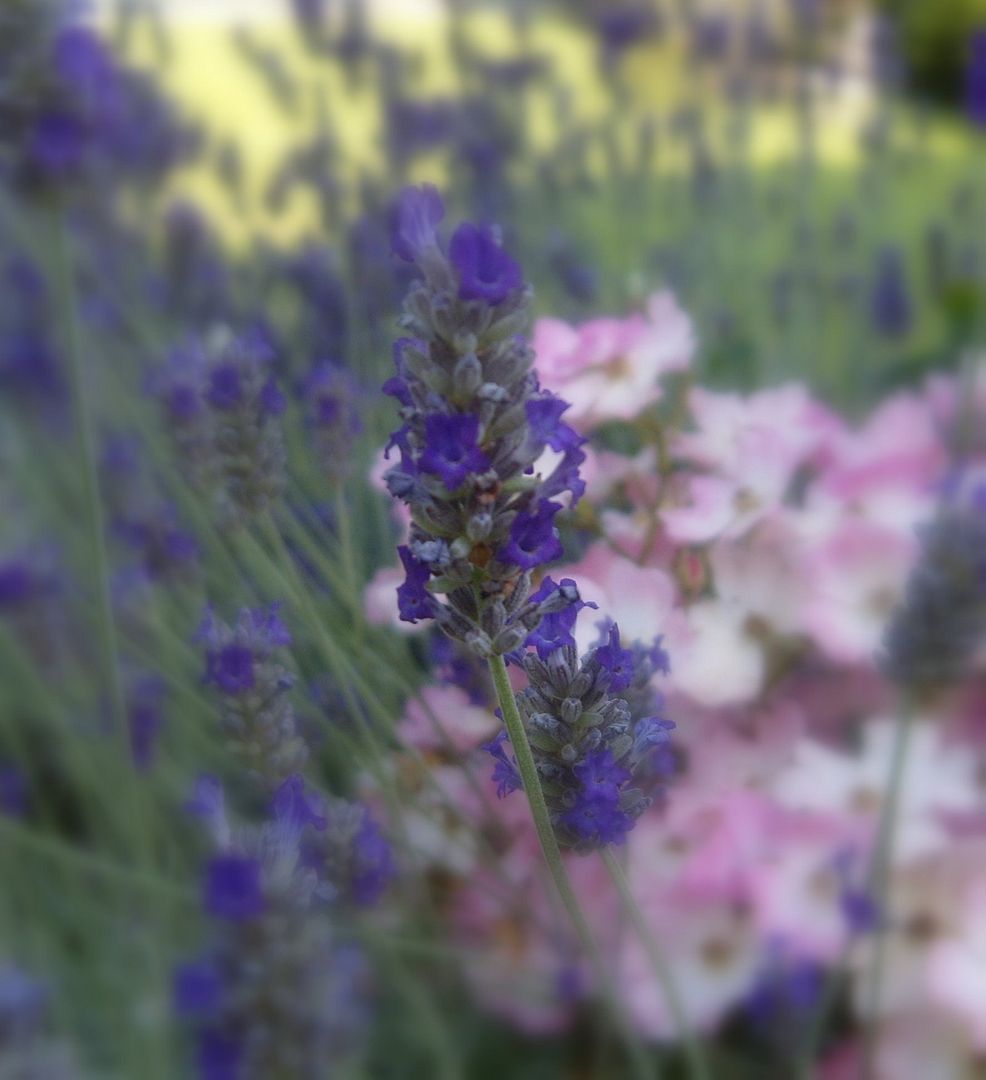 And then of course the Orchards and fields around us to explore. Jess loved it there because she never had to be closed in. There was no traffic and so we didn't have to worry. We were very secluded . . . as if we were in a world all of our own . . .
A bit like living in a bubble. It was a bit artificial . . . and the specter of that fact that we were only there because we were employed to be there hung over our heads a bit, but we tried not to think of that very often. The reality of the danger of that really only came crashing down on our heads when my boss decided to sell up and move and we lost it all, including our employment and . . . Jess.
All water under the bridge now. I am grateful for my experiences there because I learned a lot working in that big kitchen. I got to work with the finest ingredients and best equipment, in a beautiful to look at environment.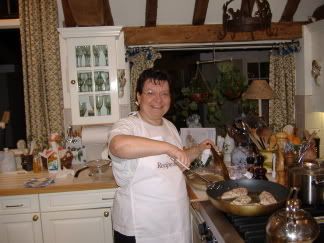 I got to really stretch my abilities as a cook and as a chef. I think that was probably one of the best parts of it, and really the first five years I worked and lived there were very pleasant indeed . . . it only really got difficult the last two.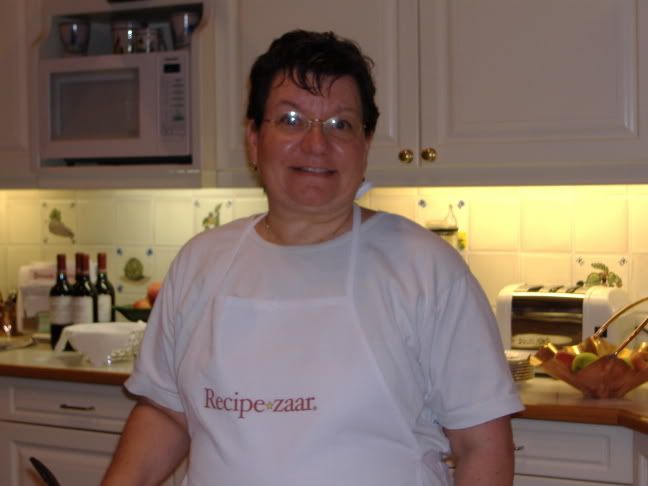 I was more than ready for the change when it came.
The sun is shining beautifully here today! It looks to be a gorgeous day ahead of us. We shall see. I was able to get into the Doctors yesterday and discovered I am not going deaf. I have a double ear infection . . . and so I am now on anti-biotics for that. Hopefully it will be all cleared up before I have to fly.
This weekend is our bi-annual General Conference for our church. I love, LOVE Conference. We get to hear our leaders speak and it's always so interesting. I like to prepare myself ahead of time so that I can get the most out of it that I can . . . which means prayer and scripture reading . . . pondering what my Heavenly Father might want me to learn . . . it's all good!
Here's a thought to carry with you through today . . .
"Opportunities do not come with their values stamped upon them. Every one must be challenged. A day dawns, quite like other days; in it a single hour becomes quite like other hours; but in that day and in that hour, the chance of a lifetime faces us."~Maltbie D. Babcock
Cooking in The English Kitchen today . . . some delicious
French Onion Tarts.
Think . . . your favourite soup, but in a tart! Mind boggling and very tasty!
I hope you enjoyed my little show and tell here this morning. Wherever you go today, whatever you do . . . may life smile down upon you!!