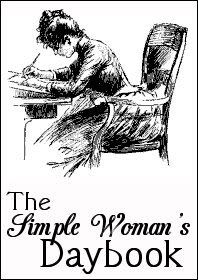 FOR TODAY, September 4th, 2012...

Outside My Window...
The sky is overcast . . . the days and nights are drawing in now. Where just a few weeks ago I was getting up and going to bed in daylight . . . it's now dark when I go to bed and just beginning daylight when I get up. The summer seems to have passed so quickly . . . and yet, we don't seem to have had one much at all!
I am thinking...

"It's possible to forget how alive we really are. We can become dry and tired, just existing, instead of really living. We need to remind ourselves of the juice of life, and make that a habit. Find those places inside that jump for joy, and do things."
~anonymous


I found this quote and I just loved it.
It reminds me of a scripture in the BOM that says that:


"Adam fell that men might be, and men are, that they might have joy."
~2Nephi 2:27


We are not some accident that has evolved out of premordial slime . . . we are beautiful creations of a loving and kind Heavenly Father, who wants the very best for us. We were sent here to the earth to have a fulness of joy, joy which exists for each us if we have the eyes and heart to seek and find it . . . and to see and be all that we can
.
We have it within us to be so amazing . . . and to have amazing lives.
I am thankful for...
I am so very grateful for all that I have. I am truly blessed. I know that there have been times in my life when things have been really rocky . . . emotionally, financially and otherwise . . . things are pretty rocky financially at the moment, but . . . despite it all, I have been, and truly am . . . blessed, in so very many, many ways. It's all a matter of perspective and in how you see the world around you. It's that old glass being half full or half empty thing!

From the kitchen...
I
have been trying to be
a really good girl! haha It's not always easy. Today though I think I am going to make a special blackberry dessert cake. I picked up some buttermilk last night to do just that. It may be a bit dangerous . . . but meh . . . you only live once!!
I have some courgette I need to use up as well.
I am wearing...
A blue nightie and my croc sandles. It's getting cooler though , so will have to dig out my robe soon. Autumn is definitely looming!

I am creating...


Working on Christmas Card
sets that I am hoping to put in my Etsy shop and also my Christmas cookbooklet. We need some income. With all of the costs of everything going up, things are getting pretty tight around here!! Of course the trip to Canada didn't help. (It was worth every penny though.)


Are these not the most adorable needlebooks?? I think they are. They'd make lovely g
ifts and would be great for using up scraps I think.




I am also really loving this. I love the bright colours. So very pretty.




I picked up a few of these a while back to do as wall ha
ngings in our bedroom above the bed. (I have a thing for birdhouses) I have seen some examples online like this one below.


Now, I just have to decide what I am going to do with them . . . what colours to go with, etc.
I think they will be nice when they are done. I'll take a phot
o!!
I am going...
Nowhere until the weekend at any rate!
Work continues on the bath.


Yesterday they started putting up the tiles. Also the toilet was delivered and the electric shower.
I think it is all going to be very nice when they are done. We have chosen a very light
greyish blue paint colour for the walls, which should pick out the grey and blue in the flooring quite nicely I think!
I am reading...
Call the Midwife, by Jennifer Worth
I really enjoyed the series by the BBC and thought I would like to read the book. Books are always a lot more detailed than films or television shows. I am really enjoying this book. It's fabulous and I am glad that I picked it up to read. It details the life of a young midwife in London's East End in the 1950's and is a real peek into the way of life which existed there during that time period . . . the hardship, the poverty, the sadness, the joy, etc. I highly recommend.
Still reading this.
The Last Concubine, by Lesley Downer
The Last Concubine tells the story of Sachi, who grows up as the adopted daughter of an innkeeper in a rural Japanese village, knowing nothing about her true origins. Her world changes forever when an imperial princess, on her way to marry the shogun, passes through the village and takes Sachi into her entourage. In the secluded, formal, traditional world of the women's palace in Edo, Sachi eventually becomes the last concubine of the last shogun — but that's just a prelude to the turbulent events she's about to be caught up in as Japan erupts into civil war and the world Sachi has grown up in, a world that seemed immutable for hundreds, even thousands of years, changes almost overnight.
Lesley Downer has created a wonderful character through whose eyes we are able to view the upheavals in Japanese society in the 1860s: because of her complicated background, Sachi is able to move and interact with people at a variety of different social levels. She's uncomfortable, as any Japanese woman of that era would be, with stepping outside rigidly prescribed social roles, yet recognizes that because of the unique situation she finds herself in, she often has to do so. She also falls in love, in a society which doesn't talk about or celebrate the concept of romantic love (or even have a word for it!) in the way we do in the West, and she has to struggle to fit her emotions in with her concepts of duty and social order. She also gets to see the beginning of the rapid Westernization and industrialization of Japan following the civil war — a fascinating story in and of itself.
I have only just started this book. As you know I am very intrigued by Oriental culture. I am enjoying this very much thus far.
Still on these books, but have added another one . . .



Breaking Night, by Liz Murray
It's an autobiography written by a survivor against all odds. Murray is the daughter of drug addicts who died of Aids. They neglected her, scandalously, but loved her in their own hopelessly dysfunctional way. By the age of six she was accustomed to watching her parents shoot up (her mother was almost blind, so her father had to help her do it). She left home at 15, carrying with her a crumpled snapshot of her mother, taken at a similar age – a girl with a storm cloud of hair and an unnervingly absent stare. It is the only picture reproduced in the book – her talisman. No wonder Murray preferred the photo to the reality. I have only just begun this one.

All are on my Kindle.
It's so much easier to manage in bed than a book, and a lot easier on my wrists.
(Nothing has changed. Still working on the same books!)


I am hoping...
I am really looking forward to our trip down to London the end of this month. We managed to trade some of our Tesco Vouchers in on tokens for days out and meals out, so we should be pretty much able to eat and play for free while we are there. The hotel we are staying at includes a Breakfast Buffet as well, so that's good. We got our train tickets on the cheap too. If you book well in advance and go at times when the trains are not so busy it's a lot cheaper. We have tokens to go into Kensington Palace as well as the Horse Guards Museum, plus a Thames River cruise, and then we plan on doing the Victoria & Albert Museum (which is free.)
I am hearing...
Nothing new really.
Mitzie is snoring on the couch. The clock is ticking . . . my fingers are clicking on the keyboard.
It's a pretty quiet morning actually!
Around the house...
I think it was a month or so back that a friend across the pond gifted me with the first issue of Romantic Prairie Home. I fell in love with the magazine, but you can't get it over here unfortunately. And I looked for some of the newer ones in the bookshop in Canada when I was there, but they didn't have it either. I just love this style of decor.
It's old fashioned and pretty without being too froufrou, I think. A quiet elegance, tasteful and sweet. A more sedate and tasteful shabby chic.
One of my favourite things . . .
Downton Abby! I just adore this series and the new one will be starting soon I think! I can't wait. I just love all of the characters and of course the scenery, costumes, etc. This is one of my favourite shows!
Something new about me ...



I
love Maxine. I know she is a bit irreverant, but I think she's funny. She says things I wish I had the nerve to say, and she makes me laugh. I think there is a little bit of Maxine in each of us. Perhaps that's what is so appealing about her??? I don't know!
One of my guilty pleasures ...
I have a weakness for chocolate pretzels. I found this recipe for white chocolate drizzled cinnamon pretzels . . . dare I think about making them?????
You betcha!!
Pet Peeves...


People
letting their dogs run free. They mess on the pavements, and on the greens. It's not their fault. Dogs do what dogs do. It's much better though if a person is with them and able to clean up behind them. I often see dogs going off on little jaunts all on their own, with no human about at all. What would happen if the dog attacked someone? What if they got hit by a car? There are all sorts of things that could happen. I just think it's very irresponsible.

While I am at it . . . I think everyone should have to take a course on bicycle safety and acquire a liscence to ride one too. More often than not the bicycle riders in my neighborhood are complete jerks! Whatever happened to bells? Don't they realize you shouldn't be riding your bicycle on the pavement (sidewalk)??? How about hand signals? Don't they know any??? I could go on and on, but I won't. I'm sure you get the picture. ☺

Here is picture thought I am sharing...
Mere colour can speak to the soul in a thousand different ways.
~Oscar Wilde

I love colour. It brings me great joy. I especially love bright colours. Some colours make us feel warm . . . other colours make us feel cold. It's funny how that goes, don't you think???
As a closing thought I would like to leave you with this:
Be happy, so that when others look at you . . .
they're happy too.
~anon



And there you have it . . . my day book for this week. Don't forget to hop on over to the Simple Woman

to check out the other day book entries! (Or better yet, do a simple day book entry yourself! It's not that hard and I am betting you would enjoy it!
)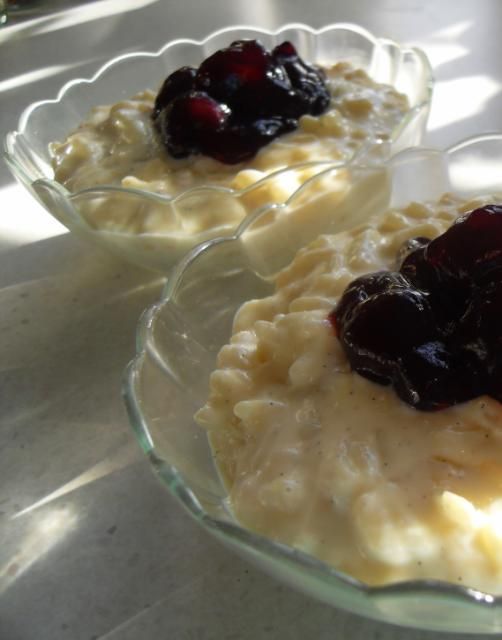 Cooking in The English Kitchen today . . .
The Best Rice Pudding Ever!
Have a great day everyone!