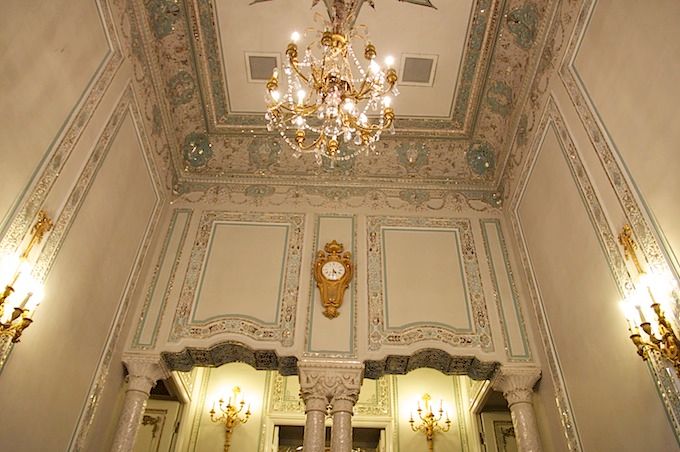 The oldest of historic monuments in Tehran in Iran, is the Royal Palace, also known as the Golestan Palace. It belongs to a group of royal buildings that were once enclosed within the mud walls of Tehran's historic citadel. There you can see one of the most beautiful mosaic works in the world. It's ceilings and walls sparkle like diamonds, glittering in multifaceted reflections.
When the palace was originally designed, the architect had specified huge sheets of mirrors to be placed on the walls. When the first shipment of mirrors arrived from Paris during the construction, they discovered to their horror that the mirrors had shattered during the journey. The contractor ordered them thrown into the trash and went to the architect with the sad news . . .
To the contractor's wonder, the architect ordered that all of the broken pieces of mirror be collected and further smashed down into tiny pieces. He then wanted the tiny pieces glued to the wall to form a mosaic of shilvery, shimmering, mirrored pieces of glass. The end result was stunningly beautiful.
Broken to become beautiful . . .
What a wonderful metaphor for life this is. We are all broken at one time or another, in one way or another . . . There is no one on this earth safe from moments of sorrow, disappointment or despair . . . into each life some rain must fall . . .
It is possible though, to turn your scars into beautiful stars . . . to become better despite the brokenness of our lives. I think one would find that in the great museums of the world, it is extremely rare to find a treasure of antiquity that is unbroken. Most of the precious pieces in the world are only fragments . . . hallowed reminders of a glorious past. Like them, with God's power to repair and restore our lives, we , too can become rare and beautiful objects of antiquity, our very brokenness adding to our worth and beauty . . . the broken pieces saved and restored into a better and priceless mosaic work . . .
We had a lovely day with Pat and Peter yesterday. Although it did rain later in the day, the weather held out for the most part, and we had an enjoyable jaunt around Chester, taking in most of the sights. I will share some pictures once I have time to download and edit them!
We often have breakfast for supper. Quick and easy it makes a change from the usual fare. This is one delicious way I have of presenting a breakfast type of supper . . . all the usual bits stacked together into a deliciously scrummy toastie!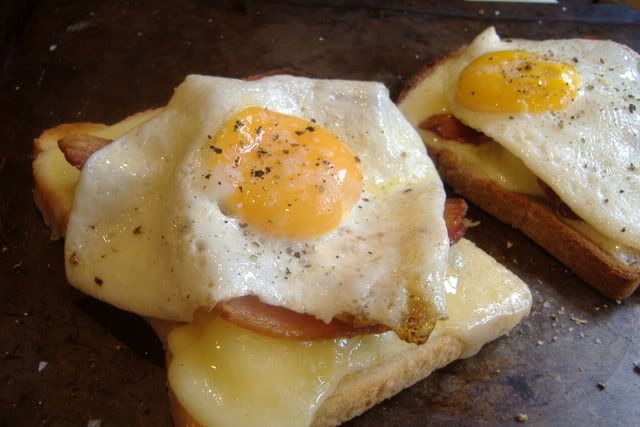 *Bacon, Egg and Cheese Toastie*
Serves 4
Printable Recipe
This is a wonderful way to serve eggs . . . nicely stacked in one delicious pile of toast, bacon, egg and cheese. Each mouthful is delicious!
4 slices of thick, country style, white bread
12 slices of dry cure streaky bacon
8 ounces of medium to strong cheddar cheese, cut into slices
1 TBS butter
4 large free range eggs
sea salt and freshly ground black pepper
First cook your bacon. Preheat your oven to 220*C/425*F/ Gas mark 7. Line a rimmed baking sheet with foil. Lay the bacon slices out onto the foil, without overlapping. Pop into the heated oven and bake for 6 minutes. Turn the pan around 180 degrees and bake for another 4 to 7 minutes, depending on how crispy you like your bacon. For this recipe you will only want it medium done and not too crispy as it will be going under the grill after a bit. Remove the bacon to a plate lined with paper towels to drain. Blot the top with more kitchen paper to get rid of all the grease. Set aside and discard foil and paper towels.
Heat the grill to high. Toast your bread lightly on both sides. Remove from the grill, place on a baking tray, and then top each slice with an equal amount of the cheese. Divide the bacon amongst them and then lay it on top of the cheese.
Heat a large nonstick frying pan over medium high heat and pop the butter into it. Once foaming add the eggs, one at a time. Turn the heat down to medium and cook them slowly for a few minutes, until the whites are set and the holks are as done as you like them. If you wish you can flip them over. We like them sunny side up. When they are done to your taste, turn out the heat and move the pan to the side while you grill your toasties.
Pop the tray with the toasties back under the grill and grill until the cheese is melting and bubbling and the bacon is as crisp as you would like. It should only take 4 or 5 minutes. Remove from the oven to warm plates and place a fried egg neatly on top of each. Dust with a sprinkle of sea salt and some freshly ground black pepper. Serve immediately.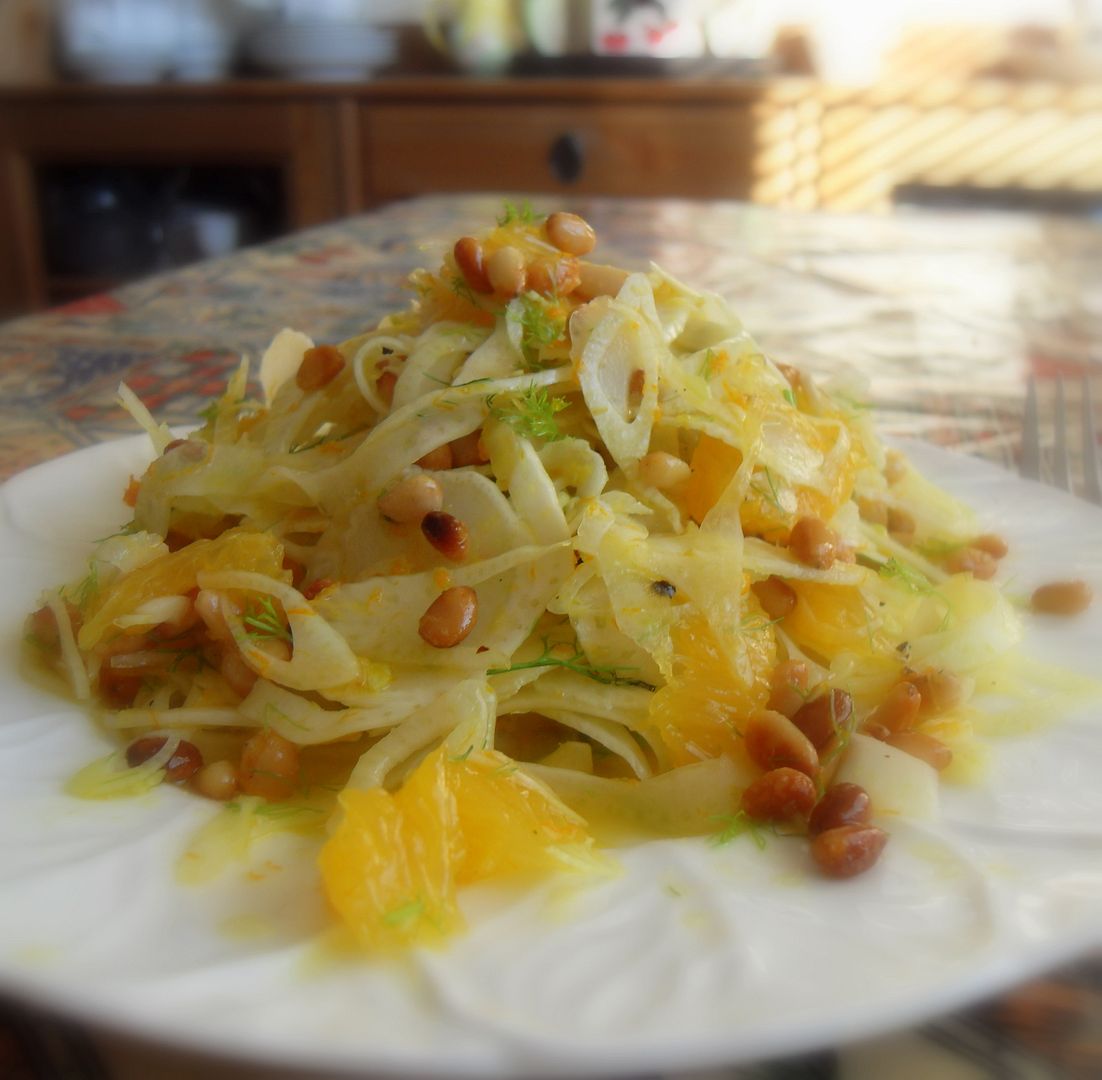 There's a lovely light Fennel and Citrus Salad on offer today, over on
The English Kitchen.
Refreshly crisp and delicious!
Maggie in answer to your question yesterday about the Graham Crackers. They are a North American cracker, which is similar in flavour to Digestive biscuits. Normally I would replace the Graham Crackers with the Digestives, but in the case of that dessert they wouldn't really work that well, because they are round. You can get Graham Crackers here, but only in shops specializing in American ingredients. I would suggest using a rectangular biscuit such as a tea biscuit or even shortcakes. They would work perfectly and the result would be very scrummy indeed!