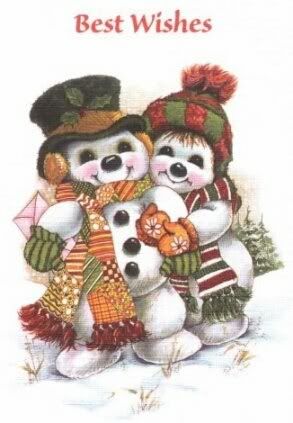 Yes, it's that time of the month again, and no . . . I don't mean THAT time, I mean it's Daring Bakers Challenge time! I was so excited when I read of this month's challenge. It was something I have long wanted to make and also something very appropriate and timely for this Christmas Season time of the year! Yes, this month we were all challenged by the powers that be, namely
my lovely Lis
and Yvonne of
Cream Puffs In Venice
to make a lovely and festive Yule log, the recipe for which can be found on Yvonne's page in it's entirety!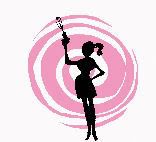 A Yule log, sometimes known as the Great Ashen Faggot, is a large log which is burned in the hearth as a part of traditional
Yule
or
Christmas
celebrations in some cultures. It can be a part of the
Winter Solstice
festival or the
Twelve Days of Christmas
,
Christmas Eve
,
Christmas Day
, or
Twelfth Night
.
Sometime in the late 18th to early 19th century, a facsimile of the Yule Log became a traditional French dessert. Usually, it is in the form of a large rectangular yellow cake spread with frosting and rolled up into a cylinder - one end is then lopped off and stood on end to indicate the rings of the "log." This "
Bûche de Noël
" became a traditional Christmas dessert, and has recently spread to other regions, where it is often referred to as a yule log.
It worked out to be perfect timing for me, as every year we have a Christmas Staff party for all of us that work up at the Big House and I usually prepare the whole meal. This year was no different and I thought to myself,this Yule log will be the perfect dessert to make for our festivities!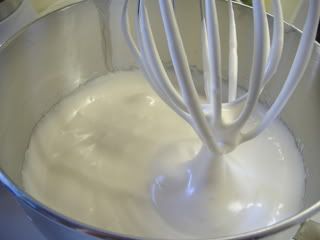 I have long admired Yule logs, but this was my very first attempt at making one for myself. I was quite surprised at how easy it really was to do! Could this be my very first successful Daring Baker's challenge?
The eggs whipped up beautifully for the genoise and I have to say I felt really like a true baker when I was folding the flour into the lovely airy mixture. It was going all according to plan thus far.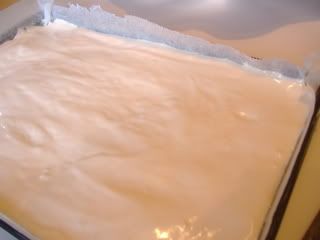 Into the oven the lovely cake went and it looked absolutely perfect when it came out. My only real misgiving came when I was making the buttercream.
I was not quite sure as I went along if it was really coming out as it should. It was looking quite granular at one point,but then . . . all of a sudden it came together and started to look really good, smooth and creamy.
I was humming Christmas Carols to myself as I spread the butter cream over the cake prior to rolling it up. I was really feeling quite festive at that point, and the smell in the kitchen of the baked genoise was really quite wonderful. Even the housekeeper came down to the kitchen to have a closer look at what was smelling so good!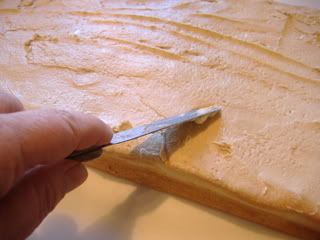 I could hardly wait for it to chill long enough that I could decorate it. Patience is not one of my virtues, I have to confess. It was great fun making the marzipan mushrooms. My creative side really came out! I admit that I ran out of time and was not able to get all the ingredients necessary to make the marzipan from scratch that I did cheat and buy some ready made. I hope that I am forgiven!
I think that they really turned out quite cute. I used one of my paint brushes (clean of course!) to dust the tops with cocoa powder and I also tried to make something resembling gills underneath by using chocolate sprinkles, not all that successfully of course, but they did look quite good.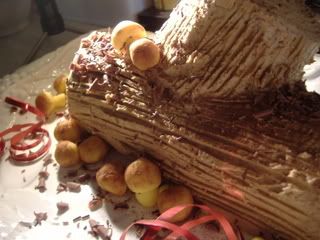 I cut the two ends off like the recipe asked for, but then I could not decided what to do with one of the ends, and so I ate it! Just to test it like . . . after all, I wouldn't want to serve anything to a bunch of people that I didn't already know tasted good!!! It was quite yummy if I don't say so myself!
I attached one of the ends to the top and held it in place with some toothpicks and it looked a bit odd at first, but once I got all the buttercream on it, it ended up looking not half bad. Then came the fun part, deciding where to put the mushrooms. I used a bit of literary bakers licence and dusted it all over with some cocoa powder and also some chocolate sprinkles and I do have to admit I thought it looked quite lovely when it was done.
At the party we feasted on Roast Crown of Pork with all the trimmings. We were all quite stuffed by the end of that, but I have to say everyone at the party oooohed and ahhhhed when it came out and belts were loosened. They all said it looked so nice it was such a shame to dig into it, but dig in they did and my goodness but they really enjoyed it! Their verdict was that it was quite yummy, and they left not a crumb or mushroom behind!
I am so thrilled to be a part of the Daring Bakers, and honored to be one of the group. I so much appreciate all the work that Lis and Yvonne do each month in organizing us and keeping us all in line and together. I know it can't always be all that easy and that it must take an incredible amount of time on their part! I am also so thankful for all the other bakers who take part and all the lovely challenges they meet each month. I love visiting their pages and having a look, which is all a part of the fun. I may not always leave a comment, but I do try to look at as many as I can! It's always so interesting to see all the different interpretations of each challenge.
I want to take this opportunity to say a HUGE thank you to Lis and Yvonne for all their hard work and also to the other Daring Bakers for counting me as one of the crew, and I want wish them all, and each of you a very Happy Yule! Merry Christmas one and all!