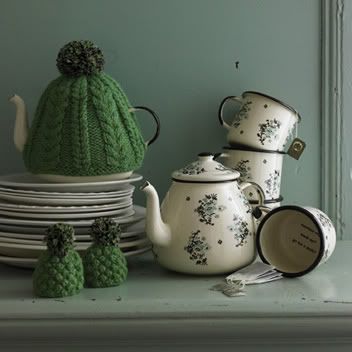 There's been a flurry of activity at our Cottage this week. Between working full time, and getting all the things done around here at home that need doing I've been putting my hand to crafting. Something that I used to do a lot of when I was a
stay at home mom
, but have had precious little time for now that I'm a working woman.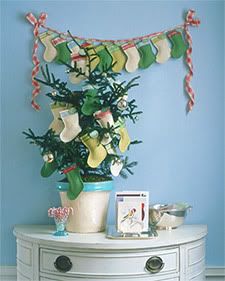 I was surfing the net, as you do, the other day and came across some lovely little felt stockings on MarthaStewart.com. Hers were done in a variety of pastel colours, and she had them strung up through her house on ribbons, somewhat like Christmas bunting. A very novel and refreshing idea.
I really would have loved to do some of them here in that way for the cottage, and may still yet find the time, but upon seeing them I was inspired to do something completely different with them.
I have lots of friends and each Christmas I like to make a gift of something small for each one of them. Nothing too complicated, just a tiny remembrance and show of appreciation for all that they do for and mean to me. It's just a simple thing.
In years past, I have baked tons and tons of cookies, and piled a nice variety of them onto plastic Christmas trays. All wrapped up and tied with a ribbon, they make a beautiful gift and one that's very much appreciated at this busy time of year.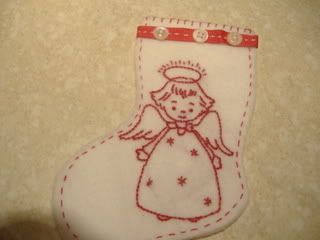 I wanted to do something different this year though . . . something much more personal. Looking at those little pastel stockings, I was inspired to do something unique with them, something all my own. I have always loved the look of red work embroidery and I do love to embroider. I also had a rather large piece of white wool felt in my craft room, and so I decided to make some little felt stocking gift holders and embroider them in such a way.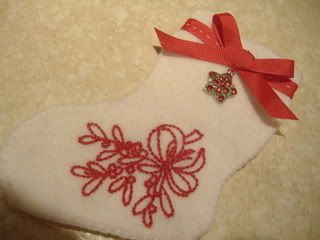 I had recently purchased some lovely little stamping patterns to do some pillow cases. (There is nothing nicer than beautifully hand embroidered white pillow cases in a country cottage) As a thank you for buying them ,I had also received a cute little set of Christmas embroidery patterns. I decided that these would be the perfect size for my project.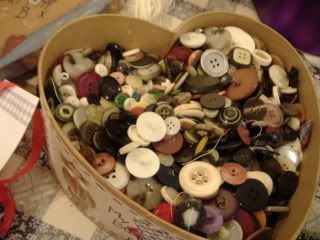 My bag of flosses and bundles of felt were brought downstairs along with my button box and a variety of ribbons. Embellishments are always a nice touch, and each one can help a gift be made so personal and just right for the person intended.
Several hours later, I had a nice little bundle of stockings finished. I was quite pleased with the results. They looked so lovely with their pretty red stitching and I loved the ribbon and button touches. I even found a bag in my craft room of odd bits of jewelry that helped to dress them up even more. I hope that my friends enjoy receiving one of these little beauties and you know, as my mother always said . . . the nicest things come in small packages.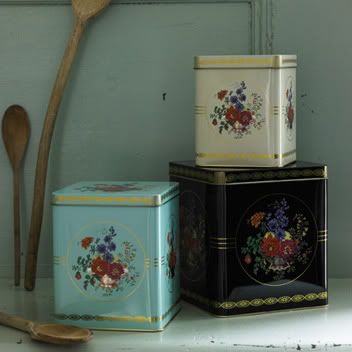 All that craft activity whetted my appetite for some Christmas baking. With just Todd and myself living here, there is not a lot that I can do now in the way of Christmas baking. Most of what I make gets given away to friends. Todd likes his Christmas pudding on Christmas day, and a Christmas cake of course, but I sometimes miss the treats from home that my mother always made every Christmas when I was growing up. and that had also become traditional for my own growing family when they were all still at home.
One such tradition was this lovely gumdrop cake, a recipe that I got from my sister quite a few years back. Everyone in my family loves this cake and it just would not be Christmas without one about. My mother once baked one and realized after it went into the oven that half of her plastic spatula was missing . . . that year instead of everyone looking for the special sixpence in the Christmas cake we were all vying to be the one who found the plastic spatula in the gumdrop cake . . . such are the things that legends are built upon . . .
I shall probably have to bake another one before Christmas, as this will be probably long gone and only a tasty memory by then.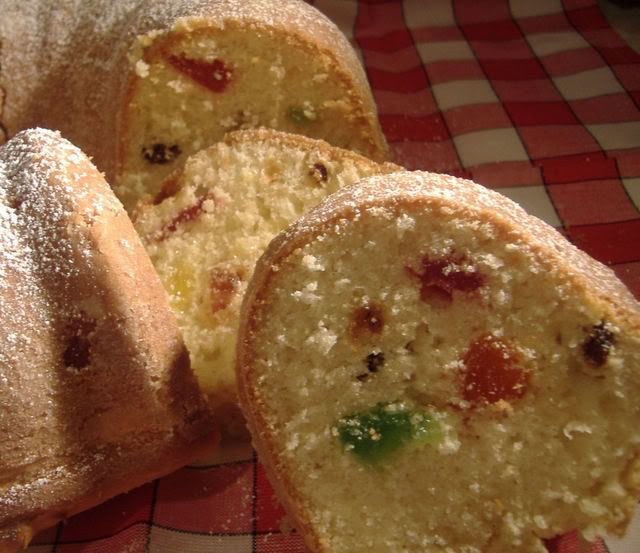 *Portugese Gumdrop Cake*
Makes one bundt sized cake
It just wouldn't be Christmas without one of these delicious cakes in the larder. I'm not sure why it is called Portugese Gumdrop Cake or even it is actually Portugese. I only know for sure that is is moist, delicious and chock full of wonderful sweet gumdrops. Much, much tastier than a fruitcake . . . everyone loves this! It also freezes very well.
1 cup butter
1 1/2 cup caster sugar
3 large eggs, separated
3 cups plain flour
2 tsp baking powder
generous pinch of salt
1 cup whole milk
1 tsp lemon essence
1/2 tsp vanilla extract
1/2 cup sultana raisins
1 cup candy gum drops, cut in half (save the black ones for eating)
Pre-heat the oven to 150*C/300*F. Grease and flour a tube pan (I use my fluted bundt pan) and set it aside.
Cream together the butter and the sugar until light and fluffy. Beat in the egg yolks.mixing them in well.
Sift together the flour, baking powder and salt. Stir together the milk and the vanilla essence. Beat the egg whites until stiff.
Add the flour mixture to the creamed mixture, alternating with the milk, beginning and ending with dry. Mix it all in well. Fold in the beaten egg whites. Try hard not to over mix the batter and deflate the whites. Carefully fold in the gumdrops and the raisins.
Pour the batter into the prepared pan and bake in the pre-heated oven for 1 1/2 to 2 hours or until it springs back when lightly touched and a toothpick inserted in the centre comes out clean. If it is browning too quicly on top, cover with some aluminum foil.
Remove from the oven and let cool in the pan for at least 15 minutes before you remove it to a wire rack to cool completely. You may dust the top with icing sugar before serving.