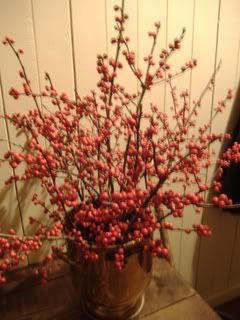 There's something about these colder days and longer nights, and this exciting time leading up to Christmas. You can take the Canadian out of Canada, but you just can't take the Canada out of the Canadian, and although I am now living some two thousand miles away from my kith and kin, and have done so for seven years now, this is the time of year that my fingers get itching to bake Christmas cookies.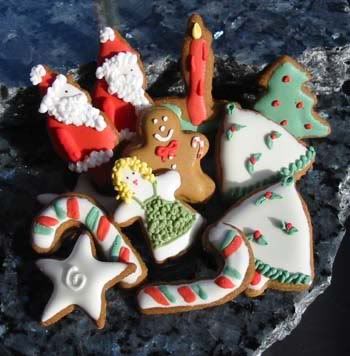 Years ago , when I had a house full of little feet and hands, these weeks running up towards Christmas would see me in a frenzy of baking. I made batch after batch of cookies for the holidays . . . egg nog logs, pork pies ( dainty little date tarts sweetly iced) sugar cookies, frying pan cookies, candy cane cookies, santa's whiskers . . . oodles and oodles of delicious confectionary and tempting treats to help make wonderful Christmas memories for my family.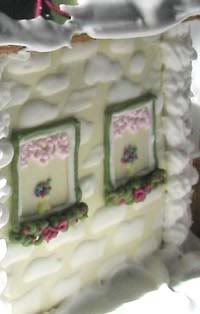 I also used to make a creative and delicious gingerbread house for them every year . . . a laboriously time consuming affair, but a wonderful labour of love that I got a great deal of satisfaction from. Every candy, dragee and ornament lovingly applied with thoughts of their gleeful happy faces looking upon it in appreciation when it was done.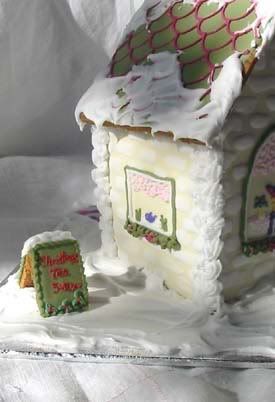 One year I even made them a gingerbread Christmas tree. It stood about 12 inches tall and was three dimensional. It's green iced branches sweetly adorned with silver dragee garlands, jelly bear ornaments, candy baubles and eensy weensy gingergread candles on the tip of every branch.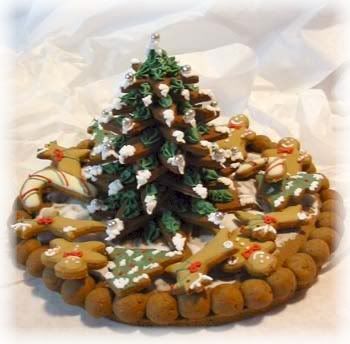 Each passing year saw me making up trays of cookies to be shared with friends and family, a gift loving made and produced with my own hands, and one that was always eagerly anticipated and very much appreciated.
Living so far away from family as I do now, there is not much need for all these delicious and tempting treats. There are only Todd and I to enjoy them, and in all honesty, my waistline can no longer take the abuse, more's the pity.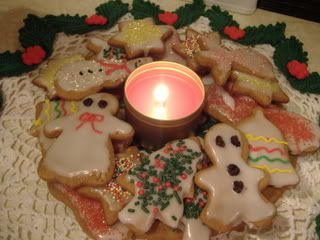 Todd is not one with a overly sweet tooth, and, although he seems to be able to eat anything he wants without the problems of gaining weight, unlike myself (who only has to sniff things it seems . . .) he doesn't really appreciate all these tempting Christmas treats and little pleasures . . . and so, baking for him is a pointless effort. I do bake a few things for friends but not in the manner in which I used to apply myself.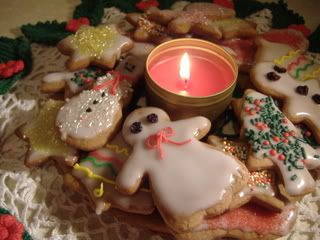 Sunday was such a blustery day though, and after we had put up our Christmas tree, I had such a hankering for home and family and a white Christmas, that I applied myself to making a lovely little confection to dress our kitchen table with. Pretty to look at it is . . . with it's dainty gingerbread cookies and lovely spice candle in the centre, the extras that don't fit are ours to enjoy, well . . . ok, mine to enjoy . . .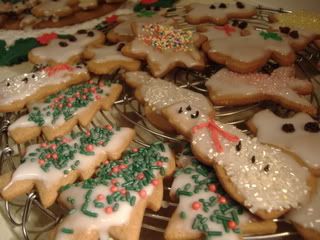 *Gingerbread Cookie Wreath*
Serves 16
A wonderful confection that is not only pleasing to the eye to behold, but mighty pleasing to the taste buds to eat as well . . . a delightfully delicious centre piece for your Christmas table.
3 TBS all purpose flour
1 batch of gingerbread cookie dough (see below)
2 cups icing sugar
3 to 4 TBS water or milk
Food colouring (if desires)
assorted small candy sprinkles, edible glitter and or decorator sugar
Heat the oven to 350*F/180*C. LIne a cookie sheet with parchment paper. Draw a ten inch circle on the paper. Turn the paper over so that the ink is underneath, but you can still see it through the paper.
Sprinkle 1 TBs of the flour on the workspace. Shape 1/3 of the cough into a ball and press it down into the flour. Press the dough to form a 6 inch round, turning it and coating it with flour frequently. Place it in the centre of the circle on the baking sheet. Roll to form a 10 inch round about 1/4 inch thick. Cut a four inch round from out of the centre and set aside to use for cut out cookies.
Bake the wreath for 7 to 9 minutes or until light golden brown. Remove from the cookie sheet and place on a rack to cool completely.
Meanwhile roll half of the remaining dough out on the floured surface to 1/4 inch thickness. With 1 1/2 inch to 3 inch Christmas cookie cutters, cut out shapes. Place on an ungreased baking sheet. Repeat with remaining dough scraps and flour until it is all used up.
Bake the shapes for 7 to 9 minutes or until light golden brown. Remove from the baking sheets and place on wire racks to cool before decorating and icing.
In a small bowl blend together the icing sugar and enough water to make a spreading consistency. Divide into small bowls and add colouring if desired. Frost and decorate cookies as you wish with various coloured sugars, sprinkles and dragees. With dabs of frosting, attach the decorated cookies to the cookie wreath, allowing one layer of cookies to set before adding another.
*Old Fashioned Ginger Cut Outs*
These deliciously crisp and spicy cookies are a wonderful addition to any holiday tray.
8 TBs softened butter
1/2 cup packed light soft brown sugar
1/2 cup molasses
1 large egg
2 1/2 cups all purpose flour
1 tsp baking powder
1/2 tsp salt
1 TBS ground ginger
1 tsp ground cinnamon
1/2 tsp ground allspice
1/4 tsp freshly ground nutmeg
1/2 tsp ground cardamon
Pre-heat the oven to 160*C/350*F. Cream together butter and sugar. Then beat in the molasses and egg.
Sift the dry ingredients together in a bowl. Add to the creamed mixture and mix until well blended. Put into a plastic bag and refrigerate for one hour.
Roll out onto a lightly floured surface, 1/4 inch thick. Cut into 3 inch squares or use your choice of cookie cutters to cut out shapes. Place on baking sheets and bake for 7 to 9 minutes until set and lightly browned. Transfer to a rack to cool completely.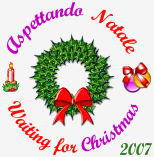 This is my contribution to Waiting for Christmas 2007, at
http://www.francescav.com/2007/11/natale-2007/
, being hosted by Francesca. You might want to pop on over and enter a recipe or two yourself! You have until the Friday the 14th of December to do so!