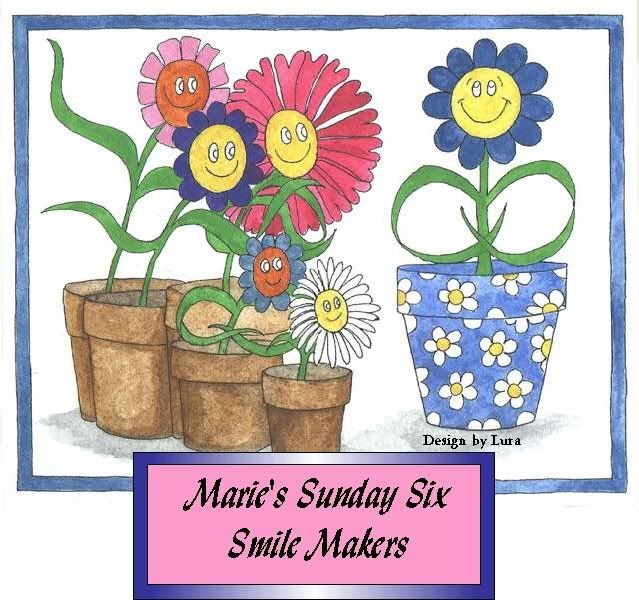 It's been a few weeks since I have done a Sunday Six post! I've had ever so many smile makers during that time. My days are packed with blessings every day and I could go on and on forever telling you about them, but I promise to narrow it down to just six . . . and that is a hard thing to do!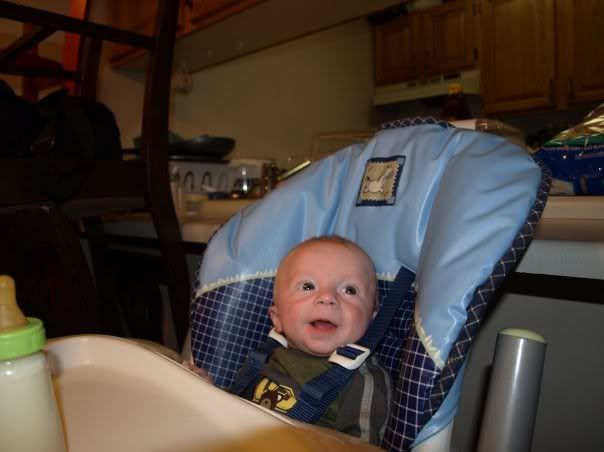 This picture of my youngest grandson, Joshua, made me smile. He's so tiny and adorable, with his red hair and blue as a button eyes, not to mention his dimply cheeks. I fall in love with him over and over again, every time I see a picture of him. I cannot wait to get my hands on him and his older brother Jonathan, not to mention my other grandson, Gabriel!! We are hoping to be able to take a trip to Canada next summer and that's when I'll have my chance to spoil them in person! I can't wait and I hope that they won't be afraid of me. I'll have a new grandchild by then as well. My oldest son and his wife are expecting another baby in February. Please pray for my oldest son's family. His mother in law has lymphoma and is not doing very well at the moment. That's Anthony, Anne and Anne's mother. I am sorry I cannot remember her name, but God will know who you mean.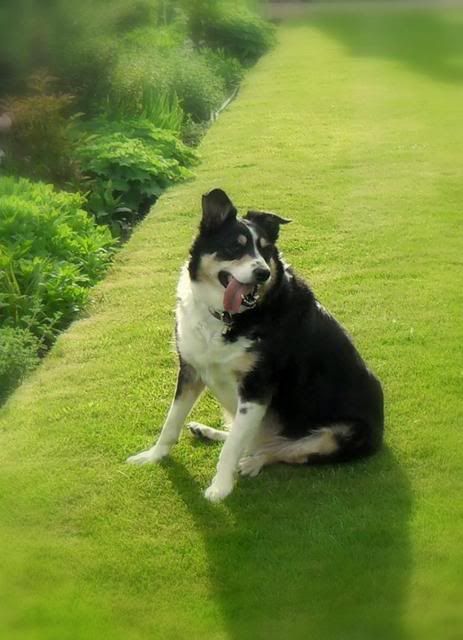 Having Jess back home after her holiday away. She always goes to stay with friends of ours who have a whole house full of children. She loves to spend time with them and they love to have her. It helps Todd and I to feel a lot better about leaving her when we know she is with someone who cares for her. She has a ball with the kids and I am sure she is quite bored with us when she has to come home again. She huffs at us with disgust and boredom for a few days. Thankfully we have little Zac next door to come and play with her from time to time. He kept her quite busy most of yesterday afternoon playing ball and bubbles with her! (She loves to catch bubbles. It's so funny to watch!)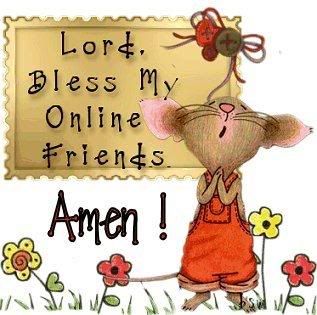 All of you and your lovely comments that you leave. You always make my heart smile when I see them. I love blogging so very much. A huge part of that is hearing back from you all. Because of where I live and work, I am quite isolated from the general population and don't have a lot of opportunity to make friends in the real world, other than at church, which is about the only time I get away from here. I have made ever so many good and valued friends here on line and from blogging and I treasure each one of you dearly. You are just the best! I'm going to be having another giveaway soon just to show you how much I value each and every one of you!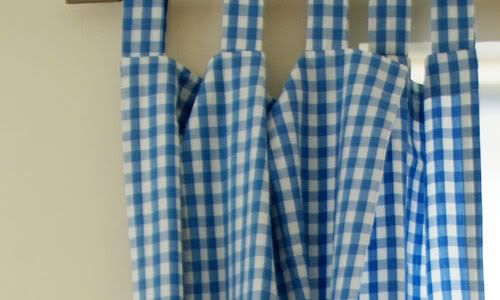 Blue and white checked gingham curtains. We finally have the kitchen completely painted and some new pictures hanging on the walls, and we got some pretty blue and white checked gingham curtains to hang on our kitchen windows. I just love gingham! It bespeaks home to me and makes me feel all warm inside. It really makes me smile!
Getting to see Terri and Pip yesterday made me smile. Terri is doing ever so well! She still has a lot of pain in her arm when she goes to move it. That is to be expected and I told her she mustn't favour it and must try to move it a little bit more each day, or she shall lose the use of it completely and that would be a tragedy. Without that arm she won't be able to drive or to do a lot of things. I brought her cake and some of the rhubarb bread pudding from the other day and we had a very enjoyable couple of hours with her. Todd made her some tea and we just sat and chatted away. She wouldn't let me hoover or anything, although I really wanted to so that I could help her out. She really just wanted the company. I know she finds the hours long without having anyone there or being able to go out to her jobs like she used to.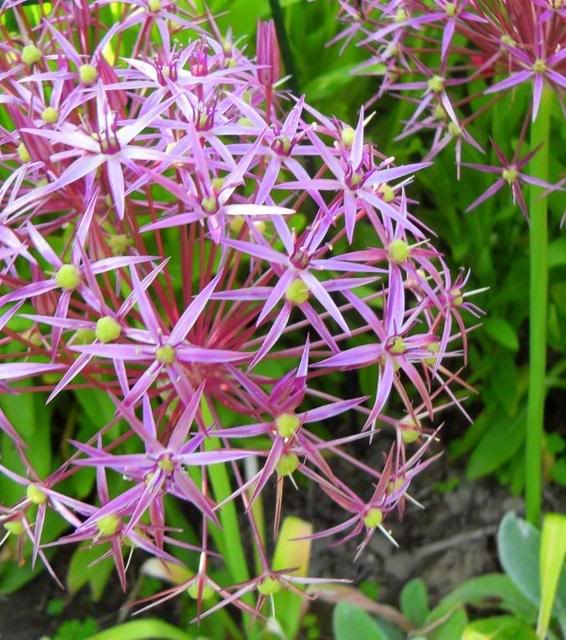 With all the rain and sun we have had, the garden is just bursting with colour! Everything is blooming and so very pretty to look at. Every step brings a new scent. It's so very, very lovely.
And just because I can't help but share with you and it's my Sunday Six and I can make it Seven if I want to . . .
I could hear a tap-tap-tapping on the kitchen window above the sink yesterday. When I looked there was a little bird sitting there. I am not sure what he was doing or what he was trying to say. I know my mom would have an answer and be able to tell me exactly what it means. I'll have a chance to ask her later today as it is my day to call her. I can't wait to speak to her!
And there you have it, my Sunday Six for today, oops . . . err . . . Seven!!
I made us some delicious chicken for our supper yesterday (recipe to come soon) and to go with is I made this scrumptious Rice Pilaf! It was lip smacking tasty and we both really enjoyed it. I can't ever remember having rice when I was a child. It was not until I was an adult that I got to enjoy it. It's so very versatile and goes with just about anything, don't you think? Well, except for fish at the seaside . . . you definitely need chips to go with that!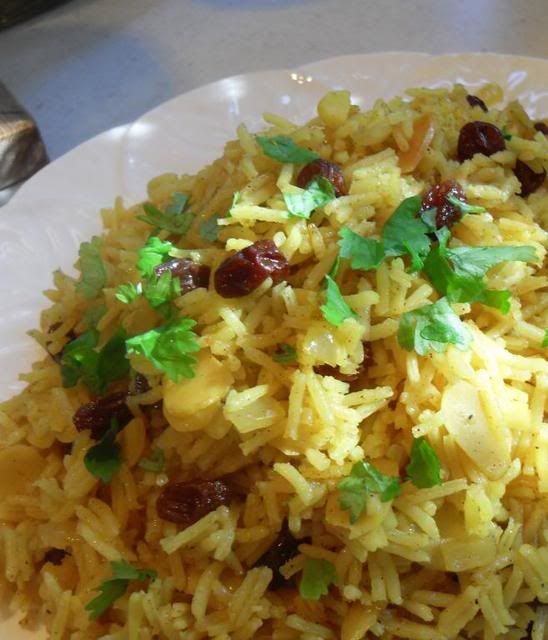 *Basamati Rice Pilaf*
Serves 4
Printable Recipe
This is one of my favourite ways of cooking basamati rice. It goes wonderfully with a curry, if you are so inclined. I could eat a whole plate of this and nothing else! If you use vegetable broth it becomes a vegetarian dish.
4 TBS butter
1 small onion, peeled and chopped
1 fat clove of garlic, peeled and minced
1/2 cup slivered almonds
1 1/2 cups raw basamati rice
1/2 cup of sultana raisins
2 tsp tumeric
1/4 tsp ground cinnamon
3 cups chicken or vegetable broth
salt and black pepper to taste
1 TBS chopped fresh coriander leaves (cilantro)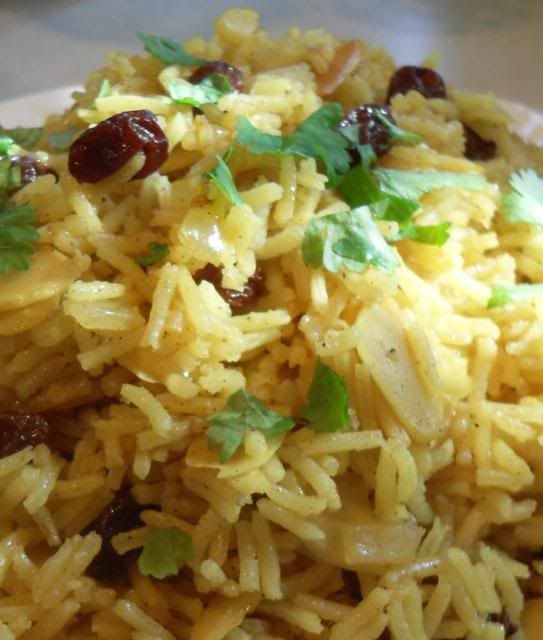 Melt the butter in a nonstick skillet over medium heat. Add the onions and the almonds. Cook and stir for 5 to 6 minutes, or until the onions are tender and the nuts are golden brown. Add the garlic and cook and stir for about a minute longer. Stir in the rice, and stir to coat well with the butter. Add the tumeric, cinnamon, broth and raisins. Bring to the boil, then reduce the heat to low and simmer for 20 to 25 minutes, until the rice is tender and all the liquid has been absorbed. Season to taste with salt and pepper. Sprinkle with chopped coriander and serve.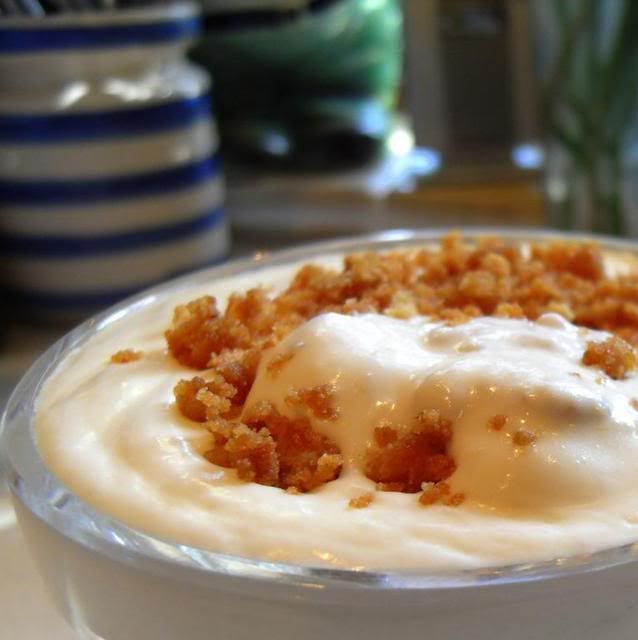 Then for dessert, I made something scrumdiddlyumptious. You know the drill, hop on over to
The English Kitchen
to check it out!