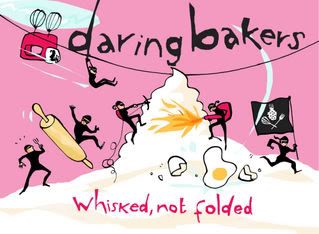 Here we are again with another month and another Daring Baker Challenge! My, how they do come around quickly!
When I first read about what this month's challenge would be
this recipe
, Tender Potato Bread, as decided by Tanna of
My Kitchen in Half Cups
, I though to myself . . . "Oh
NO
!! I am
SO NOT A BREAD BAKER!
" As I have confessed to you before on several other occasions, I am a horrible bread baker, and in reality, anyone who has tried my bread can attest to the fact that indeed . . .
"Marie is a BAD BREAD BAKER".
The smaller part of me when I first read the challenge really wanted to opt out of this one. I mean . . . did I
really
want to parade my sad, pathetic, bread baking skills on the net for everyone in the world to take a gander at??? But then, my sense of fair play and being a good sport kicked in and I realized that I had wanted to be a Daring Baker for so long, and now that I finally was, I just couldn't just opt out whenever the going got tough. After all, when the going gets tough, the tough get going, right??? After all, isn't the the whole purpose of being a Daring Baker getting stuck in and rising to the various baking challenges presented and jumping in where "Eagles" dared to tread or at least where "Daring Bakers" dare to tread anyways???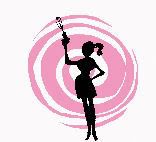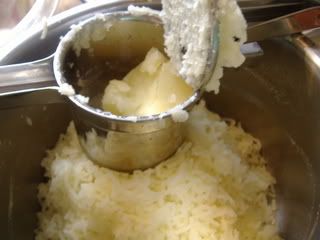 The recipe seemed easy enough to follow, and, right from the start my mind was filled with fanciful images of lovely braided fat loaves and puffy foccacia breads, their dimpled tops crusted with coarse salt and studded with herbs. I was so excited that I was going to get to use my new potato ricer as well!!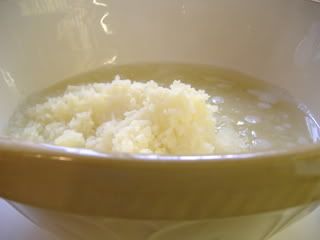 Potatoes were loving peeled, cooked and then riced into my finest baking bowl, reserved for only the finest ingredients. (Did I mention that I went out and bought only the best Maris Piper potatoes to make this bread with? Each one hand picked especially by me!!) I even remembered to save the potato cooking water, instead of tipping it out . . . as I have been known to do in the past. (A testimony to the fact that, through the years, I have
indeed
learned to read a recipe, not once, but several times through now before actually executing it!)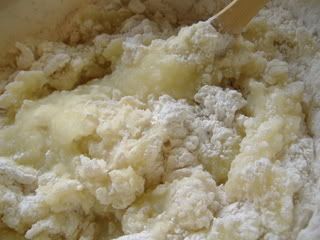 Once I had let the mixture cool, I carefully added the flour as the recipe said to do, in the exact amounts the recipe said to add . . . hmmm . . . and then I added and I added AND I added. How much flour would this bread recipe take??? I dumped it out onto the counter and began to knead in flour in copious amounts. This damn dough seemed to be getting sticker and stickier! Finally after adding what seemed like tons of flour, but was in reality only several hundred cups, I finally gave up and put it back into the now washed clean, dried and greased bowl to rise. I covered it lovingly with a clean tea towel as I had seen my grandmother and mother doing for years and, with my fingers crossed, I stuck it on a rack over the AGA (which had been turned down to really low that morning for cleaning)in hopes that it would do what it was supposed to do and what I hoped it would do.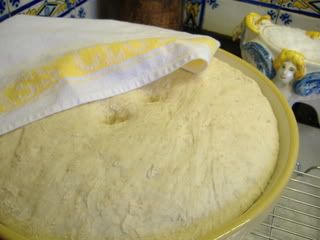 Approximately two hours later, I peeked under the towel and to my great surprise was greeted with the sight of a beautifully risen bowl of what looked to be a wonderful dough. I even did the two fingers test to make sure it had quite risen enough and it had!
Then came the test. I plopped it out of the bowl onto the counter. My goodness, this was one sticky dough. I had forgotten to dust the counter with flour first . . . but quickly rectified that by scraping it off, adding some flour and dumping it out again. It was quite impossible to roll out or shape into anything . . . the dough was so sticky. Gone went my dreams of braided, dimpled or studded anything. I was getting quite tired of this dough by now, so I shaped it as best as I could and popped the larger bit into a large loaf pan and laughingly shaped the rest into what I envisioned as big puffy rolls.
I covered it again with the tea towel and left it to rise some more. At the appointed time I took a peek and thought, wow, this is going to be a huge loaf of bread. The rolls looked more manageable. Nevertheless, I slashed the tops with a sharp knife and dusted them with flour before I popped it all into the oven, telling myself that all would be okay.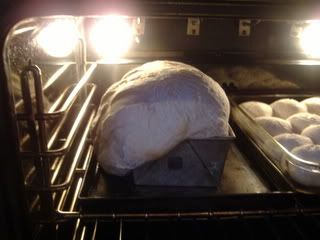 WRONG! About 15 minutes later I peeked into the oven and this is the sight that greeted me. My lovely loaf of bread had not only risen up to the top of the pan but well over the pan and was now laying all the way over and down on one side! It looked like some kind of alien form had landed and I began to thank the God's for the bright idea I had had to put a flat baking tray under the loaf pan when I had put it into the oven to cook. At least I would not have burnt and baked on dough all over my oven racks and floor. (Thank God for small mercies, or rather large ones in this case!)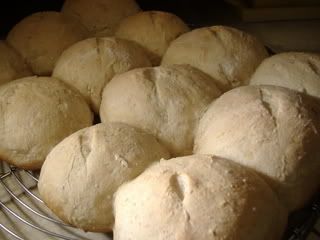 At the end of this baking challenge I ended up with some rather flat, but nicely crusty and chewy rolls, and a gargantuan crusty loaf of rather eerily spooky alien resembling bread, which by the way tasted lovely.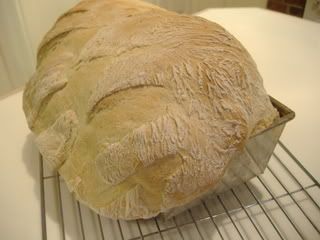 Would I call this challenge a rousing success?? Not exactly . . . But I did learn a few things . . .
One . . . when it says to put the rolled out dough into a loaf pan, and that it should only come up three quarters of the way, they mean it. There is no use sticking your head in the sand like an ostrich and pretending that the overhang will magically disappear and the resulting loaf will be pretty and umm . . . loaf like.
And two . . . Marie is
still
NOT a good bread baker . . .