I was quite surprised the first time I saw a white squirrel. I had never known such a thing existed. How naieve of me!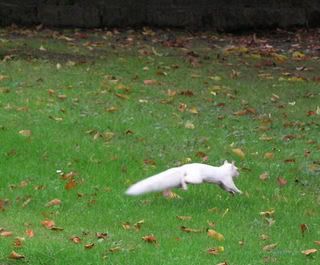 We were in the car, on our way to church one Sunday morning, and we saw one run across the road. I couldn't believe my eyes! I was, quite simply, amazed. It was quite fool hardy of it to be running across the road like that, but then again, squirrels are quite fool hardy anyways!
I was thrilled to find out just recently, that we now had one here where I live. For several months now, it's been seen by quite a few people, however elusive it's been to me.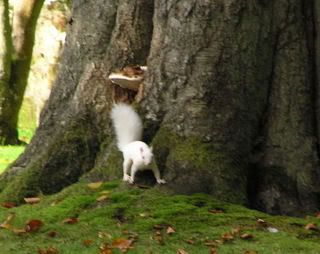 I have looked many times for it, but have never seen it. It seems to go into hiding whenever I'm around I guess...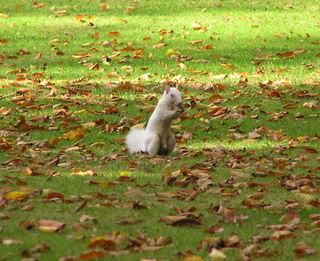 A friend of ours even managed to take all these photos one afternoon from their car. He very generously sent them to me via the e-mail so that I could share them with you. He said that the squirrel at one point was crouching on the branch as if to hide, but of course, when you are that white, how can you hide? He sticks out like a sore thumb!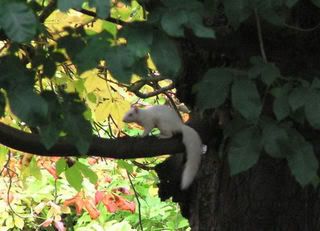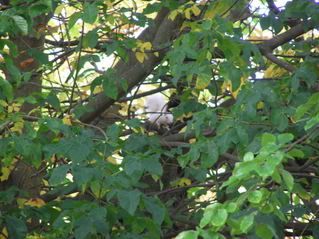 I know that one of these days I will finally see the elusive white squirrel, and when I do, I hope that my camera is at the ready. I so dearly would love to see him myself.
Todd and I toy with the idea of becoming Vegetarian all the time. If it wasn't for the fact that I love a good steak once in a while, and the memory of my mom's home cooked turkey dinners sends me in to ecstacy, we probably would have switched entirely already. We do try to eat meat sparingly though.
The local grocery shop has been filled with a new crop of early Brussels Sprouts. I really love them and they taste so good this time of year. I made a lovely Brussels Sprout ragout for dinner last Saturday night. It was delicious, and even Todd really enjoyed it, although I'm afraid it didn't agree with him throughout the night, (sleep is blissful unawareness) so much so that he was worried about getting up into the pulpit Sunday morning. All his fears were for naught though . . . thankfully.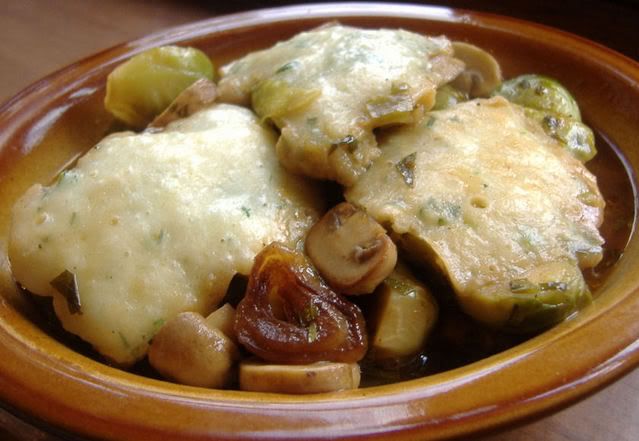 *Brussels Sprout and Mushroom Ragout With Herby Dumplings*
serves 4
This really is special and can make a brussels sprout lover out of even the most die hard hater of the lovely little green gems! You needn't use large onions actually. I like to use shallots, sliced in half. It is well worth the effort of making your own mushroom stock. It tastes so much better than store bought and you can control the amount of salt in it better. I love the little herby dumplings on top! They are like the icing on the cake and, as we all know, cake with icing is always better!
Mushroom stock (see recipe below)
4 tsp olive oil
2 medium to large onions, peeled and sliced about 1/2 inch thick, or half a dozen or so small shallots peeled and trimmed, and cut in half
3/4 pound of fresh mushrooms, a mixture of crimini and white button ones works well
(Wipe clean, trim and slice thickly)
3 TBS chopped flat leaf parsley (fresh)
1 TBS chopped tarragon (fresh)
1 fat clove of garlic, peeled and minced
the juice of 1/2 large lemon
1 pound brussels sprouts, trimmed and halved or quartered if large
For the Herby Dumplings:
1 cup all purpose flour
1 tsp baking powder
1/2 tsp sea salt
3/4 cup milk, heated with 3 TBS butter
3 TBS minced fresh flat leaf parsley and tarragon, mixed
1 large egg
Make the mushroom stock, and once it is simmering bring a pot of salted water to the boil. Drop in the brussels sprouts and cook until nearly tender, about 4 to 6 minutes at most. Drain and then set them aside until needed.
Heat the oil in a large deep nonstick skillet. Add the onions or shallots and cook them over medium heat until they are nicely fragrant and nicely coloured, about 12 minutes or so, giving them an occasional stir.
While you are cooking the onions, chop the herbs and garlic, and slice the mushrooms. Once the onions are a rich colour, increase the heat to high and add the mushrooms, herbs and garlic to the pan. Squeeze the juice of the lemon over top and cook until the mushrooms are golden brown in places. Reduce the heat to low and add the sprouts and mushroom stock.
For the dumplings, mix together the flour, baking powder and salt. Pour in the milk, herbs and egg and stir quickly together with a fork. Drop by small spoonfuls on top of the simmering ragout. You only want 12 small dumplings. You will have extra batter, but don't be tempted to use it or your ragout will be too bready. This is one of those times whereby you just can't cut the recipe in half and the full amount is just to much. (Just close your eyes and tip the rest down the drain . . .)
Cover the pan with a lid and steam the dumplings for 10 minutes or until done. (they should be cooked through and dry on top) Serve the hot ragout in soup plates with three dumplings in each bowl. Delicious!
*Mushroom Stock*
Makes 1 1/2 cups
1/2 cup dried porcini mushrooms
2 tsp olive oil
1 onion, peeled and chopped
1 carrot, peeled and chopped
1 far clove of garlic, peeled and sliced
2 fresh mushrooms, wiped clean and chopped
2 tsp tomato puree (paste)
1 TBS chopped fresh marjoram ( 1 tsp dried)
1/2 cup dry white wine
1 TBS plain flour
sea salt and freshly ground black pepper to taste
Put the dried mushrooms in a large beaker and cover with 3 cups of boiling water. Set aside.
Heat the oil in a saucepan over high heat. Add the vegetables and saute, stirring occasionally until they are well browned and aromatic. Reduce the heat to medium and stir in the flour. Add the tomato paste, marjoram and wine. Once it has reduced to a syrupy consistency add the porcini and their soaking water. Season with about 1/2 tsp of salt and a little pepper. Simmer for about 2o minutes before straining to use. You may also freeze the strained stock.