The clocks went ahead an hour on Saturday night. Now, I am not quite such a young dog any more and as an older dog (you'll note I didn't say OLD) I don't take as kindly or as well to new tricks as I used to, and so these time changes in the spring and the autumn really are difficult for me to adjust to. I was up at 4 o'clock yesterday morning . . . and falling asleep in my soup by seven o'clock last night! I couldn't go to bed then however, and so managed to keep myself awake until about nine. I had just crawled into bed and was snuggling down into my blankets when all of a sudden my eyes flew wide open and I was wide awake!
"Oh no!" I exclaimed to my Todd, who was sitting next to my prone shape in bed, reading a book.
"What now?" he asked, in an oh my goodness, whatever is up with her now sort of a way, hoping with every inch of him that he was not going to have to get out of bed and chase annother housefly or wasp or crane fly around the bedroom.
"I was supposed to do something today, and I totally forgot!" was my reply as I sat up in bed and started to put my slippers back on.
"Well, you better get on with it." was his reply. No need to question the what's, why's or wherefore's, as he knows me all too well by now!
It had suddenly occurred to me, or so I thought, that I had missed posting my challenge for the Daring Bakers! (An online group of food bloggers who rise to meet a different and interesting baking challenge each and every month.) I had anxiously been waiting for several months to join this elete group, and now here I'd gone and missed my very first challenge post!!! I bounded down the stairs and turned the computer on, only to realize, once I had it on, that I was not late for the challenge, but indeed a day early! Yesterday was only the 28th of October, not the 29th!Whew! What a relief! I turned the computer off and went back upstairs to bed. After I told Todd what I had done, he only shook his head. Like I said . . . he knows me all too well by now!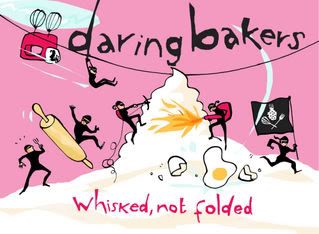 I was so excited at the beginning of this month to finally be admitted to the Daring Bakers! I had been trolling food blogs for quite some time now and reading about their various baking exploits and wanting to join in on all the fun! Last month I finally screwed up all my courage and asked to join. Thankfully, they let me in! I could hardly wait for the newest challenge so I could get stuck in.
This month's Daring Baker challenge was hosted by Mary of
Alpineberry
, who not only hosted the challenge this month, but is also one of the administrators and hosts of the Daring Bakers altogether! For the challenge this month she presented us with "Bostini Cream Pie", a delicious twist on an old favourite of mine, Boston Cream Pie. I was so excited when I read the challenge as I love Boston Cream Pie and how could something with such a cute name and something that was based on such a delicious dessert not be fabulous! What a perfect way to introduce it to my British Husband, whom up til now had only ever associated the word Boston with the Boston Tea party and the ultimate defeat of the British War machine.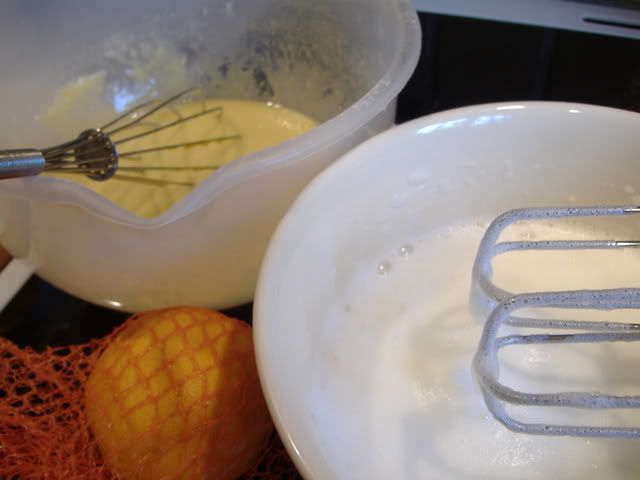 Mmmm... a delicious creamy custard topped with a lovely orange flavoured light chiffon cake and a tempting drizzle of rich chocolate sauce on top. What's not to like about this one???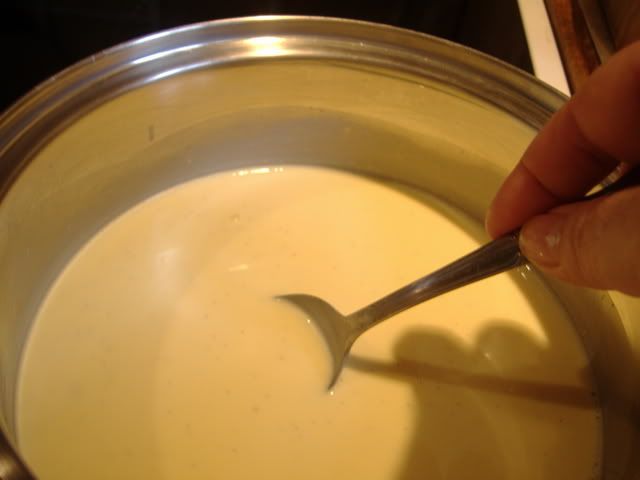 Because there are only two of us, I decided to cut the recipe for the custard in half. I have made custard thousands of times in my culinary careeer, and quite successfully. The trick to making a good custard is not to let it boil, and not to overcook it, so that it becomes a creamy sauce and not scrambled eggs. You must be very careful to keep it at a simmer and just bring it to the boiling point, without letting it tip over. I carefully divided the recipe in two and began measuring as precisely as I could.
Was I pleased with the results? Not exactly. I felt the resulting custard was quite thin, and I did cook it for quite a long time. I didn't want to cook it any longer than I did, as then it
would
have turned into scrambled egg. I had opted to use Vanilla Bean paste so it did have a lovely vanilla flavour and was not bland in any way. I don't think I would use this custard recipe again though, as I do have other's that probably have more flavour and substance.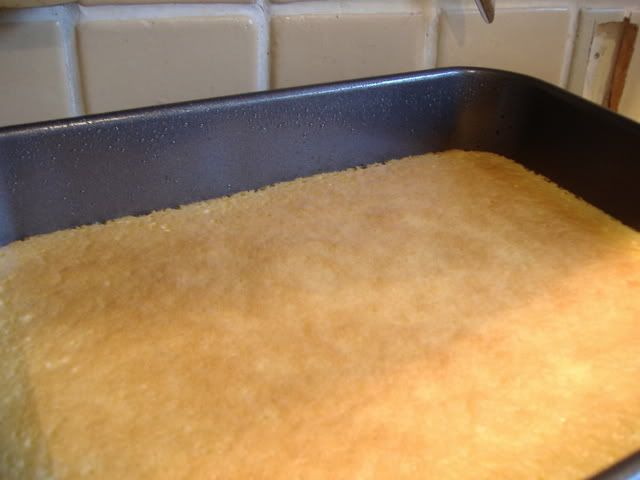 I decided to bake the full recipe of the cake, as I had learned from previous experiences in baking, that cutting cake recipes in half rarely gives the baker successful results. Besides, what person on earth can not find a use for extra cake!!!! The cake turned out lovely, although I do think that I baked it in a pan that was a tad too large. It was not as thick as I would have hoped it to be. I didn't have enough custard cups to bake individual ones, and so I had opted to bake it in an oblong pan, and then cut it into the shapes and sizes I needed afterwards. It did have a lovely flavour though and a beautiful light texture. There was just a slight hint of orange flavour running through it, that we all know goes so very well with chocolate.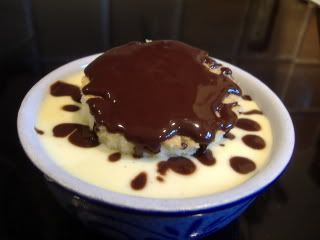 The next challenge came when I set the cake that I had carefully cut out, on top of the custard that I had lovingly poured into individual bowls. ( all different as you can clearly see!) The custard was so thin and lacking in substance that the cake immediately began to sink down into it.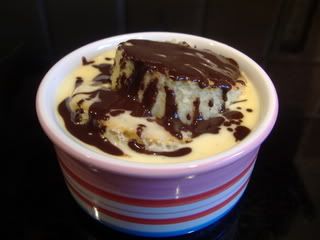 What to do, what to do . . . I immediately came up with the idea to cut out another piece of cake the same size and plop it right on top. Besides, I surmised, once the chocolate was drizzled over top, nobody would be able to tell it was two pieces of cake and not just one! WRONG!!! The top cake slid over the bottom one and off somewhat at an angle, so that it ended up looking a bit like the steps leading in to an abbey.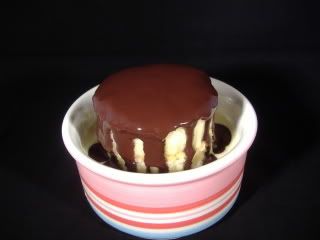 I then tried taking two pieces of cake and stacking them on top of each other in another small bowl, without the custard. Only after I had them stabilized, did I begin to spoon the custard around them. Once I had drizzled the rich chocolate sauce over top, you could not really tell it was two pieces of cake, unless you looked really closely. It was a bit too tall though in my opinion, or was I just being too pedantic?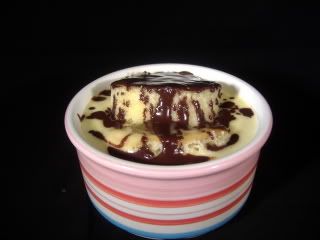 Was this challenge a success for me? Not entirely, but neither was it an unmitigated failure either! It was fun and I think I learned a few new things in the process. It was certainly a delicious experience, even if it didn't turn out exactly the way I had wanted it to!
You can find the recipe here on
Mary's post
if you'd like to try the challenge out yourself. In the meantime I am off to drool over and peruse over 200 other attempts at the same delicious dessert!!!
Ahhh.... soooo many cakes .... soooo little time ...