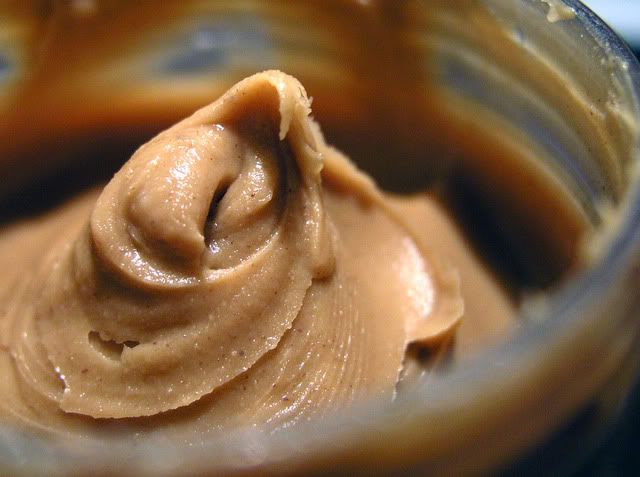 I love peanut butter
it's very plain to see
that I love peanut butter
and peanut butter
sure loves me

I eat it by the spoonful
I eat it by the pan
I eat it in my bedroom
I eat it in my van

I like it in a sandwich
I like it in a pie
but better than a pie or cake
I like it in a . . .

COOKIE!
(rats! I couldn't think of anything that rhymed with pie that had anything to do with cookies, tee hee! Yes, this is my corny attempt to write a poem about peanut butter!)

Well, after my rather feeble attempt to write a poem about Peanut butter and cookies . . . and knowing that this is Tuesday . . . the one day a week that I always play about with a bazillion other
Dorie Greenspan baking fans
. . . one could be right in assuming that the challenge this week had something to do with peanut butter and cookies!
Yes, this week's recipe was Chunky Peanut Butter and Oatmeal Chocolate Chipsters on page 73, as chosen by Stefany of
Proceed with Caution
.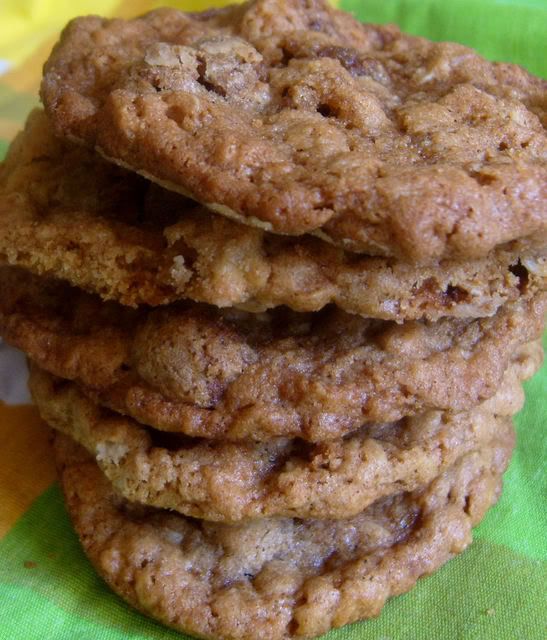 I was really excited when I saw the recipe we would be baking for this week, because . . . well, I
A
-
D
-
O
-
R
-
E
peanut butter in any way shape or form and, well . . . I also happen to
A
-
D
-
O
-
R
-
E
cookies! The two together for me are a marriage made in heaven. Thanks so much Stefany for choosing this lovely recipe!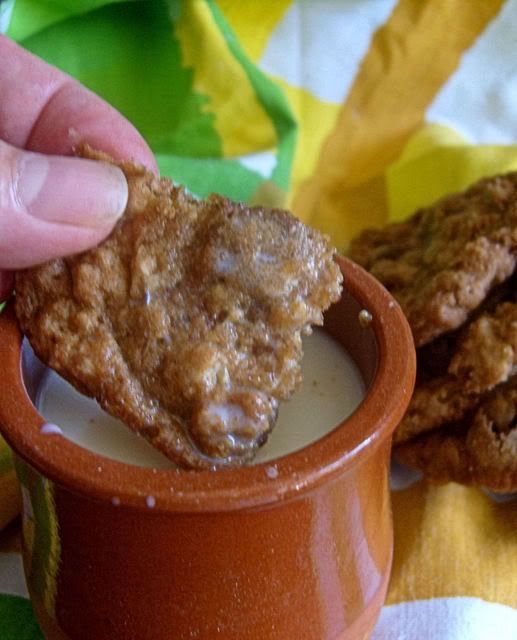 This was a pretty straightforward cookie recipe as far as cookie recipes go. A drop cookie it made very good use of basic and tasty ingredients. I love peanut butter (as you KNOW!) and when you mix it with the tasty nuttiness of rolled oats and butter and some spice and then stir in some chocolate, well . . . let me tell you, this is a flavour combination that can't be beaten!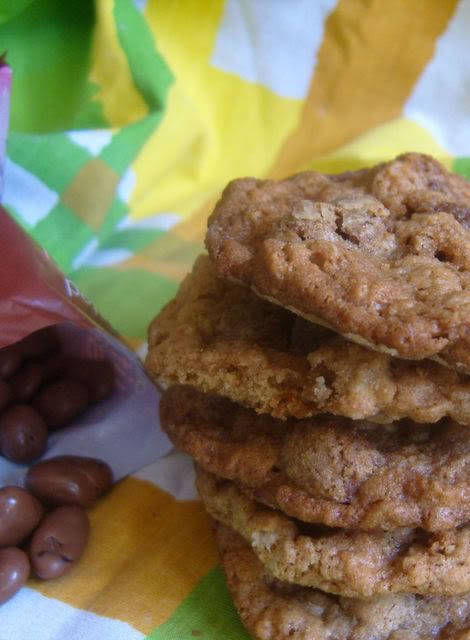 Wait . . . yes, I think it can.!! How about if we stirred chopped up peanut butter cups and chocolate covered raisins into the batter instead of chocolate chips???
WOWSER
WOWSER
WOWSER
!!!
I am a person that happens to love raisins as well as peanut butter. I also love chocolate covered raisins too, and when I read in Dorie's recipe that you could also put raisins in these lovely cookies I thought to myself, why not chocolate covered raisins!! So that's what I did and I was bowled over with the results.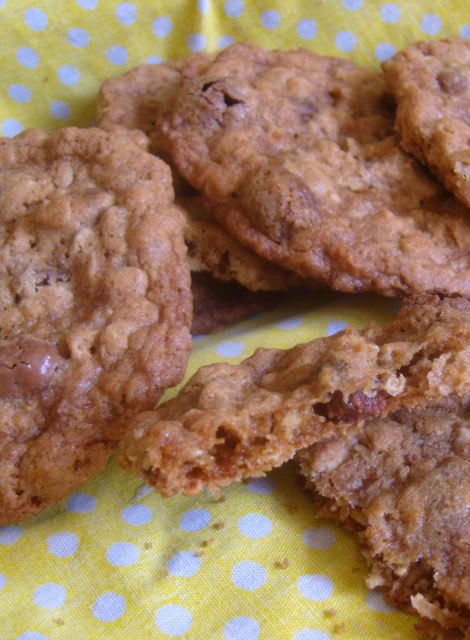 My cookies smelled so good when they were baking. I could hardly wait until they came out of the oven and were cooling on my cooling racks. Crisp and buttery they were probably some of the best cookies I have ever eaten (or smelled for that matter!). Just when you think Dorie can't top herself . . . she goes and does it again. I have to say that the money I have invested in this
baking book
is the best money I have ever spent on any
cookery book
and that is not only down to the Tuesday's With Dorie group of bakers, but also down to Dorie herself and these fabulous baking recipes! If you don't have the book already,
Baking, from my home to yours
, I suggest you go out and get it right away. It's probably the best investment you will ever make for you and your family, and will provide you all with hours and hours of baking and eating enjoyment.
If you would like to see some of the other delicious creations this week, take a gander over at the Tuesdays With
Dorie Blog Roll
, and if you want the recipe then pop on over to
Stefany's page
. In the meantime you can look at what I did next . . .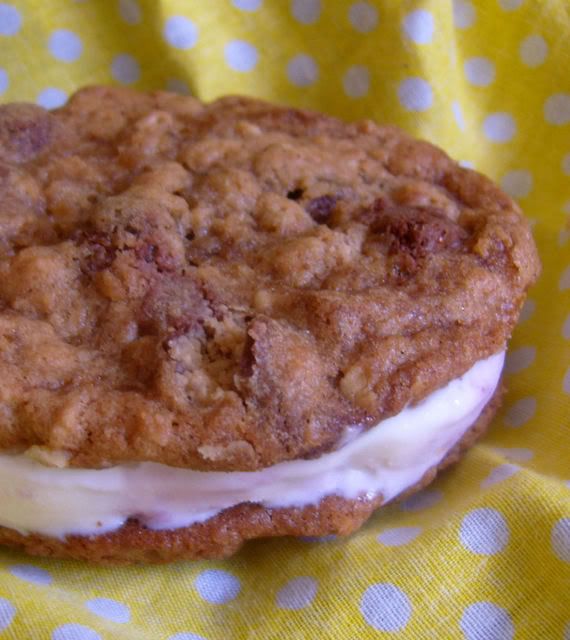 Yes . . . that would be an ice cream sandwich made by sandwiching two of these lovely, peanut buttery chocolate raisin studded delights together with some of my homemade raspberry ripple ice cream . . . can you say . . .
TO
-
DIE
-
FOR
???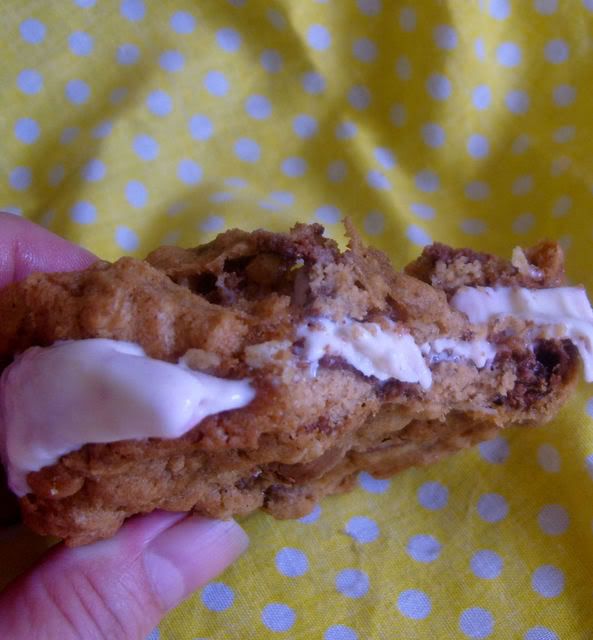 Next week's recipe will be Chocolate Whopper Malted Drops on page 85, as chosen by Rachel of
Confessions of a Tangerine Tart
. OH my goodness . . . I love whoppers!!! (Or Maltesers as we call them over here!) Just wrap me up and strap on some wings . . . I'll have died and gone to heaven before the end of the week!