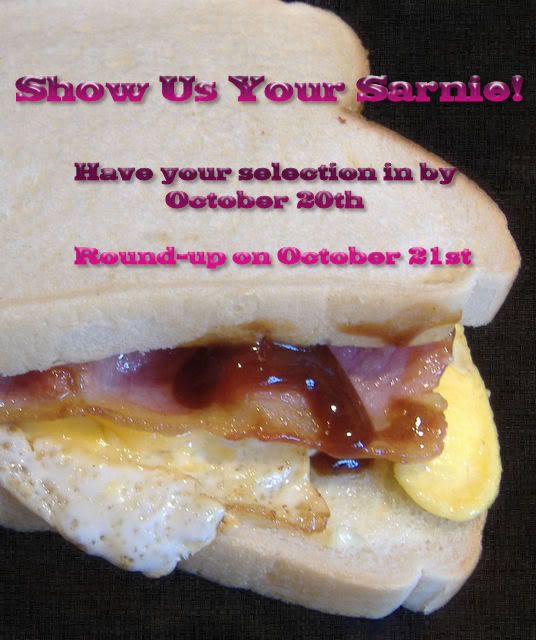 I just wanted to remind people that the end of the month is fast approaching and so is the deadline for any submissions you might want to get in for the
"Show us Your Sarnie"
blogging event that I am hosting!
I thought showing you the prizes up for offer in this first time event would be some added impetus so here goes: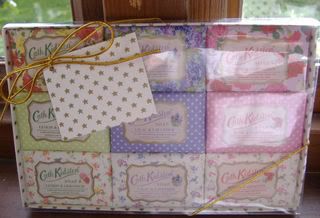 First prize will be a lovely set of soaps by Cath Kidston. There are twelve dainty little personal sized soaps in her three famous scents, Lemon and Geranium (my personal favourite), Lilac and Lavender, and Rose and Carnation. I don't know anyone who wouldn't love to have a selection of these sweet smelling and gorgeous soaps!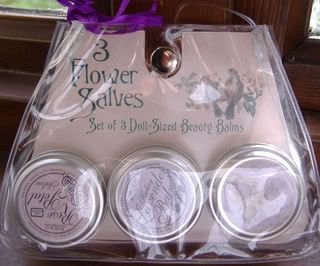 Second Prize will be a beautiful little assortment of Beauty Balms from Rose & Apothecary, a lovely Rose Petal Salve for sore dry skin, chapped lips, nappy rash etc . . . Lavender Balm which is good for minor cuts, grazes, raches and chapped skin . . . Sweet Violet Salve, to scent and soften delicate places. Wonderful to have for yourself or to save for a gift for someone else.
And finally third prize will be this delicious box of Lily O'Brien's Contemporary Chocolate, all the way from Ireland, no less! There's some delicious flavours inside such as Sticky Toffee, Crispy Praline, Chocolate Fudge Cake, Lemon Meringue Pie, Vanilla Latte and finally Simply Chocolate, which from the photo looks like a lovely blend of bitter dark and sweet white chocolate. Yummy! Who doesn't like chocolate!!!
Anyways for those of you who have forgotten or who might be reading this for the first time here are the details once more:
I'd like to challenge you all to participate in my first ever "Show Us Your Sarnie" blogging event. Be creative and think outside of the sandwich box. I want you to venture beyond the basic construction of a sandwich and expand your sandwich horizons. All shapes and sizes and flavours welcome. From simple combinations such as grilled bread brushed with a delicious pesto, to the traditional closed-faced grilled cheese and every combination in between. Savoury or sweet, we want to be dazzled by your creations!!!!
Once you've created and posted your entries, please send an e-mail to me at MarieAlice at cheerful dot com by no later than midnight on October 20th, 2007. Please put "Show us Your Sarnie" in the subject line. I will try to post the round up by no later than October 21st, 2007. After that, you will have nine days to check in and vote for your favourite entries, at the end of which time, I shall pick a winner, to be announced on October31st, 2007 ! (Happy Hallowe'en!) The only request I would make is that you place a link in your post linking it back to my journal and this post. Thanks so much!
Please include the following in your e-mails:
• your name
• your location
• the name of your blog and its URL
• aURL link to your post
• a picture of your delicious creation
So come on now, get your entries in and spread the word!
*Note: Deadline has been extended from the 30th of September until the 20th of October in order to allow more people to participate. Thanks so much for your patience! I want this to be a fun event for everyone! The more the merrier! Hope you'll all forgive my very feeble attempt to change the dates on my graphic! I am so computer illiterate it's unbelievable, and it's amazing that I was able to do it in the first place at all!