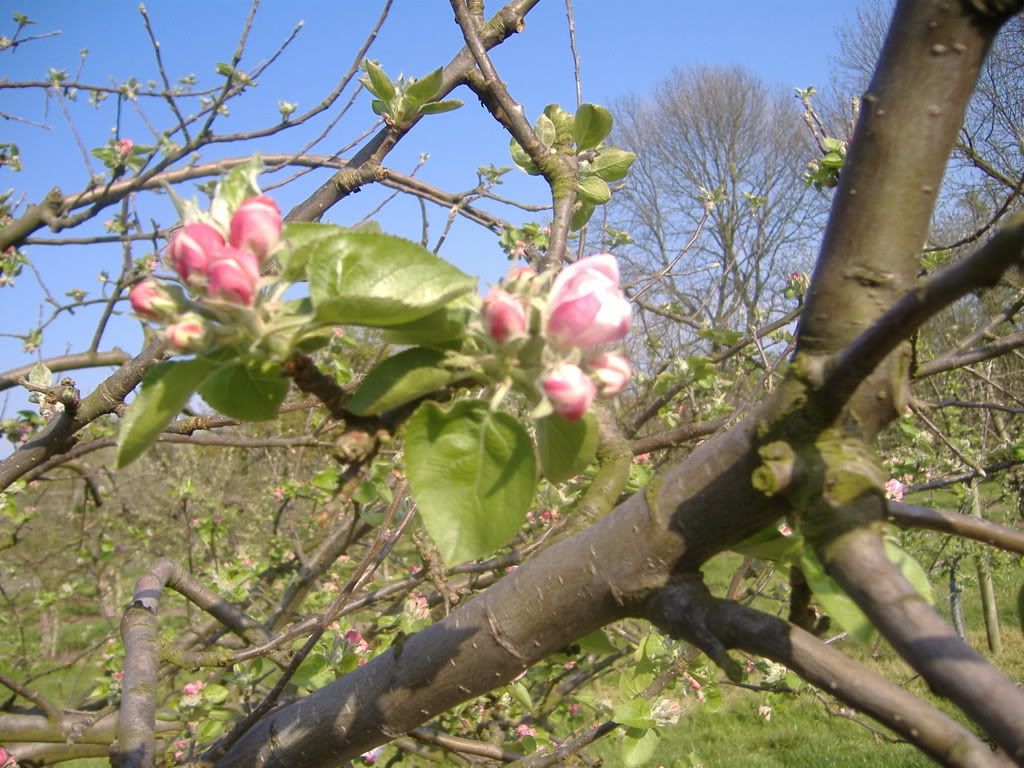 Okay, I am going to go out on a limb here and enter a little competition. Competition is healthy and any competition that involves chocolate is even better. . . and when you throw brownies into the mix (no pun intended) then it becomes totally impossible to resist!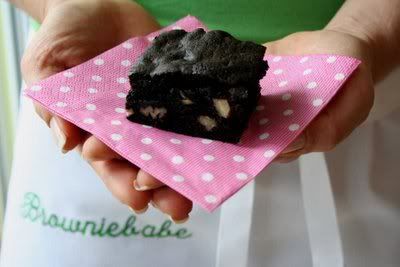 Myriam of
Once Upon A Tart
is hosting a fresh
browniebabe of the month
competition, and not being one to shirk my duty, especially when it involves chocolate of any description baked into lucious brownies, I feel compelled to throw my hat into the proverbial ring!
What is the perfect brownie? To some, they might have a slightly cakey consistency, to still other's they might be so fudgy as to verge on the edge of almost raw. Then again, a brownie might not even be brown at all, but a blondie! (stogged full of chocolate chips would be my choice) Nuts, or no nuts. White chocolate or dark chocolate. Cranberries, peanutbutter, marshmallows, mint .... brownies come in many shapes, sizes, colours and flavours. I am not prejudiced. If it says brownie in the title I am right there with my fork and tingling tastebuds, ready to dig in and enjoy!
These happen to be my favourite brownie. Slightly fudgy without going over the top into sludgy, still holding their shape, filled with a rich chocolate flavour. Baked with nuts, or not, these are my nemisis . . . these are the ones I find myself waking up and thinking about at two o'clock in the morning, and, being the weak person that I am, down in the kitchen digging into the tin for just one more ...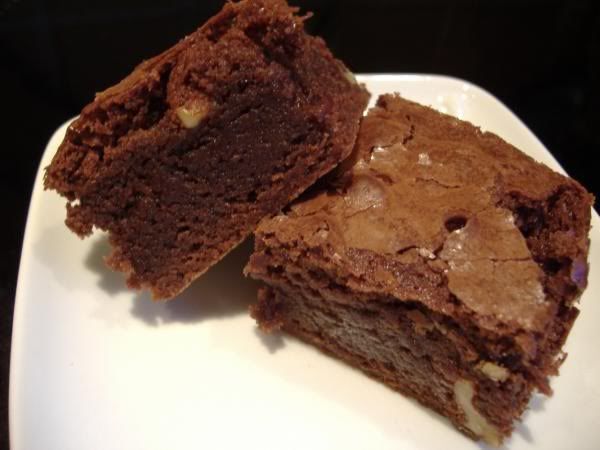 *Fudge Walnut Brownies*
Makes 24 squares
I wish I had a pound for every time I have made brownies in my life and for every new brownie recipe I have tried! I'd be a rich woman! This is my old standard that I return to every time. Moist and delicious with full on chocolate flavour, these are everything a good brownie should be! You can leave the nuts out if you wish, or you can add chocolate chips instead. They then become double chocolate fudge brownies!
1 cup butter
1 cup plain flour
4 ounces good quality bitter chocolate
4 large eggs
2 cups sugar
1 TBS vanilla essence (YES 1TBS)
Pinch salt
½ cup walnut halves, broken into pieces
Pre-heat the oven to 180*C/350*F. Grease and flour the bottom of an 8 inch square glass baking dish. Tap out any extra flour.
Melt the butter along with the chocolate over low heat in a large pot. Allow to cool, then stir in the sugar, eggs (one at a time) vanilla, flour and salt, mixing with a wooden spoon and being careful not to over mix, no more than 50 strokes!
Pour batter evenly into the prepared pan and bake until a toothpick inserted in the centre comes out a little wet if you want fudgy brownies. Bake until it comes out cleaner if you want cake type brownies, about 40 to 45 minutes for the fudgy ones. Let cool a bit before cutting into squares.
AND
, just because I can't do
ANYTHING
half way, here is my other favourite, one of the blondie versions, full of "caramel-like" fudgy goodness. In this case, Blondes
definitely
do have more fun!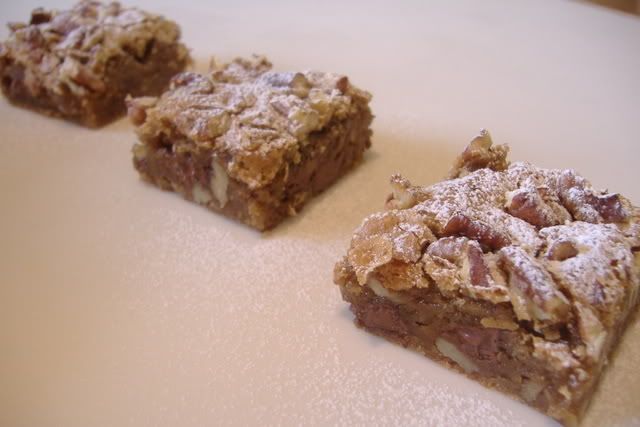 *Butterscotch Blondies*

Makes 12
These bars are lovely and chewy and full of wonderful butterscotch flavour. I try to use the best milk chocolate possible and that is Green and Black's organic (in my opinion). They small fantastic when baking and the taste, well, it's out of this world! Bet you can't eat just one, which also makes them very dangerous to have around!
140g butter, plus more to grease the pan
2 large eggs, at room temperature
Pinch salt
350g light muscovado sugar
2 tsp pure vanilla essence
250g self rising flour
100g milk chocolate, cut into big chunks
100g macadamia nuts or pecan nuts, coarsely chopped
Icing sugar to dust over the tops when done
Pre-heat the oven to 160*C/350*F. Butter a shallow pan, about 20 X 21 cm in size and set aside.
Melt the butter in a small bowl and set aside to cool. In the meantime chop up your chocolate.
Beat the eggs until frothy in another bowl. Add the melted butter along with the eggs, sugar, salt and vanilla. Tip in the flour and mix only until combined. Stir in the chocolate and ¾ of the nuts. Try not to over mix the batter, you'll end up with tough brownies if you do.
Spread the batter into the prepared tin and scatter the remaining nuts on top. Bake for 25 to 30 minutes until done. Don't overbake. You want them dry on the top with a slight resistance to the touch of a fingertip, but you also want them to be fudgy and moist.
Let cool, then cut into bars and dust with the icing sugar.