I confess that I am a bit of a collector. I have various collections . . . salt and pepper shakers, cream and sugar dishes, small decorative cream jugs, fairies, cookie cutters, craft supplies, etc. I have a bit of a tendancy to fall in love with things and I think that sometimes I end up going way over the top, which is the case at the moment with cookery books. I try to cull them . . . but its very hard for me. As soon as I start looking at them, I start falling in love with them all over again, and then . . . I can't bring myself to get rid of them. It is a problem for me . . .
The fact is however, that the loveliest, best-planned home in the world can be completely undone by a pile of clutter, or cluttered rooms. One only has to watch a few minutes of the program Hoarders to be horrified. I sincerely hope that I
never
get like that. That has to be an illness. I have a hard time comprehending how people can live with stacks of magazines or too much furniture, etc.
I get so much free stuff sent to me that in my kitchen I can sometimes have counter tops filled with a jungle of bottles and tins of things . . . so much so at times that there is hardly any workspace left.
That drives me up the wall.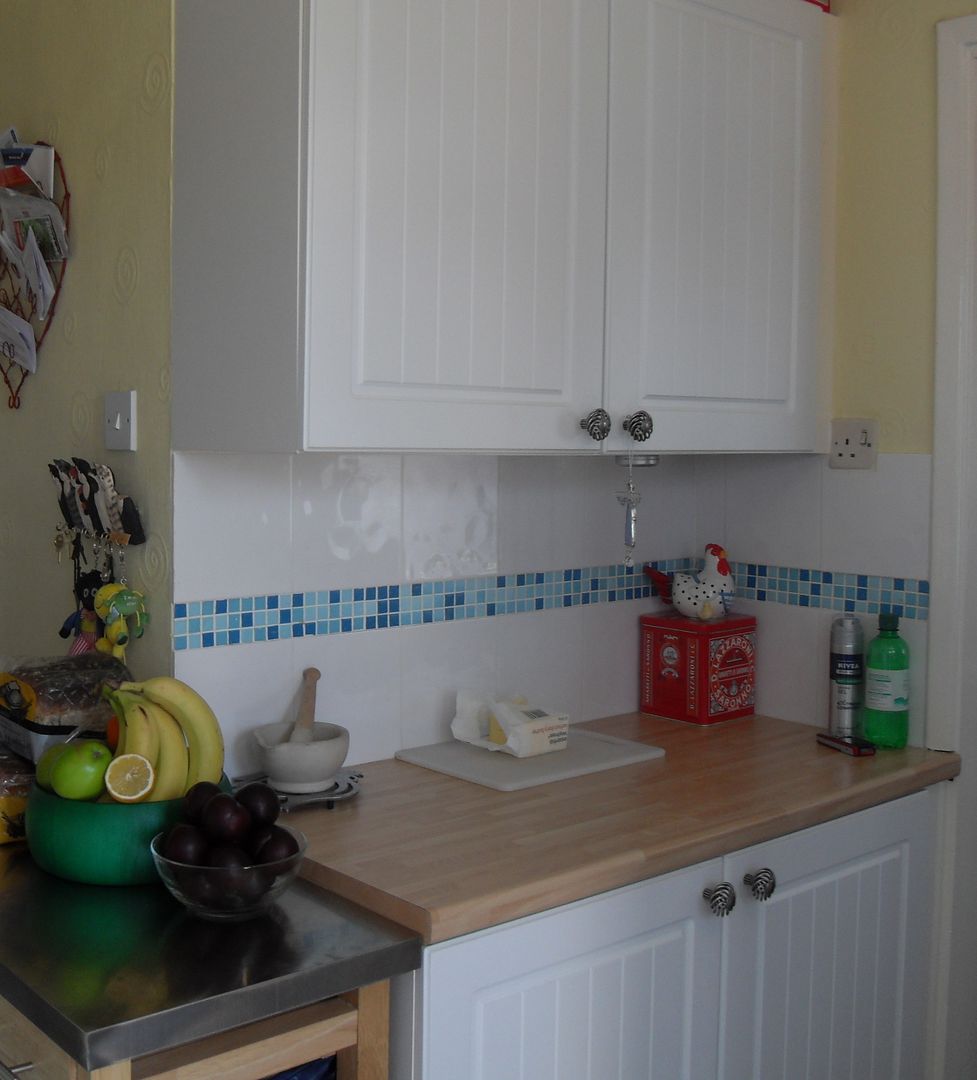 This is how I like it to look . . . but in all truth it seldom does. And I am not like some people, or true hoarders . . . I notice it and it takes its toll on me. The reality is we
always
pay for clutter in time spent on extra cleaning and in searching for items that are not where they should be. I hate opening a cupboard and not being able to find what I want without having to empty out the whole cupboard. Don't you???
The more clutter there is . . . the more over-whelming it becomes. There is no joy to be found in that, and I know it. This year I have been on a journey towards cutting the clutter and downsizing and here is what I have learned so far and been putting into practice.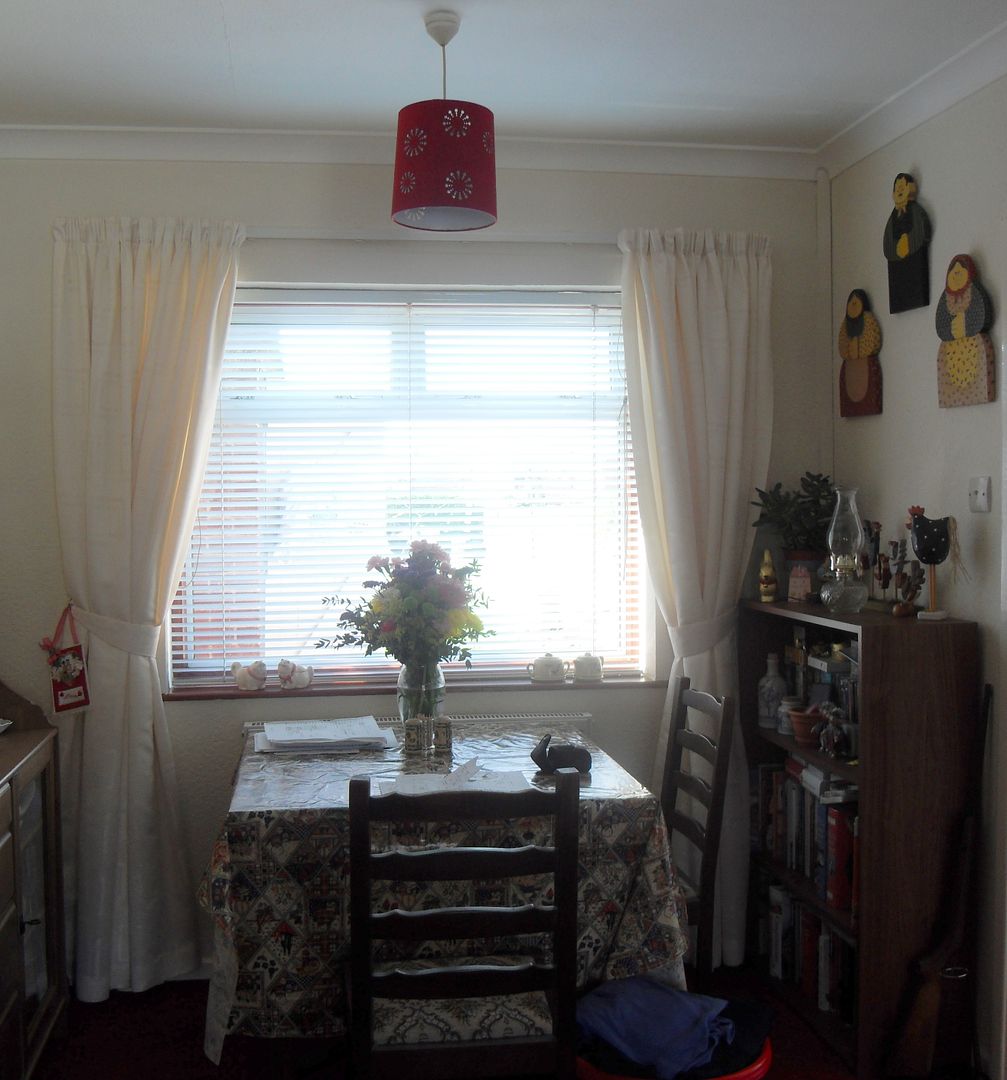 One
- Cut the clutter by not bringing it into the house to begin with! This is the hardest thing to do. Its so very tempting to buy things that you were not really setting out to purchase . . . but they are on offer, and too good a deal to pass up . . . or your friend is getting rid of it and you think its a shame to throw it away, etc. Your house is not a depository for other people's unwanteds, as nice as they may be. If you don't need it, or if it wasn't on your list of things you have always wanted, or something which you had planned on buying . . . just pass it by. Shut your eyes and your heart and your arms. You don't need it.
Two
- Don't bring anything into the house unless you know exactly where it is going to go and you have a specific space, idea, or plan for it. Just don't bring it in.
Three
- Just how much storage space do you have available to you??? Be realistic about it. Stuffing things into cupboards, armoires, drawers, closets, sheds . . . until they can't hold anymore defeats the very purpose of their existance. There are so many times I find myself storing something away and then . . . it's true . . . out of sight, out of mind. I never use it again, but then when I go to get rid, I think to myself . . . "But I might need it some day" . . . . STOP that kind of thinking. If you haven't looked at it or used it in the past three to six months, chances are you probably never will. We have things in our shed that we haven't even looked at for the last six years. It is time to be rid. Seriously.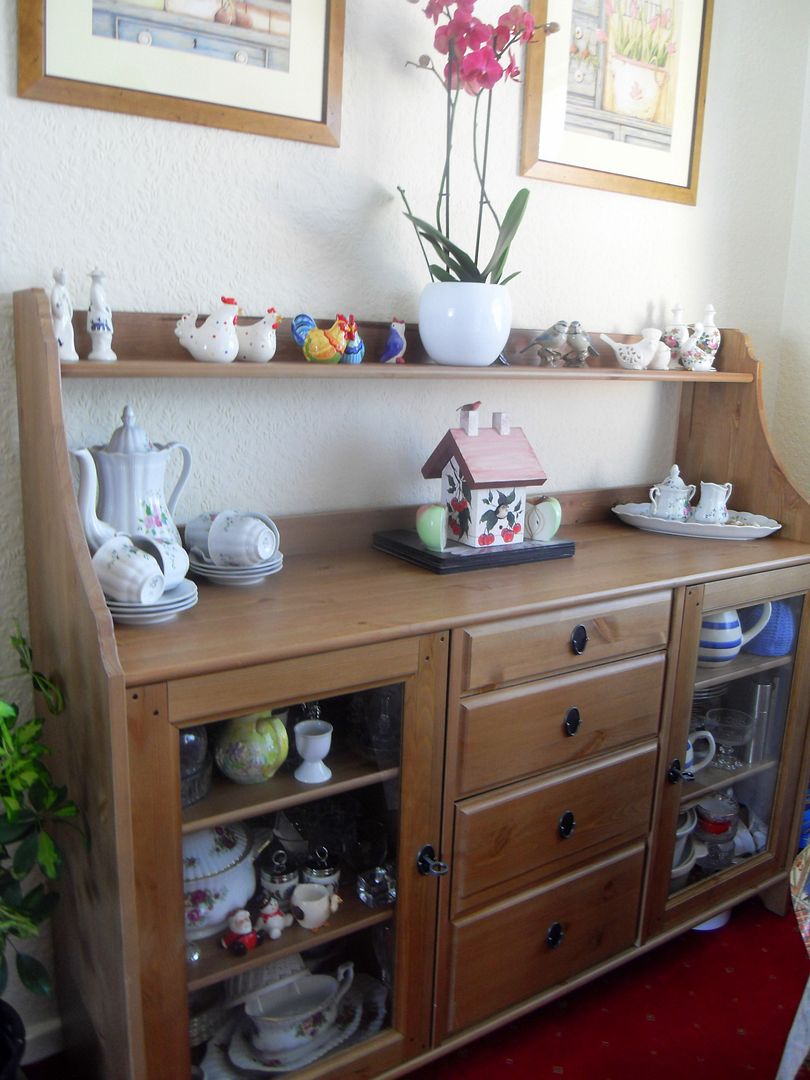 Four
-Another good place to begin paring down is the bookshelf. I have . . . and I kid you not . . . I have TWELVE bookcases. Seriously. Yes . . .
TWELVE
. An even dozen. I daunting number. I do not need all of those books . . . most are cookery books. And I love them. I think perhaps what I need to do is to take one shelf at a time, one day at a time and if it isn't a book that I have cooked out of even in the past year . . . then I really need to give it away. But it is going to be so, so hard, because I just love all of them. I really do.
The thought of getting rid of
any
of them makes me sad . . . and yet at the same time, I feel the weight of them on my soul. I did give about 12 of them away a week or so ago to a gal who loves to bake. It made me feel really good to give them to someone that I knew was going to love them as much as I do, and who would use them, which I wasn't doing. Maybe that is the key. Sharing the love with someone that you know will love them too.
It just might be . . .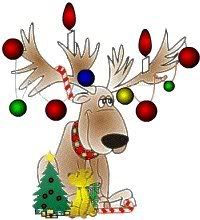 Five
- Christmas Stuff. I have a ton of Christmas stuff. Most of it we don't use. Why do I keep it? I really need to go into my Christmas boxes . . . while its not Christmas . . . and pare it all down to what I actually still use and just pitch the rest.
Six
- Too much furniture. Too large furniture. This is a real way to clutter your home up. Keeping furniture that doesn't truly fit the space and style which surrounds it. There has to be a better way. Looking at the room you are decorating, think about what you have in it. Keep only that which is functional, fits the space, is attractive and that you love. Get rid of everything else. If it doesn't fit you must . . . wait that was the trial of the century, but really . . . if it doesn't fit your space, time to let it go . . .
The truth is every home has spots that are magnets for clutter. Think of the junk drawer. If its ready for the junk drawer, perhaps it is time to rethink even having it in the first place. The quickest and best way to tackle cluttter is to identify the trouble spots and then take them on first. You shouldn't just take the clutter from one room and move it to another. That is not de-cluttering. Make sure everything has a home, a spot where it belongs. And then make sure that it lands in that spot when you are finished using it, etc. Make it a habit. I have applied that principle to my e-mail box and have kept it at below 100 e-mails for the past three months. That was a real biggie to me. I am proud of that accomplishment. If I can do it in my e-mail box, I can now apply that principle to my whole house.
Probably the most important thing you can do is to make a master plan/list for doing a major clean up if your home has become too cluttered. But be realistic about it. It didn't become cluttered overnight and it won't declutter overnight either. Break the job down into several realistic, specific goals and then tackle them one at a time.
And here is my largest and probably best tip. Set aside time each day for clearing up the clutter that has accumulated just during that day. If you stay on top of it regularly, it doesn't become overwhelming. It need only take a few minutes. Just like I clean the bathroom each morning as soon as I finish getting dressed/makeup/etc . . . make a spot in each day at the end of the day . . . before you settle into your evening . . . to clear up from the day you've spent. This is the perfect way to relax and enjoy the evening, in your nice and tidy home.
The End.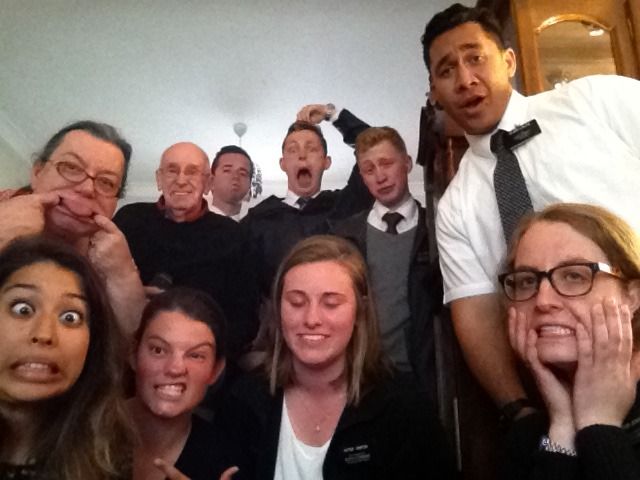 And . . . Todd's the only one not making a face. haha This is a selfie of the whole district enjoying our BBQ together yesterday afternoon in our home. Starting from the middle front and going around to the left. Sister Carter (Michigan) and Sister Steel (South Africa) (serving in Wrexham), Sister Fernandez (England) (serving in Chester), Me, Todd, Elder Schofield (SLC) (serving in Chester), Elder Nielsen (Sweden) (serving in Chester), Elder Launer (Switzerland) (serving in Chester), Elder Lolesi (New Zealand) (serving in Chester) and finally Sister Doncheva (California) (Serving in Chester). Good times!
A thought to carry with you through today . . .
~•~♥♥♥~•.~•~♥♥♥~• ~
They are closest to us
who best understand what life
means to us, who feel for us
as we feel for ourselves,
who are bound to us
in triumph and disaster,
who break the spell of our
lonliness.
~Henry Alonzo Myers
~•~♥♥♥~•.~•~♥♥♥~• ~
Spiritual Enlightenment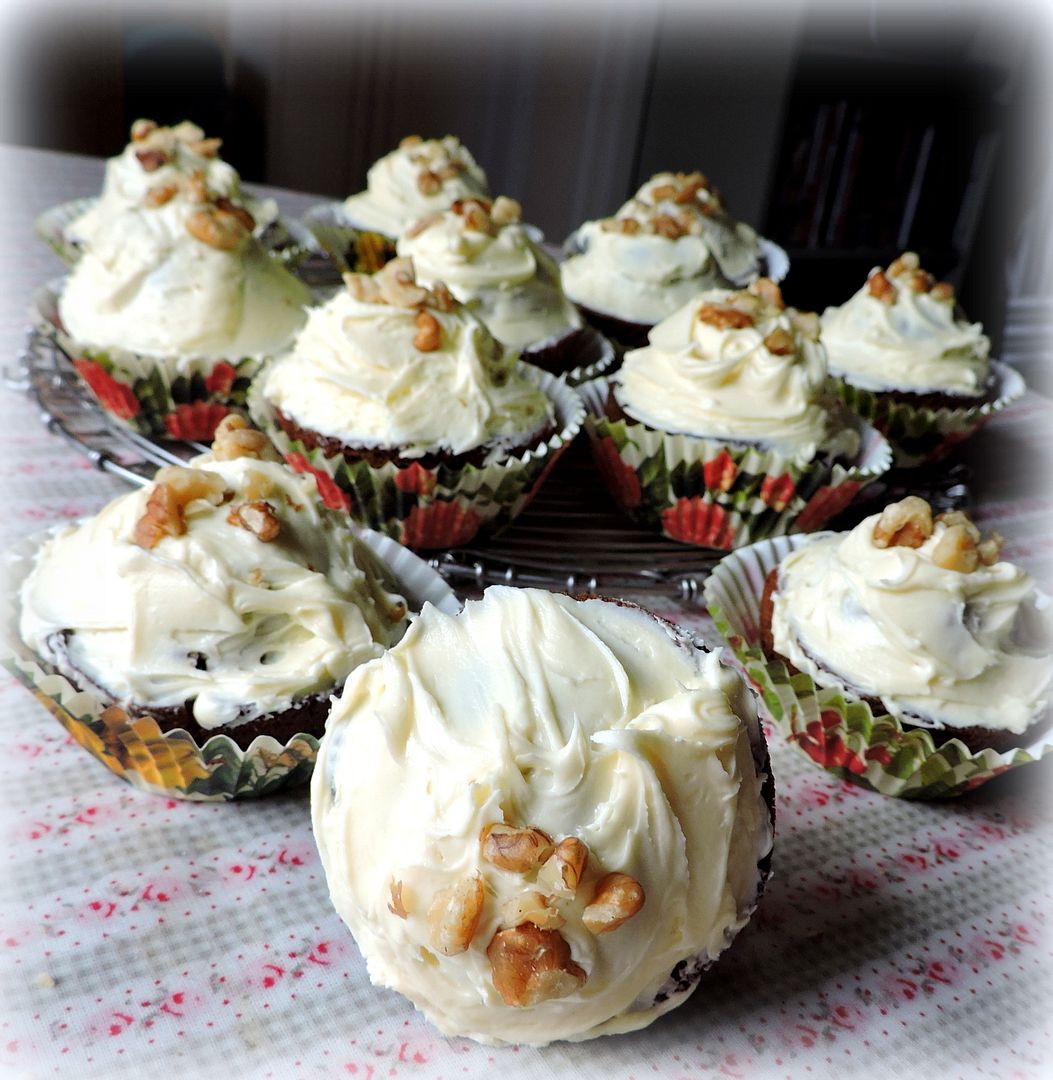 In The English Kitchen today . . .
May Cakes
. Why? Because I wanted to actually bake them in May for a change, lol. Spicy little cupcakes filled with raisins and nuts.
Have a wonderful Sabbath. May it be blessed and may you always know that . . .
═══════════ ღೋƸ̵̡Ӝ̵̨̄Ʒღೋ ═══════════ ⊰✿░G░O░D⊰✿⊰L░O░V░E░S⊰✿⊰░Y░O░U░⊰✿
═══════════ ღೋƸ̵̡Ӝ̵̨̄Ʒღೋ ═══════════
And I do too!