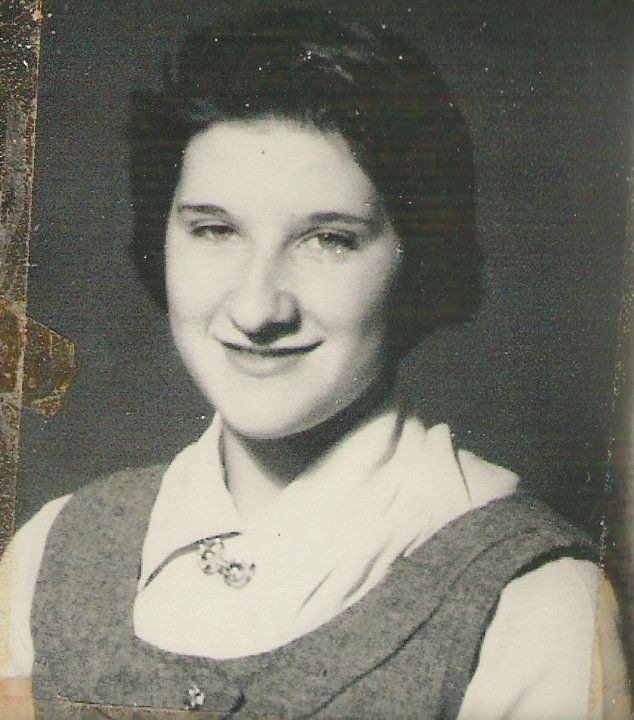 This is a photograph of my Aunt Freda when she was fourteen years old. She passed away ten years ago today, but there is not a day goes by that I don't think of her and miss her. She was one of my very first friends I had in my life, and one of the best friends I ever had. Her passing left a huge hole. I was a rather difficult baby and my mom had problems coping with me during my first year of life, so I spent several months living with my maternal Grandmother and Grandfather. My Aunt would have been about 12 or 13 at the time, so not far from the age that she was in this photograph. I am sure that the special bond which I felt with her throughout my lifetime was forged during those months I spent living with my grandparents.
We lived with them again when I was four years old and we had come back from Germany and were waiting for my father to get a house for us to live in in Manitoba. Although Aunt Freda was married by then, and had a child of her own, she still managed to spend a lot of time with me. My favourite game was Leave it to Beaver . . . and she never minded being Wally. She had a beautiful tall fashion doll in her bedroom that my Uncle Harold had bought for her. I reckon it must have been a good 24 inches tall or more and was wearing a party dress and high heels with a pretty bubble hair do. I can remember admiring it very much during those months we spent living there. I spent many an hour looking through the keyhole into their bedroom at the doll. She used to let me hold it every now and then, and when we left to go to live out West with my father, she gave it to me . . .
We moved back to Nova Scotia to live for good about 5 years or so later, and my Aunt became a permanent fixture in my life during those years. As children we loved to go to her home. My mother always had lots of rules in her house about what you could do and what you couldn't do . . . but we could do just about anything in my Aunt Freda's house. She was always willing to listen and to talk to us, never too busy to share. I can remember her drawing little figures on a piece of paper for me and being in awe of her artistic talents . . . she wrote beautiful poems and stories . . . and she had the biggest heart of anyone I have ever known.
She had a heart which was as big as the world, and the ability to make anyone who came in contact with her feel immediately at home and loved. You could tell her anything, and you knew it wouldn't go any further . . . she was a great listener and a great hugger, and a fabulous joke teller. She loved Coronation street, and after I moved over here, she loved having an inside edge on what was happening on Corry and Emmerdale months before anyone else knew what was going on, as we are a good six months ahead over here.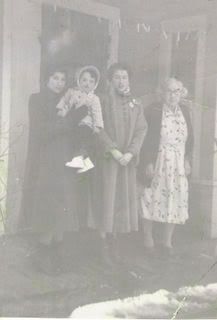 (From left to right, Aunt Freda holding me, my mother,
and my Great Grandmother Best, taken just prior to us moving to Germany)
The last time I saw her was the summer we went home and I packed up all my Canadian Boxes and we had them shipped over here to the UK. She came up to look through my books and see if there might be any that she wanted before we took them to the Sally Anne in town. She was on oxygen at the time and had been being treated for having a bad lung infection for quite a number of months by then. This was in July and they finally diagnosed her as having lung cancer in December. She was only with us for six months after that. I was not able to make it home for her funeral to say a proper goodbye. Going home was never the same for me after that. We used to talk every morning on the phone . . . I could tell her anything. She understood me, maybe more than anyone else ever did, or ever will. I reckon a lot of people felt like that about her. Although she was not a woman who had travelled very far from the place where she was born, she was much beloved by many, many people, and had touched a multitude of lives. There were so many at her funeral that they had to open up another building and have the funeral service relayed in to it. The heavens poured down in buckets of rain on that day.
I still miss her very deeply, and probably always will. I had a dream about her one night, about six months after she passed away. In the dream she was sitting in her favourite chair, except her hair was longer and she had it pulled up in a bun. Her dog Hooch was sitting next to her and she looked young and fresh. In the dream I bent down to hug her and I could smell her and feel her. She looked up at me and said three words. I love you. It felt real . . . as real as if it were actually happening. It was a gift.
I know where she is and I know that I will see her again one day, and whilst I am not in any hurry to get there, I do take great comfort in knowing where she is and in knowing that we will meet again one day.
We little knew that morning that
God was going to call your name.
In life we loved you dearly.
In death we do the same.
It broke our hearts to lose you.
You did not go alone;
for part of us went with you,
the day God called you home.
You left us peaceful memories,
Your love is still our guide.
And though we cannot see you,
You are always at our side.
Our family chain is broken,
And nothing seems the same,
But as God calls us one by one,
The chain will link again.
~unknown
In The English Kitchen today . . .
Pasta Salad with Roasted Tomatoes and Asparagus
.
Have a wonderful Satuday. Please know that . . .
═══════════ ღೋƸ̵̡Ӝ̵̨̄Ʒღೋ ═══════════ ⊰✿░G░O░D⊰✿⊰L░O░V░E░S⊰✿⊰░Y░O░U░⊰✿
═══════════ ღೋƸ̵̡Ӝ̵̨̄Ʒღೋ ═══════════
And I do too!