These are a few of my favourite things . . .
Television dramas . . . murder mysteries, police shows, legalities and lawyers, historically based, family oriented. I love them all. So does Todd, which is a good thing as there is never any arguing about the remote or what we are going to watch. I am also a big fan of Scandanavian Drama, I don't mind the subtitles at all!
I think I started loving these types of shows when I was a child with shows like Perry Mason and Doctor Kildaire! (I am really dating myself now!)
I love collecting pictures of the Duchesse of Cambridge. She is so beautiful and her wardrobe is so gorgeous. I love to see what she is wearing. I am glad that the press leave she and William alone for the most part, and their lovely little family. I think she has been brilliant for the Royal family, and I truly feel that this is a love match.
She seems so genuine and William seems to be totally smitten with her. Totally . . .
I love pie and it doesn't matter if it is sweet or savoury. If it is pie, I am on it. I don't think I could pick a favourite. My mom's pot pies were legendary. Anytime we had a roast beef or chicken or turkey, you could be sure the leftovers would be made into a delicious pot pie. She made fabulous apple and lemon meringue pies. Oh, I love pecan pie . . . cherry pie, strawberry pie, rhubarb pie, blueberry, butterscotch, coconut cream, banana cream . . . if it is in a crust, I want it! I am not so fond of graham cracker crusts however. They're okay but if I was faced with choosing pastry or cracker crumb, I will choose pastry every time. I don't like pies with stingy fillings. That is just plain naughty, and mean.
I do like cats as well as dogs, and I like orange cats most of all. Always have done. We don't have a cat because there are no screens on the windows over here and I don't want an outdoors cat. They wander too much and end up as dead cats. I don't want a dead cat. They can be every bit as affectionate as a dog, and some will even lay in your lap for quite a while being stroked, but they are quite independant overall . . . there are three cats in my mother's house now. Pumpkin (hers), Gary (my sister's) and Link (Dan's). They all get along splendidly. Mom loves them and delights in telling me about them when we speak on the phone. Pumpkin is a bit of a menace, always jumping on the table and biting people. Gary is shy. Link likes toast.
I think all older people should have pets.
Children's stories with humanized animals. I love the illustrations. Squirrels driving cars, cats hanging out the laundry. Rabbits serving tea. Mice doing anything. I am not sure why these things fascinate me, but they do. I used to buy a lot of these types of books for my children when they were growing up. The Little Grey Rabbit was a favourite of our Amanda.
I was so happy when I was able to find a compendium of the Litte Grey Rabbit stories to send over to Maryn a few years ago. I hope that she liked it.
I love to do embroidery, and I don't do it near often enough. I could sit and embroider for hours. Its kind of like colouring, except its with coloured threads. When I was younger I used to do Crewel Embroidery. I did cushions and all sorts, wall hangings. Then I took up Counted Cross Stitch. I did a LOT of that and I loved to work on linen because it was a bit more complicated, then I did bead and ribbon embroidery, which was also a bit challenging. My favourite pillow cases are the ones I embroidered with little red scottie dogs. The cases are white. Oh, and I love our pillow cases which are a slate greay with the white queen anne's lace I embroidered on them.
I just love embroidery.
I could become a vegetarian except for one thing. I love a good steak. It's not something we have very often, but every now and again I do enjoy a good steak . . . and the browned ends of a roast beef, or roast pork, or a roast lamb. I prefer my meat medium rare, but I cannot resist those crispy brown bits . . . sigh, I am such a glutton.
And that's my favourite things for this week. What are some of yours?
A thought to carry with you through today . . .
`*.¸.*´Ƹ̵̡Ӝ̵̨̄Ʒ`*.¸.*´Ƹ̵̡Ӝ̵̨̄Ʒ`*.¸.*´
They that are in
the stream of Providence
are borne continually to happiness,
no matter what the appearance
of means.
~Swedenborg
`*.¸.*´Ƹ̵̡Ӝ̵̨̄Ʒ`*.¸.*´Ƹ̵̡Ӝ̵̨̄Ʒ`*.¸.*´
Spiritual Enlightenment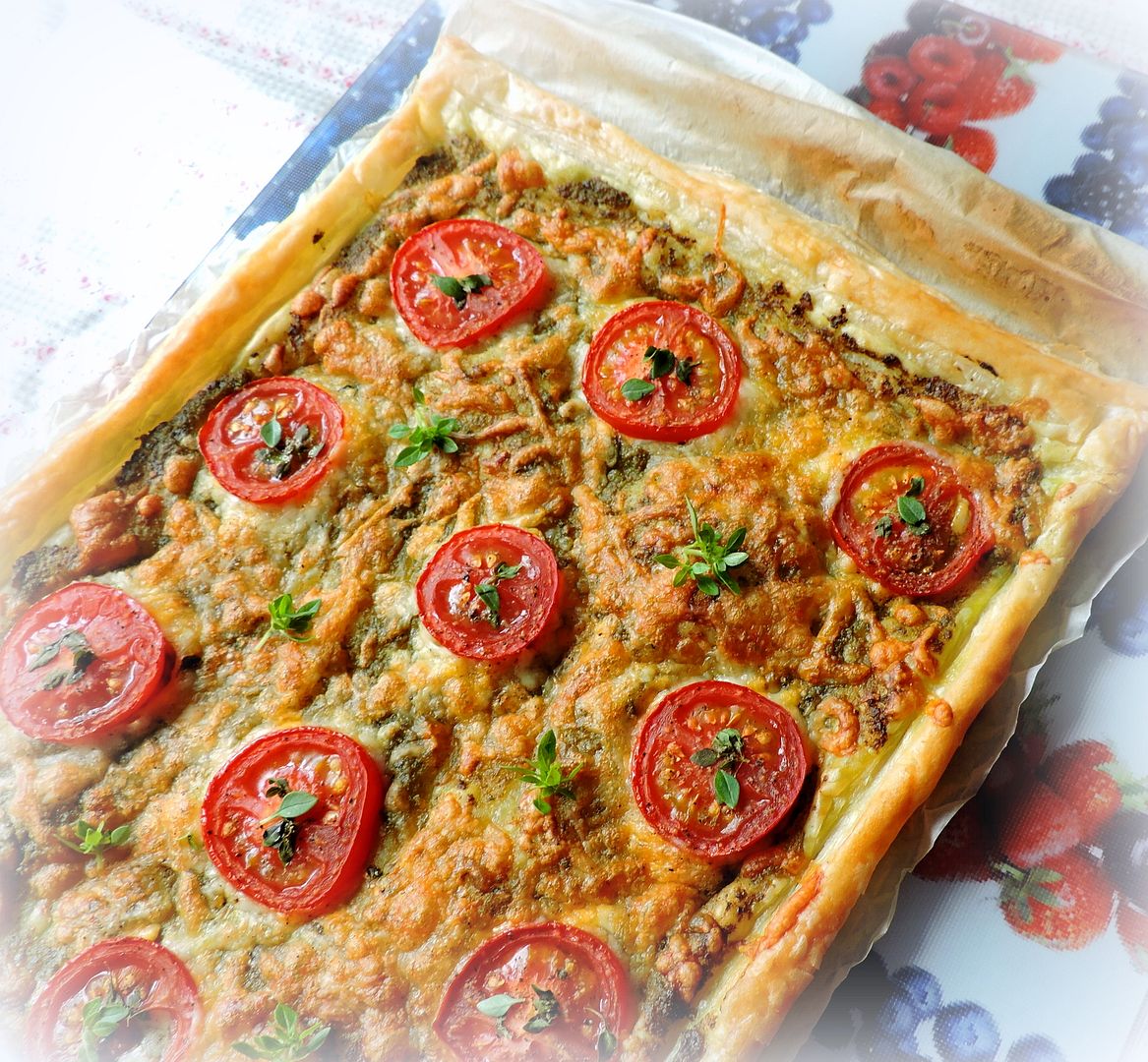 Cooking in The English Kitchen today . . .
Easy Pesto Tomato Tart
. Deliciously simple!
Have a wonderful Thursday. Be safe and be happy! Don't forget . . .
═══════════ ღೋƸ̵̡Ӝ̵̨̄Ʒღೋ ═══════════ ⊰✿░G░O░D⊰✿⊰L░O░V░E░S⊰✿⊰░Y░O░U░⊰✿
═══════════ ღೋƸ̵̡Ӝ̵̨̄Ʒღೋ ═══════════
And I do too!