What a lovely time I had last night. I am not one really for going out at night much. I always have so much difficulty falling asleep after that I try to avoid it as much as I can, and last night was no exception. I figured it would be worth a bad night's sleep however to get together with friends. This ladies night out is an annual thing that the women in my church congregation do each year, and we always have a lovely time together. There must have been about 30 of us and we all had a great time. Its nice to get together with each other outside of church stuff and just have a good old chin wag and something to eat.
At the place we go you always have a choice of two or three courses, so my friend Tina and I each chose two courses and to share both the starter and the dessert with each other. That way we could have three courses, but only pay for two and each enjoy a bit of all three and not over stuff ourselves . . . although having said that we were both stuffed to the eyeballs anyways!
For the starter we chose to share the Pulled Pork and Chorizo. It was lovely and just right for a little bite for the two of us. It had a beautiful flavour . . . normally I am not overly fond of Chorizo, but last night it went down a real treat. It was served with spicy nacho chips. Just right.
No surprises on what I ordered for my main dish! Everyone in my family is always the same. There could be a multitude of delicious meals on offer and we will all always order the fish and chips if they have it. Last night was no different. (This is not my meal. I felt it would be too cheeky to take photos at the restaurant. ) Mine looked way better than this. I had Haddock in beer batter with mushy peas, chips and tartar sauce. The batter on the fish was beautifully crisp and light and the fish succulent and tender, not overcooked, cooked just right. The chips were also nice. I couldn't finish it. I ate about half the fish and a few chips and some of the mushy peas.
I'm not used to eating that late at night really . . . and I wanted to save room for dessert!
For dessert Tina and I shared Eton Mess served on a scone. It was about six inches tall . . . a light mix of whipped cream, fresh strawberries and broken meringues piled onto a fruited scone and drizzled with strawberrt coulis. Oh my, it was bliss, but I could only eat half of my half! Tina finished it off. I was too full. I don't know how any ever eats three courses of anything!
It was a wonderful evening. It really was. I am sure that the other guests thought we were all quite noisy, but no matter, it was just nice to all be together and catching up with each other like we did. All of the food was fabulous. The waiting staff was excellent and the company was even better! I didn't get home until gone 11:30.
Apparently this little madame lay outside the hallway doorway, face pointed towards it and whining almost the whole time I was out. She was ever so happy to see me come home. Todd was too, but is there ever anything on earth as warm as a dog's welcome home? I don't think so! She ended up sleeping with me last night, on the floor next to my bed because there was no way she was letting me out of her sight again! So sweet!
Guess who lost his first tooth! This is little Luke, my oldest son's youngest and that must be his toothfairy lost tooth holder. He is so adorable. I could just snuffle him up!
This is what my DIL posted on FB:
"My lil' L's first tooth fell out yesterday - and it's not the one he's been wiggling for the last month! Wasn't sure I was going to get him to sleep last night - he wanted to leave something for Mr. Tooth Fairy, like a glass of milk, &/or a longer letter. We'll be sure to be corresponding again soon! So thoughtful, and growing so big"
Oh, I just love my DIL. She is a dear friend to me. She and the boys facetimed us on the first day of school this year and the night before Todd's birthday so that the boys could wish him a Happy Birthday. My son started dating her his last year in high school, and they are in their early 40's now, so they have been together a very long time.
I just love this photo of all of them from 2011. The boys are a lot older now. Its one of my favourite family photos however. They had dressed up to meet her sister at the airport before Christmas. They are such a cute family.
Speaking of cute. Look at what I got yesterday for £1.99. Isn't that adorable? It's a biscuit/cookie tin. They opened a new Home Store on the trading estate. We had gone over because I wanted someone to show me how to do something on my phone, and we thought we would pop into this new store to have a boo around. We were pretty impressed. Lots and LOTS of things. Everything from soup to nuts and all very well priced. For instance the largest bottles of Gaviscon, only £6.99. They are usually £10.99. The 500ml bottles of diet coke, which are normally £1 at the Spar/Morrisons and 89p at B&M are only 69p, so quite a saving there. I got a baking sheet liner for 39p. We didn't have a lot of time to really have a good look. We had been to B&Q (a hardware DIY store) to pick up some silicone grout and paid £5.99 for it, and could have bought the exact same thing in this shop for £1.79. I think it is safe to say that we will be visiting again and taking a much longer look. That is an incredible saving.
As of last night our Gourami was still alive. I haven't checked yet this morning, but he was still acting very peculiar yesterday. I am at a loss as to what is wrong with him . . .
A photo of our newest acquisition to replace the old one that was broken. I am so in love with this. it fits in just perfectly and looks so nice there. Only £130 at Dunelm. We were going to wait to get one, but Todd was there the other day and he texted me to say that they had these and they were on sale, so we snaffled one up. I think it is absolutely gorgeous. Made a bit of a dent in our savings, but quite happily so!
And with that I am sure I have bored you long enough for one day so I will leave you with a thought for today!
A photo one for today . . . (
source
)
Spiritual Enlightenment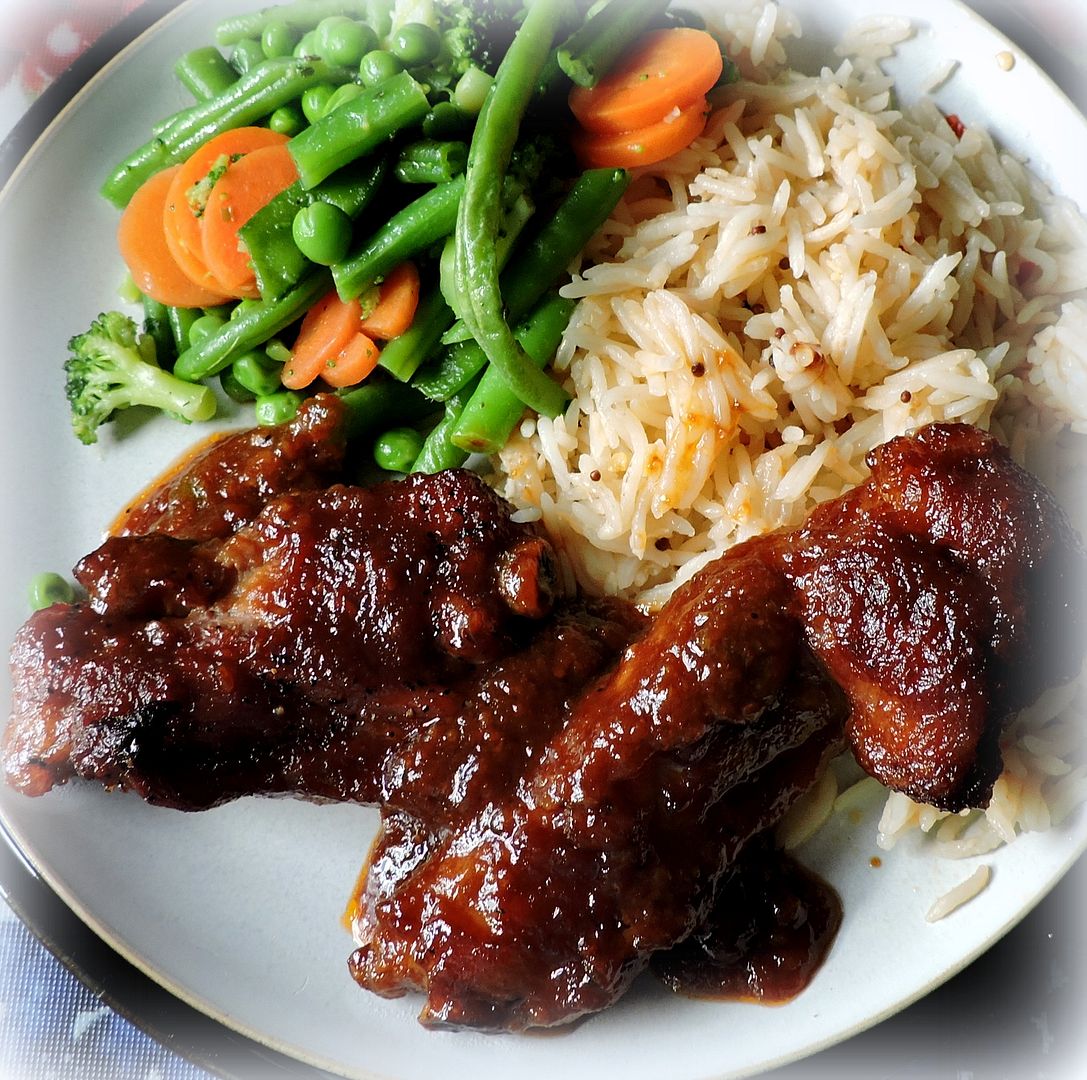 In The English Kitchen today . . .
Peachy BBQ Ribs
. Mmm mmm good!
Have a wonderful Wednesday! Wherever you go and whatever you do, don't forget . . .
═══════════ ღೋƸ̵̡Ӝ̵̨̄Ʒღೋ ═══════════ ⊰✿░G░O░D⊰✿⊰L░O░V░E░S⊰✿⊰░Y░O░U░⊰✿
═══════════ ღೋƸ̵̡Ӝ̵̨̄Ʒღೋ ═══════════
And I do too!