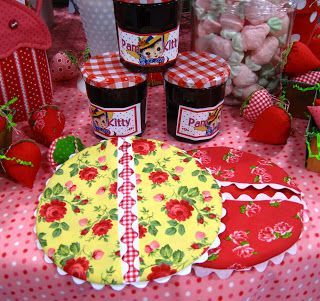 (source PamKittyMorning)
I have always loved pot holders. They were something that we learned to make in the girl guides as the perfectly sized first hand sewing project (along with needle holders), and something which we have all grown up with in our homes.
I know when I got married the first time and had all of the wedding showers that were given for me, I received a lot of pot holders. All very pretty and useful. Pot holders are the perfect gift for a soon to be married bride I think.
Pot holders can be quite utilitarian to look at, and most store bought ones are, but homemade ones can be a lot sweeter, prettier, more interesting to look at and eye catchingly inspiring.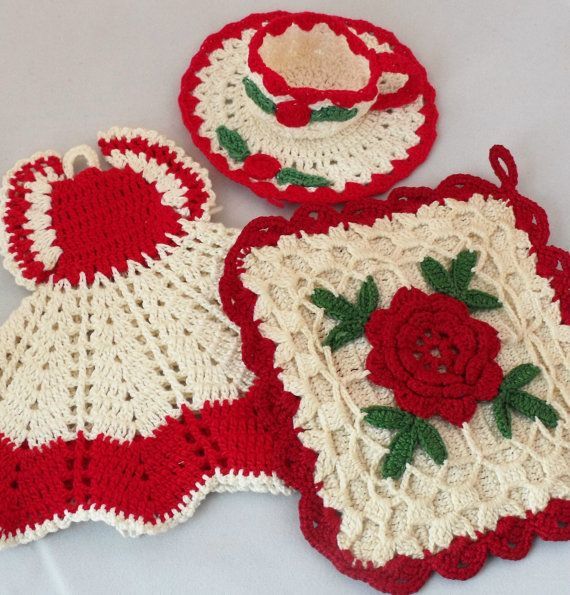 I absolutely adore vintage ones. I have a few of those and they are a focal point in my kitchen. I never use them for fear of ruining them. They're just pretty to look at. I have made a few through the years myself, crocheted with thread or cotton yarn using patterns I got from Annie's Attic yonks ago. They look just like the red and white dolly dress above, miniature doll dresses just waiting to clutch your pot handles in a variety of bright colours.
I love all things Dolly . . . I do, I do, I do . . . I do. (Did you just hear abba there? I did!)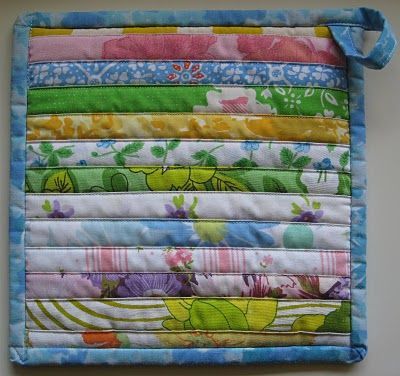 (Source: The Vintage Sheet)
They are a great way to use up material scraps if you are a dab hand with a needle and thread. There is a great tutorial at the above source to make this particular one. It looks very easy and I just love the bright colours. It's a fun and useful way to use up all those bits and pieces that would otherwise be discarded. I am a pack rat that way. I get rid of nothing. I save every scrap of fabric and paper, wrapping paper, etc. It annoys Todd to distraction. Every once in a while I do a purge and get rid, but never of my fabric or paper scraps. I can always find a use for them.
(source: plus 3 crochet)
I think this one is particularly pretty. I may give it a go, but I cannot imagine it would be very useful with all those holes. It would make a beautiful hot pad though to set out hot casseroles on at the table. The pattern was available on
Ravelry
but unfortunately it no longer available, but there are lots of other photos there that are really pretty and inspiring. I am a bit annoyed that the pattern isn't there and will have to search for it because now that I have seen all of the different ones and different colours, I quite want to make one! Perhaps it is that old wanting what you can't have thing . . . but perhaps not. In any case I think it is quite pretty.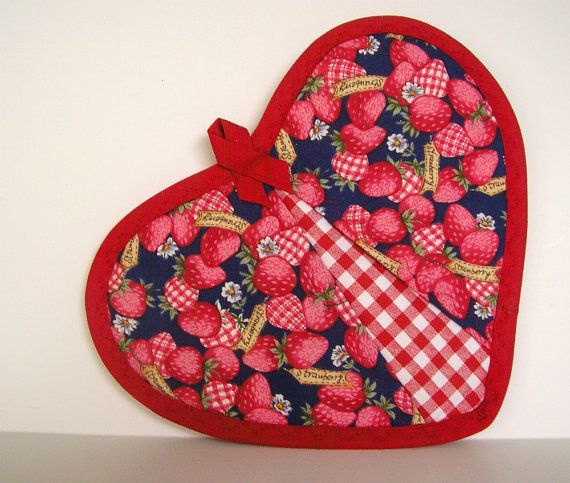 I have quite a few of this type of pot holder. All handmade. I like them best of all because you use them to pinch whatever it is that you are trying to pick up. I find that the easiest. Mine are getting old and stained a bit now and some are even a bit burnt. (What can I say? I use them!) I bought the ones I have from a shop on Etsy, but she doesn't seem to be there any more . . . so I guess I will have to try making some myself. It's a shame really as the ones I have are really well made and I like them. The seller always had a large variety of fabric patterns to choose from which I really liked.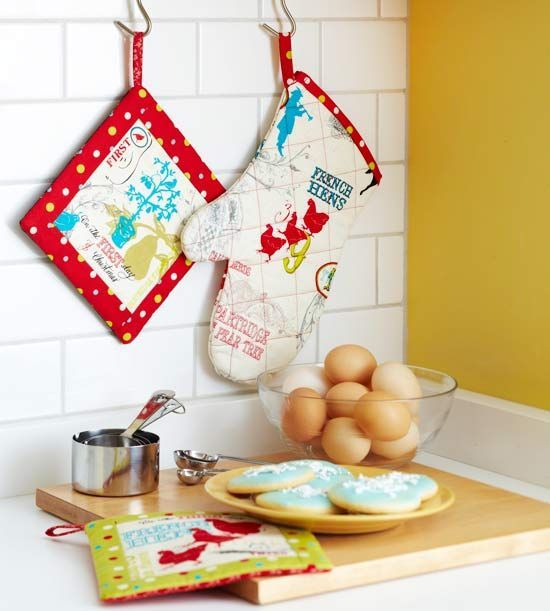 (source BHG)
I used to like oven mitts, but now my hands don't like being inside them. I'm not sure why that is . . . I only know that they don't like it. It feels a bit creepy to me. Perhaps I am getting to be a bit wierd in my old age!
I have a couple that are this type, but I don't like them at all. I find them awkward to use. Perhaps it is me that is awkward, but I don't seem to be able to co-ordinate myself when using them. I am sure that there are people out there who really love this style.
I do have this book which is filled with some nice ideas and patterns for different types of potholders, which I picked up at Hobby Craft a few years back. I've never used it yet, but from time to time I look through it and think I'd like to make this one or that one, but then . . . I don't.
I am having a lot of fun at the moment embroidering pillow slips. That is something which I can do whilst we sit and watch telly in the evening. I'll probably get tired of them in a few weeks time and more on to something else I wager. I just like to be doing something instead of just sitting there. Just sitting there is boring.
We are off to clean the chapel today. It's our weekend. They used to have dedicated chapel cleaners. Todd was the cleaner in our chapel down south, but the church did away with that a few years back and now the members have been charged to keep it clean. Every little helps and all that. I am not looking foward to it but one must do what one must do! I hope my arm holds out. It was pretty good yesterday, so that's promising.
Do you ever get wierd pain like that? That comes and goes at whim? It's very mysterious.
A thought to carry with you through today . . .
✻ღϠ₡ღ¸.✻´´¯`✻.¸¸.Ƹ̴Ӂ̴Ʒ..
"Joy does not simply happen to us.
We have to choose joy and
keep choosing it every day."
~Henri Nouwen
✻ღϠ₡ღ¸.✻´´¯`✻.¸¸.Ƹ̴Ӂ̴Ʒ..
Today I choose joy.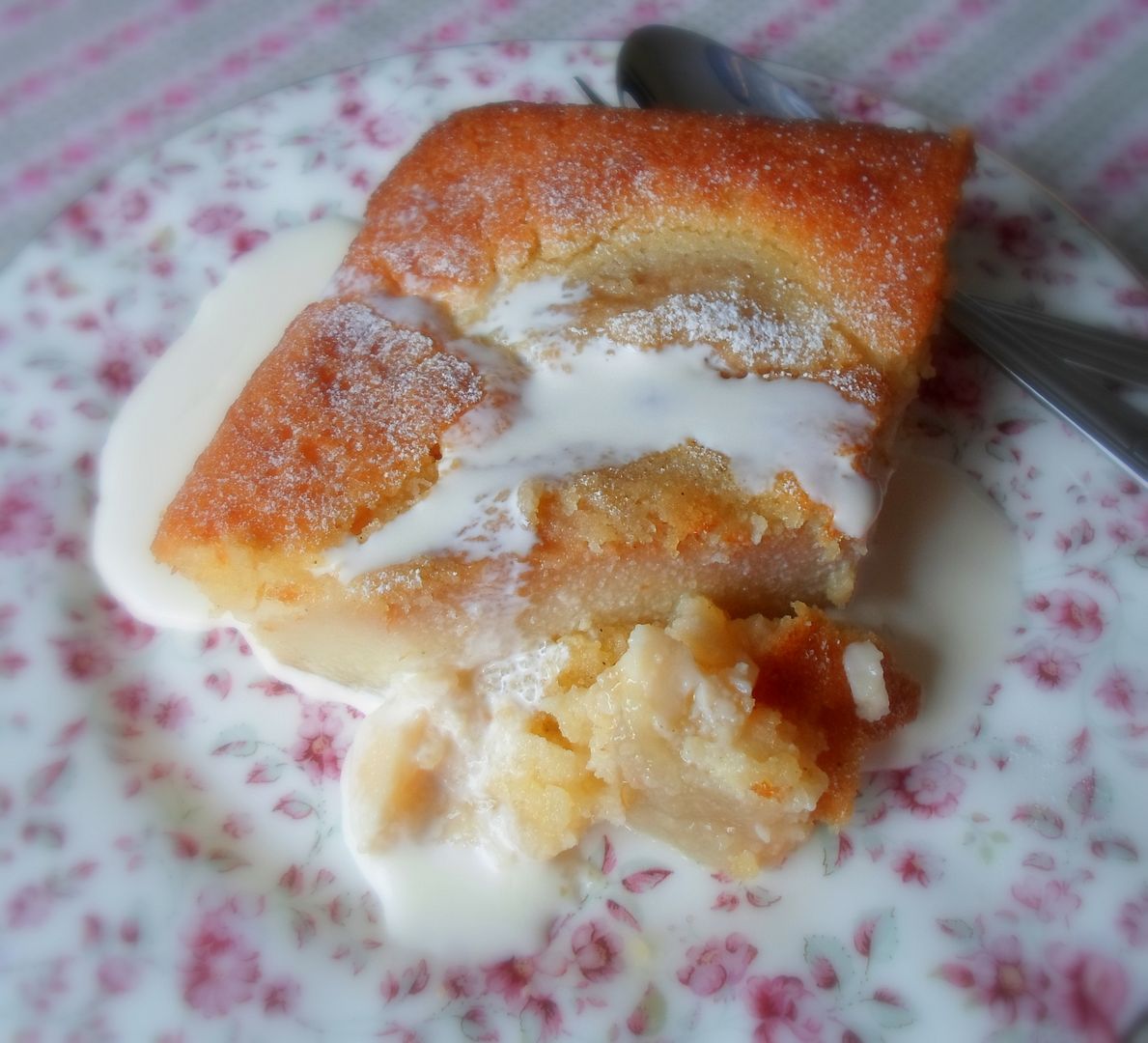 In the English Kitchen today . . .
French Pear, Almond and Cardamom Cake
. Delicious!
Have a wonderful Saturday!!