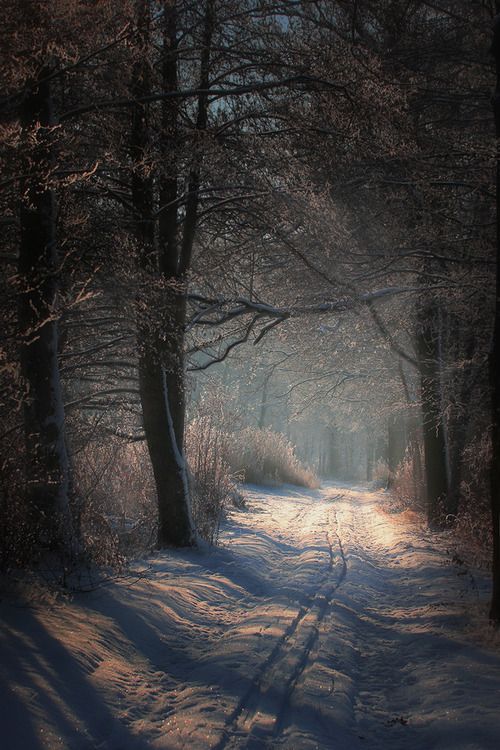 (
source
)
The colour of winter,
no matter the weather . . .
is pure and lovely,
with long dark blue shadows,
purple dried stalks,
glistening white frost and snow . . .
and pale amber which shellacs
the brooks and streams
which run in summer, but now . . .
are frozen still,
beneath a thin coat of ice.
Easily broken, it is
and so tempting . . .
with threads that turn this way
and that way
intercrossing each other
in an icy dance across
the surface . . .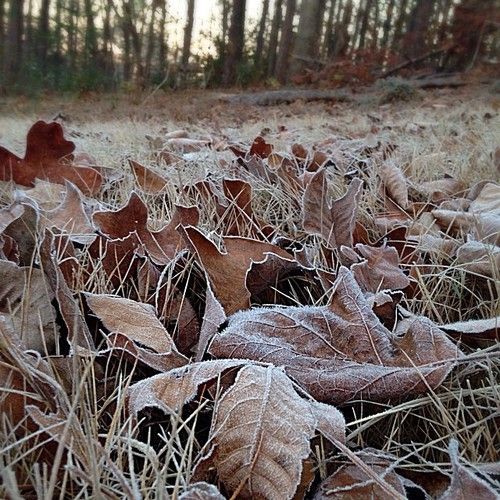 Dry leaves and grass,
each vein and curve
are etched as if in glass
a touch would break . . .
the inner ear
hears the tinkle of
a million crystaline bells
swinging too and fro
along the edge
of fence and briar . . .
and leaf and blade.
It is a cold beauty,
but . . .
beauty nonetheless.
Meadows are latticed now
with the patterns of dark branches.
Great timeless trees
with branches lifted
in an intricate dance against
a still sky.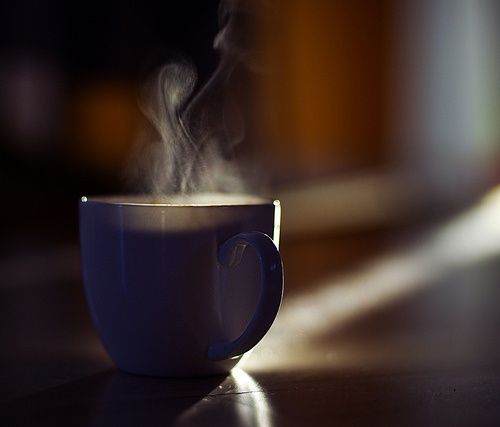 Inside our four walls
we sit . . .
warmth cupped between our hands,
as slittle shards of ice
throw themselves upon
the panes of glass which
separate us from
the winter world
which sits outside
and beats at our door
bidding us to
welcome it in.
We dare not bid hello,
for fear it will stay.
We dream of warmer times
and tuck the blankets closer
against our legs.
And feel our blessings
ever more and pray
a prayer of thanks.
~Marie Rayner ® 2014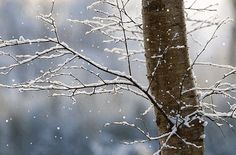 Just a quick little post this morning as we are off to church early today. It is our Ward Conference and I have been asked to come in early for an interview. Good news I hope. Thanks for all your prayers for my friend Tina. Her knee replacement operation went well and she is recovering. She's in a lot of pain, but that is to be expected and pain killers are keeping it as at bay as they can.
A thought to carry with you for the day . . .
´´¯`✻.¸¸.Ƹ̴Ӂ̴Ʒ.
´´¯`✻.¸¸.Ƹ̴Ӂ̴Ʒ.´´¯`✻.¸¸.Ƹ̴Ӂ̴Ʒ.´´¯`✻.¸¸
"Stay is a charming word in a friend's vocabulary."~Louisa May Alcott
´´¯`✻.¸¸.Ƹ̴Ӂ̴Ʒ.
´´¯`✻.¸¸.Ƹ̴Ӂ̴Ʒ.´´¯`✻.¸¸.Ƹ̴Ӂ̴Ʒ.´´¯`✻.¸¸
Cinnamon Roll Pretzels
are tempting us today in The English Kitchen.
Have a great Sunday. See you tomorrow!