I changed my play-list on here yesterday. I love piano music so very much. I think next to the violin, the piano is my favourite instrument to listen to. I never tire of it. When I was a child I would have loved to have been able to take piano lessons . . . my parents would never have had any problems getting me to practice. Alas . . . my parent's budget did not lend itself to pianos or music lessons.
I'm quite sure I would have been a wonderful pianist! But we will never know . . . I did get to learn how to play the clarinet and I got quite good at that. My father was able to borrow one from the Station Band for me to use, so I was very lucky there. But . . . pianos were a lot harder to come by I guess. I did have a little toy tinkly one I drove my parents mad with when I was really small . . .
I had a friend who had a real almost life sized toy piano when I was in Grade 4. She wasn't a very nice person actually . . . but I played with her from time to time so I could play on her piano, which wasn't very nice of me either was it . . . She also wore braces which I wanted too . . . it's funny the things you wish for when you're a child isn't it??? Or maybe I was just a really weird kid??? Please tell me I wasn't alone in the oddity of my desires???
There was a piano in the back room of our home down in Brenchley that had sat there for years and years . . . I was trying to teach myself to play on it while we were there, but I did not get very far with it. I lacked the time necessary to really practice. Now I have all the time in the world, but . . . no piano.
Life is like that sometimes. Sometimes you get the cherries, and sometimes you get the pits . . .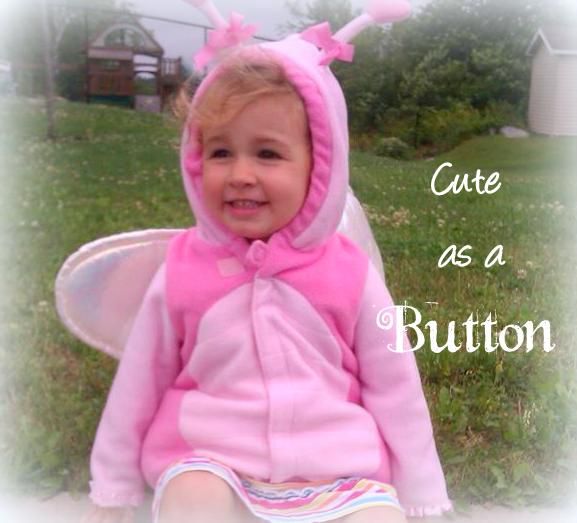 Isn't she lovely??? This is Maryn yesterday. Apparently she found her Halloween costume from last year and was bent on wearing it. I am not sure hot warm it was in Nova Scotia yesterday . . . but oh well. I think she's as cute as a . . . button! I was so pleased this last time I was home that I got to spend a whole afternoon with her on several occasions, especially on the last day I was there. We spent a long time in the play room playing together and I could feel her warming to me. She is a delightful little girl and reminds me of myself in many ways. I say that not because I think I was a delightful little girl . . . I may well have been, but I don't know . . . in saying so I mean only she shares my wonderful imagination and curious mind. We had a wonderful time together. I think she shares my oddities.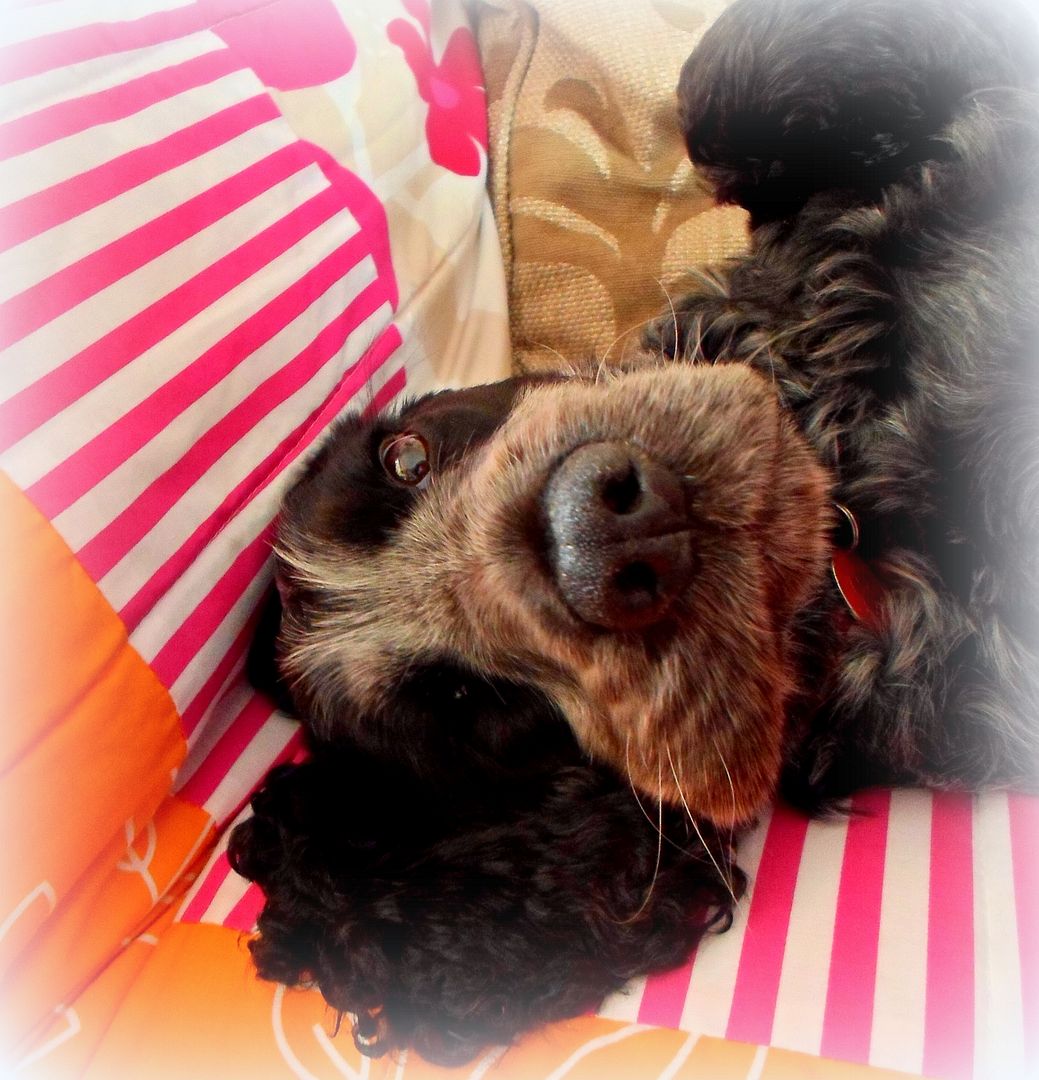 I took this photo of Mitzie yesterday . . . she was lolling about on the sofa, being cuddly and adorable. I love to bury my nose in her belly and sniff her paws. They smell like popcorn. If I had my way she would sleep upstairs with us at night . . . alas, I do not. Todd doesn't want her sleeping upstairs with us. He thinks dogs should have their own sleeping spots . . . something on which we differ. I think he knows that the next step would be her sleeping on our bed . . . and he is probably right on that. We had a beagle when I was growing up named Penny. She slept in my bed every night . . . I didn't mind sharing it with her even though she ofttimes took up most of the space. We had her for a long time. She died when I was pregnant for my eldest son . . . Penny was my best friend.
I could tell her everything and know she'd never tell anyone else. It is the same with Mitzie. She is a great keeper of secrets as well . . . who do you tell your secrets to???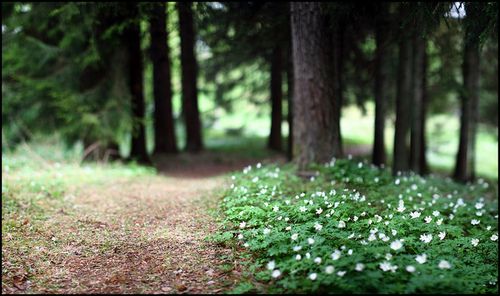 Sometimes I look at pictures like this . . . and my mind goes wandering down the path . . . exploring, wondering . . . imagining what I might find at the end of it. I can hear the birds chattering back and forth to each other in the tops of the trees . . . and the distant hammering of a woodpecker, echoing across the wood. I feel the crunch of last years dry leaves beneath my feet . . . and the air is filled with the scent of a million woodland blossoms . . . a dark green smell, mysteriously alluring. I imagine that the fairies are close by, flitting here and flitting there amidst the shadows . . . perhaps twittering lightly to themselves about the path my thoughts are taking . . . a rustle of leaf, or whispered breath of air past my ear my only clues to their presence . . .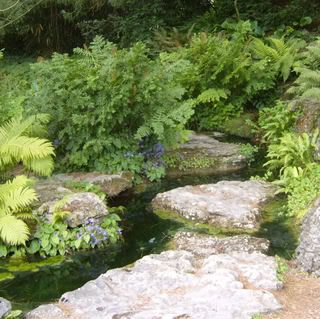 Would I find enchantment at the end of my walk. I like to think that I would . . .
A thought to carry with you through today . . .
"Poetry is the silence and speech
between a wet struggling root of a flower
and a sunlit blossom of that flower."
~Carl Sandburg~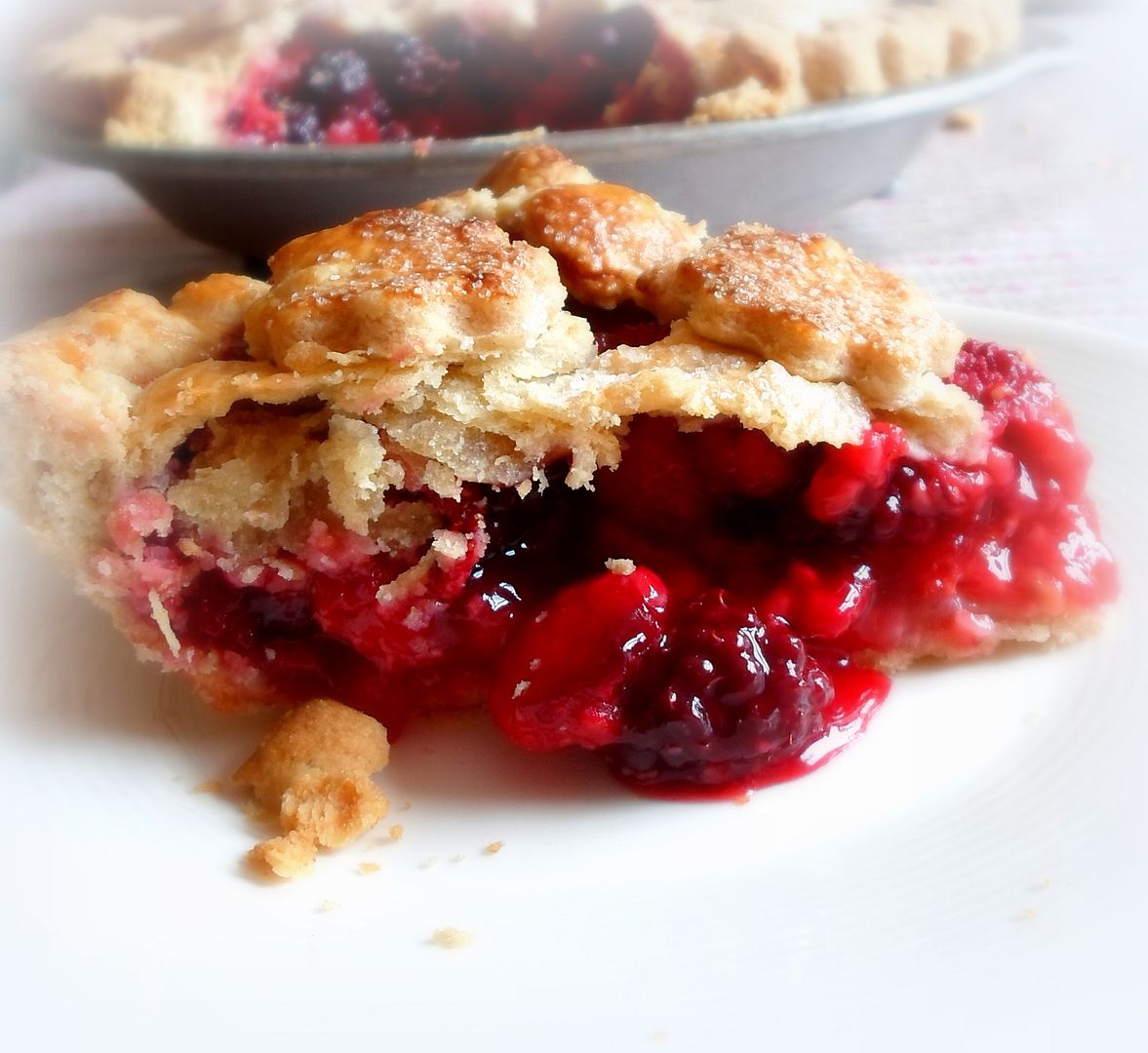 Baking in The English Kitchen today . . . a delicious
Bumbleberry Pie!
Have a wonderful Sunday! Thanks for sharing my little journey this morning.