It's not unusual in July to see a field foaming to the brim with wild daisies. They are such hardy . . . cheerful flowers, putting up with seemingly everything from drought to monsoon. I love them so . . .
They don't seem to mind all the fumes of passing traffic, flourishing along the by ways and high ways of the land. The sight of them along with the red poppy cheer the heart of the drivers that pass . . .
Bouquets of them scattered throughout the house bring a smile to my face . . . they stay fresh for days and days . . . and days. If they have a smell, I haven't noticed.
Noxious weed by some . . . lover's forecast by others . . . they bloom with wild abandon. We make chains of them and crown our heads and encircle our necks. They smile . . . they wink . . . they dance upon the fields, waving their gold centered fluffy white heads to the tune of the wind which passes over.
They are quite happy to socialize which whomever shows up to the party . . . black-eyed Susan's, Queen Anne's Lace, Bachelor Buttons . . . they are not selfish, they share their space quite willingly. It is a seemingly joyful companionship of ease . . . it brings me joy at any rate . . .
On our way back from the chapel last night I saw a sight I never thought I would see. The farmer which grows potatoes along side the housing estate we live on was irrigating his fields . . . the machine throwing out great plumes of water across the potatoes in a wide arch. In all of the thirteen years I have been here, I have never seen such a sight . . . the grass appears to be turning brown overnight actually . . .
It does not take many days without rain to turn . . . they'll soon be calling this . . . the
great
drought of 2013! Mark my words!!
We had a super time at the Promise Auction last night. They youth were raising money for EFY this summer. This is a special summer camp that the church holds for the youth of the church every couple of years. It's a wonderful experience for any that attend. We raised over £600! There were things on offer like Chiropody appointments, beauty baskets, cards, garden work, a murder mystery dinner for 8, Japanese Dinner for 2, and all sorts. It was a really fun evening, and well supported!
Yesterday it was so hot here I felt like I was melting and it was very uncomfortable for sleeping last night as well. Trying my best not to complain though! It will pass soon enough and maybe if we are lucky we will have a good old fashioned thunder storm to mark it's passing. Oh, I do love a good thunder storm. I haven't experienced one in years now it seems!
Wherever you go today, whatever you do be safe and be happy!
A thought to carry with you along the way . . .
It is for us to pray not for tasks equal to our powers, but for powers equal to our tasks, to go forward with a great desire forever beating at the door of our hearts as we travel toward our distant goal. ~ Helen Keller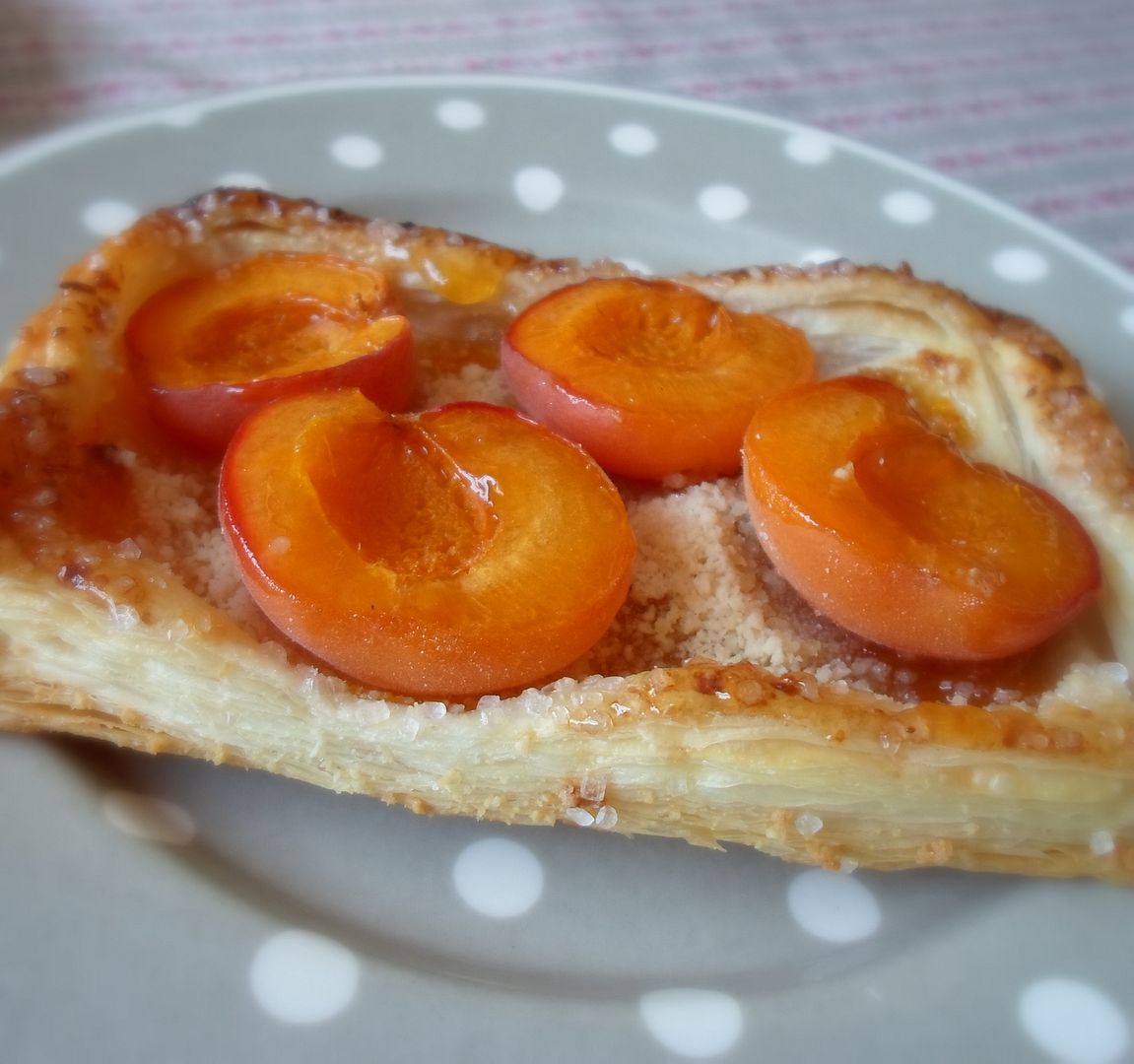 In The English Kitchen today . . .
Simple Apricot Tarts
! Dead easy, and quick to make, and delicious too!
Happy Day all!