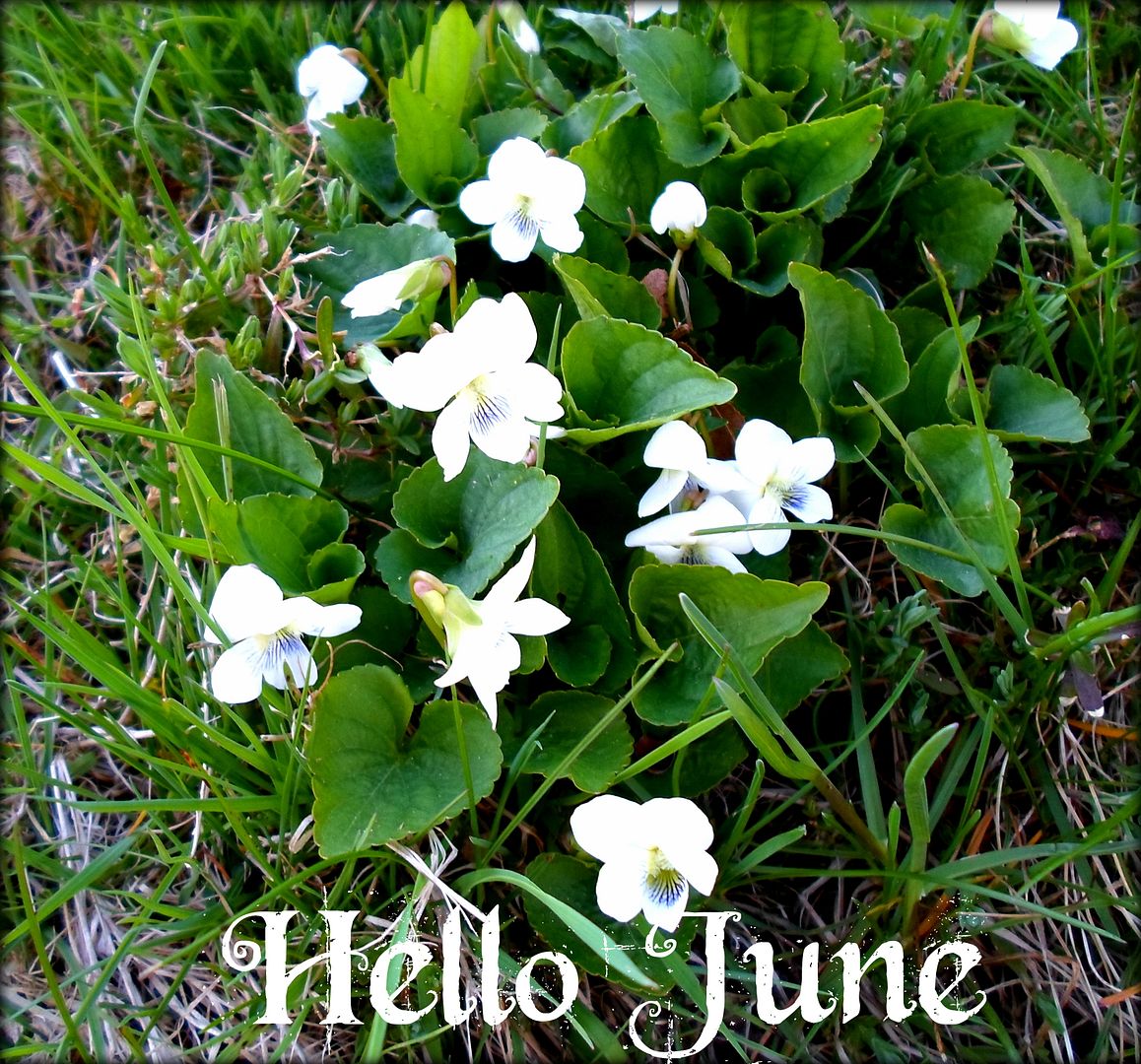 I like to call June the month of song. Not just because of the bird song which fills every waking moment from dusk til dawn and is so beautiful . . . but also because of the garden which begins to come alive in a very vibrant and inspiring way . . .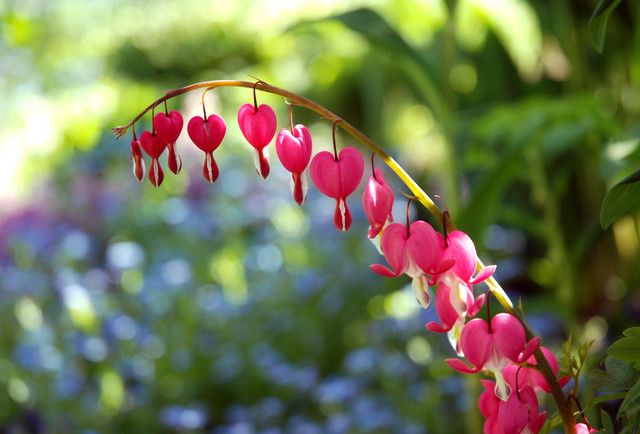 The song it sings resonates within my soul . . . rambler roses begin to climb over fence and stone wall . . . covering old garden sheds and lattices with pinks and whites . . . yellows . . . The green of the countryside is interlaced with shell pinks, and whites and rosy reds . . . ivory.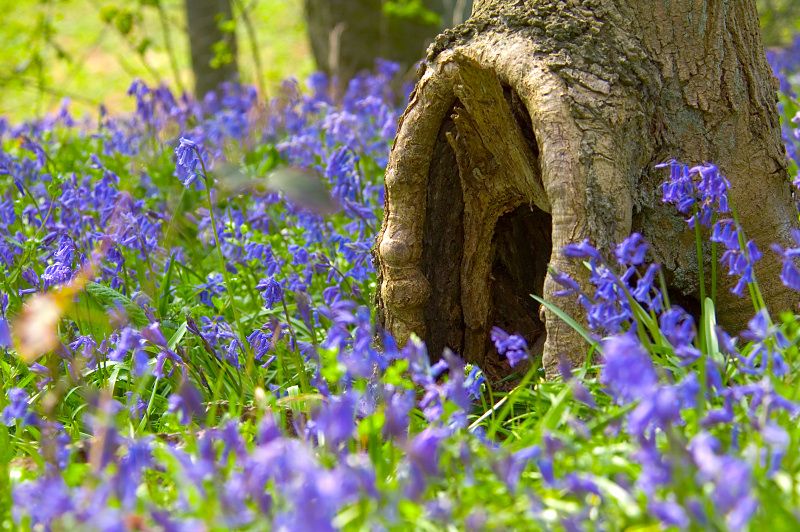 One can almost hear the hum and horn of a special secret world, hidden from our eyes . . . fainting blowing on the breeze. The ancient whirr of fairy wings amidst each bloom . . . and plod of elves feet as they mingle amongst the green and growing grass at the end of the garden . . . dancing midst the bluebells which are late this year . . .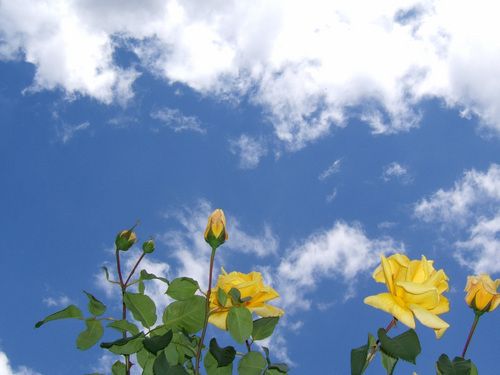 The sky, too . . . sings a special song. Its melody is a deep and tranquil blue . . . bluer than blue . . . a blue you can't ever recall seeing with such vibrancy before, but . . . in your heart . . . you know you have. Its just that each time seems like the first time . . . brilliant white cloud whispers here and there. It is an illusion, the cloud . . . impossible to take seriously.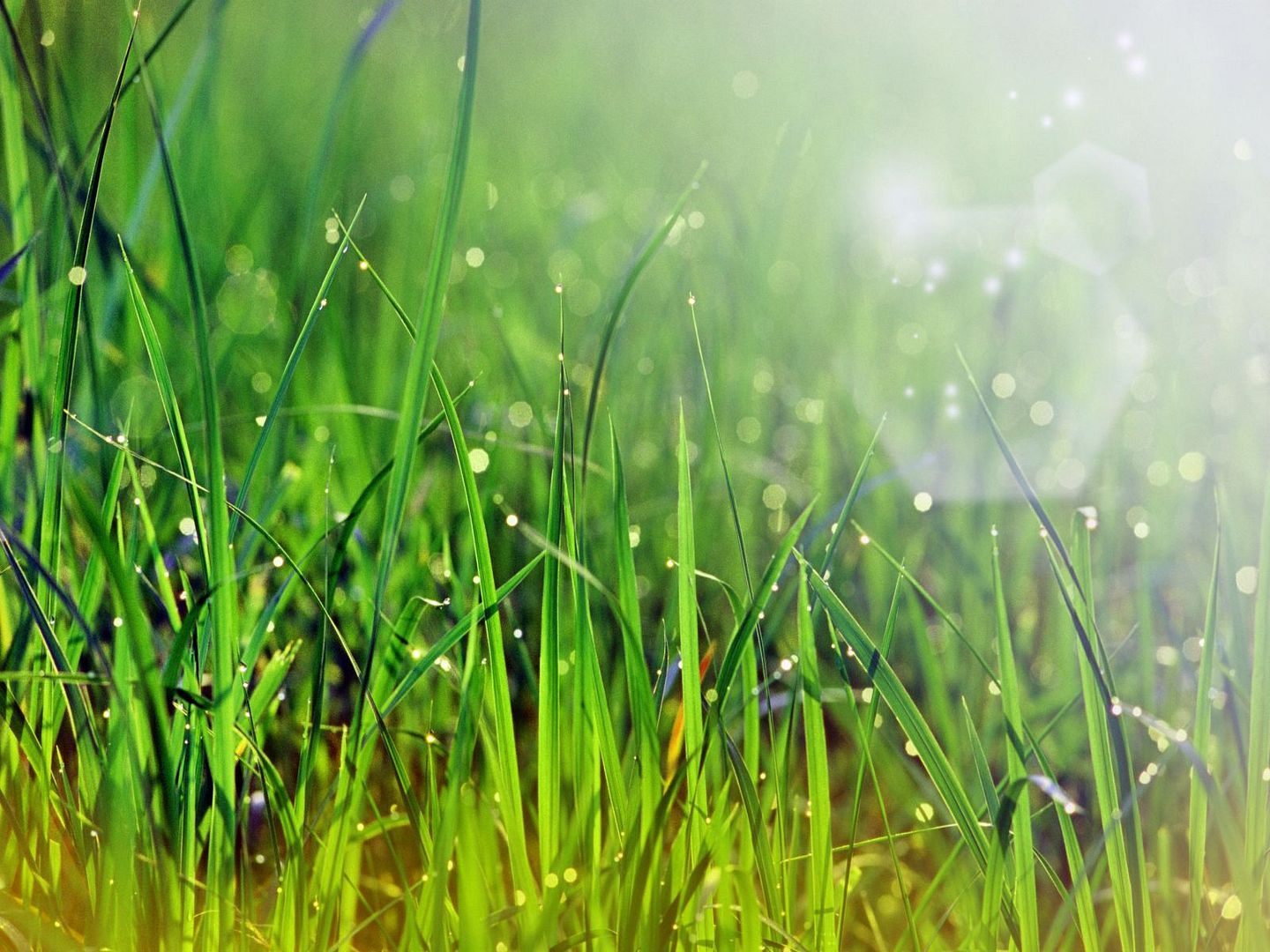 Mornings dawn fresh and clear . . . dew sits upon the grass like little jewels in the strengthening sunlight, their moments numbered, as the day lengthens and they disappear . . . one by one . . . you can almost hear the faint tinkle of their leaving . . .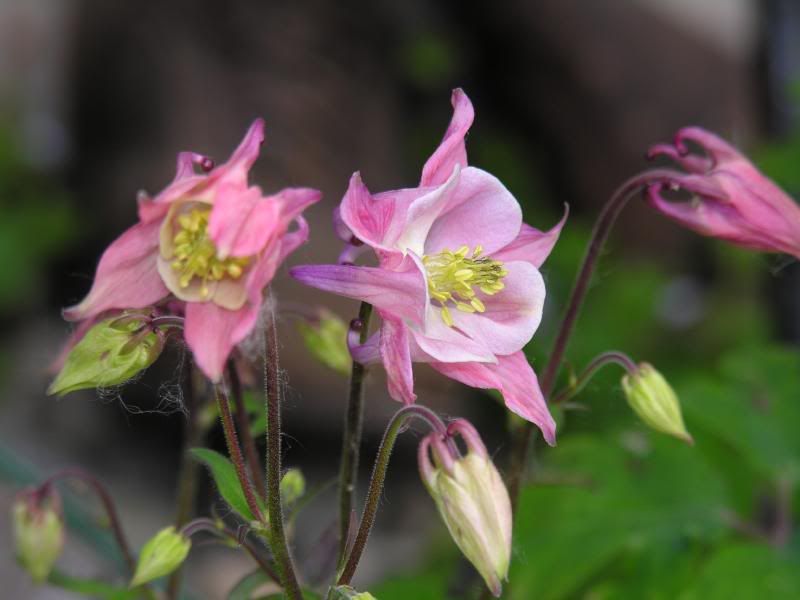 Can you hear the trumpets blow . . .
"Bees do have a smell, you know, and if they don't they should, for their feet are dusted with spices from a million flowers." ~Ray Bradbury, Dandelion Wine
This is mom's cat Pumpkin. We became well acquainted during my six weeks in Nova Scotia. She replaced Ginger, a cat who mom had for a very long time and who passed away several years ago now. Pumpkin kept me company on those lonely nights whilst mom was still in hospital. She sat on the table next to me when I was painting and writing. At night she lay next to me on the sofa . . . both things which I am sure she wasn't always allowed to do when mom was around . . . but I didn't mind in the least.
She was happy when mom finally came home though . . . and mom was happy to have her on her lap for special cuddles . . . animals are such special friends, they really are. I would not be without them, ever.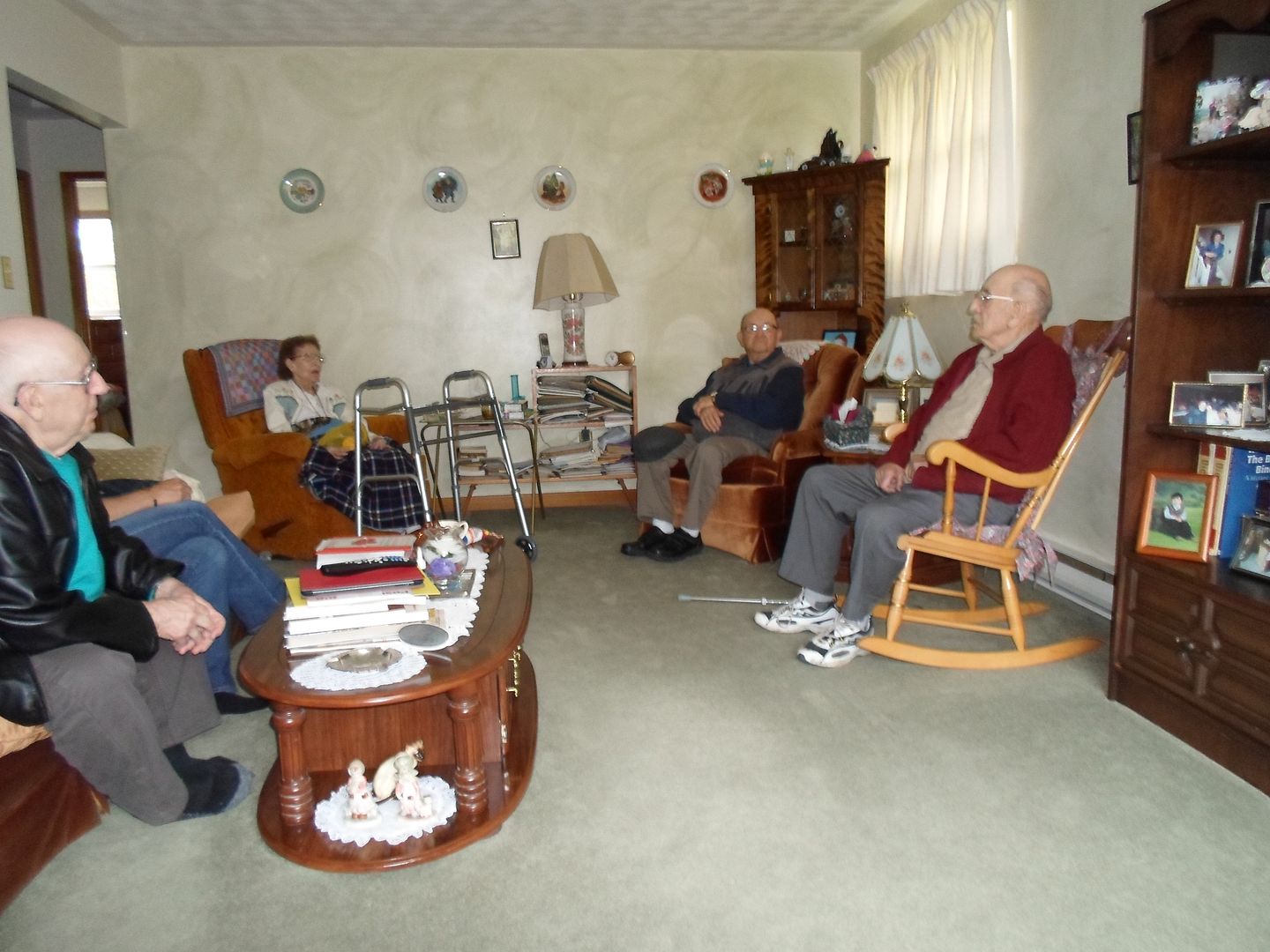 The cousins came to visit one afternoon, all the way from New Germany . . . the Russell boys my mother calls them. Oh what a wonderful afternoon we had together. Mom and I really enjoyed their visit.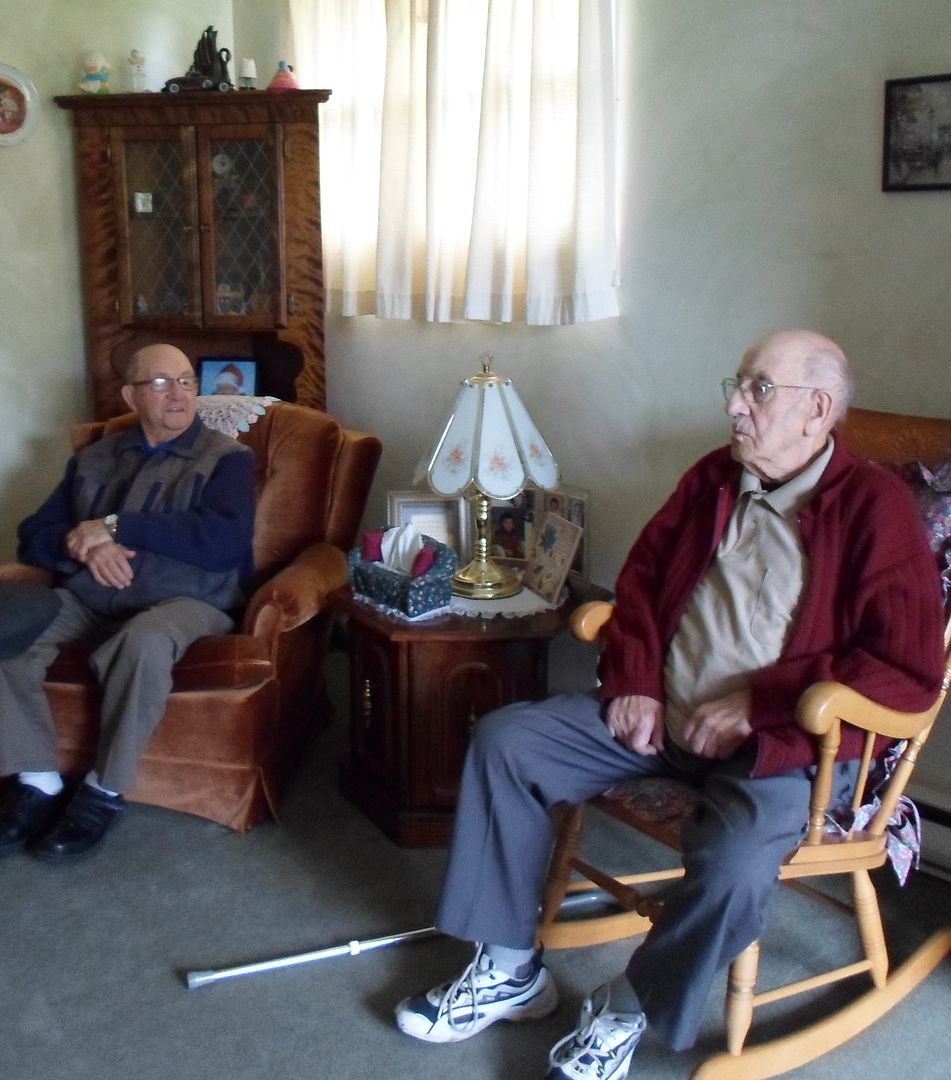 Brady, on the left, is in his 80's and Max, on the right, is 92. He broke his hip and was laid up for a while several months back, but you would never know it. He walked just fine and was as lively as ever, even if he did have a cane. I doubt he will have it for long!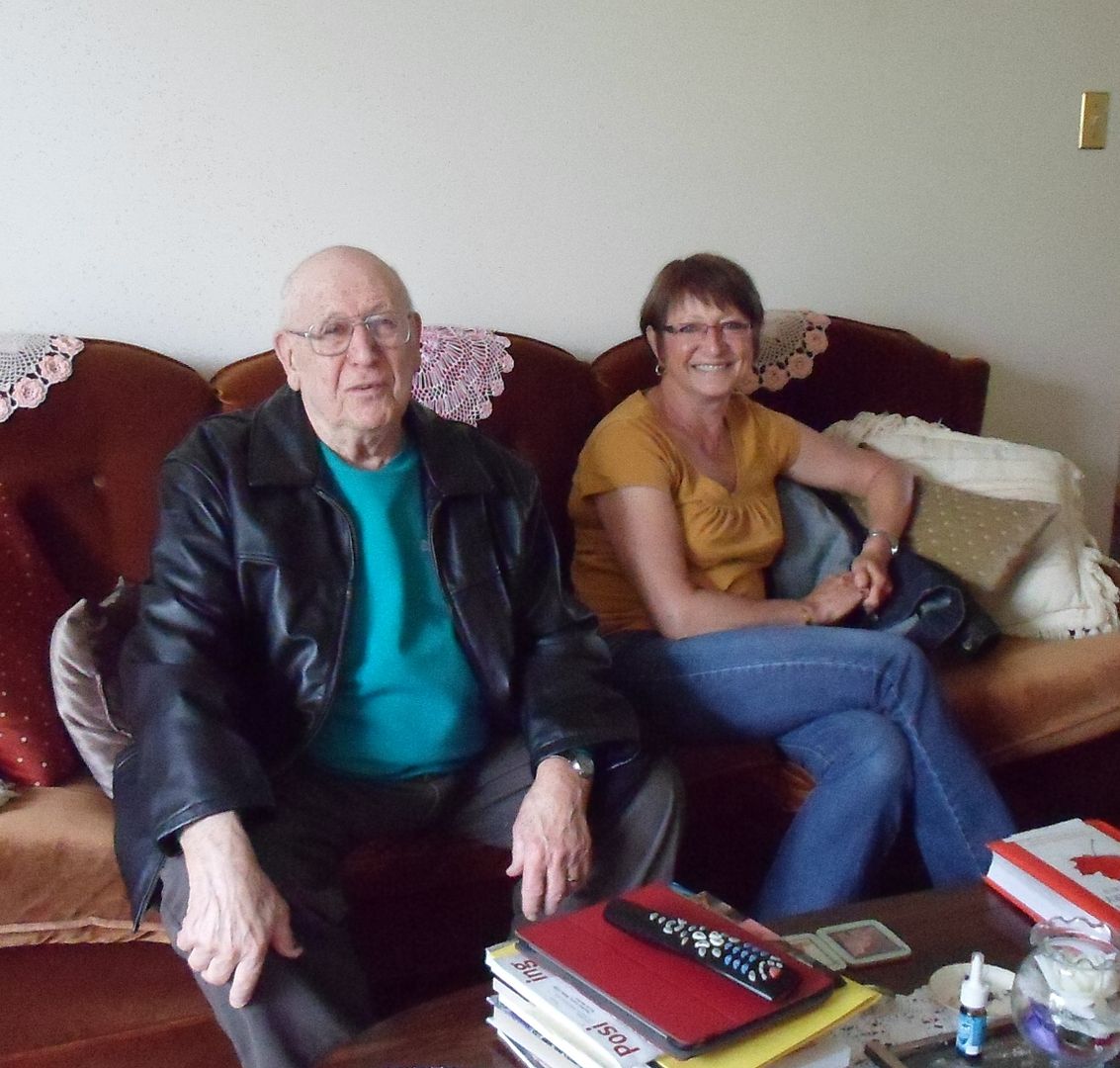 Edgar, also in his 80's, and his daughter Debbie. We had a lovely chat. It was fun getting to know Debbie whom I only knew from facebook and a few telephone calls.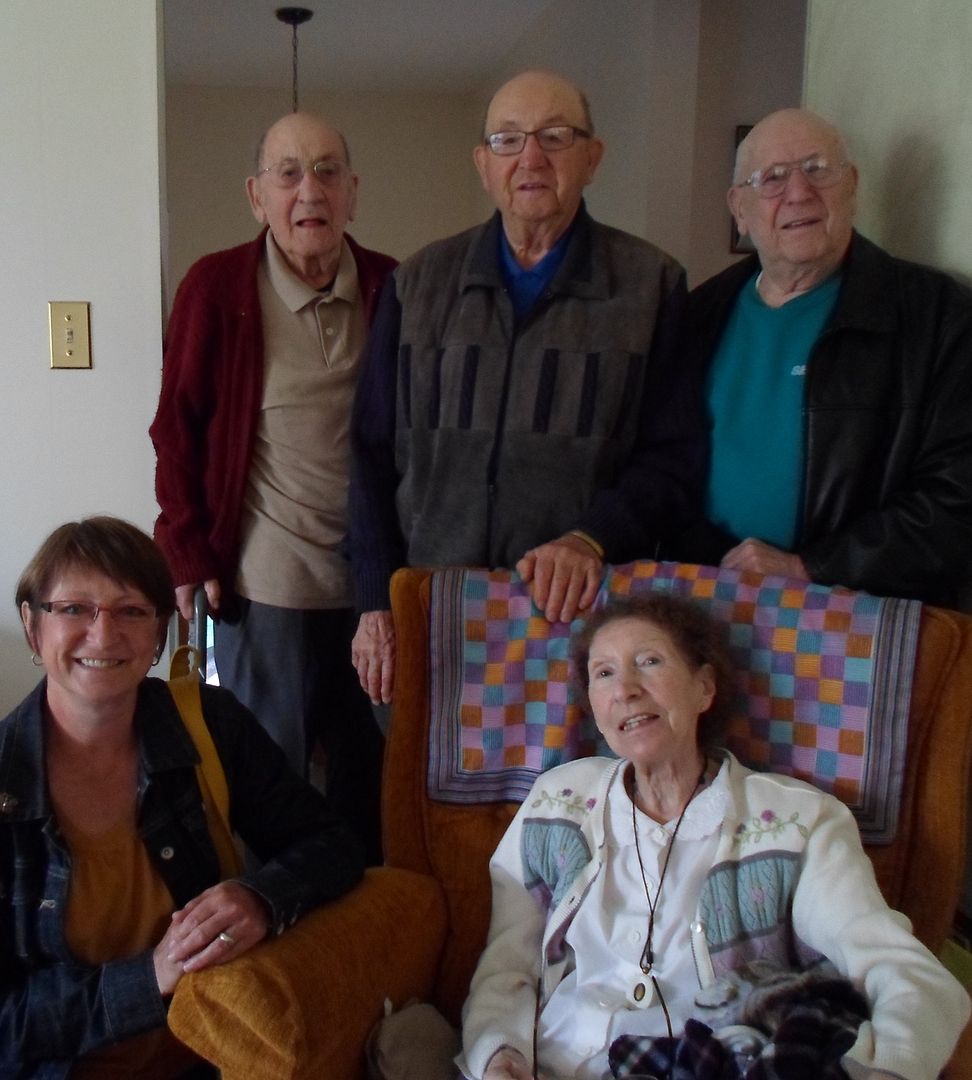 It was a super afternoon and the walls hummed with talk and laughter and love. Their visit was one of the great highlights of my trip, and next time I am home we plan a big pot luck. I am wanting their recipes to corn my own beef, and make my own sweet pickled pork!
They thought I looked like their mother . . . my Great Aunt Vera, and . . . maybe I do. I know we all have the same nose. Isn't that funny how that goes . . .
I loved listening to the stories that were told and the love that was shared. At the end of the day . . . family is everything.
"It is not until much later, as the skin sags and the heart weakens, that children understand; their stories, and all their accomplishments, sit atop the stories of their mothers and fathers, stones upon stones, beneath the waters of their lives." ~Mitch Albom
It's not corned beef, or sweet pickled pork, but it's mighty tasty. Cooking in The English Kitchen today . . .
Chicken Samosa Pie.
Happy Wednesday!