I look out my front window here in our little terraced house this morning and the sun is shining gloriously down upon Blacon . . . there isn't a cloud in the sky. The sky is a steady blue . . . no wisps of white to blur the evenness of it's colour . . . and it's cold. A heavy frost lies on the ground, about what you would expect at this time of year.
The branches of the hydrangea bushes out front lay bare . . . but little buds are growing there, waiting to unfurl into leaf . . . and then bloom. It is the same with each bush and plant in the garden as they begin to show life after a long cold Winter's sleep . . .
The snowdrops dance along the bottom of the hedgerow out back . . . their little bells tinkling in a late Winter's breeze . . . a breeze which nips at the fingers and has the taste of the winter still on it's lips, but not for long . . . no, not for long . . . there is no power at it's weakening soul . . . it knows it's days are numbered now . . .
There is a special warmth to the sunshine which is felt today . . . it was not there last week, nor the week before . . . and it may take most of the morning for us to feel it for today, but it's there all the same and with each day that passes it will become stronger and much easier for us to feel and embrace it's presence. . . it is the breathe of life which I call the "greening" of England . . . spring unspoken . . .
At first imperceptible, but soon unmissable . . . every trunk and branch of every bush and every tree swathes itself in the tender green flush that is spring arriving . . . it is soon as if they are enveloped in a tender green haze which grows and grows until all are swathed in it completely from head to toe. Spring's tender green gown fit for it's Bride who is getting ready to walk down the aisle, there is no stopping her now . . .
Though cold winds still blow . . . and frost still paints of a morning, the cold is losing it's grip on the land, weakening. The earth stirs with a tender moan and begins to relent and release it's prisoners with a white bloom here . . . a yellow one there . . . birdsong becomes just that little bit sweeter . . .
Tender purple crocus with yellow hearts begin to dance within the confines of the town green, their heads swaying to the music of the warming breeze . . . and there . . . a gamboling bumble bee prances too . . . an awkward dance which lifts it up from tender bloom to tender bloom, black hairy britches dusted with golden fairy dust, which spreads from flower . . . to flower . . . to flower. They are a harbinger of spring with their bumbling ways and jaunty britches . . .
Lambs begin to arrive and to prance . . . rhubarb unfurls with tender green and deeply crinkled leaf . . . it's stems reddened and brilliant against the back drop of Winter leaving . . . there is a great and unmistakable beauty in the UN-furling of Spring, in that tender wash of green . . . that imperceptible tinkle of white bell and song of bird.
I long to be where the daffodils dance beneath the sun . . . along side of waters dappled with the glitter of a thousand silver wings. That which inspired poets to pin words to paper. . . words which, a hundred or so years later, still cause heart to leap in chest . . . and breath to sigh . . .
Sometimes my heart is filled with a sadness which I find very hard to explain . . . Today is one of those days, but it will pass and things will return to normal. I hope you enjoyed my little bit of prose here today. I love to weave a spell with words . . . I hope that I did that . . . I truly do.
"Water which is too pure has no fish."~Ts'ai Ken T'an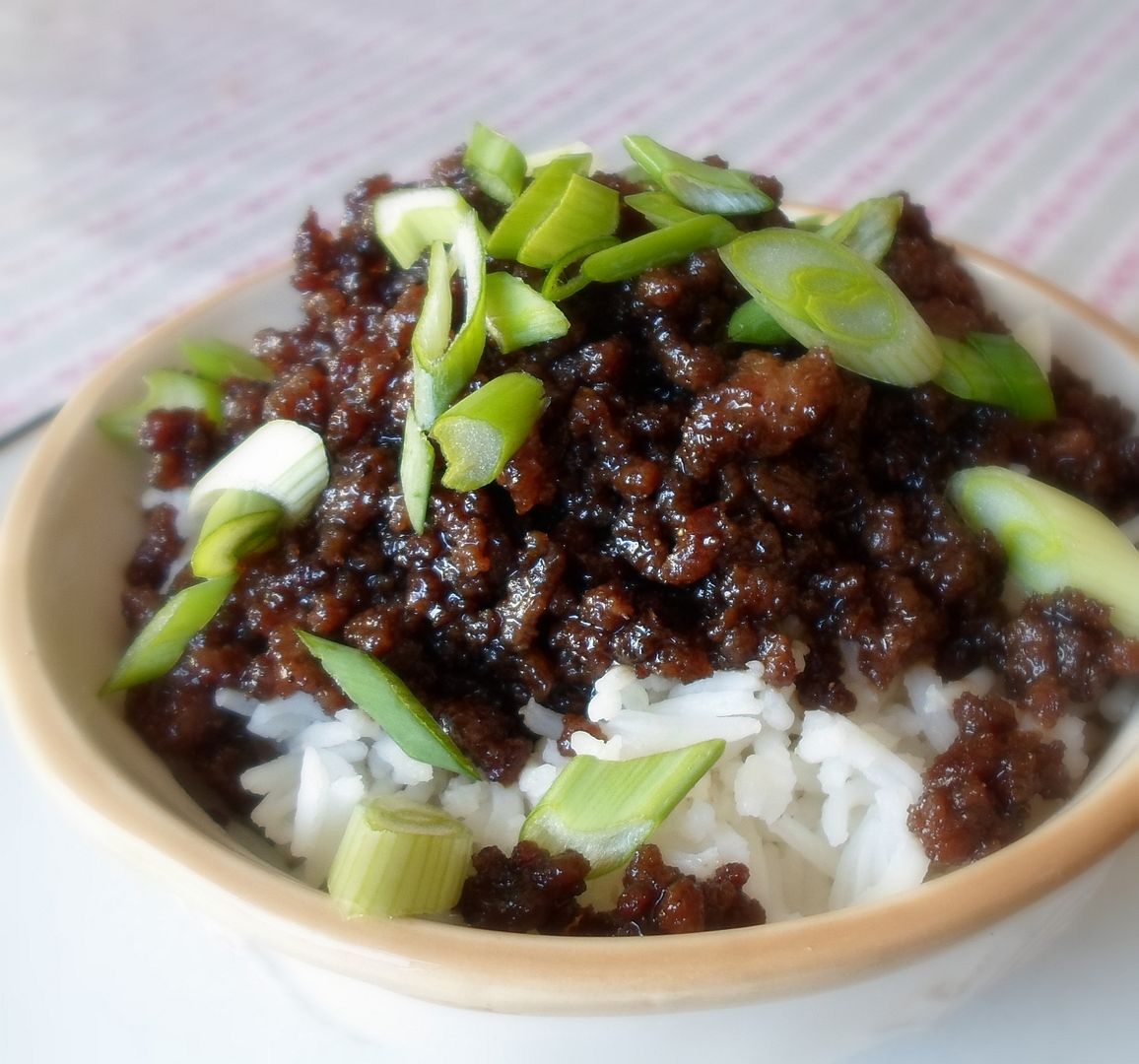 Cooking in The English Kitchen today . . .
Korean Beef.