A little bit of good advice always goes a long way . . . just for today. A bit of wisdom taken from an anthology of verse,poetry, thought and prose by Stan and Sharon Miller.
Just for today . . . I will try to live through this day only and not tackle my whole life problems at once. I can do something for twelve hours that would appall me if I felt that I had to keep it up for a liftime.
Just for today . . . I will be happy. This assumes to be true what Abraham Lincoln said, "That most folks are as happy as they make up their minds to be."
Just for today . . . I will try to strengthen my mind. I will study. I will learn something useful. I will not be a mental loafer. I will read something that requires effort, thought and concentration.
Just for today . . . I will adjust myself to what is, and not try to adjust everything to my own desires. I will take luck as it comes, and fit myself to it.
Just for today . . . I will exercise my soul in three ways: I will do somebody a good turn, and not get found out. I will do at least two things I don't want to do, just for exercise. I will not show anyone that my feelings are hurt; they may be huts, but today I will not show it.
Just for today . . . I will be agreeable. I will look as well as I can, dress becomingly, talk low, act courteously, criticize not one bit, not find fault with anything and not try to improve or regulate anybody except myself.
Just for today . . . I will remember that language is the dress of my thoughts. Everytime I speak I will remember that my mind is on parade. I will recall that someone said, "You can always tell what kind of wheels are a man's head by the spokes that come out of his mouth."
Just for today . . . I will have a program. I may not follow it exactly, but I will have it. I will save myself from two pests: Hurry and Indecision.
Just for today . . . I will have a quiet half hour all by myself, and relax. During this half hour, sometime, I will try to get a better perspective of my life.
Just for today . . . I will be unafraid. Especially I will not be afraid to enjoy what is beautiful, and to believe that as I give to the world, so the world will give to me.
~the end
So looking forward to going to church this morning. It's fast and testimony meeting today and I love to hear the testimonies which are born. They always uplift and bolster me. It's one of my favourite of all my church meetings each month. It's amazing how much hearing someone else's testimony of the Gospel of the Saviour can help to strengthen your own.
Not a lot else to say this morning. I was plagued by horrible dreams last night. It was the same dream that just kept going and going . . . I was babysitting a little girl and oh boy . . . she was really hard work. She just kept going around and around, pulling one thing out after another and creating one mess after another, and I was following her cleaning up and cleaning up and cleaning up. AND I was expected to go to the grocery store and pick up the groceries and prepare a dinner party for the parents and their friends. I was so tired by the time I woke up from all of that work! haha I don't know what it means. I don't know what any dream means, but I do know that I felt this one to be a bit of a nightmare!
Yesterday's Silver Lining . . . I have had a really sore neck of late and so I telephoned my sister instead of talking to her on the computer. It was so nice to hear her voice and to laugh together. I really truly admire her. She is one of the strongest, nicest, most compassionate, long suffering and understanding people I know. She may not know she is these things, but she is . . . she is an inspiration to me. Life has never been totally easy for her. I love her very , very much.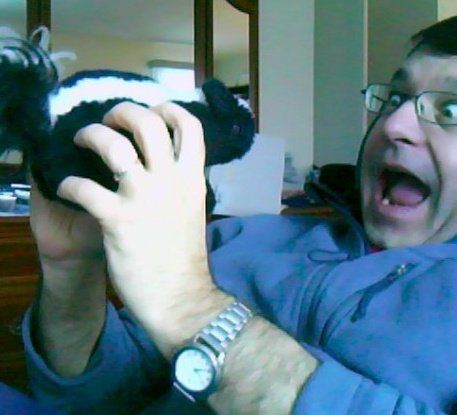 Oh, and Happy Birthday today to my brother! He's 53! I love him too!! (He has a great sense of humor, can't you tell??)
A thought to carry with you through today . . .
"A warm smile is an invitation to draw up a chair before the log fire of friendship."~anon
Cooking in The English Kitchen today . . .
Rhubarb Crunch.
A little taste of spring!!
Wherever you go, whoever you are with, and whatever you may do today . . . be happy!