Long about this time of year the Seed Catalogues begin to arrive. I really enjoy looking at seed catalogues. I always have done, and I don't know why . . . really. Todd does all of the gardening. I am much more of an "armchair" gardener . . . I suppose that is kind of like being an armchair athelete. I love to watch and plan . . . but as far as the rest of it goes . . . I'm a non-starter.
I always form these grandiose plans in my mind . . . of the things I want to plant, things I want to move to better locations . . . ever dreaming, and of course in my mind it is always the best garden ever planted. When I was younger, I even went so far as to make lists and draw architectural type coloured drawings of what I wanted the garden to be.
Most times it never got past that stage, but I did have loads of fun in the planning. Monetarily speaking, my pocket book could never live up to the standard of my dreams, truth be known.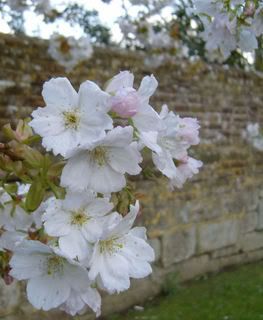 The one time I have had the garden of my dreams was when we lived down South for those seven odd years. We had a beautiful garden and two full time gardeners to take care of it. In all truth it wasn't really ours, but I did so love to live my gardening heart vicariously through it. The Manor gardens were beautiful beyond measure, and I spent lots of my spare time photographing the many flora which grew in it in great profliteration.
My ex boss actually had a "Garden Architect." His first name was Tim. I forget the rest. He would come out once or twice a year with his little rust coloured little spaniel and wander through the estate with clipboard and pencil in hand, jotting down notes while my boss told him what she wanted here and there. She had great gardening taste and money was no object. Before long the head gardener would be heading out to nurseries etc. and bringing back plants and seeds.
Each year the head gardener met my boss at the Chelsea Garden show, where they would wander through the show together, him taking notes as our boss remarked upon this and upon that. There was an awful lot of work put into the Manor Estate grounds and it showed, as they were just beautiful. In early spring the long winding drive which led to the Manor and ultimately down to the cottages we lived in was lined with Rhodendrons, which bloomed in colourful profusion . . . new ones would be added each year. The Manor itself stood behind a walled garden wall and the drive side was flanked with tudor roses, so beautiful when they were in bloom, and even in the autumn when they were filled with ripening rosehips they were a wonder to behold.
There were cutting gardens filled with lots of Dahlias and Zinnias, in just about every colour you could imagine . . . and rose gardens as well, again in almost every colour. There was a roseary (?) next to the tennis courts where you could walk beneath a tunnel of roses which arched over the walkway, flanked on the left by the cutting roses and a raspberry cage filled with oodles of raspberries that I picked by the bucket loads for the freezer during season. The bottom wall was covered with fig trees and there was a whole area of plum, apple, quince and medlar trees as well. That is where the greenhouse was also . . . they grew tons of tomatoes, which I also had to take care of once ripened.
My favourite part of the gardens though was the Herbaceous border which stretched some 200 yards leading up to the castle like trimmed hedge which hid the tennis courts, etc. I don't know what type of flower wasn't planted there. It was beautiful any time of the year with different flora blooming at different times . . . even in the winter it was a sight to behold. I loved to walk down it at all times of the year drinking in all that was growing, snapping photos . . .
The Elizabethan Lover's Knot Garden just to the front of the house was a real favourite as well. It was filled with lavendar which, when blooming, was just beautiful . . . and even when the lavender wasn't blooming it was pretty nice. Actually everywhere you looked on the Estate was a feast for the eyes, no matter the time of year. It really was a beautiful environment to live and work in, even if I didn't always like who I actually worked for . . . every job has it's pluses and minuses I suppose!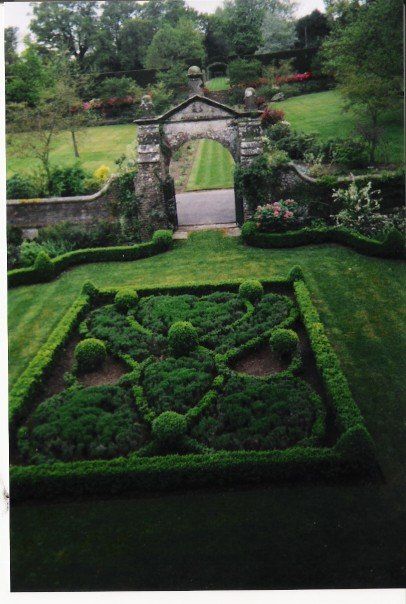 Here in Blacon we have endeavored to give our garden somewhat a cottage look . . . it is a work in progress and Todd does amazingly well at it. Each year we do add something new . . . rose bushes, or other shrubs. Hydrangea are a favourite and we have quite a few of them now . . . and last year we put in some holly hocks. We have fox gloves and other cottage flowers . . . poppies, snap dragons, daisies, etc. It's not planned though . . . things just come up haphazardly where they lay. I dare say my former employer would probably shudder at the sight . . . but meh . . . my head gardener works for free, and that's the way I like it.
We had a lovely Valentines Day yesterday. Todd really loved the Valentine I had made for him and he had a lovely card for me and a heart shaped box of Lindt Chocolate Truffles, which proved that he does listen to me sometimes. We had been in town a week or so ago and upon catching a glimpse of the heart shaped boxes of chocolates in some of the store fronts I had sighed and said that I had always wanted a heart shaped box of chocolates. Not so much for the chocolates but for the box. I can't wait to decorate the box! It will be so much fun.
Speaking of fun . . . here is a new paper doll.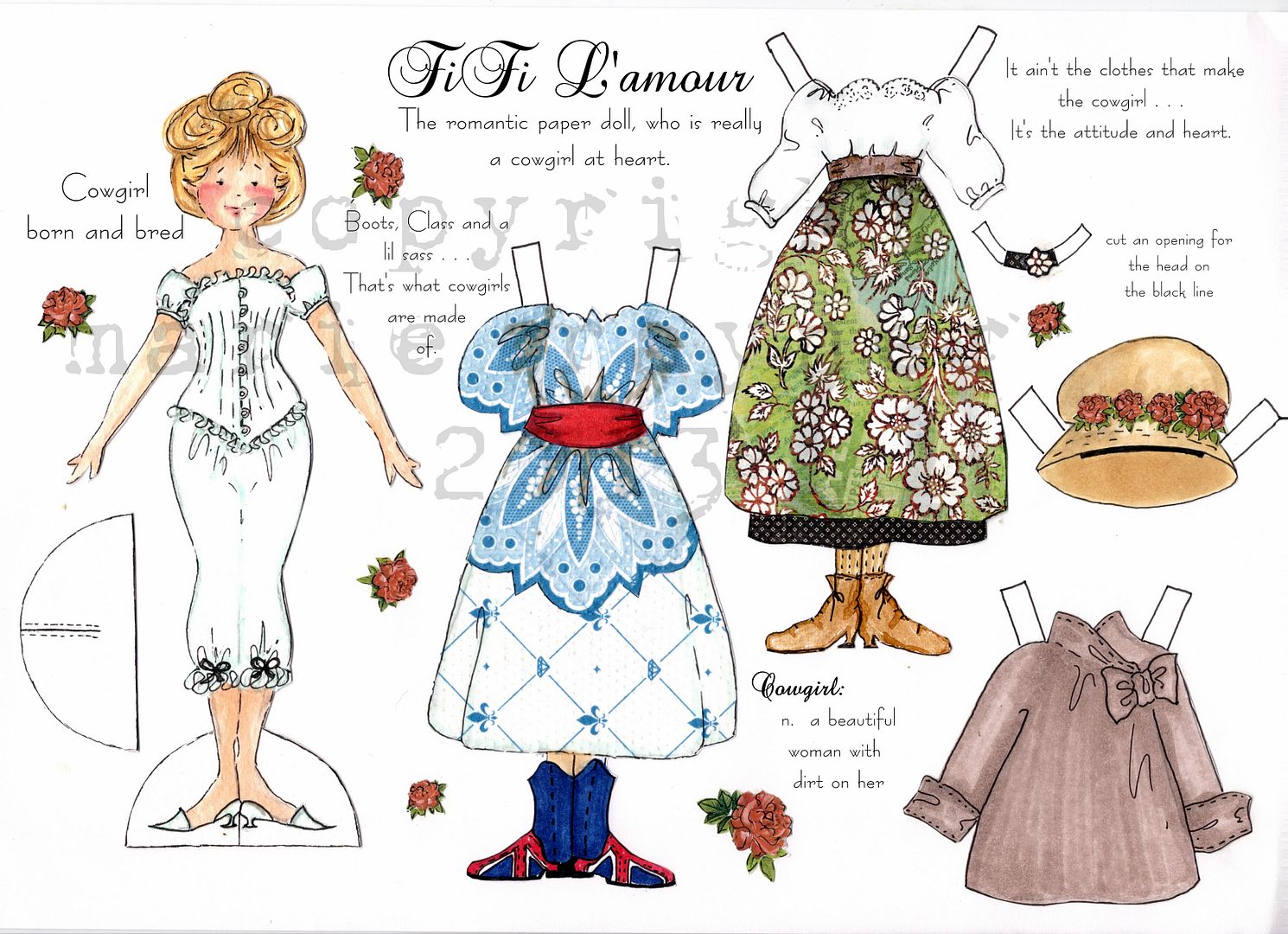 FiFi L'amour. The romantic paper doll who is also a cowgirl at heart. I have done her and a separate sheet of more clothes, which I will be posting on my
art blog
a bit later today. Oh, I am a child again when I am playing with my paper dolls. It's just so much fun! And speaking of fun, the most beautiful thing arrived in my post box yesterday . . .
Yesterdays Silver Lining . . . This beautiful handmade Valentine from my dear friend Lura, of
Grammy's News.
She is one of my nearest and dearest friends and it was so sweet of her to remember me in this way. Inside was a lovely letter for me with tender and cherished words and I am so very grateful for her friendship. Even though we live thousands of miles apart, we are very close in our hearts. Kindred spirit friends, the best kind! Thank you so much Lura for your kind words and thoughtfulness.
A thought to carry with you through today . . .
"There is no duty we so much underrate as the duty of being happy."~Robert Louis Stevenson
There are several goodies on offer today, over in
The English Kitchen.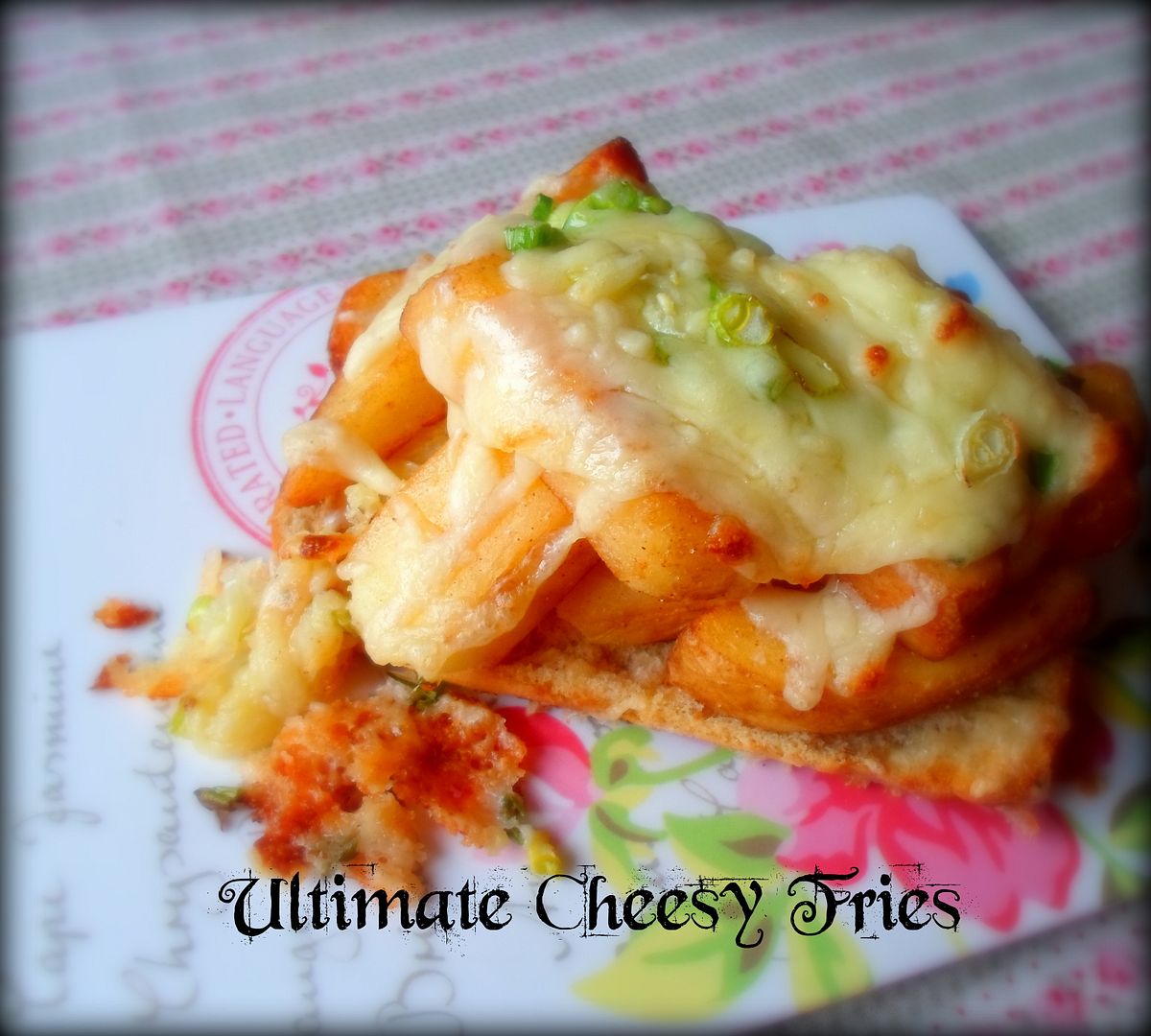 Have a fabulous Friday everyone! Go with God!