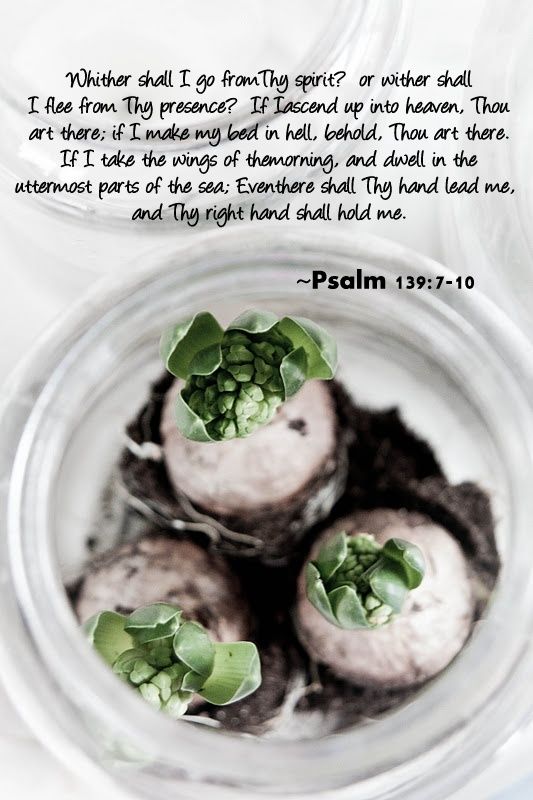 Early in December I placed four hyacinth bulbs into a bowl of mould and popped them into the dark cupboard which lies beneath our stairs. I have been feeding them occasionally with a bit of water, but I'm afraid that during the whole of the Christmas season with all of the excitement and all the sniffles and snuffles and all that was going on with my mother's illness, they were completely . . . entirely . . . totally . . . forgotten and neglected.
It was only this morning that I remembered that they were there and I popped my head into the cupboard to see how they were doing, expecting fully to see that they would be sitting there dry and lifeless. I was so amazed . . . the impossible had happened, and there in the bowl the mould was pierced by three green tips and shoots.
These spring bulbs always look so dry and unpromising when you put them into the soil. It's difficult to imagine them bursting out into a blaze of coloured blooms. I am always so amazed when that happens, and when it happens despite my neglect, it is even more amazing and surprising. A holy mystery . . . a miracle . . .
I placed the bowl on our dining room windowsill this morning and my heart was filled with the holiness of this miracle . . . and yes . . . gratitude for my Heavenly Father who, even when I fall asleep at the wheel, remains steadfast and true despite my neglect.
Miracles inspire reverence don't you think?
Sometimes I think I am a little bit like a dusty dry bulb . . . looking and feeling forlorn and without promise, and yet . . . the miracle is that He still makes something of me and helps me to be all that I can be, despite my own neglect from time to time. I love the thought that I am a Holy miracle.
"Your Father in heaven knows your name and knows your circumstance. He hears your prayers. He knows your hopes and dreams, including your fears and frustrations. And He knows what you can become through faith in Him." ~Jeffrey R Holland
Just my thoughts this morning.
I felt really ill last evening, nauseated and like I was coming down with something and so I went to bed early. My dreams were dusted with bad things . . . I dreamed I was giving my youngest son a bath, and when I went to get him out of the tub, he was laying there beneath the water . . . and he had drowned. I dragged him out of the bathtub and was holding his lifeless body in my arms, frantically trying to blow life back into him and failing. I made myself wake up, and was so happy that it was only a dream . . . and that it was not real. I am grateful for dreams that allow me to wake up from them and know that they did not really happen. But I am left wondering why would I dream such a thing . . .
There's some tasty
Malted White Hot Chocolate
over in The English Kitchen this morning and I'm doing a little bit of cook-bookery!
Happy Day all!