There was once a king who had a wonderful highway built for all the subjects in his kingdom. Once completed, yet before he had it opened to the public, he decided it would be great fun to have a contest to celebrate it's opening. He invited as many of his people to participate as wanted to. Their challenge??? To see who could travel the highway the best.
A great many people showed up on the day of the contest. Some came driving fine chariots. Other's dressed in their finest clothing,sporting beautiful hairdos and bringing wonderfully rich and tasty food along for the journey. Some young men came in their track clothes and ran along the highway. The people traveled the highway all day, but each one, when they arrived at the end, complained to the king about the huge pile of debris and rocks that they had discovered left on the road at one spot, and related how this had hindered their travel and gotten in their way.
At the end of the day of the contest, a lone traveler crossed the finish line, wearily walking over to the king. As tired and dirty as he was, he still took the time to address the king with respect and as he did so, he handed him a big bag of gold, saying as he did so, "I stopped along the way to clear away a huge pile of rocks and debris that was blocking the road. This bag of gold was underneath it all and I thought you might want to return it to it's rightful owner."
The King looked down at him with a compassionate smile. "You are the rightful owner." he said.
"Oh no," replied the traveler, "this gold is not mine. I am only a poor man. This belongs to someone else."
"Yes," said the King. "This surely is yours, for you have earned this gold. You won my contest. He who travels the road best, is he who makes the road smoother for those who will follow."
There's a lesson in there for each of us, don't you think?
I had a fabulous morning in town yesterday with my friends. We went to Baristas Coffee Shop and had lovely hot chocolates and cakes. There were three cakes actually . . . a lovely muffin, some millionares shortbread and a cranberry slice. They were cut into four pieces so we could have a lovely bite of each one. Oh sooooo good, and we managed to feel quite virtuous the whole time . . . 'twas only a little bite after all!
It's nice to do that once in a while . . . go off with some friends and sort the world out! I hadn't done anything like that in a long while. It felt good!
Shall I leave you with a thought to ponder through the day? I think I will!
"Patience is a godly attribute that can heal souls, unlock treasures of knowledge and understanding, and transform ordinary men and women into saints and angels. Patience is truly a fruit of the Spirit. Patience means staying with something until the end. It means delaying immediate gratification for future blessings." ~Dieter F Uchtdorf
Oh, and you have an extra bonus here today. I thought it had been a very long time since I had shared a recipe here with you at the cottage, so here's some scrummy cookies I baked the other day. Enjoy!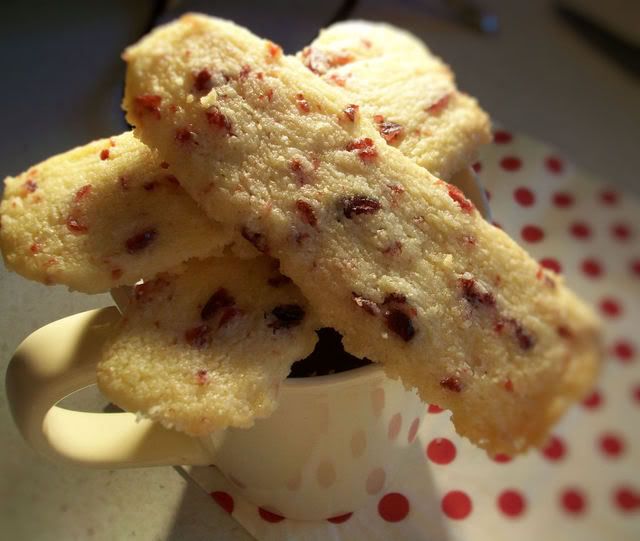 I made these cranberry cookies the other day and they were lovely. Thin, buttery and crisp, they were really lovely with a cup of herbal tea. Not too sweet, but deliciously moreish.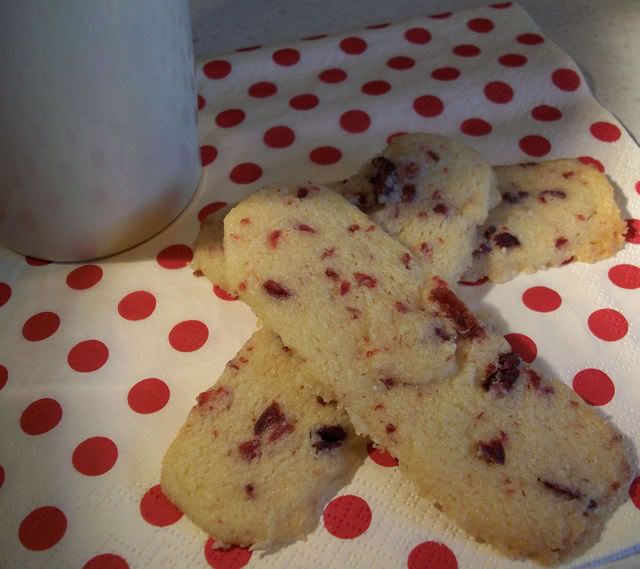 *Crisp Cranberry Slices*
Makes 24
Printable Recipe
These are so easy to do. The food processor does all of the hard work. All you really need to do is to measure the ingredients into the food processor and press a button. Shaped into a log and chilled, you then just slice and bake. The recipe uses dried cranberries but I expect you could use dried blueberries, cherries or any kind of dried fruit really. Chopped apricots with a bit of orange zest would be lovely! Use your imagination and see what you can come up with!
4 ounces butter, chilled (1/2 cup)
2 ounces white sugar (1/3 cup)
the finely grated zest of one lemon
1 ounce dried cranberries (1/4 cup)
4 ounces flour, sifted (1 1/4 cup)
3 ounces ground rice (2/3 cup)
Whiz the sugar and lemon zest in the blender for a few seconds to combine, then add the butter and whiz together until well mixed. (you can use an electric hand mixer if you wish, but it will take longer) Add the cranberries, flour and ground rice. Pulse or beat until the mixture comes together. Turn out onto a lightly floured work surface and shape into a 5 by 3 by 3/4 inch rectangle. Wrap in plastic cling film and then place in the refrigerator to chill for 30 minutes.
Pre-heat the oven to 200*C/400*F/ gas mark 6. Line several baking sheets with some parchment paper. Slice the chilled dough, using a sharp knife, into 1/8 inch slices and place them on the baking sheets, leaving about an inch in between each one. Bake for 10 minutes, until slightly golden.
Remove from the oven and leave to cool on the baking sheets. Store in a tightly covered container.
Cooking in The English Kitchen today . . .
Roasted Parsnips and Carrots with a Walnut Sauce.
Deeeelicious!
Have a great Thursday!! Tomorrow's Friday! The end of the week. Goodness but the weeks just fly by don't they?