Oh how fatal it is to look at garden catalogues in the midst of a grey drizzly day in January. The wind may be howling down the chimney breast . . . but in your mind you are prancing and dancing amongst beautiful blooms and flora . . .
Fabulous multi-coloured roses . . . blue steepled delphiniums . . . rich fat and impossibly beautiful peonies . . . fairy-tail sunflowers with coloured faces as bright as the missing sun and as big as dinner plates . . . oh how very beautiful and heart-lifting they all are.
The Dutch tulips and daffodils don't capture my eyes or heart at this time . . . I know it's far to late to think of them for this year . . . but it isn't long before my pen scribbles on paper, making grandiose plans as my mind and eyes wander through the herbaceous border section . . . it has ever been so.
I have always loved dreaming about the garden I want to have . . . planning, designing . . . colouring. In my minds eye it is always the most beautiful garden ever . . . with herb beds . . . a raised vegetable plot, filled to overflowing with fabulous things to eat . . . and everywhere bundles of cottage flowers and roses simply dripping from a garden arbor . . . sunflowers dance along the edge of the shed, their pretty faces turned to the sun shine and beautiful baskets filled to overflowing with colour, hang from every doorway. Paradise on earth.
Of course the practicalities of our budget and of our time mean that this could never be, but oh . . . how fun it is to dream, and to plan. The colour of a seed catalogue always chases away the gloom of a cold winter's day.
Tis too . . . a wonderful thing to think of the roots and bulbs already waiting beneath the white eiderdown which now covers the beds . . . already the earth is pregnant with potential life, beneath it's snowy sheet lies all the glory of summer that we have already planted in years gone past. Pink foxgloves and holly hocks . . . crimson poppies . . . the purple lupins of May and the roses of June . . .
It is no shroud of death which wraps our now silent garden . . . but a warm and feathery quilt devised by Nature herself for her own secret purposes . . . I carry the promise in my heart, like beautifully blooming roses in the lanes of memory. Tis fun to plan . . . oh yes, and to ponder . . . but tis even better to dwell upon the floral blessings we already have and to know they are just waiting for the right moment to come back to life . . .
But first the snow drops . . . and then the camelia, which is already covered with swelling buds, and yes . . . purple crocus, yellow daffodil and the blue hyacinth are stirring in their slumber . . .
Oh joy . . . oh love . . . oh wonder and glory. These thoughts do warm a cold, cold . . . day.
"Britain braced for Snowmageddon!" That's the headline on my AOL news feed this morning and indeed our car is covered even now with a light dusting of the white stuff as white flakes swirl and dance through the air.
Mitzie doesn't know what quite to make of it . . . she stands at the door looking out at this great white mystery which falls from the sky like goose down.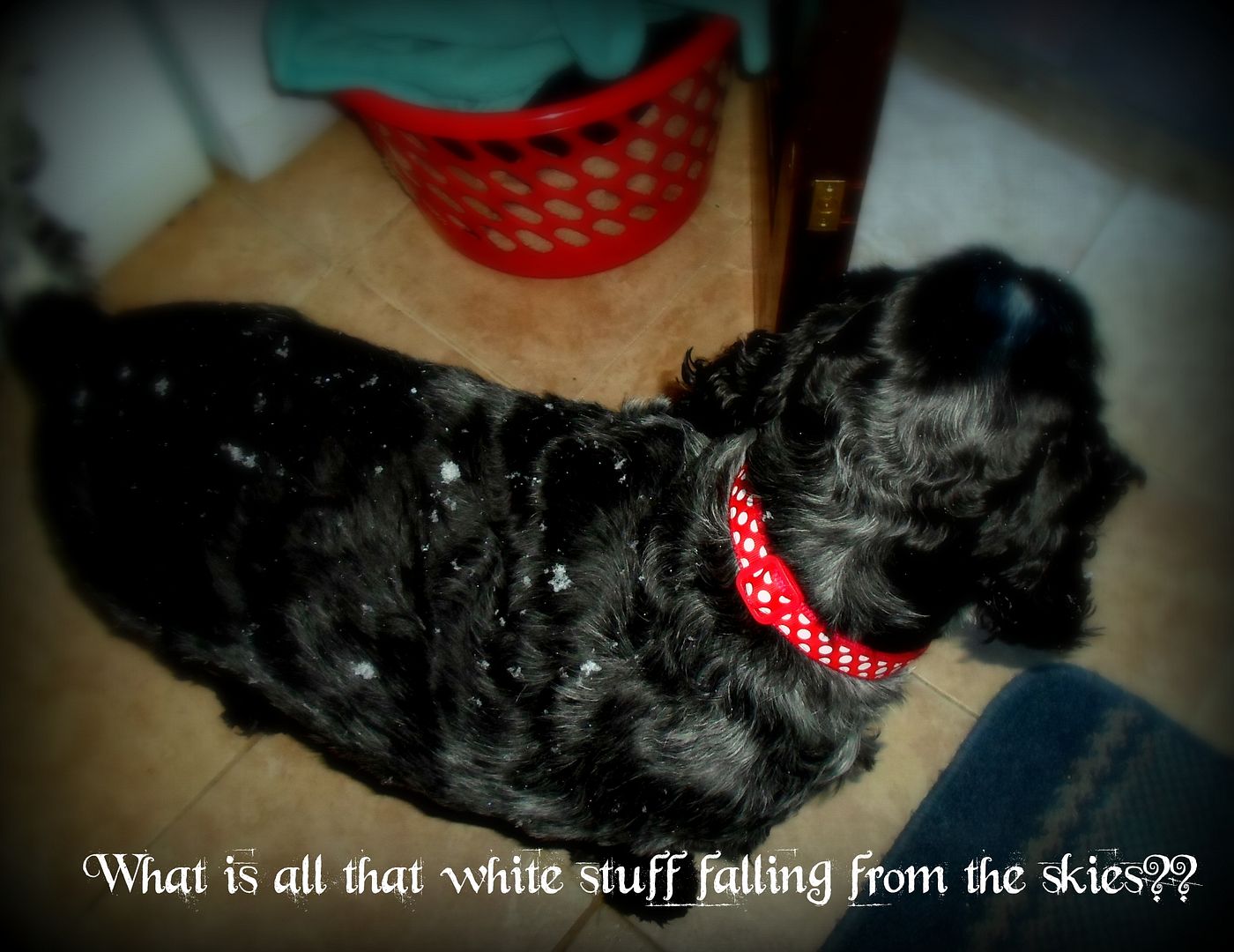 (Do ignore the basket of laundry waiting to go into the machine!) Much of England and Wales are experiencing the same this morning. If you do have to go out and about . . . do travel with care!
Me . . . I'm going to enjoy it from my window.
A thought to carry with you through the day:
"Therefore all seasons shall be sweet to thee, Whether the summer clothe the general earthWith greenness, or the redbreast sit and singBetwixt the tufts of snow on the bare branchOf mossy apple-tree, while the nigh thatchSmokes in the sun-thaw."~Colerige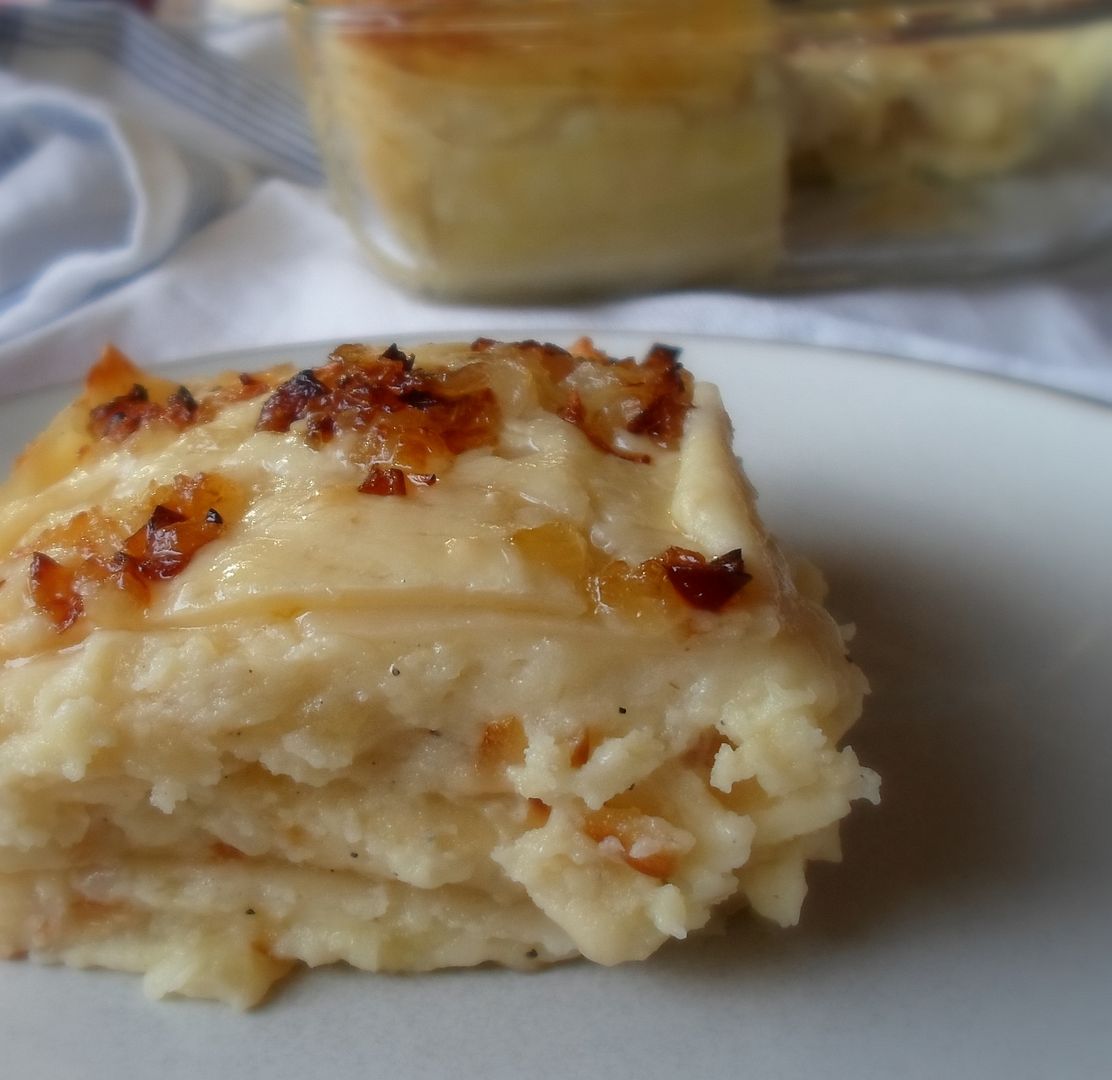 Cooking in The English Kitchen today . . . a delicious
Pierogi Lasagne!
Oh so scrummy!
Happy Friday!