Christmas is a holiday season which is primarily a thing of the spirit, or it should be and it can be observed anywhere, at any time and in any manner . . . just so long as the spirit is there. One thing which I have always loved about the UK, is that . . . in most smaller urban centres . . . there are no Santa Claus's on every corner, or in every nook and cranny. One Santa's Grotto . . . and one Santa Claus.
I think that is the way it should be everywhere . . . to have a pool of Santa Claus's makes a mockery of Saint Nicholas. He should not be seen I don't think . . . but should remain that mysterious character who comes down your chimney late on Christmas Eve, somehow manages to squeeze his girth and his pack magically in and out of your homes, with a simple nod of his head, a wink of his eye . . . and a tap on his nose, while his reindeer paw and prance upon the top of your roof, impatiently awaiting their next stop.
What child is going to truly believe in the magic of Christmas if they have seen ten Santa Clauses in shabby costumes all the day through . . . some even smelling of diet coke or coffee . . . or heaven forbid alcohol. Santa shouldn't smell like that. He should smell like peppermint and fir trees . . . and the Great White North. It would appear that in very large urban centres though and cities . . . Santa doesn't have to come down the chimney at all in the wee hours of the morning . . . he quite simply has to step out of the supermarket and walk down the street, and there you have him. What is the fun of that?
I was actually quite terrified of Santa Claus when I was a child. He was this mysterious figure . . . my mother had a rather spooky Santa Claus Mask that she hung on the living room wall each Christmas season . . . he was rather Germanic in looks with a tall pointy hat . . . he wasn't round and jolly like the one I saw in my story books. He looked more like a mean old priest wearing a red pointed hood. I suspect this was something she had picked up in Germany when we had lived there . . . and it was not my favourite thing.
The only time I remember going to see him in a shop was in Gimli Manitoba and I remember it being actually in a closed down shop, which had been opened up just for this purpose . . . it was not a Grotto and there were no elves . . . and I was terrified. I was absolutely certain that he would know I had not been a good girl that year and was going to tell me so in front of everyone!
Christmas's of my childhood were not huge commercial affairs . . . a mockery of all that is good about the holiday season . . . but simple and special . . . with perhaps a giant Christmas tree in the centre of the town, decorated simply and beautifully with multi coloured lights. Store fronts festooned with sparkling tinsel and garlands . . . and red beribboned evergreen wreaths. Christmas was kept as a simple, reverent and spiritual time. There was just enough festive attitude to go around . . . with Jesus being very much the reason for the season, and the Jolly old elf much more in the background. Our town was more likely to have a village creche or crib . . . than they were a Santa's grotto. I think that is as it should be . . . but, more often than not these days . . . there is no creche, for fear of insulting someone's sensibilities, or stepping on another faith's toes.
I am not bothered by the sight of a well lit menorah . . . and I seriously doubt that there would be many, with the exception perhaps of the
totally
irreligious . . . that would be upset with the sight of a Nativity in the town church yard. Startling new figures which came out yesterday promoted the fact that the number of Christians in the UK, whilst still the majority of the religions represented in our country . . . has startlingly fallen by 10% over the last five years, with Christians being less than half as likely to attend local worship services as people of other faiths, and the numbers of people having no faith at all having risen by a full 6% . . . and you can probably rest assured that this is happening all over the world. I wonder why that is . . . could it be because the majority of churches are becoming lukewarm with their stances on Moral issues? One wonders . . . is it harder to have faith in a church which, on the one hand . . . preaches God, same today as yesterday and never-changing . . . and yet on the other hand preaches that modern churches and faiths must keep up with the times??
It must break our Heavenly Father's heart.
"God is eagerly waiting for the chance to answer your prayers and fulfill your dreams, just as he always has. But he can't if you don't pray, and he can't if you don't dream. In short, he can't if you don't believe." ~Jeffrey R Holland
My mother went for her scan yesterday afternoon. I spoke to her just before she left, and she was being upbeat about it, but I knew she was terrified all the same, and who wouldn't be. She had gone to her Dr on Monday morning to see about two nickle sized moles on her back that she felt had changed and was told that they were simply things old people got . . . and then told that there were definitely nodules on her lungs, not scar tissue, but I remain ever hopeful and prayerful, and we are also very grateful for your prayers and healing thoughts. What will be . . . will certainly be, but to be uplifted in prayer and carried . . . is an amazing thing. We thank you from the bottom of our hearts. I will call her later today to see if she had heard any more news.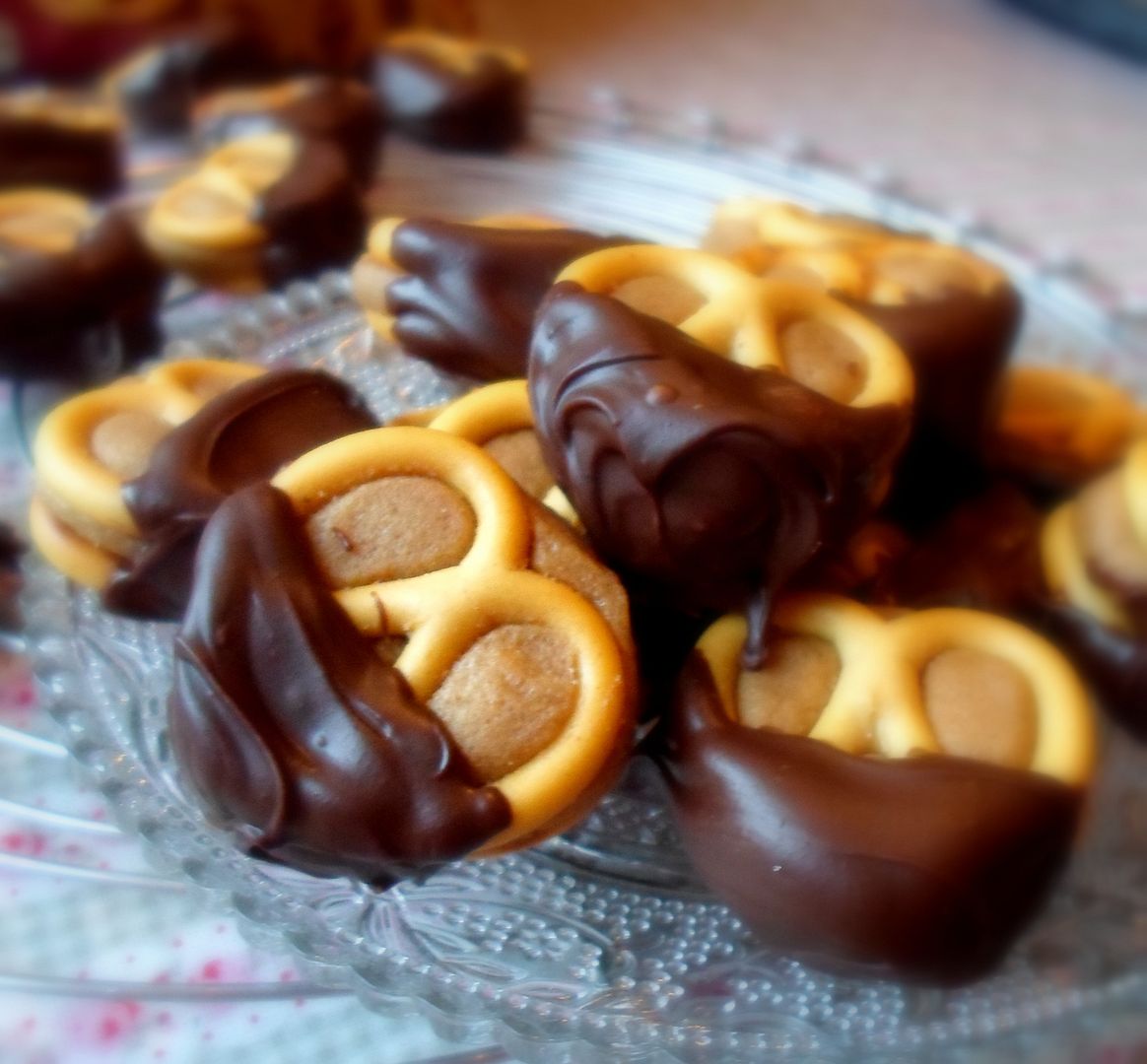 There is an abundance of scrumminess cooking in The English Kitchen today . . . with peanut butter pretzel bites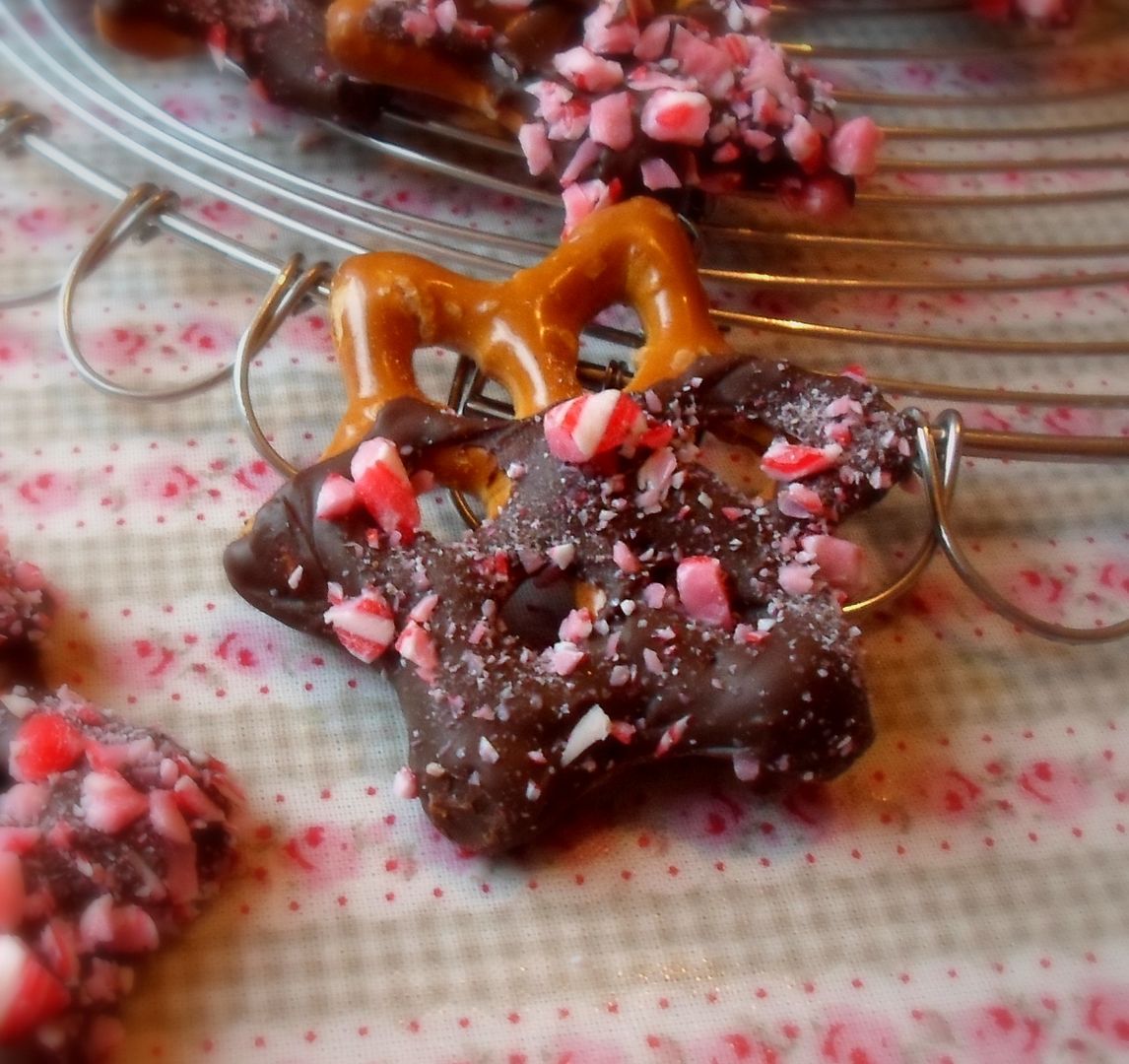 Chocolate and Peppermint Dipped jumbo pretzel stars . . .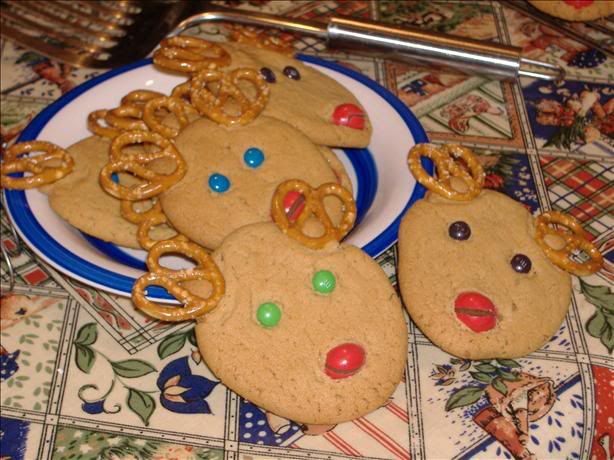 And Reindeer Cookies for the kiddos! Check it all out
here.
God bless you all.