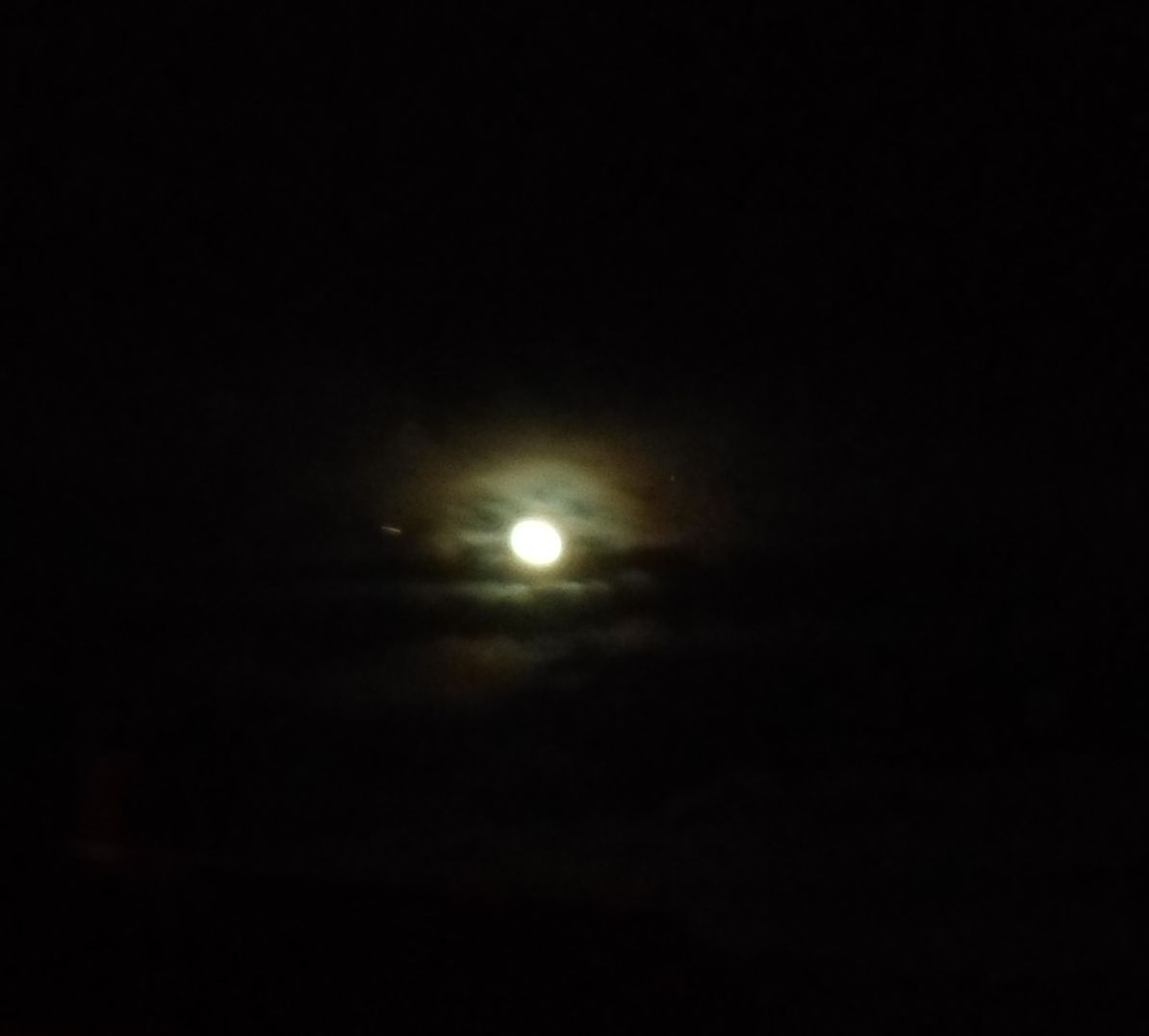 Who is the image of the invisible God, the firstborn of every creature: For by Him were all things created, that are in heaven, and that are in earth, visible and invisible, whether they be thrones, or dominions, or principalities, or powers: all things were created by Him, and for Him:And He is before all things, and by Him all things consist. ~Colossians 1:15 - 17
This is a photograph which I took with my camera from outside my front door the other night.The sky was so clear, and the night so cool and still . . . and the moon hung perfect and bright up in the sky above the roof-tops across the way. It almost appeared to me as if it was God's eye looking down upon the earth, and it filled me with wonder . . . and . . . with a bit with sadness, at what He must think sometimes when He gazes down over us . . .
More and more as time passes, it would seem that we are living in a somewhat broken world, a world in which so very many things are askew, and out of sorts. So much so that, oftimes, it can be difficult to see and to remember all the very lovely and wonderful things which God has written his signature upon . . . our vision being blurred by all of the nastiness which seems to abound around us.
I believe that children are fresh from the presence of God, especially young children. They have not long left their heavenly home to come here to the earth . . . and because they have not yet become tainted by it's sorrows and it's disappointments . . . it's fury and it's pain . . . and hopefully the evil which seems to abound in these, the latter days has not had time yet to touch them . . .
Small children live so close to the earth that they are often messengers that can help to remind us of the wonder of this beautiful place we live.
Who cannot fail to smile at the wonderment on a little child's face at the magic of a cricket's chirp, or the glow of evening fireflies . . . their joy at the yellow of a spring daffodil . . . or their wonder and beauty . . . the potential of a million tiny wishes contained in a dandelion's fluff . . . the usefulness of a found stick, or the beauty in a sea washed pebble . . .
They find wonder in every day things . . . and in every day chores . . . and joy and pleasure in them too. One only has to watch a small girl helping her mother with the dishes, or with a dusting cloth in her hands . . . or being allowed to help roll out the cookies, or stir a pot, picking berries, or peas, or a young lad helping his father wash the family car, or mow the lawn, or trim the hedges . . . or a multitude of other seemingly monotonous chores . . . to be able to see and feel the joy that is found in simple homely things and actions . . .
When was the last time you stood in wonder gazing up into the heavens, amazed at the dazzle of the stars overhead? Or gathered fists full of wild flowers . . . sat and drank in the beauty of birdsong? When did you last wish on dandelion fluff? Or sit on the banks of a river, allowing your feet to dangle in it's trickling edge, listening to the song that it sang? When did you last sift sand through your toes . . .
When was the last time you looked upon a pebble with amazement, or a butterflies wing . . . or saw the magic in a bubble blown and carried aloft upon the wind, and wondered at where it might land. Has it been too long since you marveled at the flight of the bumble bee as it bobbed amongst the flowers? Since you sat and let the sun paint your upturned face with it's warmth . . . whilst behind your closed eyelids, your mind marveled at the patterns painted, the dappled light and shadows of it's passing over your presence . . . Since you allowed the wind to brush across your skin and listened to the sweet song it whispered to your heart as it passed by . . .
The world around us is full to bursting with beauty and discovery. A sky filled with billowing clouds. Dappled sunlight upon a forest floor. Dry leaves dancing in the wind. A myriad of small wonders and joys . . . and undeniable reminders of our Heavenly Father's presence, and love for us . . .
He knows our every heartbeat, and counts our every tear . . . has numbered the very hairs on our heads . . . and listens to our prayers. And even if for now, the answer is no . . . He loves us and will make things right in the end. This is a testing ground . . . a place where we develop faith and talents, and work on virtues such as patience, learn to love and to serve, and to follow His ways . . . and to trust. And while we are doing all of those things, and many, many more . . . we can stop and feel His presence, and know that He is there, and He is here, and that He cares . . .
in the small and simple things and gifts which He gives us every day.
"The power of finding beauty in the humblest things makes home happy and life lovely."
~Louisa May Alcott
I wish for each of you a day filled with small joys and beauties, no matter what else the day may bring . . . hold onto the joy that is there for each of us, and let it speak to your heart. Let it's voice rise above the rest of the voices that clamor for your attention.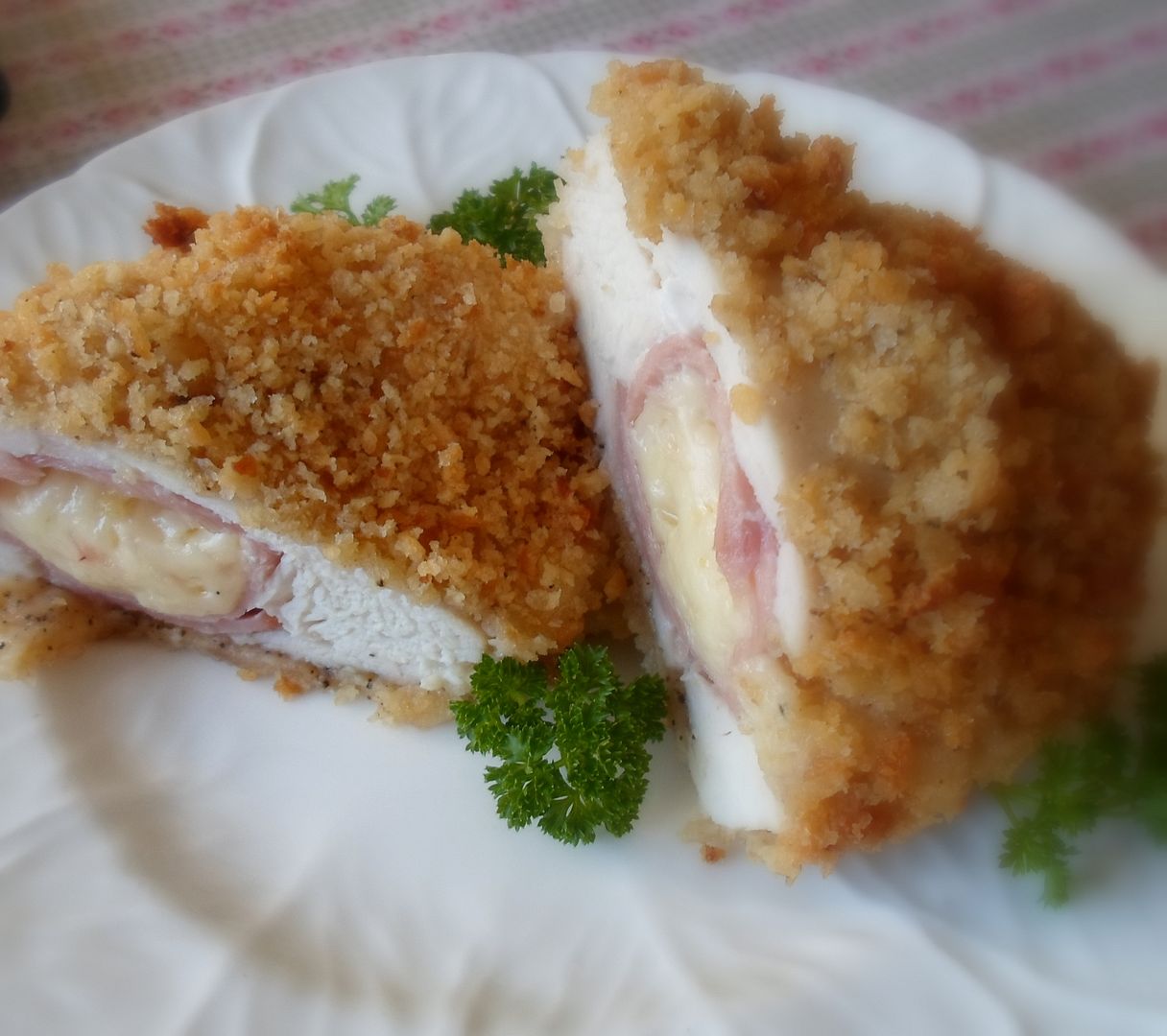 Cooking in The English Kitchen today . . .
Simple Chicken Cordon Bleu.