"During the bombing raids of WWII, thousands of children were orphaned and left to starve. The fortunate ones were rescued and placed in refugee camps where they received food and good care. But many of these children who had lost so much could not sleep at night. They feared waking up to find themselves once again homeless and without food. Nothing seemed to reassure them. Finally, someone hit upon the idea of giving each child a piece of bread to hold at bedtime. Holding their bread, these children could finally sleep in peace. All through the night the bread reminded them, "Today I ate and I will eat again tomorrow." "(Linn, Dennis et al, Sleeping With Bread, p.l)
It occurred to me as I read this passage that these orphans were able to sleep, only because they were able to hold on to something that would nourish them. This is what brought them enough peace of mind that they were able to let go of the cares and woes of their life for a moment, a moment long enough to be able to fall asleep in . . .
I have been really and truly blessed in my life. I have never had to go to bed hungry, unless it was by choice . I have always had a roof over my head, be it small or large, humble or luxurious. I have always had a coat to keep me warm and dry, and shoes to keep my feet in the same manner. I have always had the luxury of being able to take a bath or a shower with warm running water, with soap and shampoo and other luxuries that I often take for granted. When I go to the "loo" I sit on a porcelain throne and not a hole in the ground.
I go to bed at night, neither cold, nor wet, nor afraid . . . with the comforting warmth of my husband laying next to me. I have no fear of a bomb dropping on my house during the night and I don't' have to listen to the sounds of distant shells going off and fear them getting closer.
Yes, I live in relative comfort compared to 90% of the world at large, and yet . . . there are times when even I cannot sleep. Nights where I lay there and toss and turn, unable to let go of my thoughts or worries of the day that has just passed, my mind mulling over things again and again. Perhaps I have some important event looming in the day to come, a talk to give at church, or a lesson to teach . . . other times it might just be as simple as having had my routine interrupted and being able to settle down. How many of us are like this?? I would wager more than just a few . . .
Sometimes when I find I cannot fall asleep I lay there and begin to pray extra prayers for others. I start with the letter A and I pray for everyone I know, individually, who's name starts with the letter A. And so it goes, on through the alphabet until eventually I do fall asleep. Somehow being able to focus on the problems and needs of others is quite helpful in helping me to forget my own. In many instances, my own needs pale in comparison. I rarely ever get more than halfway through the alphabet though, before I am gone off to "lala" land . . . sailing away in a pea green boat with winkin, blinkin and nod . . . so if your name starts with anything much past an "M", you'll have to wait for my wakening prayers . . .
It occurs to me that at times like those, with my mind full of my own cares and woes . . . I need to just let go and let God. I need to hang onto the nourishment of the knowledge that He is and He cares and what will be will be, and just hand all my thoughts and woes over to him for that moment . . .
"Consider the lilies of the field, how they grow: they neither toil nor spin; and yet I say to you that even Solomon in all his glory was not arrayed like one of these. Now if God so clothes the grass of the field, which today is, and tomorrow is thrown into the oven, will He not much more clothe you, O you of little faith? "Therefore do not worry, saying, "What shall we eat?' or "What shall we drink?' or "What shall we wear?' For after all these things the Gentiles seek. For your heavenly Father knows that you need all these things. But seek first the kingdom of God and His righteousness, and all these things shall be added to you. Therefore do not worry about tomorrow, for tomorrow will worry about its own things. Sufficient for the day is its own trouble." ~Matthew 6:28
My good friend Sheilagh is in the hospital at the moment, with heart problems. She's been in there most of the week. If you could keep her in your prayers, I know it would be most appreciated. I am hoping that they are able to sort it out soon, but in the meantime as annoying as it may be and as much as she would rather be at home, she is in the best place. I would have mentioned it sooner, but I thought she'd only be in for a few hours and then be on her way back home. I love her to pieces and hope that she can return home soon, all sorted and back to scratch.
I had a lovely evening last night with the women from my church Ward. Once a year we all go as a group to this restaurant in Wales and have dinner together. It is not a "church" activity per se, but simply a bunch of friends getting together to socialize and share a nice meal. The food is fabulous. The atmosphere is beautiful and the company the "Best" in the world! And so it was again this year. Last year was the first time I had gone and I had a great time, so I had been really looking forward to doing it again this year! Poor Todd . . . he stayed at home with egg and chips! (Which he enjoyed very much by the way!)
We are off to the Dog Groomers this morning and will meet up with our friends Jan and Glyn while Mitzie is in being primped and pampered. It will be very nice to see them. We have not seen them since Thanksgiving in October! The weeks have just flown by. Is it only me, but does time seem to be speeding up? Our weeks seem to no sooner get started, than they are ending and here we are at the end of yet another week, and sitting on the doorstep to December.
I'm so sorry if I have been a bad blog reader lately. I get around to a few, but I am having serious problems with my neck for some reason, which seems to be exacerbated by sitting in front of the computer. I keep having to get up and walk around and I was in agony in bed last night until I fell asleep, probably from having sat in a chair in the restaurant for several hours. I will try hard to get around to everyone's page by the end of the week, so do forgive me. I have not forgotten any of you . . . I promise. I love you all.
A thought to carry you through the day:
"What would you attempt to do if you knew you could not fail?"~Dr. Robert Schuller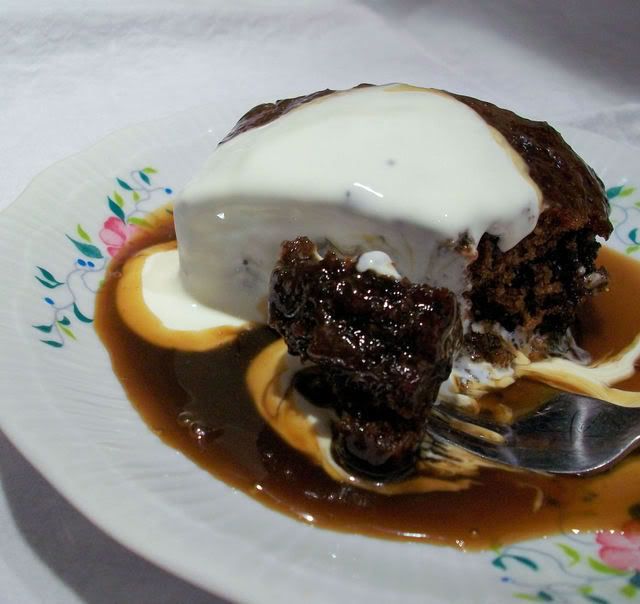 Cooking in The English Kitchen today . . .
Sticky Toffee Pudding.
So good . . . and yet soooooo bad!
Happy Day All!