Brrrrr . . . it is very cold this morning. I can see a heavy coat of frost on the car and am sure it is well below zero out there. They are predicting the coldest winter here in the UK, in 100 years! There is no snow here yet, but this may be the weekend we get some! Very exciting stuff!
I love that first snowfall of the year. We don't get a lot of snow over here, which makes it even more special. There is magic watching those first few tranquil flakes float down . . . first a few and then a few more . . . flakes falling faster and faster and with purpose. The stone walls silver over and puddles glass over as all begins to wear a mantle of white. The trees cast feathers of snow from their branches as the inside of the house takes on a luminous glow . . . whilst outside the sharp etchings of November begin to blur . . .
There are more birds at the feeders now . . . we fill them each day with cracked seed and nuts, millet and mealy worms . . . stale bread from the table and fat balls of suet. The trick it so get it high enough so that Mitzie can't get at it. The air rings with their chatter . . . tits, nuthatches, sparrows . . . a pair of goldfinches, our resident wood pigeon and a lone blackbird. If we are lucky the robin comes along . . . seemingly unafraid of human companionship. He often is our companion when we are out digging in the garden . . . always only a few feet away waiting for a fat worm to appear between the tines of our garden fork . . . but there are no worms today . . .
They are all hungry and waiting for our ministrations, which we happily apply. Little heads popping in and out of our frozen hedge as the sun begins to gild the top of it's frost covered greenery. The hedge flutters with the beat of a thousand wings . . . and it makes me wish that I had wings that I too, could beat . . . winter has arrived . . .

Winter came down to our home one nightQuietly pirouetting in on silvery-toed slippers of snow, And we,we were children once again.~Bill Morgan, Jr.
Fading is the month of dramatic sunsets. The air fills with the sharp smell of burning wood, wet earth and rotting leaves . . . now laying crisp and frozen beneath our feet, whilst the wind picks up a tang which sets our blood to a quicker rhythm. Our steps are brisker, wanting to get to where we need to go . . . quicker, braced for the cold. Noses tingle and fingers burn . . .
As the sun grows smaller so too does our world diminish in size. Life now centers around the hearth . . . there is much to do in the garden . . . but for now it lays quietly waiting . . . brooding beneath the leafless trees. It is as if nature is whispering . . . time to rest for a bit, sleep and wait . . . tis time now to slow down . . . December is on the doorstep . . .
Of winter's lifeless world each tree Now seems a perfect part; Yet each one holds summer's secret Deep down within its heart. ~Charles G. Stater
Off to the Dentist this morning to have a temporary crown put on. I have always hated to go to the Dentist and never more so than when I need work done. I don't know why that is . . . Dentist visits are almost painless nowadays . . . I expect my fear and dread harkens back to my childhood when it was not such a painless venture.
My only wish for today is that my mouth doesn't stay overly frozen too long as our Women's dinner is tonight and I am looking forward to a nice meal in a very nice restaurant.
Fingers crossed . . .
A thought to carry with you through the day . . .

"Always do right. This will gratify some people, and astonish the rest."~Mark Twain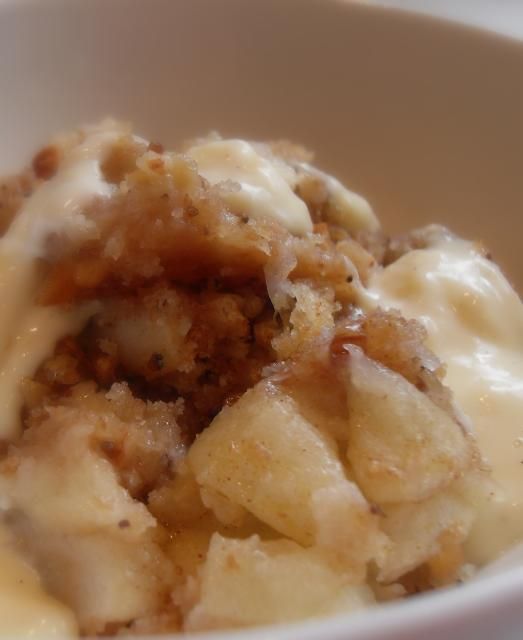 Cooking in The English Kitchen today . . .
Apple and Hazelnut Brown Betty.