I just love the grey-blue twilight's of October . . . these shortening days when I can sit at the dining room table, looking out the back window and watching the first stars pricking through the dusk . . . try as I might to capture the exact moment when night-time slams the window down on the day, it remains ever elusive . . .
All too soon . . . darkness has dropped it's raven cloak over the quiet fields and it is time then to draw the curtains in and light the lamps . . .
This is the time of rediscovering the joys of autumn evenings . . . the pleasures felt in low rooms, with warm and cozy ceilings . . . luminous nights filled with stars . . . the gentle art of baking something sweet and homey as the light dips low in the sky . . .
It's the smell of apples in wooden bowls . . . and drying pumpkins . . . decaying leaf and molding flower petals . . . the sight of dew covered webs which spring up overnight between drying branch . . . and moss covered walls . . .
Noontime picnics and evenings filled with the smell of smoke from apple-wood fires, a knitted throw cozily thrown over the lap, and a mug of something hot and sweet between your hands . . .
How soul enriching it is to once again hear the crackle of the hearth and see the blazing logs amidst the golden glow of candlelight which is reflected in the gleam of old oak and freshly polished copper . . .
Time too . . . for moonlit walks when the moon hangs low in the sky . . . blue smoke and pearly haze . . . the crisp sound of leaves skittering across the pavement as the nip in the air carries them along . . .
Oh that I could only capture this feeling, these sights . . . this smell . . . in a jar . . . a thousand autumn days . . . from the days of childhood . . . to the autumn of my life. T'would be magic . . .
Oh what a wonderful day we had yesterday with our friends. They are such good company . . . lots of laughter . . . good food . . . cozy companionship. More sweet memories built. Days spent with friends are special times. Holidays shared with people you care about are the best of all don't you think?

"The Lord is in the details of our life."~Thomas S Monson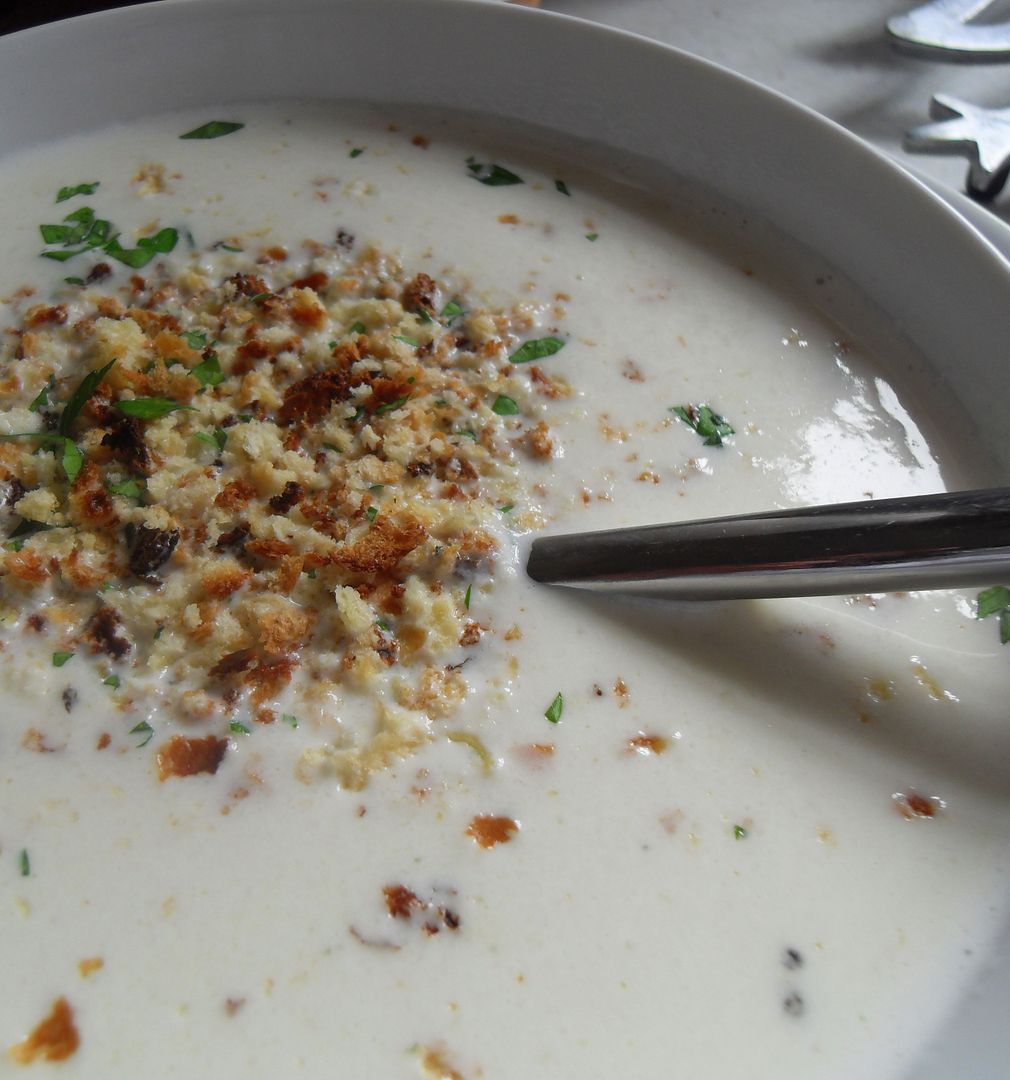 Cooking in The English Kitchen today . . .
Cauliflower Soup with Brioche Crumbs.