Here's your sweet lavender,
Sixteen sprigs a penny,
Which you will find, my ladies,
Will smell as sweet as any.
So goes an old London Street cry. (I wish we still lived in the age of street cries . . . every so often I imagine in my mind what that used to be like . . . to hear people walking by the house yelling out their wares. What a fabulous cacaphony of sound!)
You will often see lavender referred to as Old English Lavender, but in reality, it's really a Mediterranean plant brought to these shores by the Roman's more than 2,000 years ago, to perfume the water in the baths that were so very important to them. In fact, that is how it got it's name . . . from the Latin word
"lavo"
. . . meaning
"I wash."
The lavender in our garden is slowing down now . . . it's scented stalks drying out . . . but just a few weeks ago it was covered with bees, busily collecting the nectar. Have you ever tasted Lavender Honey? I have, and it's most delicious. Monks of old grew lavender, both for the bees and the honey, but also for all sorts of medicinal purposes . . . it being said that
"Flowers of the lavender comfort the brainses very well."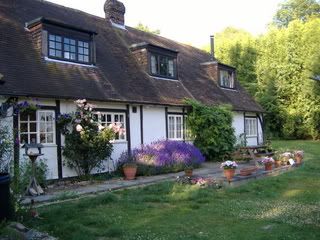 Nowadays these flowers are still dried to be used in lavender bags or potpourri . . . to add fragrance to our homes, or distilled to produce lavender oil. We even cook with it. I have a bottle of pesticide free lavender in my spice cupboard even now . . . and a small pot of lavender sugar.
Our lavender bush out front now is getting rather sad looking. It still blooms profusely during it's season of joy . . . but it is rather overgrown now and needs to be replaced I think . . . or cut right back . . . I'm not a gardener so I'm not altogether quite sure what we need to do with it. Perhaps I should look it up.
Down South at the Manor there was an Elizabethan Lover's Knot garden out front which was planted with lavender. It was so very beautiful when the lavender was all in bloom . . . it was so very beautiful even when it wasn't in bloom! It was just plain beautiful. I sometimes miss that very pretty environment that I got to work in . . . although I have to say that, in all truth, I don't really miss having to work for
them
. . .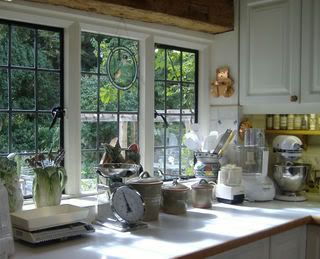 We had a lovely time with the missionaries last evening. I did them a simple supper of
Banger's and Mash
, which they did enjoy with carrots and corn and
sticky toffee pudding
for dessert. (With Custard of course!) I do like to spoil them if I can. They're coming over this morning as well to help Todd dig over the garden out back. We've decided not to grow vegetables anymore. It's too much work for Todd at 74, and we can't keep up with the slugs and pests . . . the weather also have been deplorable these past few summers and we've spent lots of money doing it all . . . with very little return. Todd just wants to dig it over and replant it with grass seed. Since he is the gardener . . . it's his call!
I got a few more pieces done yesterday . . . both Christmas Cards.
I started off doing this little girl and next thing I knew it . . . there was a bird sitting on her shoulders and she was wearing mittens . . . funny how that happens.
This is one that I worked on for several days. Painting in all those balls took a LOT of time!! The sentiment on it says . . .
"For somehow, not only at Christmas, but all of the year through, the joy that you give to others is the joy that comes back to you." - John Greenleaf Whittier
Two very different cards . . . two very different sentiments . . .
Todd has had some very disturbing news night before last . . . I logged onto my facebook only to read that his ex wife had passed away on the weekend. Although they had not been married for quite some time, it brought back some pretty difficult memories and he did not sleep all the night through. That is the downside of facebook I guess . . . you find out things on there that are posted publically . . . when really they are private things. I think he would have rather found out about it in a personal message, not on a public forum. I think it is an odd thing . . . these feelings one harbours for their ex partners. Time has a way of gentling the bad stuff and bringing happy memories to the forefront. At first you cannot remember why you ever married this person . . . the hurt and grief dims those happy things . . . but time is a great healer and eventually you do remember those things about this person that were the things you fell in love with, and yes . . . their passing is a sad occasion. I think you grieve for what might have been (under different circumstances), you grieve for all that you lost . . . and you grieve for the person you once knew and loved, if any of that makes sense. He was very melancholy yesterday . . . I think it was good that the Missionaries were over for their tea. It lifted his spirits somewhat. He'll be pretty much spending most of the day with them today what with the garden work and then this afternoon he's going out teaching with them for about 3 hours.
The sun is shining today, which is nice. It rained off and on all day yesterday. We've not been having the extremely hot and humid weather they've been having down South, thank goodness. Heat and humidity are not my most favourite of all the weather mixes!! I don't mind heat so much . . . it's the humidity that gets to me!
Well, I guess I am kind of babbling now, so I will close this off today with a thought for ponderance . . . and a wish for a happy day for each of you. You never really know what you're going to get when you visit me here do you? I go off on tangents at times . . . I apologize for that. It's quite simply the way my mind works . . .
"Even if you cannot always see that silver lining on your clouds, God can, for He is the very source of the light you seek. He does love you, and He knows your fears. He hears your prayers. He is your Heavenly Father, and surely He matches with His own the tears His children shed." ~Jeffrey R Holland, Created for Greater Things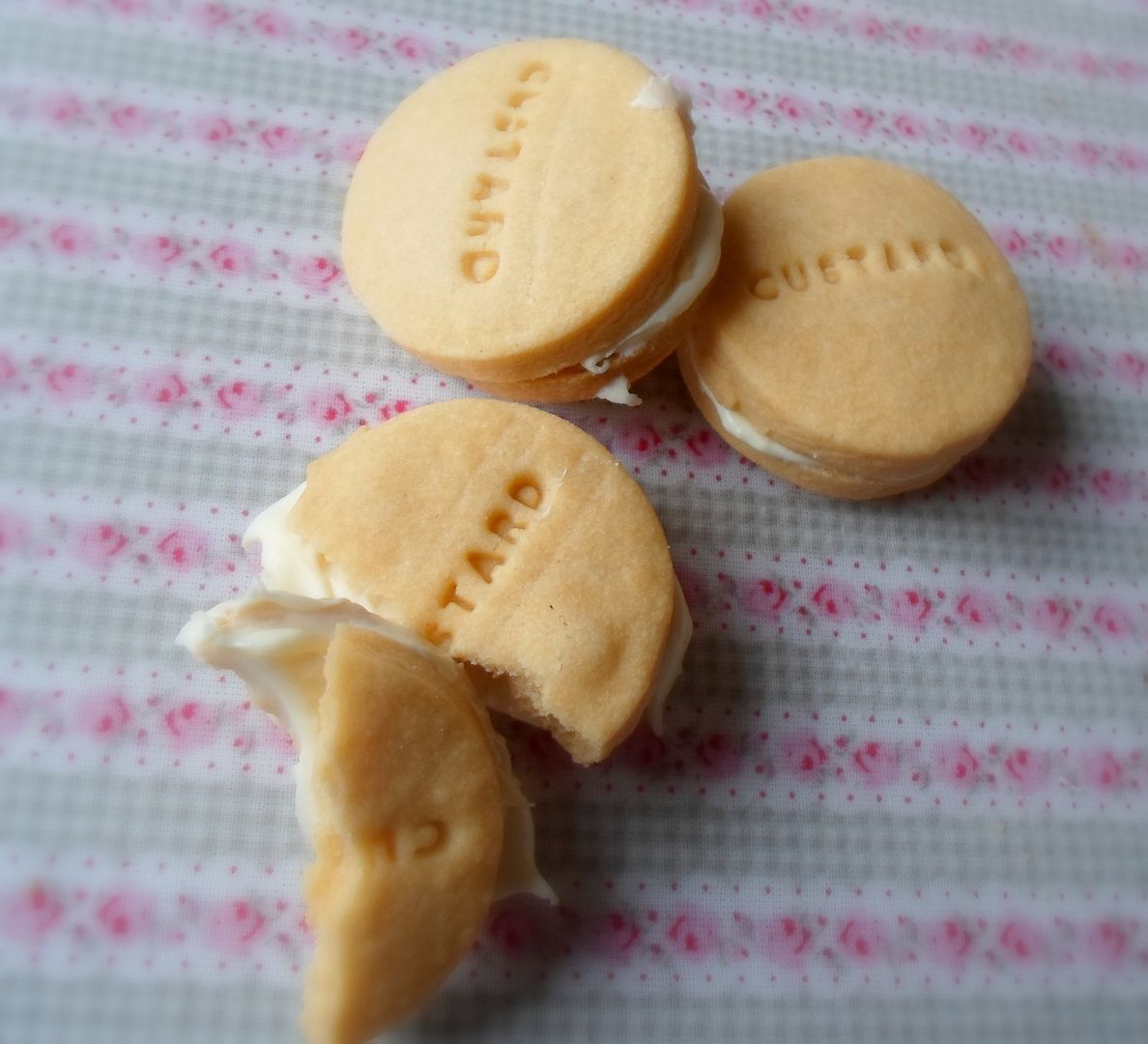 There are
Custard Creams
baking in The English Kitchen today! (I am still enjoying my cookie word stamper thingie!)
I hope that you are able to carry God's love with you all the day through today! Bless you all, for you surely bless me.