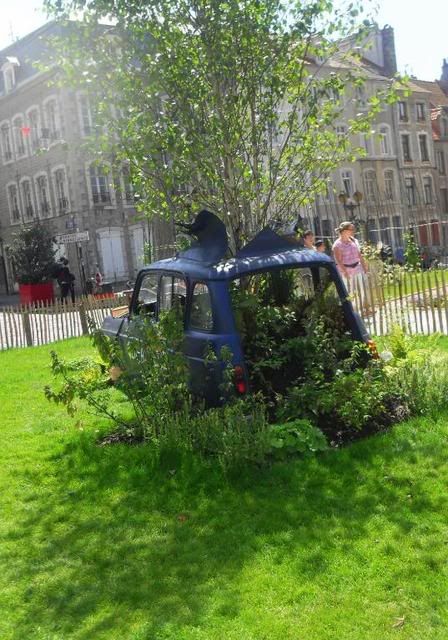 This morning I am going to tell you about an auction . . . an auction like no other . . . it's no ordinary auction. In this auction, people are able to bid on unclaimed items which have been left behind in safe-deposit boxes. These are items which have been deemed so important . . . that people have paid good money to have them safeguarded . . . in steel.
Diplomas, chikcren's report cards, letters . . .
You shuffle along, past the coin collections and gold pocket watches . . . past the jewelry to documents and small items, all sealed in plastic bags.
Boy Scout Patches, receipts from a Waikiki hotel, a child's crayon drawing of a bunny rabbit . .
.
All unclaimed property, waiting to be auctioned off on the block . . . each one the forgotten or overlooked possessions of owners now passed on . . .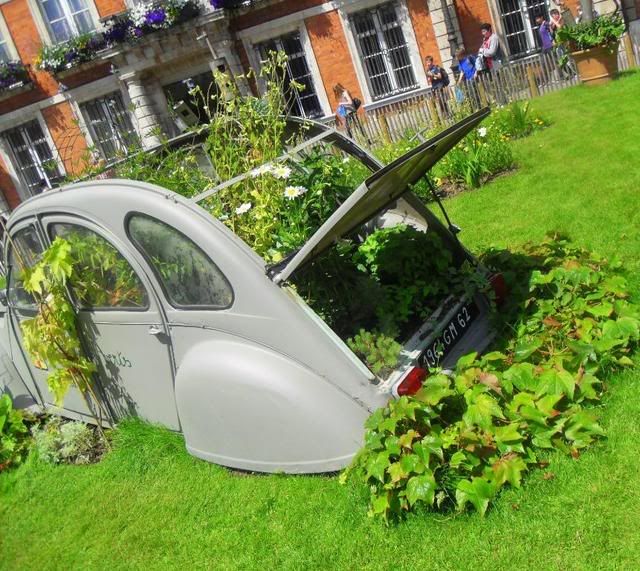 Rosaries, letters, train tickets . . .
Each bag holds a mystery, the clues arousing curiosity, but giving no answers, but a few. In one there are the immigration papers of a man who arrived at Ellis Island, in America back in 1906. Did he discover all the promise that America held for him? Did he find what he was looking for???
Two marbles, a few stones, and a belt buckle . . .
Very curious. Do these things represent special memories of an event or a special person???
Passports, telegrams, newspaper clippings . . .
The yellowed article from a 1959 newspaper reads . . . "Vlahovich's Mother Sobs At Guilty Verdict." Imagine it . . . a mother's son convicted of murder. The mother wept, pleading with the judge involved to spare her son. "Take my blood," she weeps. "Kill me!" You find yourself wondering . . . did she watch her son die in the electric chair???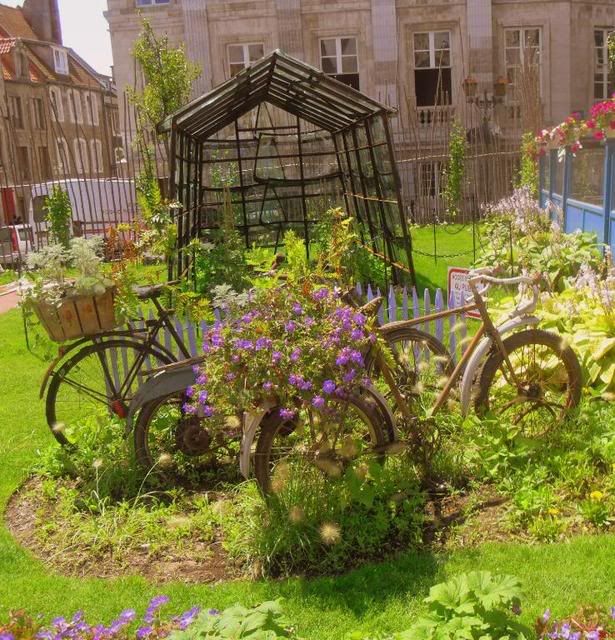 Undeveloped film, birth certificates, marriage certificates . . .
Mingled here . . . the unofficial business of life along with the official business of life . . . a curling lock of golden hair, a child's corrected paper along with a poem . . . "Grandmother's Attic," typed out on a yellowing sheet of paper, the print now slightly fading . . .
"While up in Grandmother's attic today
In an old red trunk, neatly folded away
Was a billowy dress of soft and gray
Of rose brocade were the panniers wide
With quilted patterns down the side
And way in the back against the wall
Of the little old trunk was an old silk shawl
Silver slippers, a fan from France
An invitation to a dance
Written across the program blue . . .
Was "Agatha dear, may I dance with you?"
It's as if all those at the auction have been given entry into hundred's of Grandmother's attics . . . except these are the attics of hundreds of unknown people.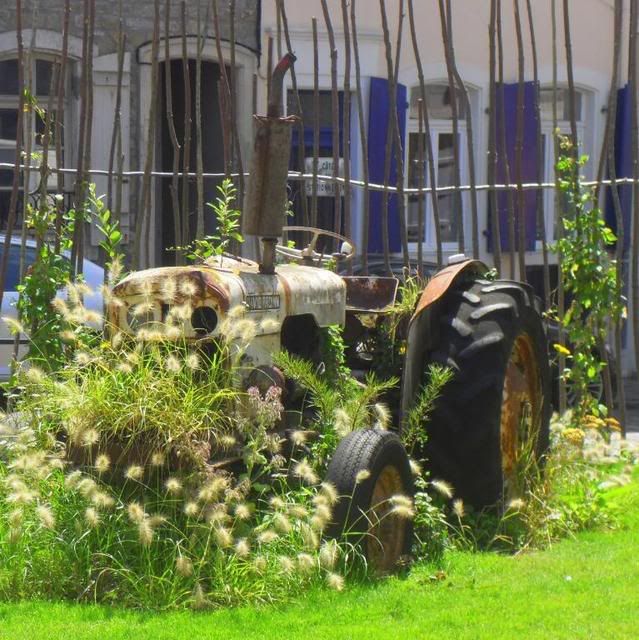 Diaries, photographs, the ink print of a newborn's feet . . .
In the light of lives now lost, these items speak volumes about life . . . suggesting a sense of finality, the realization that life on earth is limited and will one day come to an end, and at the end . . . material possessions don't come with you . . .
So . . . what will YOU leave behind???
A small metal box filled with mementos speaks volumes about what is valued . . . but that is only a whisper when compared to the legacy of life, itself. Amidst our "he-who-dies-with-the-most-toys" world, perhaps we should dare to leave something a little bit more special . . .
How about an investment in what our Heavenly Father so dearly loves . . . his children . . . other people??? How about a life guided not by the capricious winds of culture and popularity . . . but the rock solid promises of our Saviour and mentor, Jesus Christ??? How about children which have been inspired by our own examples to become all that our Heavenly Father has designed them to become??? How about family, and friends, and neighbours . . . and strangers . . . who know only one thing about you . . . the most important thing about you . . . that you cared???
Lay not up for yourselves treasures upon earth, where moth and rust doth corrupt, and where thieves break through and steal:
But lay up for yourselves treasures in heaven, where neither moth nor rust doth corrupt, and where thieves do not break through nor steal:
For where your treasure is, there will your heart be also.
~Matthew 6:19-21
Heaven . . . the ultimate safe-deposit box, and it costs not a penny, and the treasures stored therein . . . things you CAN take with you.
All these pictures here this morning are ones that I took on a visit to Boulogne, in France, about 5 years ago now. We had gone over there with friends on a day trip. It was summer and the sun was blazing and the company fabulous. In Boulogne we were fascinated by this garden which had been planted . . . only a temporary one . . . created out of cast off vehicles, bicycles and the like . . .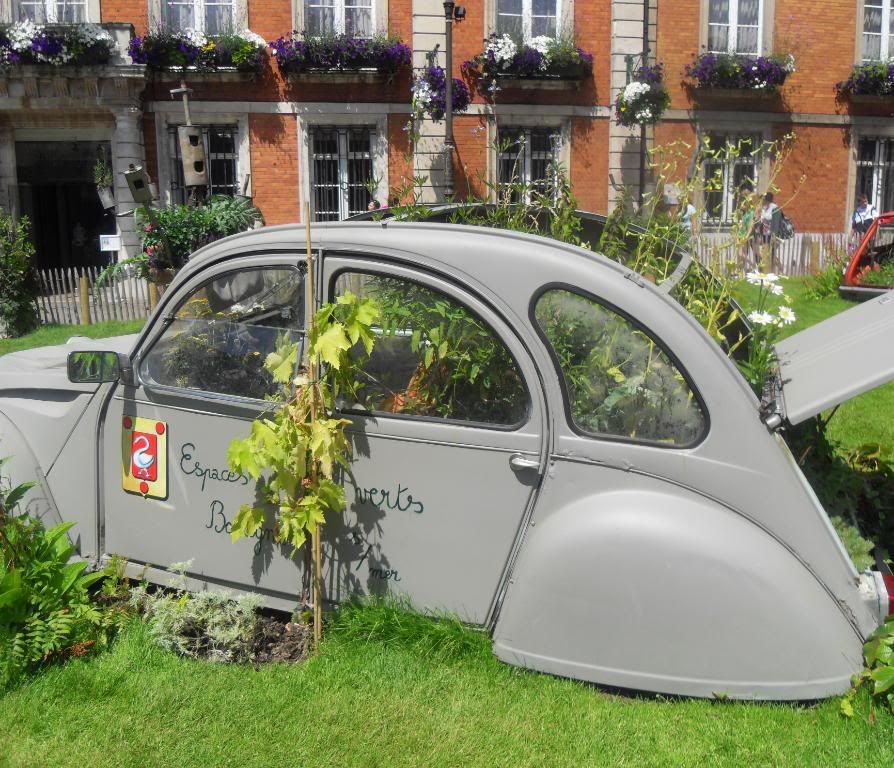 I was absolutely fascinated with it . . . this idea that what might have been considered refuse . . . and left discarded to rust in a car dump, could be revitalized and made into something which really was quite,
quite
beautiful.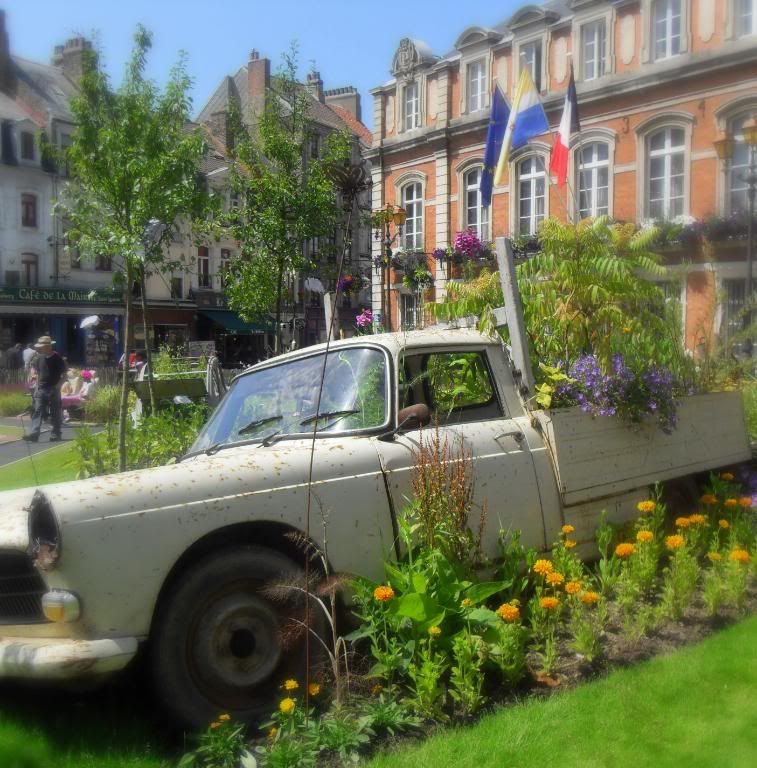 Boulogne is one of my favourite French places to visit. I especially love the area which lies within the walled part, with it's cobbled streets and quaint shops.
We had a fabulous time at the church last night. Christmas in
July
August. It's a wonderful thing and everyone really enjoyed themselves. We had a good turnout, there was plenty of action, laughter, good food and great company. What more could a body want??? I was really happy that it went well. I love it when an activity goes down well!
Inspiration thought for today . . .
Someday I hope to enjoy enough of what the world calls success so that somebody will ask me, "What's the secret of it?" I shall simply say this: "I get up when I fall down."
~Paul Harvey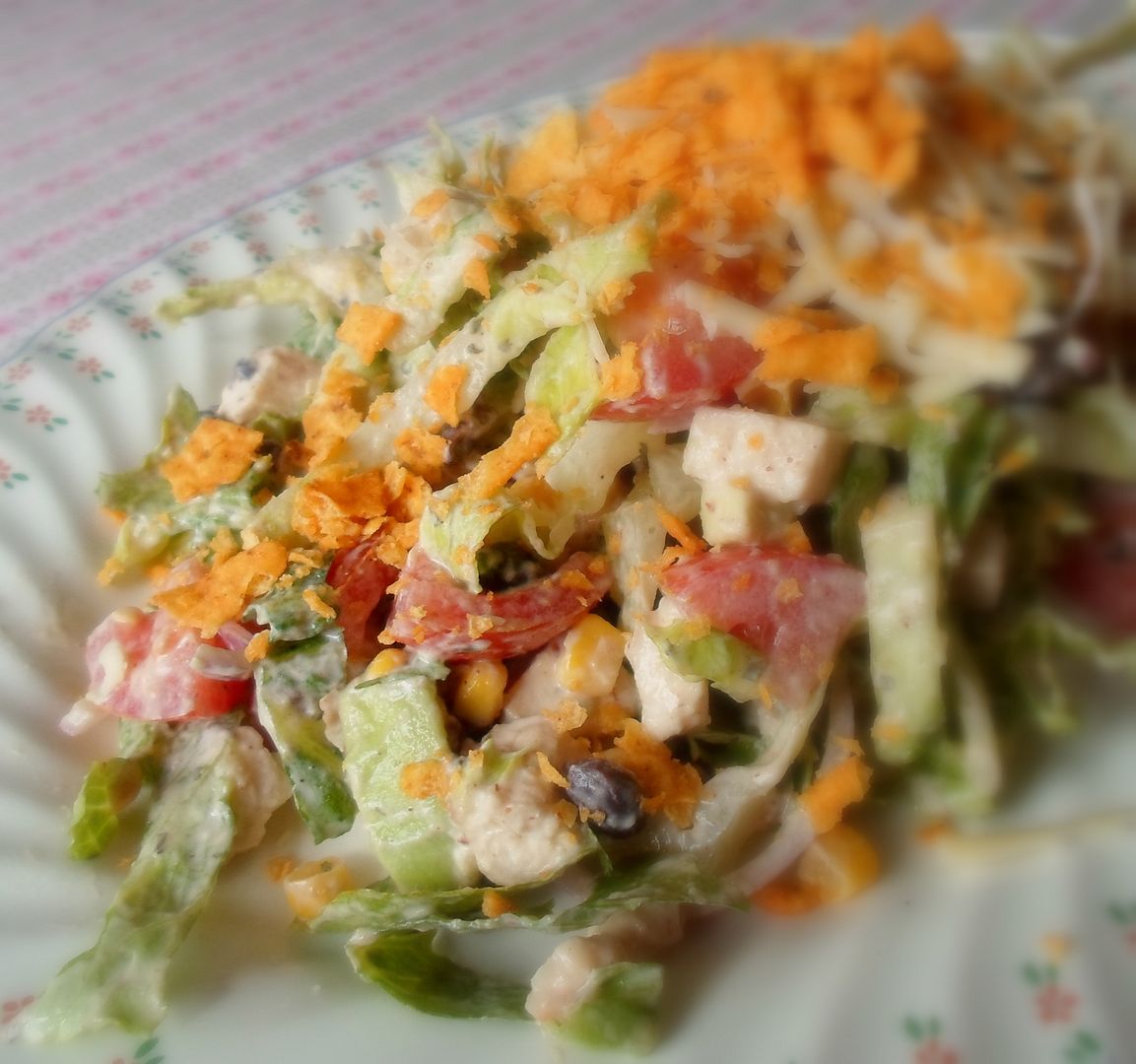 Cooking in The English Kitchen today . . . a
Lighter Chicken Taco Salad.