Many years ago in Japan, there was a famous artist called Hokusai. His paintings were beautiful and much coveted by royalty. One day a nobleman came to him, requesting a special painting of his prized bird. It was a beautiful bird, and much beloved by the nobleman. Hokusai agreed to paint the bird, and so the nobleman left the bird with him, having been told by Hokusai to return in a week's time.
The nobleman missed his bird very much and was anxious to return to Hokusai at the end of the week, not only to see his painting, but also to secure his favourite pet . . . however, when the end of the week came and he arrived at Hokusai's home, the artist humbly requested a postponement of two weeks.
As with many things in life . . . the two-week delay stretched into two months . . . and then six months . . . and then a year . . .
At the end of the year the nobelman stormed into Hokusai's studio. He refused to wait any longer and demanded both his bird and the painting. Hokusai bowed humbly to the nobelman, turned to his workshop table, picked up a brush and a large sheet of rice paper and began to render brushstrokes upon the paper. Within moments, he had effortlessly painted an exact and beautiful rendering of the bird.
The nobelman was stunned with the painting. He was also very angry.
"Why did you keep me waiting for son long if you could have done this painting in such a short time?" he inquired.
"You do not understand." Hokusai replied. He then escorted the nobleman into another room where the walls were covered with paintings of the same bird. Not one of them, however . . . matched the grace and beauty that was in the final rendering . . .
This, too . . . must be true of the canvas of our own lives. If we want to have something of real worth, lasting value and true beauty . . . it won't come easy, and it won't happen overnight.
It never does. It is those lessons which come the hardest that have the most value and impact on our lives. These are the lessons we never forget . . .
I was able to get some work done yesterday in our bedroom. That stack of magazines next to my side of the bed is no more . . . and I managed to get rid of some of the tat. Todd and I also did some organization in the kitchen. That room seems to need it more often than any other room in the house. Probably because it is the room that literally gets used the most and the room that is most often rifled through . . .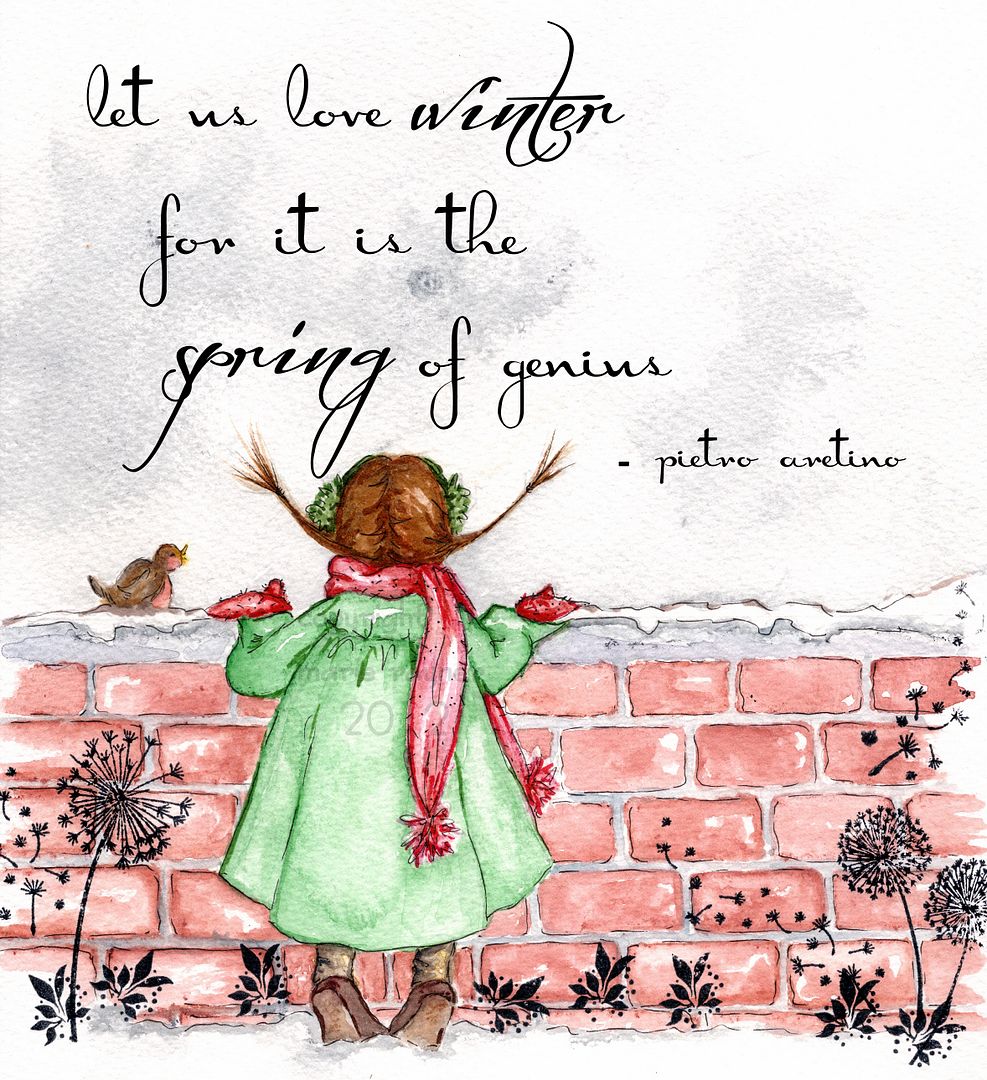 I did, however, also find time to get into my craft room and do some painting. This is what came out of my mind's eye yesterday. A little girl, accompanied by a robin, looking out over a low brick wall . . . at winter . . . I think it would make a most charming "Holiday" card. Perfect for those people who are not into cards of a religious nature I suppose.
It felt good to be covered in paint again . . .
I was also fiddling with my computer photo editing program and I did this. It's Maryn, and her "Cheeeeeese!" smile. I think she is adorable . . . but then Grandmother's are supposed to think that are they not???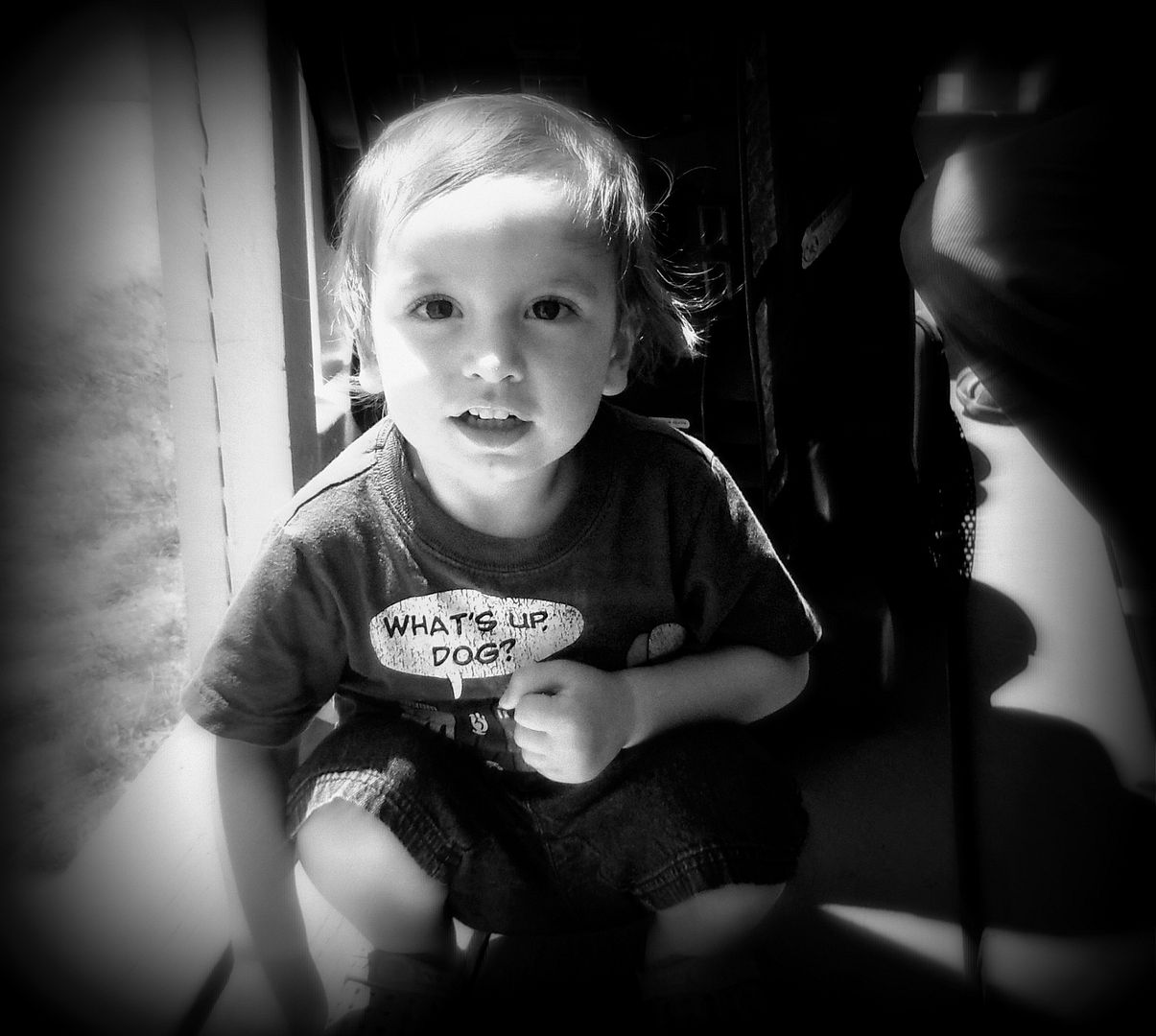 I did one of little Luke too. I quite like the black and white look. What do you think??? I think you can focus more on the person in the photo . . .
This is the one of Maryn in black and white.
I am thinking I am going to do that tree thing that I showed you the other day . . . except only have piccies of the grandchildren on it, and all in black and white. I think it could be stunning!
Well, I must get on with my day now, but not without leaving you with some food for thought . . .
"The difference between holding on to a hurt
or relsing it with forgiveness . . .
is like the difference between laying your
head down at night on a pillow filled with thorns . . .
or a pillow filled with rose petals."
~Loren Fischer
Cooking in The English Kitchen today . . .
Quick Blueberry Crumble for Two.