July has now slipped off the calendar . . . it doesn't seem possible but, it's quite true. The farmer looks at his fields of ripening corn and wheat . . . and weighs in his chances of a good harvest. This has been a summer of incredible rain in some places . . . and incredible drought in others. The chances this year may not be good if my own vegetable garden is anything to go by . . .
School Holidays have begun . . . at least over here they have. I know that in North America they are almost over. Crowds of holiday makers are flocking to the seasides here, and the camping grounds . . . ever hopeful that August will more than make up for the summer that never was . . . in July. It does not look promising . . . but hope springs eternal.
The verges of the woodlands and meadows are embroidered with the lovely rosebay willowherb, hedgerows garlanded with traveller's joy and the banks of streams and canals are gay with meadow-rue and purple loosestrife . . . whilst elsewhere in the garden, the first of the chrysanthemums are keeping company with the last of the delphiniums in crowded borders where the lemon and cherry coloured spiked of the gladioli are thrusting their way up between the tangled masses of gaillardias, gypsophila, clarkia, coreopsis and . . . the marigolds.
The Doctor and Lady Forteviot are now taking a rest . . . it seems. Ophelia and Caroline Testout are still putting up a show . . . but it is the Poulsen polyanthas that holding up the stage at this moment, with their beautiful show of crimson tresses and pink blooms.
Each day now brings us closer to Summer's end . . . it seems. But there is no time for regrets . . . if it were always summertime, how very weary we would become of changeless weather and unfading glow of sun. If roses always danced down the garden ways . . . they would not call forth such words of joy and praise from the heart.
It is the expectation of sunshine and flower which makes us welcome with delight in our hearts . . . the summer's golden hours. The waiting in the winter . . . the hoping in the springtime . . . they only make summer all the more precious and sweet as we realize that time is truly on the wing . . .
Nevertheless, something new always waits around the corner, some new loveliness to be taken in, a new joy to be experienced . . . when one looks around themselves with open hearts and eyes of expectation. Embrace the joy that is here and now . . . this day will never come again . . .
We've been waging a battle all summer long this year with the slugs it seems. We've tried bowls of beer . . . set out amongst the plants lingering in my herb garden, and they have been quite effective, but not effective enough. The other night we sprinkled slug pellets amongst the plant in all of the troughs, and you will never guess how many dead slugs we culled in the morning. Over 100!! That was on the first night, and we have had at least 30 on every morning since. Utterly amazing. It is no wonder that all of my dahlias got cropped to nubs . . . the very first night after we had planted them out. We are hopeful now that they may spring back to life, but I think it is a hope against hope, for the damage was well and truly done by the little demons on that first night. Oh well . . .
I have my lesson for Sunday all finished and all of the preparations for tomorrow night so I am hoping that today I will have a chance to go into my studio/cum craft room and do a bit of creating. I never know what the day will bring though . . . we shall see.
Today . . . the sun shines.
"It is said that any virtue when taken to an extreme can become a vice. Overscheduling our days would certainly qualify for this. There comes a point where milestones can become millstones and ambitions, albatrosses around our necks."
~President Dieter F Uchtdorf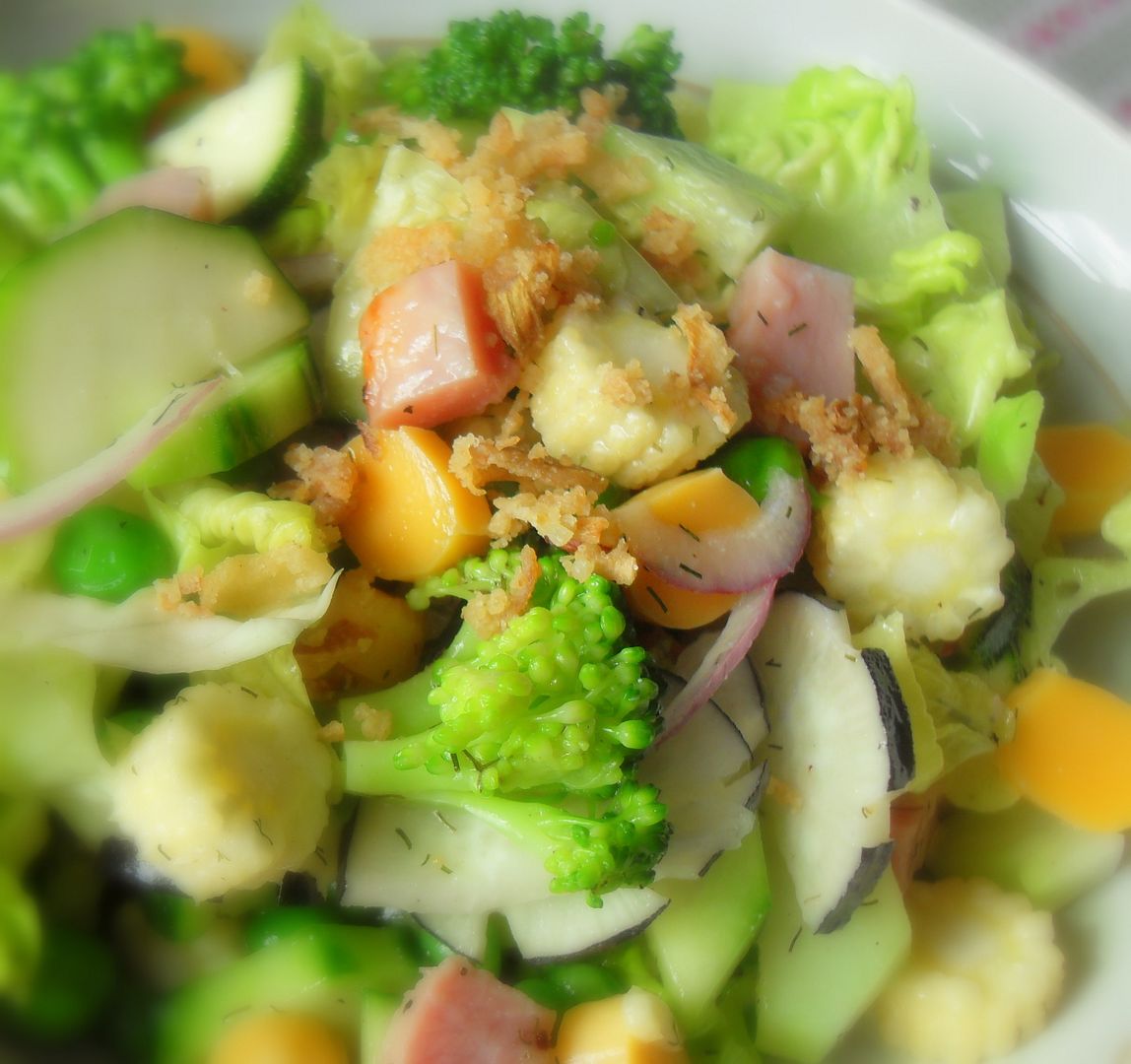 Today I am sharing my secrets to building a better Salad, over in
The English Kitchen.