"And he who receiveth all things with thankfulness shall be made glorious; and the things of this earth shall be added unto him, even an hundred fold, yea, more." ~ D&C 78:19
I try to spend some time each day, several times a day, looking up to the heavens and thanking my Heavenly Father for all the many blessings I have in my life. I do this both by myself, and together with my Todd. It's so good to be together as a family, no matter how small, and to hear daily expressions of gratitude to our Heavenly Father that are shared by the both of us. It's at once a very humbling and a very inspiring experience. There is something very special about sharing one's faith and life with a man who shares the same connection. It was something that I prayed to have, for many, many years. Prayers do get answered, and not always in the way we expect them to be either!
The Lord intended His children to enjoy the good things in life.
"Adam fell that men might be; and men are, that they might have joy" (2 Nephi 2:25).
With all that we have, we must also have grateful hearts, and we must teach our children not to take all their many blessings for granted. I wake up each day and I look around me and I pinch myself, just to make sure I'm not dreaming, and then I say a silent thanks to my Heavenly Father for all that He has given me and seen fit to bless me with.
Thank you. Two simple words that can convey all the depths of your heart to it's recipient. Two simple words that say it all. Two simple words that should never be left unsaid. Thank you is a wonderful phrase. Use it. It will add stature to your soul and heart. Never let a day go by without saying thank you to someone, at least once, for something . . . and most especially to your Heavenly Father.
Even in the darkest of corners and experiences in life, there is something to be grateful for, some little spark of light. That's how I try to live my life, even though it's not always easy to do so. But how can you find what you are not seeking . . . look always for the light and you will find it, and when you do . . . be grateful and give thanks. Know, always, that it is there waiting for you to discover it, even though at the time it may be obscured by our own self doubt and self pity.
When I look back on my life, and see all the experiences that I have had, that I had thought to be really bad experiences at the time, as well as times of sorrow and disappointment, (and there have been many) I have discovered that they were really times of great growth and enlargement, mind and heart expanding. I am able then to give thanks for these disasters, however large or small they might have been. Each setback has brought with it a little gift, a lesson to be learned, a pearl of wisdom, some blessing to be enjoyed, if not right at the time, then later . . . when my mind has cleared and my heart has settled.
We each one of us have that power within us, that special gift, the opportunity to be able to turn our sorrows into joy, our defeats into triumphs, our darkness into light . . . it only takes two little words . . . Thank you . . .
There is something to be thankful for each day of our lives . . . even on what we think are the worst of days . . .
"Stop looking for the storms and enjoy more fully the sunlight."
~Gordon B Hinckley
The sun is shining gloriously outside my window this morning. Fingers crossed it stays for the day!! I have one more bill to pay before we go away on Thursday and I want to go into town today and pay it. Plus we want our hedge trimmed before we go away as well. It's gotten way out of control! That can only be done when it's not raining!
I spoke to my mom yesterday afternoon, as I always do on Sundays, and she seems to really be looking forward to our arrival on Thursday. I am looking forward to seeing her too. My father won't be coming and I totally understand why . . . a journey of a thousand miles is a large one to someone in their late 70's . . . and he is too tired. He only had his pacemaker fitted in December . . . I cried, even though I understand. I cried because I don't think I'll ever see my father again. It made me sad. I love my dad. Still, I am grateful that he is still with us and that I can at least talk to him when I want to.
I don't show many recipes on this blog nowadays . . . although I always do point you in the direction of one . . . today though, I'll treat you. Thai Chicken with Peanut Dipping Sauce. Delicious!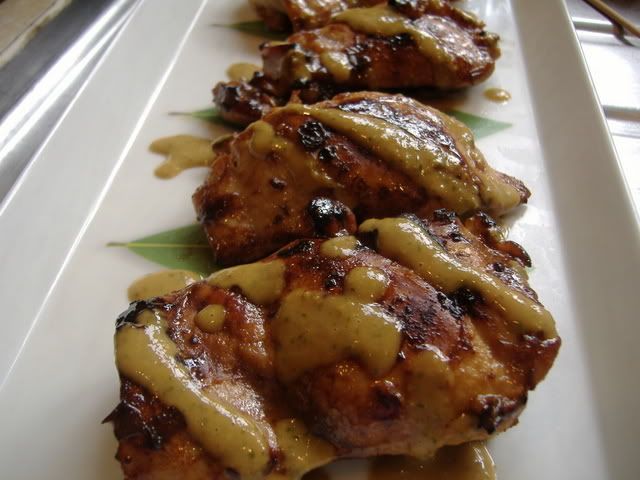 *Thai Chicken with Peanut Dipping Sauce*
Serves 4
Printable Recipe
I love the flavour of chicken thighs. They are a lot juicier than breasts and can stand up to the rich flavours of this spicy sauce. It is the perfect company meal in these warmer months, as most of the work can be done ahead and the chicken cooked once the guests arrive.
8 boneless, skinless chicken thighs
For the marinade:
2 TBS light soy sauce
2 TBS Tamarind Paste
1 TBS peeled and grated fresh ginger
2 fat cloves of garlic, peeled and minced
2 spring onions, minced, both the green and the white parts
salt and freshly ground black pepper to taste
For the sauce:
1/4 cup fresh coriander leaves (cilantro)
4 TBS smooth, unsweetened peanut butter
2 TBS rice wine vinegar
2 TBS tamarind paste
2 TBS soy sauce
1 TBs runny honey
1 TBS peeled and grated fresh ginger
1 fat cloves of garlic, peeled and minced
the grated zest and the juice of each, 1 lemon and 1 orange
2 spring onions minced, both the green and the white parts
1/2 jalapeno pepper, cored, seeded and minced (wear gloves to do this and DON'T rub your eyes
or lips while doing it!)
Crush red pepper flakes to taste
First make the marinade for the chicken. Stir together all the ingredients in a shallow glass bowl or a large zip lock baggie. Mix them well. Add the thighs, rutning them over in the mixture and rubbing it in to coat them well. cover and set aside at room temperature for at least half an hour, or cover and leave in the refrigerator overnight. Obviously the longer you leave them, the more of the flavour of the marinade will penetrate the meat.
While the chicken is marinating, you can make the peanut sauce. Combine all the ingredients in a blender or food processor. Puree until smooth. I use my stick blender for this and it works very well. Serve immediately, or store, covered, in the refrigerator for up to a week.
You can either cook the chicken on a grill or on top of the stove. Remove the chicken from the marinade, season lightly and either place on the heated grill or in a heated heavy skillet that you have sprayed with some cooking spray. Cook for 5 to 6 minutes per side, basting with some of the marinade, until it is golden brown with slightly darker edges. If you are cooking it on the grill, moved it to the sides and put the lid down, cooking it for another 2 to 3 minutes. If you are cooking it in a skillet, lower the heat, cover and cook for another 2 to 3 minutes, or until the juices run clear. Discard any remaning marinade.
Remove from the grill or the pan and place on a heated serving plate to rest. Brush with some of the peanut sauce and let rest, covered loosely in foil for about 5 minutes. Serve hot, with the remaining dipping sauce on the side. Delicious!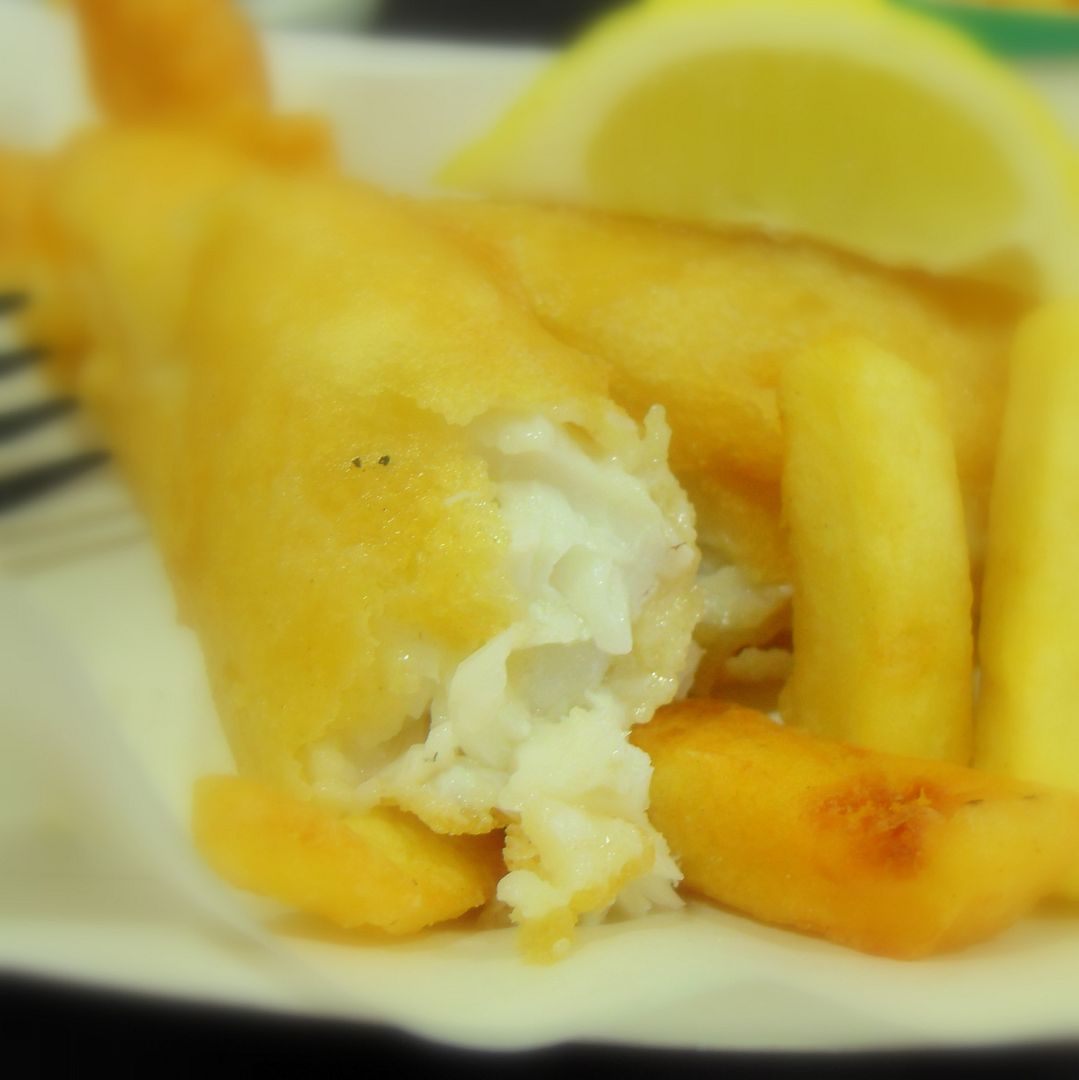 I'm talking about
Fish & Chips
over in The English Kitchen today!
Happy Monday all!