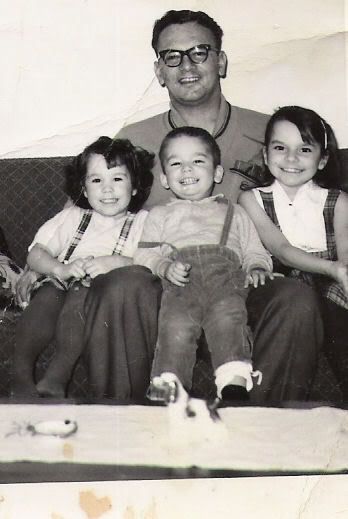 What makes a Dad
God took the strength of a mountain,
The majest of a tree,
The warmth of a summer sun,
The calm of a quiet sea,
The generous soul of nature,
The comforting arm of night,
The wisdom of the ages,
The power of the eagles flight,
The joy of a morning in the spring,
The faith of a mustard seed,
The patience of eternity,
The depth of a family need,
Then God combined these qualities,
And then there was nothing more to add,
He knew His masterpiece was complete,
And so . . . He called it . . . Dad.
~author unknown
I love my father. As an adult I can look back on the years with all the knowledge that maturity and growth has given me, and I can say with assurity that my dad was a good dad. My dad IS a good dad. We almost lost him just before Christmas of last year, but thankfully it was not his time and we didn't. I love my father with all of my heart. I owe so very much to him . . . my gentle spirit, my easy going nature . . . my sense of humour, my loving and sensitive heart. I also owe my rather robust waistline to him, but . . . I forgive him of that! lol I will call him later today and tell him that I love him, because I do, and because I still can. I will tell him of the countless ways that he has blessed my life and I will be grateful that I still have the chance to do so.
Happy Father's Day to
all
the dad's in your lives . . .
I spent five hours in the A&E yesterday. It's not the best place to spend your Saturday . . . but, that's where I was. It gave me lots of time for reflection. I had started having chest pain on Friday evening. Nothing crushing or too untoward . . . just little spasms, but enough that it was worriesome . . . especially when it had woken me up several times during the night, and so we called the off hours Doctors Service yesterday morning after Todd got up. They told me to go to A&E.
And so we did. And I was hooked up to monitors, and poked and prodded, and x-rayed etc. I spent 5 hours being monitored and hooked up to the machines. They gave me aspirin and something else to put between my lip and my gum. I was afraid . . . I expect anyone would be. I thought about all the things I hadn't done and hadn't said, and all the things I must put right. It's a very humbling experience . . . being faced with your own mortality.
There is nothing like it to clear the cobwebs from your head and eyes . . . and yes . . . heart. Thankfully there was nothing untoward going on with my heart that they could tell. I do have to watch it and see my own GP as soon as soon . . . to arrange a stress test, etc. I came home late yesterday afternoon feeling just exhausted. It's also very, very tiring. It was a grateful kind of exhuastion though . . . my life will never quite be the same again.
Everything just got sweeter.